Alumni Reunion is not only a time to reconnect with former classmates and teachers, but to recognize the remarkable work of our alumni. During 2019 Reunion, Proctor recognized four individuals and one team with an induction into the Proctor Athletic Hall of Fame. We also recognized two alumni for their outstanding contributions to the Proctor community with the 2019 Alumni Award. Congratulations to each of the award recipients below!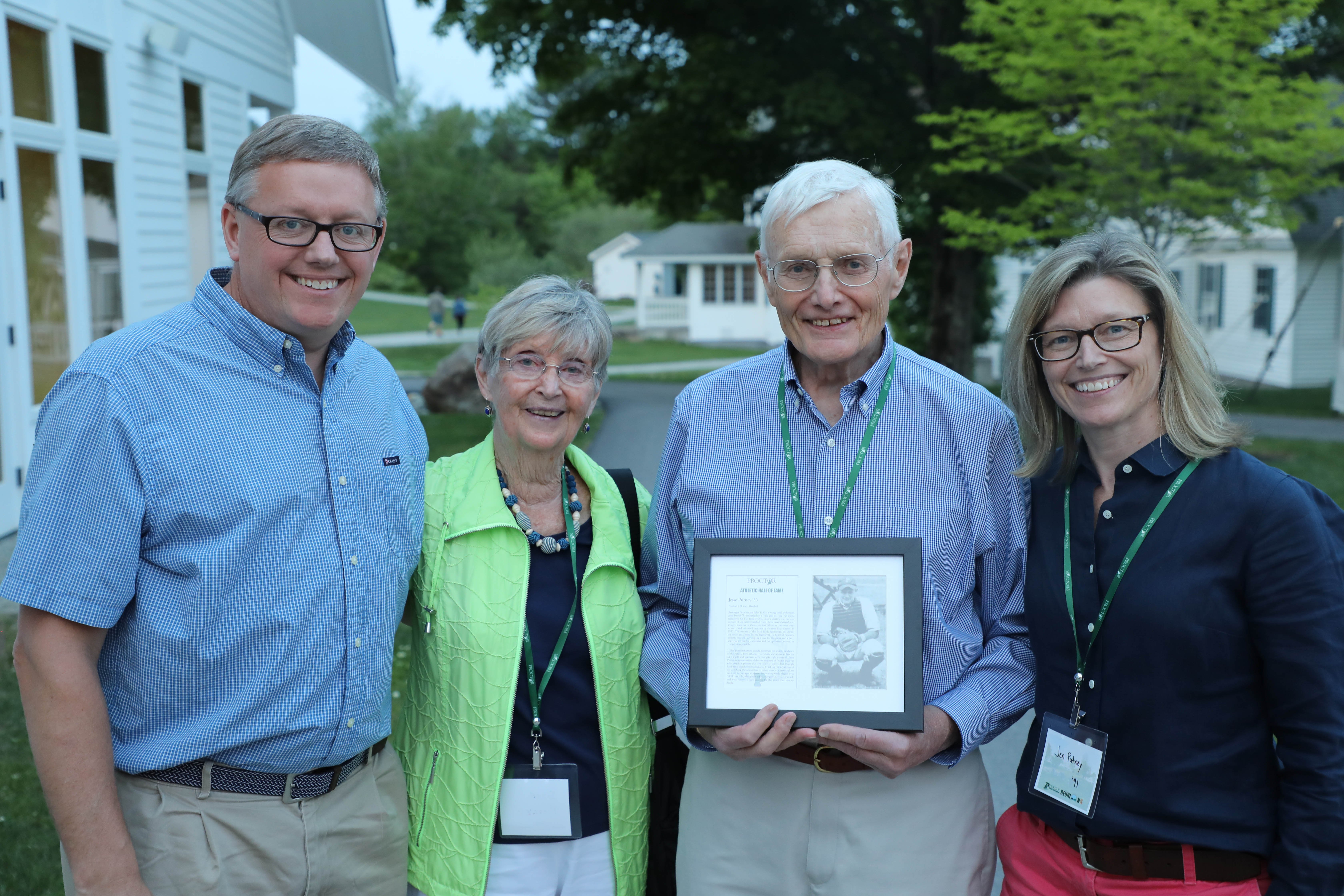 Jesse Putney '53 | Football | Skiing | Baseball
Arriving at Proctor in the fall of 1950 as a young, timid sophomore, Jesse Putney '53 embarked on a three year journey that would transform his life. Jesse evolved into a starting catcher and captain of the varsity baseball team (three varsity letters), and integral member of the varsity football team (two year letter winner), and ski patrol program by the time he graduated in 1953. The winner of the Babe Ruth Sportsmanship Award his senior year, Jesse Putney represents the heart of Proctor's athletic mission: developing a love for the game and a deep appreciation for the teammates and the opponents who make competition possible.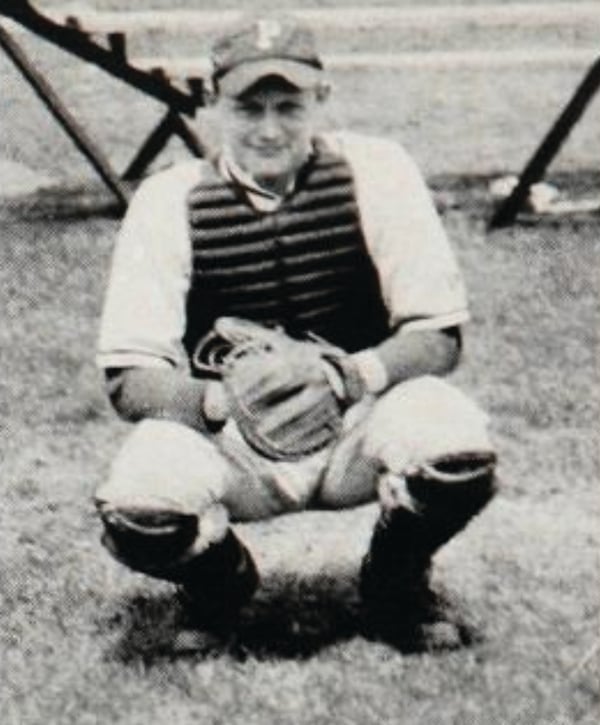 Hall of Fame inductions usually illuminate the athletic excellence of the natural born athlete, individuals who arrive at Proctor with a gift and graduate with that gift slightly refined. Jesse Putney is representative of the vast majority of Proctor students who may not possess that raw athletic ability, but through hard work and determination, and by taking full advantage of the coaching the school has to offer, serve as a tremendous example for younger students. Every team needs players who fulfill this role, who never take an opportunity for granted, and who possess a deep respect for the game they love so dearly.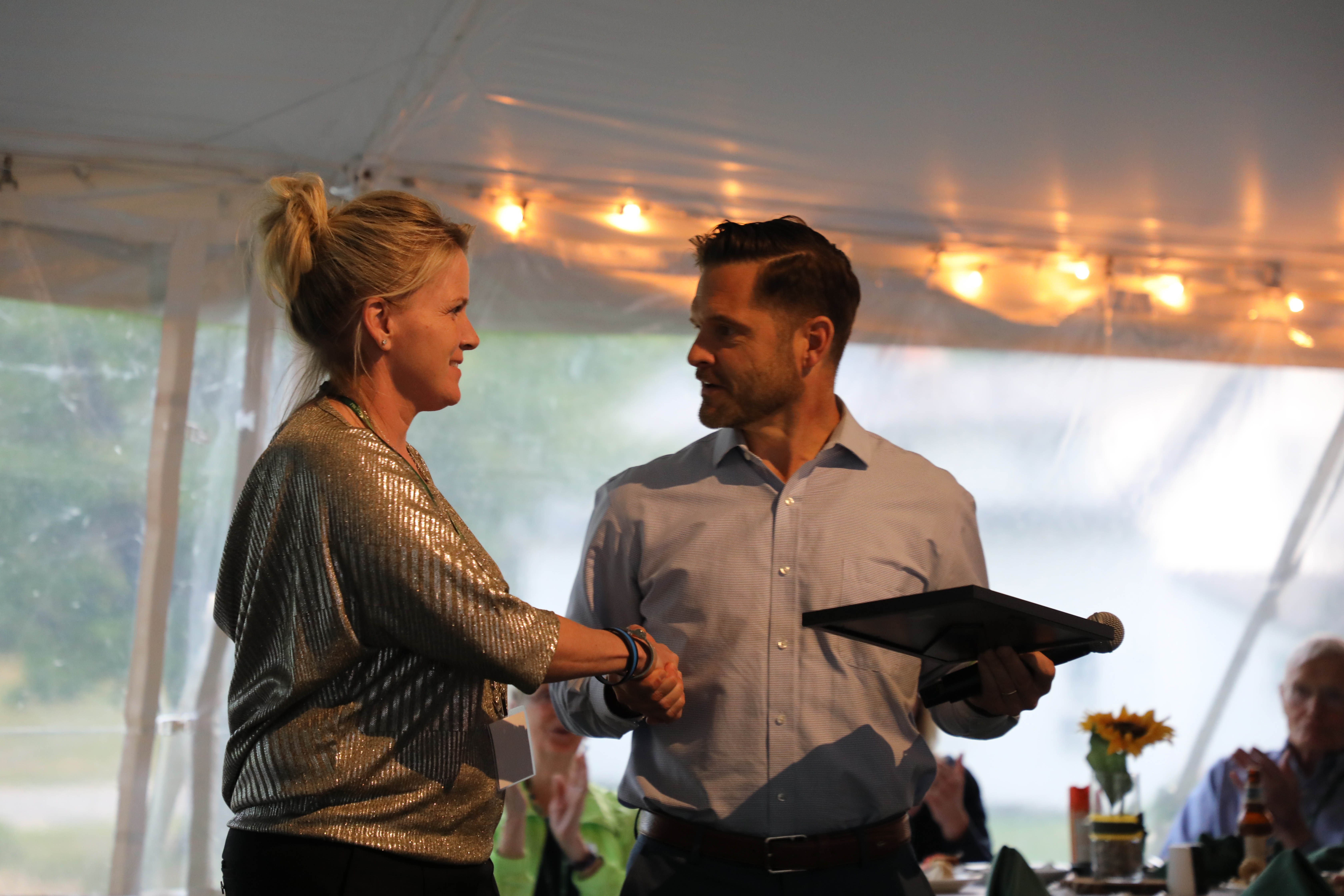 Stephanie Clarke '92 | Soccer | Hockey | Basketball | Lacrosse
Few students contribute to a school's athletic program in the same way Stephanie Clarke did during her four years wearing Proctor green and white. Arriving in Andover fall of 1988, Steph made an immediate impact on the girls' varsity soccer team as a freshman. That winter, she played an integral role on girls' varsity basketball team, and, during the spring season served as an impact player on the girls' varsity lacrosse team. In her junior year she traded her high tops for a pair of skates and took to the ice for the girls' varsity hockey team. For all twelve seasons at Proctor, Stephanie starred on a varsity team.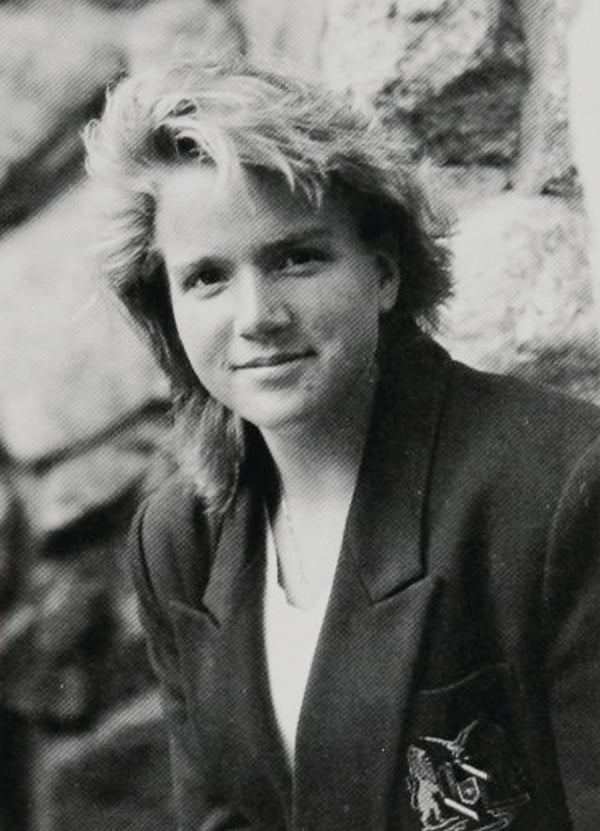 Stephanie continued her lacrosse career as a Hall of Fame goalkeeper at Hofstra University, where she became the first All-American in program history, and recorded a 38-23 record and 909 saves in her four years. A four-time most valuable player and two-time all-region selection, Stephanie was named the North Atlantic Coast Conference Player of the Year and 1997 Hofstra Female Athlete of the Year, and played on the US Women's Lacrosse team from 1996-1998.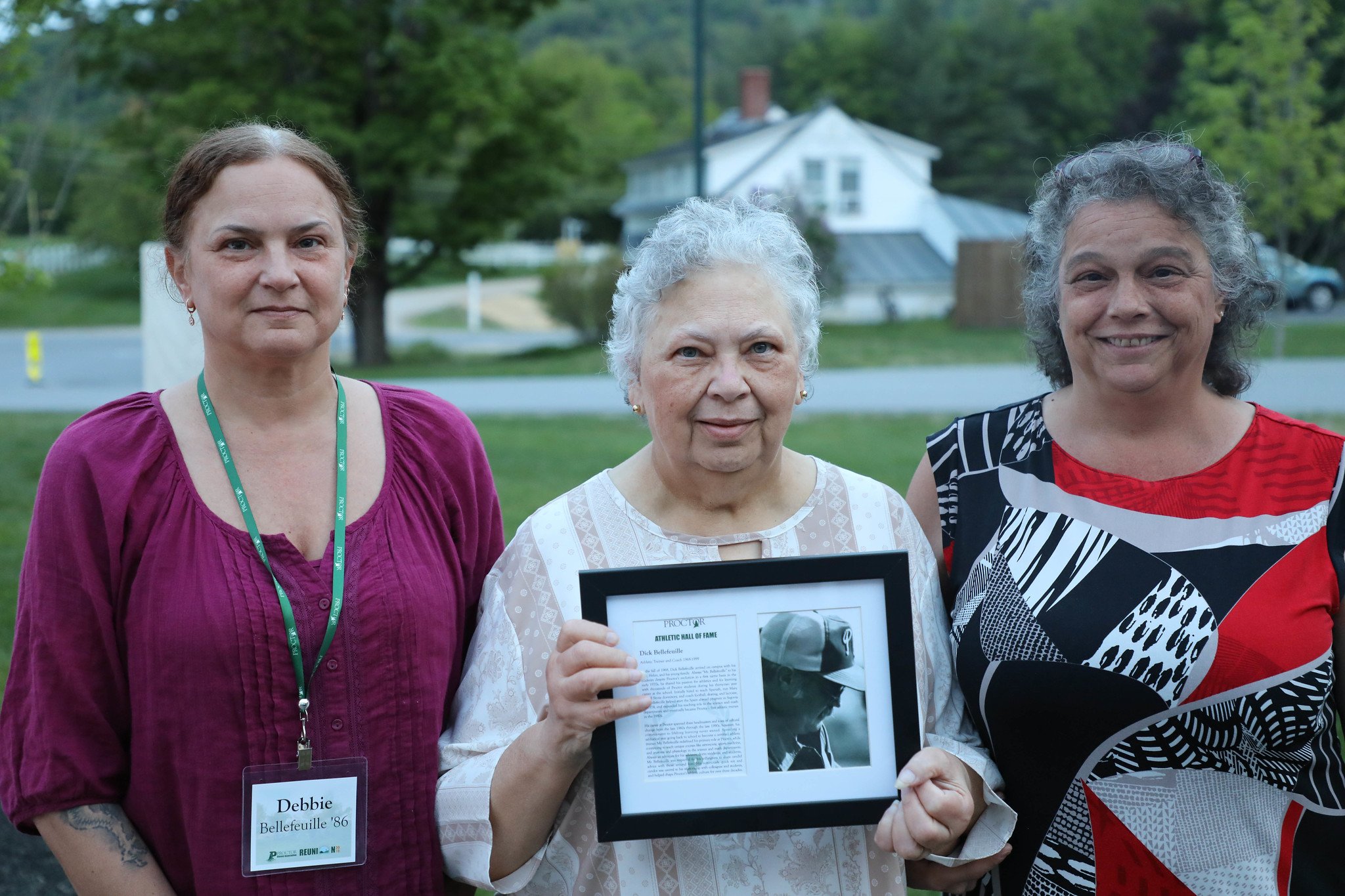 Dick Bellefeuille | Athletic Trainer, Teacher, and Coach (1968-1999)
In the fall of 1968, Dick Bellefeuille arrived on campus with his wife, Helen, and his young family. Always "Mr. Bellefeuille" to his students despite Proctor's evolution to a first name basis in the early 1970s, he shared his passion for athletics and for learning with thousands of Proctor students during his thirty-two year career at the school. Initially hired to teach Spanish, run Mary Lowell Stone dormitory, and coach football, skating, and lacrosse, Mr. Bellefeuille helped start the Spain abroad program in Segovia in 1974, and expanded his teaching role to the science and math departments and eventually became Proctor's first athletic trainer in the 1980s.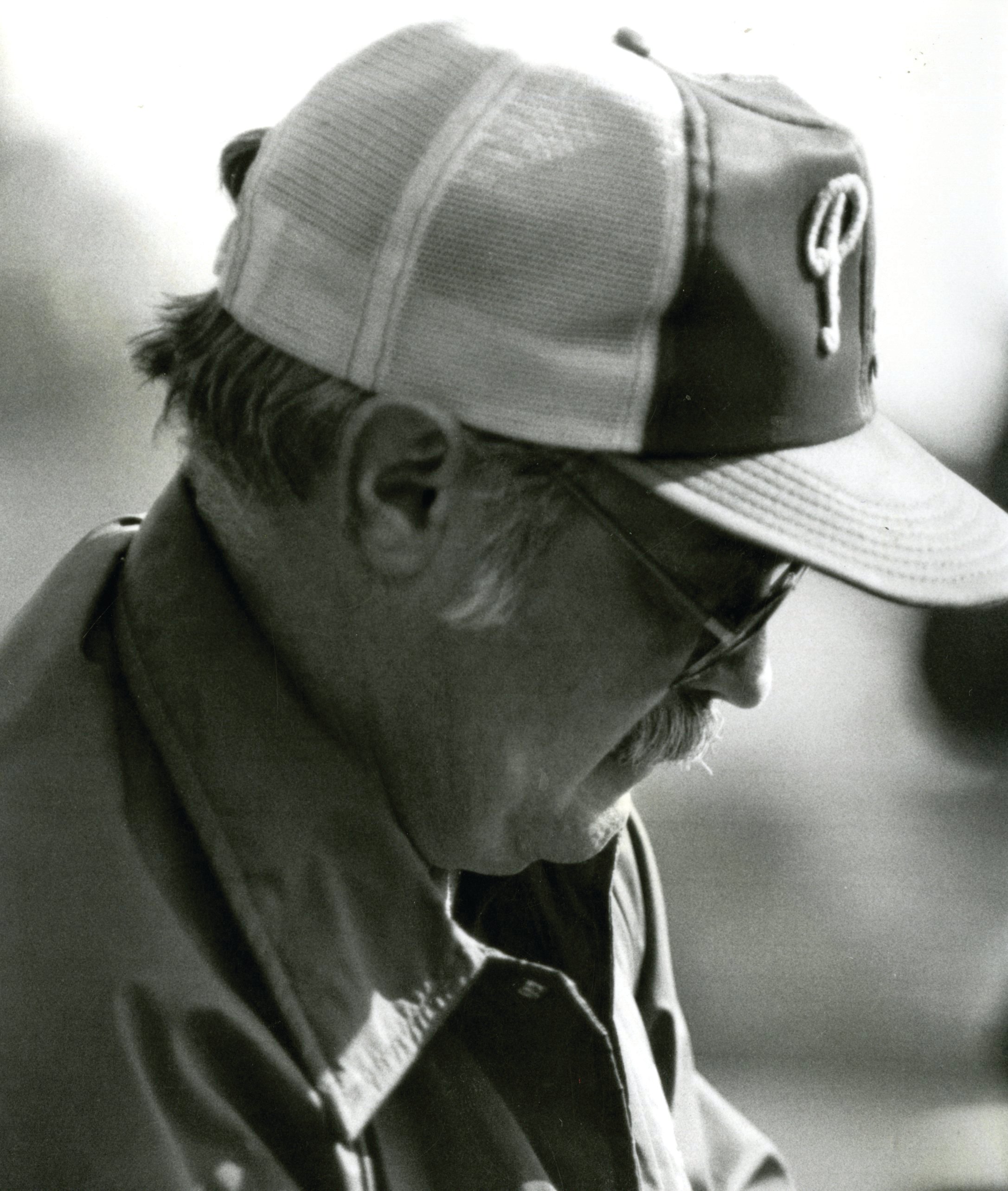 His career at Proctor spanned three headmasters and a sea of cultural change from the late 1960s through the late 1990s, however, his commitment to lifelong learning never waned. Spending a sabbatical year going back to school to become a certified athletic trainer, Mr. Bellefeuille redefined his primary role at Proctor, while continuing to teach unique courses like astronomy, sports medicine, and anatomy and physiology in the science and math departments. Always an advocate for his advisees, dorm residents, and students, Mr. Bellefeuille was respected for his willingness to share candid advice with those around him. His notoriously quick wit and candor was central to his relationship with colleagues and students, and helped shape Proctor's athletic culture for over three decades.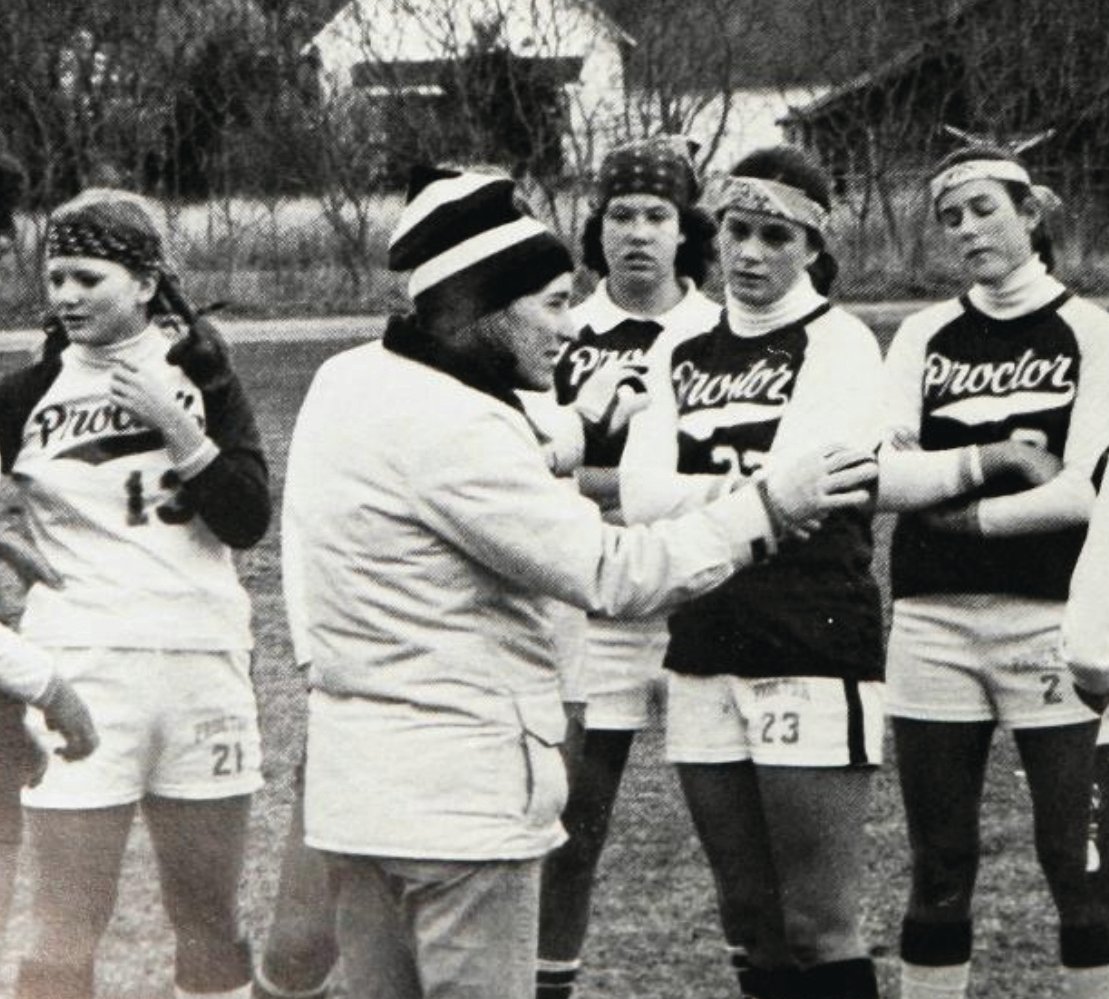 Sarah Will P'00, '03 | Teacher, Coach, Advisor (1979-2014)
The beauty of human existence lies in our ability to form relationships with one another. Each relationship we develop is unique; some ephemeral, others lasting a lifetime. When Sarah Will joined Proctor's English Department in the fall of 1979, the trajectory of the school and those who had the privilege of being taught, coached, or advised by Sarah changed forever. Her kindness, sense of humor, work ethic, intelligence, and deep desire to see her students flourish redefined, for many, their perception of the role a teacher and coach could play in their lives.
Coaching or teaching more than 2,000 students during her time at Proctor, Sarah served as a pioneer both in the classroom and on the athletic fields. As one of the first female coaches at Proctor, she helped support, advocate for, and inspire a generation of young women in a then male dominated athletic culture. Sarah immediately stepped into the role of coaching the varsity and junior varsity girls' soccer and lacrosse teams, posting an impressive 11-4 record during her first season as varsity soccer coach. Traveling to games with both junior varsity and varsity squads, while running simultaneous practices for both teams, the work of a female sports coach in the early 1980s was not for the faint of heart. Sarah's commitment to elevating the role of female sports, while connecting deeply with those she coached, laid a foundation for the opportunities Proctor's female athletes and coaches enjoy today.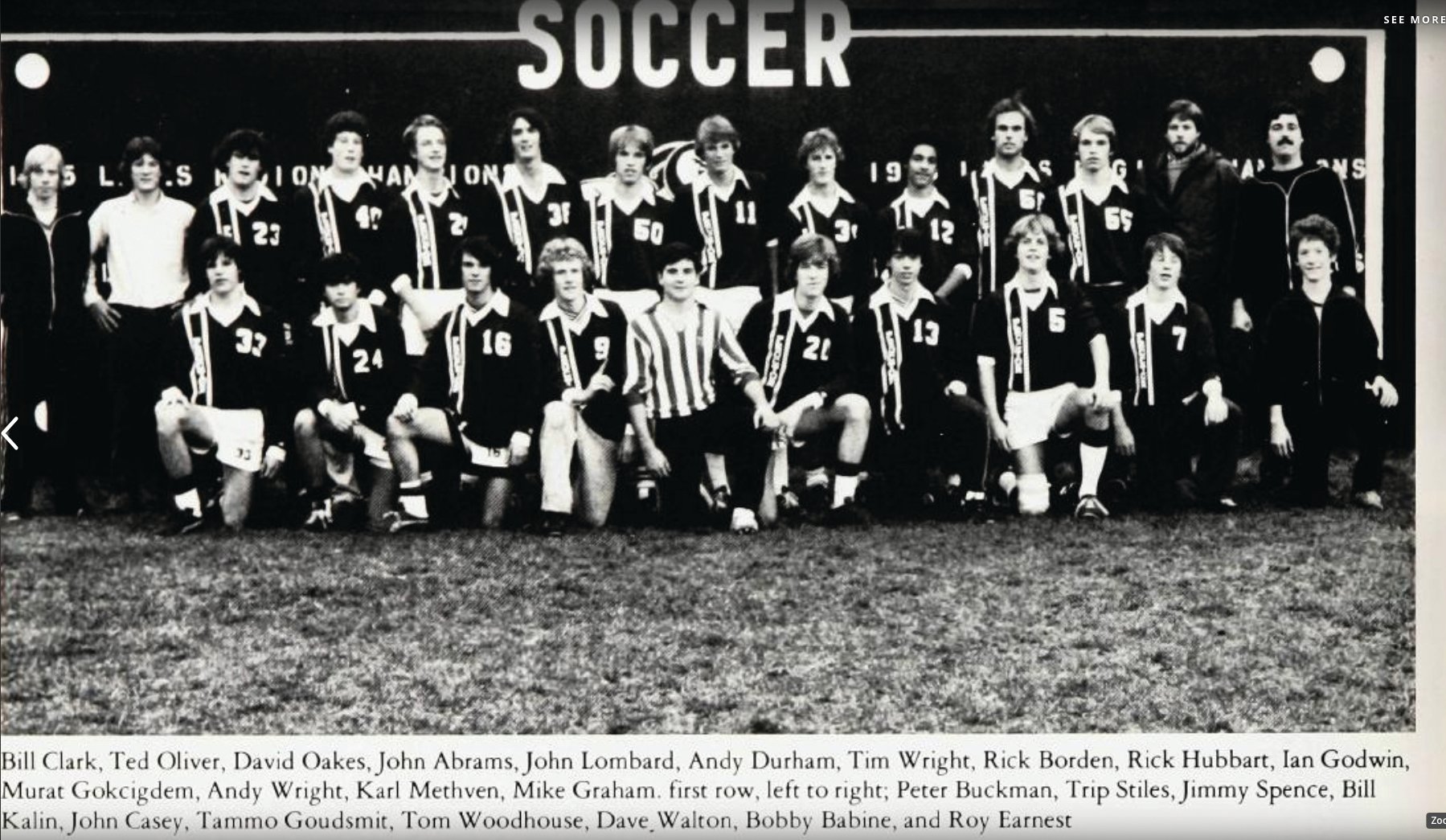 1981 Boys' Soccer Team | 11-1-1 Record | Back-to-Back Lakes Region Champions
After posting an impressive 9-1-4 record during the 1980 season, coaches Karl Methven and Mike Graham led Proctor's boys' soccer team to an 11-1-1 record, and back-to-back Lakes Region Championships in the fall of 1981. The team's sole loss came in the second game of the season, as the boys fell 2-3 to Brewster Academy. However, after that early defeat, the team gelled on defense, allowing just seven goals during the remaining eleven games, while finding the net themselves 41 times.
Behind the leadership of captains Tom Woodhouse '82, Rick Hubbart '82, and Murat Gokcigdem '82, the team established itself as one of the strongest squads in New England. This group of young men were committed to each other and to continuing the legacy of Proctor's soccer program that won five Lakes Region Championships between the fall of 1975 and 1981. Thank you to Coaches Karl Methven, Mike Graham, and Bill Clark, and their squad of Woodhouse, Hubbart, Gokcigdem, Ted Oliver, David Oakes, John Abrams, John Lombard, Andy Durham, Tim Wright, Rick Borden, Ian Godwin, Andy Wright, Peter Buckman, Trip Stiles, Jimmy Spence, Bill Kalin, John Casey, Tammo Goudsmit, Dave Walton, Bobby Babine, and Roy Earnest for your contributions to Proctor athletics during your time as a Hornet.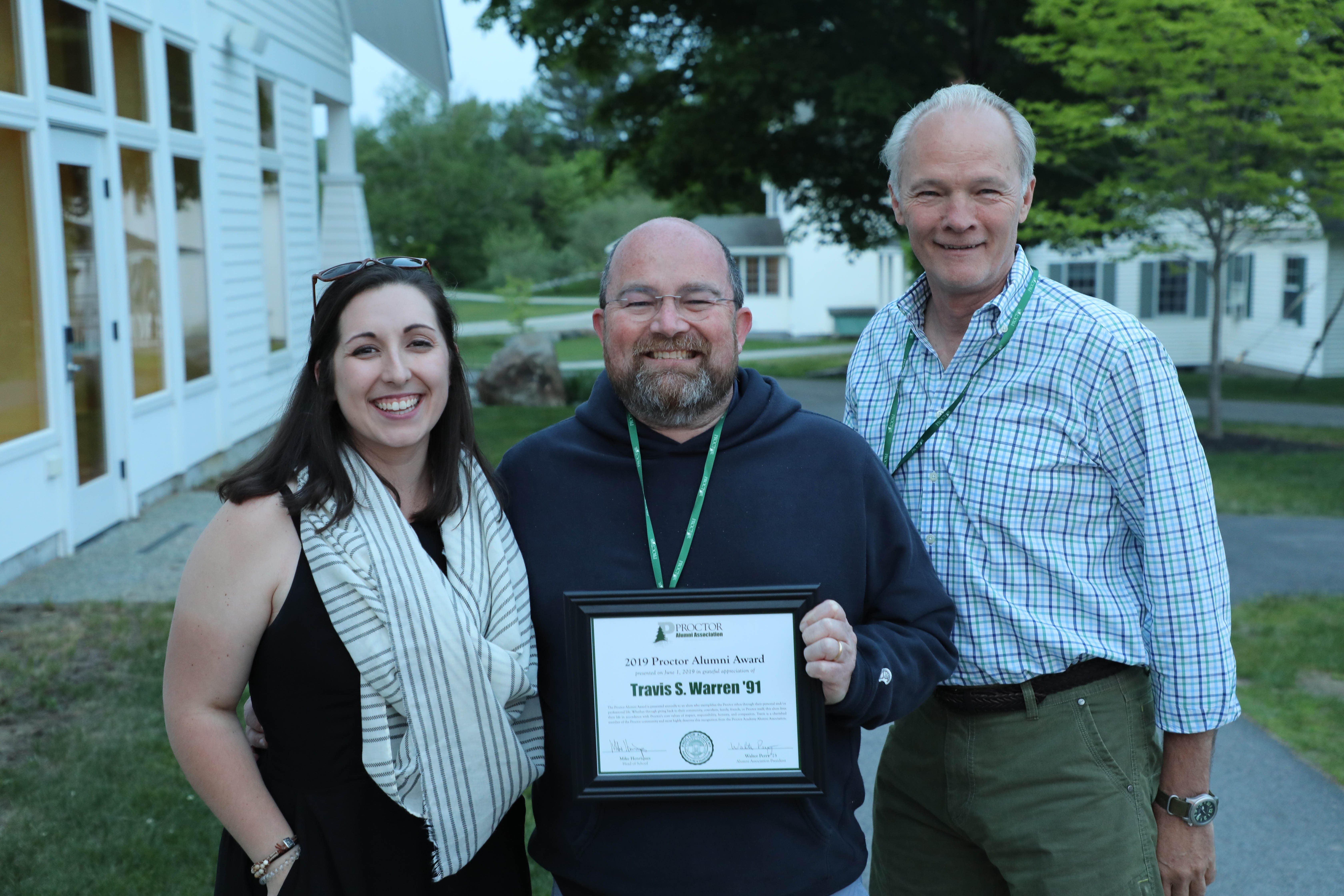 2019 Proctor Alumni Award: Travis Warren '91
After graduating Proctor in 1991, Travis went on to start a company called WhippleHill Communications in 1997. This company would go on to become one of the preeminent technology companies in the independent school market before eventually being bought by Blackbaud. During his time at the helm of WhippleHill, he was a mentor to many, and his leadership style was very reminiscent of an approach the faculty and staff at Proctor would have taken: hands on, Experiential, Supportive.
Since establishing himself back in his hometown of Amherst, NH he has taken his community service involvement to a new level. For years he was a coach and leader within the Amherst Pop Warner program. More recently he has lead the charge creating the Amherst Community Foundation (ACF). A non-profit organization focused on enhancing the quality of life in Amherst by raising and providing funds for programs that benefit the entire community.
Attending Proctor was an important enough part of his story that he was excited to be able to share it with his children. His oldest daughter Siri is a member of the class of 2018. And his oldest son Ben, just graduated last weekend. On top of it all, being a proud alum and parent, we are also fortunate enough to have him as a member of the Proctor Board of Trustees. It is rare to find someone so willing and motivated to give back in so many ways to several worthy groups and causes.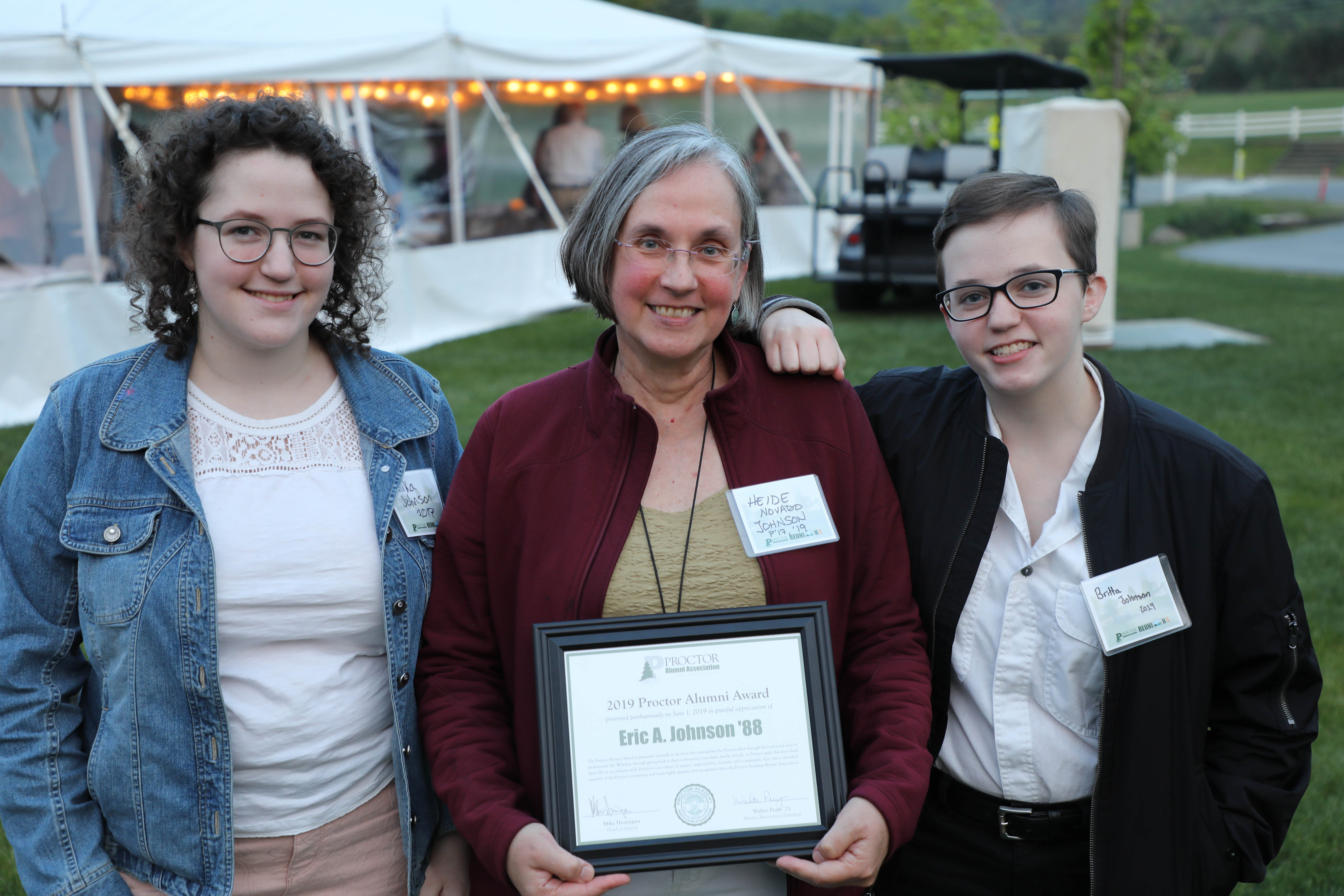 2019 Proctor Alumni Award: Eric Johnson '88 (awarded posthumously)
Eric Johnson's relationship with the Proctor family began in 1985 when he arrived on campus as a student. For over thirty years, his journey shared a few common themes: a passion for experiential education, natural resources, and family. After graduating and attending college, Eric returned to Proctor in 1992 as a Mountain Classroom instructor and eventually as a classroom teacher. He married his extraordinary wife, Heide, and they raised two wonderful children, Annika '17 and Britta '19, at Proctor.
Eric inspired those around him with his generous spirit, positive attitude, and uncanny ability to get others as fired up about his passions as he was. He built his own house, ran his own timber service company, started Tucker Mountain Maple, and became the Program Director for the New Hampshire Timberland Owner's Association.
In 2012, Eric's path took an unexpected turn when he was diagnosed with ALS at the age of 41. Over the course of his battle with ALS, Eric was a pillar of the Proctor community and refused to allow his diagnosis to change his impact on others. In 2016 the newly renovated sugarhouse, designed and built by Brooks Bicknell's Architectural Design class, was dedicated to the Johnson Family. In 2017, Eric lost his battle with ALS. For all of his positive impact, both here on Proctor's campus and for the greater community as a whole, we are honored to dedicate this Proctor Alumni Award to Eric Johnson, Class of 1988, and his family.