Whether it is the evolution of off-campus programs (read more about Proctor in China here) or the addition of new athletic programs like crew or track and field, Proctor's institutional willingness to remain dynamic in how we pursue the constancy of our mission is notable. Within this context, Proctor is excited to share the further evolution of its alpine ski program through a new partnership with coaches Peter Anderson and Parker Spear to launch the Proctor Gap FIS Program for ten athletes this year.
Consistently producing national level skiers since the 1940s and 1950s, Proctor's deep commitment to snow sports allows dedicated skiers to pursue elite level skiing within the context of an educational model rooted in experiential learning opportunities both on- and off-campus, an integrated academic support program, and a robust offering of 135 academic courses, 30 art courses, and 30 afternoon activity and athletic programs.
Over the last decade, the Proctor Ski Area, the school's privately owned and operated facility, has undergone significant development, providing an elite training venue for Proctor's USSA/FIS Alpine, Nordic team, and Ski Jumping team. The installation of a FIS homologated Nordic venue with lights and full snow-making capabilities complements earlier investment by the school in FIS homologated alpine trails. Most recently Proctor has earned U.S. Ski & Snowboard Silver Certification. With more than forty USSA/FIS student-athletes training within the program each winter and attending four pre-season training camps throughout the year, the scope of Proctor's USSA/FIS program matches the school's investment in the Proctor Ski Area, a gem of a privately owned and operated, on-campus facility widely recognized as an elite training venue in the country. With the addition of a Gap FIS Program, Proctor's alpine program welcomes ten of the strongest skiers in the northeast and two of the finest coaches in the industry.
Alpine Program Director David Salathe reflects on this growth as a school and recent evolution of the Proctor Gap FIS Program, "Morgan and I have been lucky enough to work for a school over the last 21 years that values history, but thrives on innovation. Over the past year we've seen a trifecta of success with unparalleled program growth, unprecedented results for our athletes, and the honor of being selected as one of six clubs in the country to be chosen as a High Performance Partner with USSA." He adds, "We've always looked at the bookends of what we try to do as reflective of who we are as a program - both from the students and families Proctor attracts and the type of students we graduate. As our students graduate and prepare for collegiate competition, having a partner program like this provides a tremendous opportunity for students to work with coaches like Peter Anderson and Parker Spear who are among the best in the industry."
Proctor Gap FIS Program coaches Peter and Parker share thoughts on this new partnership below.
One of the motivations for this partnership forming is the synergy of your program with Proctor's USSA/FIS alpine program. Can you elaborate?
Peter Anderson (PA): Over the years, I've gained enormous respect for what Proctor's coaching staff has been able to accomplish with their student athletes as well as Proctor's facility at the Proctor Ski Area. It is this very real passion that drew us to Proctor. Whether it is the quality of the snow surface, how they welcome a visiting team to the facility, or their coaches' approach to teaching, having two like minded passionate teams joining forces will create an environment that stimulates learning at an even faster rate. On a practical level, Proctor's skiers will have an opportunity to "ski up" with our group whether it be during training sessions at Proctor or on the road for races. Similarly, our athletes will benefit tremendously from being around Proctor's coaching staff and from serving in as a "role model" for the younger skiers.
Parker Spear (PS): As our program continues to integrate with the Proctor community and especially Proctor's USSA/FIS program, there will be significant advantages as this partnership allows us to have more coverage at a wider range of races. Our partnership means we may be able to send our guys to a race series with Proctor's group if that is a better opportunity for a particular athlete and visa versa if one of Proctor's skiers needs to be accompany our group to a race that is ideal for their development.
Why do you believe Proctor is the right place for this Gap FIS partnership program to thrive?
PA: I have been watching the Proctor USSA/FIS program evolve from your typical prep school team to a nationally recognized program. This only happens when you have a remarkable coaching staff, an unparalleled facility, and an institutional commitment and vision for the program. The coaching staff Proctor has assembled and the technical facilities available at the Proctor Ski Area have made this evolution possible. As we have raced and trained at Proctor in recent seasons, we have seen the work ethic and pride of all of the staff. In my opinion, Proctor's commitment to excellence is unique in the ski world - from the attention to detail of the mountain manager and his crew to the coaches to the administration - and we wanted to find a way to immerse our program in this atmosphere of excellence and accountability.
PS: My first impressions of Proctor started as an athlete racing for Plymouth State University. After a trip to train at the Proctor Ski Area as an athlete, I went from not knowing what Proctor Academy was, or that they had a ski team, to being immersed in one of the best training and racing venues in the east. From coaches Craig Leaman, Jason (Moot) Nelson, Ashleigh Bolton, Mike Fairbrother, and Morgan and Dave Salathe to Proctor Ski Area manager Garry George and his staff, there is an amazing vibe every time I've been at Proctor. They always have amazing surfaces for racing and training and have always embodied an electric atmosphere. In more recent years, take a look at U16 results and you won't have to go far before you see a handful of Proctor athletes.
Tell us a little about yourselves as coaches?
PA: Like many coaches, my passion for skiing began at a young age at Mount Sunapee. I skied for Holderness School before matriculating to Dartmouth College where I skied for four years at the NCAA level. After a brief separation from the ski world, my wife Lucynda (40 years married this summer!) and I focused on starting a family as I worked in the corporate world for nearly a decade. During that time I began part time coaching at Waterville Valley, starting with U10s and took that group up to FIS athletes as a full time coach. I've stayed in a full-time coaching capacity ever since. Outside of my love of coaching, I love spending time with my grown kids, Pete Jr. and Kate, working on my mini-homestead, and hunting with my two bird dogs.
PS: I grew up on skis. My dad worked at and now owns and operates Brantling Ski Slopes, a small ski area (similar to the Proctor Ski Area) in Western, New York. The hill was daycare in the winter for my siblings and me. When you have a strong vicarious influence like that it inevitably directs you to working in the industry. My coaching career became more permanent when Jason Guilbert and Pete Anderson brought me on board to work with them at Waterville Valley. They showed me a different way of looking at, and teaching, the sport of skiing. We built some strong teams over the years and had a lot of successes. My "formal" coaching education came through United States Soccer Federation's licensing programs, where I have earned as high as a B License. Their licensing has a strong pedagogical approach and they teach many physiological and psychological principles and concepts in order to create and maintain healthy environments with athlete interest as a priority. I'm also the Associate Head Coach at Plymouth State University and work with them throughout the fall.
Tell us a little about the athletes you are working with this year?
PA: We have our largest number of returning athletes this year, which gives us more of an opportunity to effect change. Many of our guys have commitments to colleges, but need to improve their skill set and continue to get stronger before competing at NCAA schools. Others have not yet made a college decision, but understand the sport of skiing will open up doors of opportunity to academic institutions that would otherwise be inaccessible. Beyond this, all of the guys are inherently driven. Our belief as a program is that if these young men want to be exceptional, they have to live exceptionally in all phases of their life and sport and generally they accept the challenge.
PS: We have a group of athletes this year that might be the most focused group we have ever had. Hunter and Will have been with us for their entire FIS career. Fredi, Liam, and Masashi stayed on for a second post-graduate year with us, while the rest of the guys (Ian, Taiga, Chris, Jack, and Evan), have just started with us this season. All of the guys have their own goals, whether it's taking the sport to its pinnacle, improving point profiles, or fighting their way to earn a college coach's attention, they all feel they having more to give and to show their speed in race situations. Our hope is that their goals dictate how they live their lives and spend their time, leading them to becoming disciplined and professional in their approach to life and sport.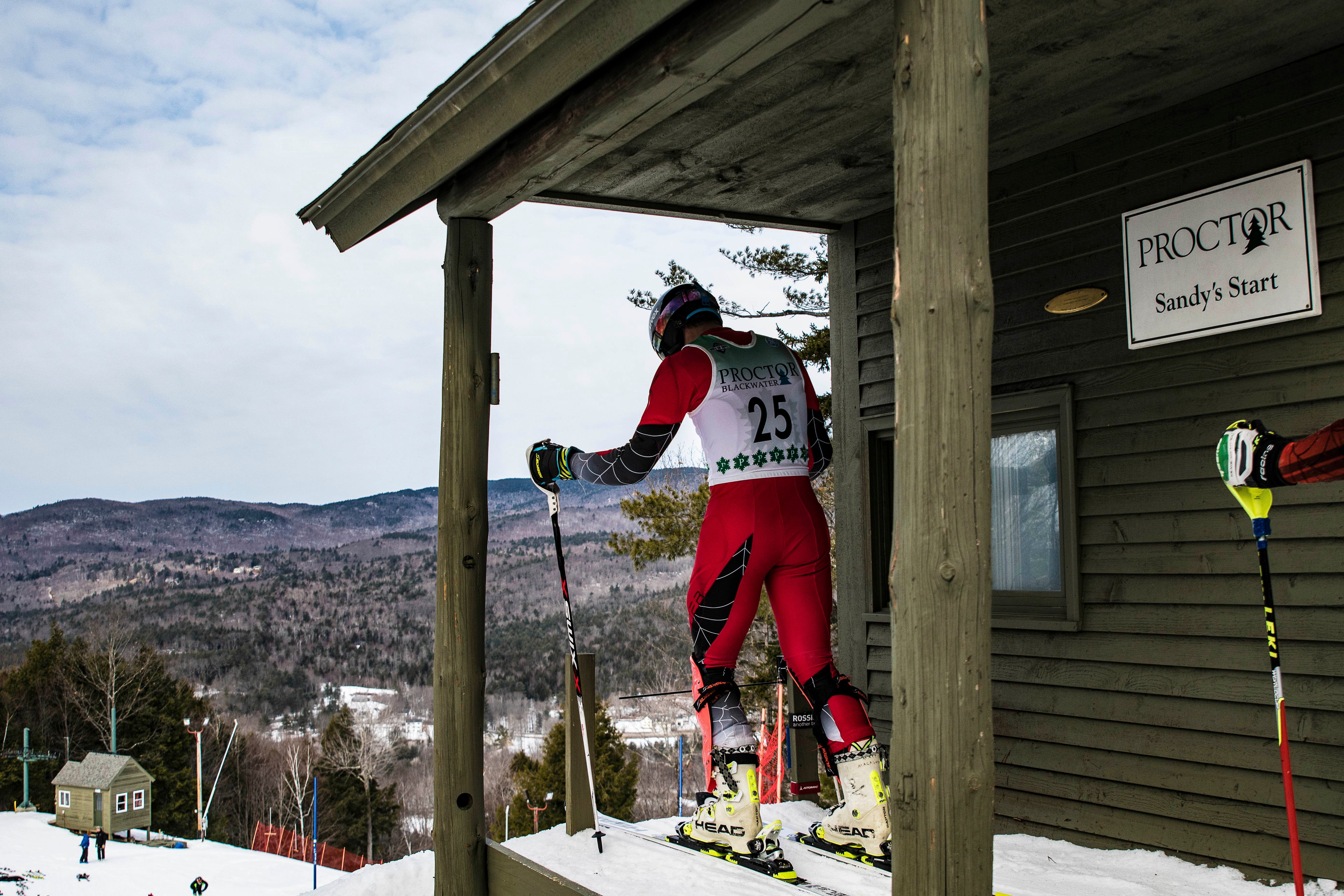 You will spend much of your year traveling and following snow in search of the perfect training conditions. Can you share a bit about your rough plan for the year?
PA: We chase the best opportunities for the high level conditions that the guys need to move into the 20-30 point range. So far this year we've traveled to Mt Hood in June, Stelvio/Zermatt in July, and Saas Fee in September, and will head back to Saas Fee in mid-October. All camps have been productive. Looking ahead to the winter schedule, we will train in Panorama, British Columbia from November 25 - December 10 (overlapping with Proctor's USSA/FIS team) before splitting up and chasing races all over the world. Some athletes will stay in Western Canada, while Taiga will likely race in China and Japan, others in Jackson Hole and yet others in Eastern Canada and US races. Following the winter holidays, we'll be training primarily at the Proctor Ski Area and competing in Eastern US and Canadian races.
PS: We've been fortunate so far this summer with our training - every on-snow project has given us ideal conditions to get work done with little distractions from Mother Nature. Fingers crossed this continues! We just finished a camp in Saas Fee and were hosts to Felix Neureuther one day and Ramon Zenhousen the next. Having the opportunity to train alongside some of the best skiers in the world creates a remarkable environment for our athletes.