Campus is quiet, for the moment. No bikes or skateboards or scooters zooming down pathways. No laughter or chatter as students pass between classes. No rushing off to our next class, meeting, assembly, or practice. Faculty have plenty of grading to do as we wrap up Fall Term assessments, but we take a collective deep breath this week as we celebrate Thanksgiving with family and friends.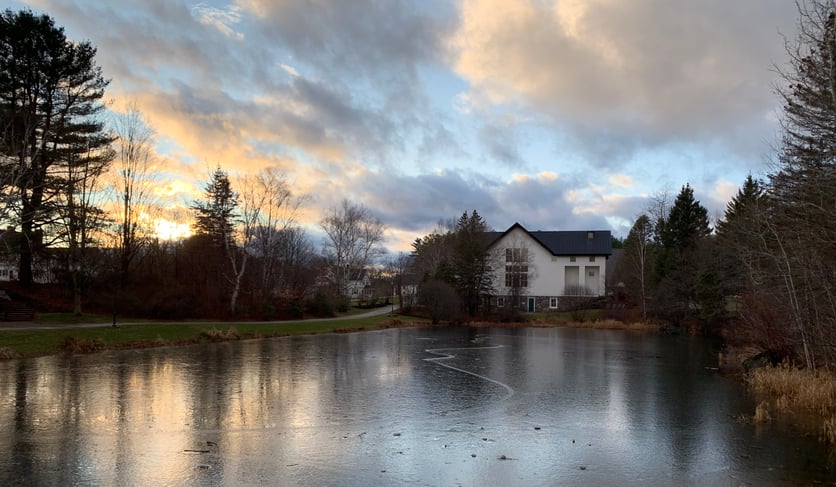 In the midst of the chaos of boarding school life, we rarely take the opportunity to share our appreciation for the work of our colleagues to our left and right. We rely on each other so heavily in this work environment that we often take each other's talents, patience, and skill sets for granted. In today's blog, members of our faculty and staff share appreciation for those who make a difference in their daily life at Proctor. We encourage you to take time out of your busy life to do the same for those who live and work in your sphere. Happy Thanksgiving from Proctor!
For Patti Durkin and all of her guidance in the workplace and with daily life matters. She is selfless and is always there to listen to anyone who stops by. Thank you for being the go to person, you're amazing!
For Kyle Tremblay for her positive energy all over campus and her excellent communication skills and initiatives in the area of residential life.
For Becky Cassidy for her patience in the thankless day-to-day design projects and brainchildren of all of us who think we have a good "eye" for how things should look.
For Derek who is a great listener for all problems, small or large, and has a great way of making the office feel light and fun, even on the days that are crazy. I am happy to be able to work with you!
For Garry George for taking such good care of the ski area and creating the earliest Nordic skiing we've ever had.
For Wendy McLeod for her incredible work ethic and executive functioning skills that elevate all of us Learning Skills and help us serve our students and their families so well.
For David Elwell for his incredible craftsmanship in refinishing our wooden tables in Learning Skills. The tables look absolutely beautiful!
For Ale Young for taking such good care of our international students and working so hard to create meaningful and engaging classes and sharing with her colleagues.
For Gregor Makechnie for cultivating a relationship between Proctor and Special Olympics.
For Becky Walsh as she keeps things running smoothly and helps me do my job well.
For Patti Durkin and Morgan Wilson for their work ethic, attention to detail, and ability to successfully juggle so many critical tasks and projects that help to make Proctor run smoothly!
For all the encouragement and support Jen Fletcher gives to all her Learning Specialists.
For the unceasing commitment of Ian Hamlet to the kids he coaches and teaches.
For my colleagues in my department for their warm welcome, their smiles, and their dedication to helping students learn mathematics.
For Elaine Rondeau who has been a mentor and taught me so much about work ethic and integrity over the years. Her work behind the scenes is appreciated!
For Ashleigh Boulton who is the most positive outgoing person you will ever meet. She is somehow able to make you feel like you're on top of the world when everything seems to be going wrong. Her smile lights up the room and is very contagious. I am so grateful for her showing me all the good that exists in the world.
For Drew because he deals with heavy and emotional issues on a weekly if not a daily basis and has found a level of calm and humorous balance in his life at the same time. He's a positive person in a field where negativity could easily creep in. He's not perfect everyday, unlike Superman or Robert de Niro, but he's solid and I appreciate him.
For Mike and his wisdom and guidance, for Morgan and her work ethic and friendship, for Lori and her peaceful nature, for Scott and his vision, for Derek pushing the academic envelope, for Dining Services for providing us with amazing fresh food options daily, for Housekeeping for keeping the place spic and span, for Maintenance for their future sanding of the walkways, for Ian and Patty for keeping the Java Hut alive, for Corrie for keeping track of student transportation, and so many more.
For Angela Warn for caring and always trying to do what is best for Proctor!
For Seth for his work ethic and always bringing a smile to my face.