Early in his career former Proctor Academy Head of School Lyle Farrell (1952-1971) worked alongside Dr. Samuel T. Orton to pioneer the psychometrics and pedagogy of reading disabilities. Farrell would take what he learned from Orton and establish the nation's leading tutorial support system for college-bound, dyslexic students in the early 1950s at Proctor. Through intentional programming aimed at helping young dyslexic boys, the predecessor to Proctor's Learning Skills program changed countless young people's lives.
Fast forward sixty years and Proctor's Learning Skills program has evolved into a national leader in integrated academic support. During former Head of School Steve Wilkins' tenure (1995-2005), the Learning Skills program made significant advances to evolve its pedagogy, laying a foundation for the continued evolution of the program during Head of School Mike Henriques' tenure. Over the past fourteen years, Proctor has followed closely the work Wilkins has done as Head of School at Carroll School, diving deep into understanding how to not just teach students to compensate for their learning differences, but to truly rewire their brains.
Proctor enrolls more boarding students from Carroll School than any other feeder school, a testament to both Carroll's ability to prepare students for high school and the synergy that exists between the two school's approach to academic support. Carroll's partnership with Dr. John Gabrieli, the Grover Hermann Professor of Health Sciences and Technology and Cognitive Neuroscientist at the Harvard-MIT Division of Health Science and Technology has created a comprehensive program that helps rewire a student's neural pathways to address specific areas of weakness: Targeted Cognitive Intervention (TCI).
In the fall of 2015, Proctor alum Ben Shepard '06 returned to Andover to share his work with Carroll's TCI program. Last week, Ben joined with Steve Wilkins and Carroll's Head of Product, Jennifer Brock, to present Carroll's most recent research and software development. Their team at Carroll has seen remarkable results as students' verbal working memory, reaction time, and executive function have improved considerably by mapping cognitive profiles and prescribing specific training regimens to each student based on areas of weakness. Carroll has piloted the TCI model with Greenwood School (Putney, Vermont) and the Andover School District (Andover, Massachusetts), and is actively seeking partners to form a consortium of schools employing a targeted approach to addressing dyslexia and other learning differences in young people's brains. Of course, Proctor's approach to integrated academic support for high school students would provide a fertile ground for further research in this area, and after continued conversations between Proctor's Head of School Mike Henriques and Wilkins, Mike reached out to see if Carroll would consider circling back to campus this fall to share their research and to help us determine the efficacy of targeted cognitive training with a high school aged population, and what that partnership might look like moving forward.
Virtually all previous attempts to support students with learning difficulties in schools have been focused on remediating academic skills, supportive tutoring, or changing the environment in which the student is supposed to learn; today's neuroscience suggests that educators can literally change the way that students' brains function. - Steve Wilkins
At the heart of this exciting evolution in how we view learning differences is data. So much of Proctor's value as an educational institution comes from anecdotal experiences. It feels impossible to track self-confidence, self-advocacy, self-reliance, or emotional growth through data. Sure, we generate grades, and statistics on who studies off-campus (80% of students), the correlation between off-campus program attendance and competitive college acceptances (90% of graduating seniors attending most selective colleges studied off-campus at Proctor), honors/AP students enrolled in Learning Skills (74), or Learning Skills students who studied off-campus last year (54). But having data to support brain development? To show students and parents the impact of Proctor's educational model through data? Now that is exciting stuff worth exploring.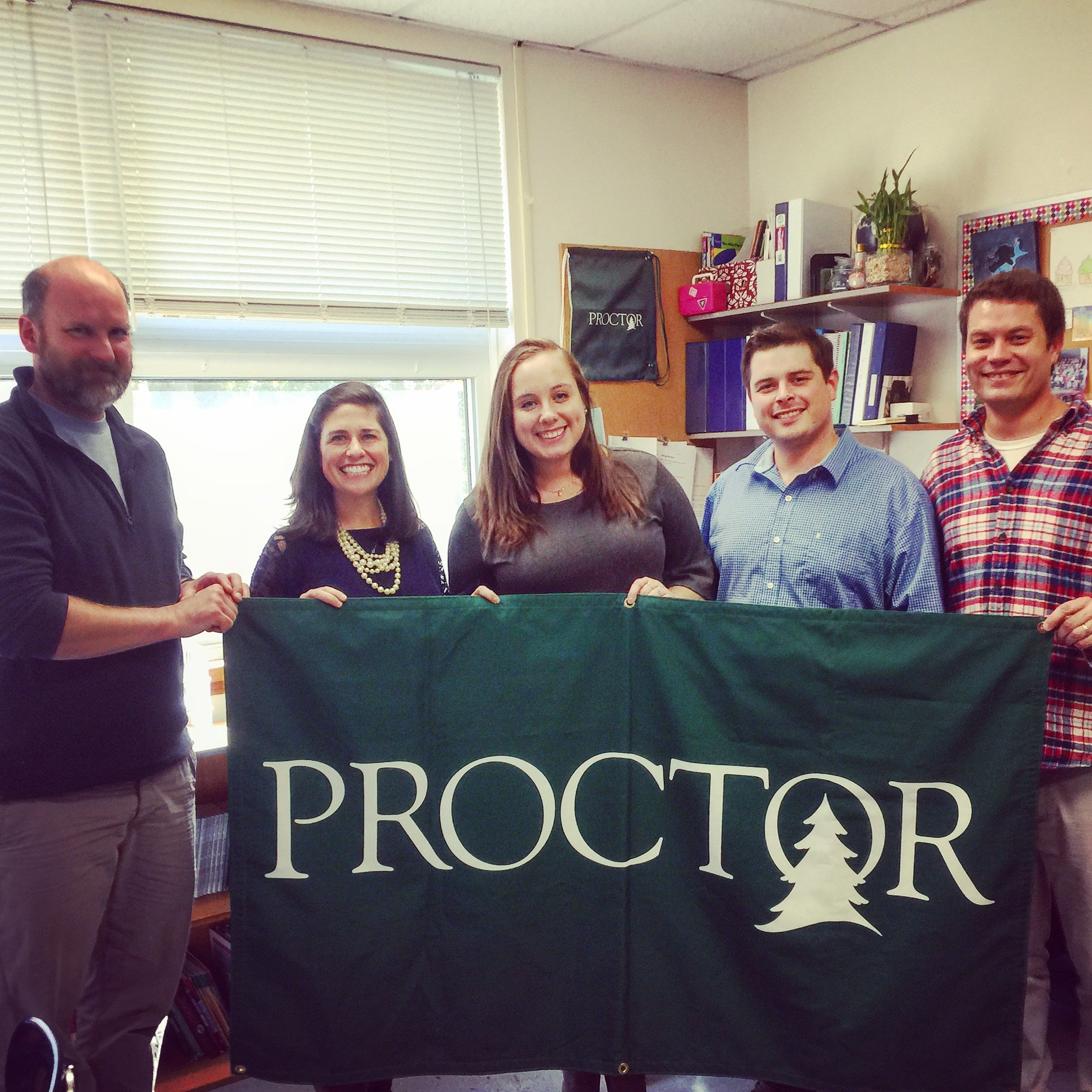 Current Proctor Alums who are Carroll School Faculty:
David Johnson '95, Megan Manning Cairncross '02, Marissa Ray '09, Ben Shepard '06 and Nick Wilkins '02