On Tuesday evening, five classes joined together to host Proctor's annual Fall Innovation Night in the Wise Center while a bitter national election took place outside the Proctor bubble. Students from Engineering, Environmental Biology, AP Environmental Studies, US History, and Social Entrepreneurship showcased their final projects to the whole community through an open house atmosphere followed by individual presentations for each group throughout Maxwell Savage Hall. Innovative learning and student-led projects have long been core to Proctor's academic curriculum, and Innovation Night allows much of that work to be shared with the entire community.
Classes welcomed guest judges to evaluate projects and provide constructive feedback to each group. One of those judges was Stephen Thompson, an executive recruiter in the tech industry who has made a career forging connections. During Monday's assembly, Stephen shared a heartfelt message about his own upbringing in the foster-care system and how he beat the odds to attend college and earn his degree. At the core of his message was the role 'community' has played supporting him along the way. (You can watch his entire assembly talk here!)
Tuesday's Innovation Night highlights the role our community plays in our students' development. When the vast majority of a community shows up at a voluntary two hour event and engages on a deep level with students about their learning process, students can't help but feel loved and supported. It is this culture of support that empowers our students to take risks, to put themselves out there, and to be willing to apply their problem-solving creativity to real world problems.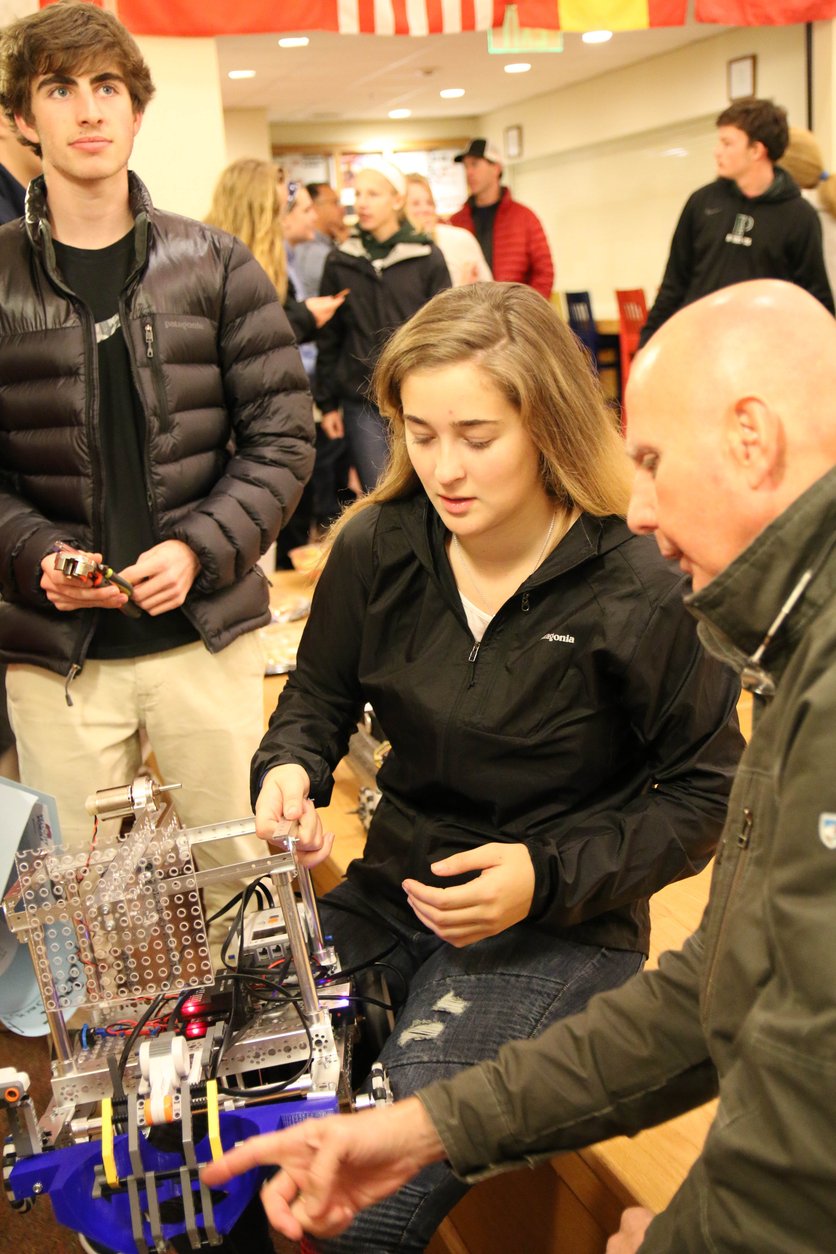 Whether you spent time talking to Crowley '17 and Mike '17 about their organic hand sanitizer they developed with chemistry teacher Ian Hamlet (check out more of their process in this video), engaging with Eliza into her thoughts redistributing fresh produce from farms to food deserts, listening to JT '18, Tate '17, and Nate '17 discuss their business plan for making furniture out of broken hockey sticks, or Pilar '18, Kiara '18, Jojo '17, Katie '17, and Meredith '17 share their research on water quality in the Proctor Pond, or with the dozens of other presenters, your time was well spent. Not only did you gain a window into the types of problems students see in the world, but the unique way they craft solutions.
We, as parents, teachers, peers, and community members, must continue to invest in our students lives in this way. Instilling the self-confidence to take risks and think outside the box is one of the greatest gifts we can give our students. This investment spills over beyond innovation and academic work to serve as the underpinning of a school's culture where peer to peer relationships and faculty to student relationships are centered on mutual respect.
Congratulations to all the students who took the risk of having their work critiqued during Innovation Night. It was an impressive evening during which we were reminded just how creative, intelligent, and passionate our students are!