We woke Sunday morning to temperatures hovering around zero degrees. The frozen silence a much needed blanket under which we could spend the day seeking restoration after a busy first week of the Winter Term.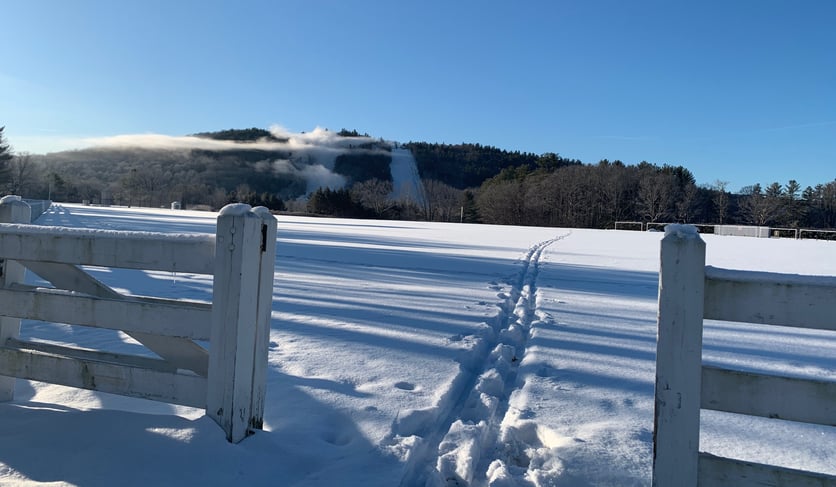 For me, nothing resets my soul like time spent alone in nature. With six inches of fresh snow, I set out for a snowy run on trails behind our home. Armed with microspikes, a blaze orange vest and hat (this was the last weekend of hunting season), and headphones, I set out. As the trail climbed, the footprints became more sparse until just a set of Nordic tracks remained cutting through the fresh snow. Eventually, there was nothing but virgin snow in front of me, an empty path for me to explore.
Renowned trumpetist and Berklee College of Music professor Tiger Okoshi performed during assembly and met with jazz/rock students this morning and shared his life story with Proctor's student-led Diversity Committee during lunch. He recounted his first weeks in the United States as a twenty-two year old newly wed after he and his wife completed their degrees in Economics and Japanese literature, respectively, in Japan. Traveling east on a greyhound bus through Colorado, Tiger he remembers seeing nothing but open land in front of him, and for the first time in his life realizing he could create a life from scratch. He and his wife did not speak English, but they viewed the blank canvas afforded them as the opportunity they needed to follow their hearts.
On Saturday December 14, we will host our second Admissions Open House. Our Admissions Team will talk about the programs and people who make us, us. An overarching message of "what could be" will flow through our students and faculty to visiting families. We will pose the question to each prospective student, "Which Path Will You Choose?" as you craft your Proctor experience, and while we do not expect our visitors to have an answer, we hope they wrestle with the possibilities that lay before them.
Families often visit schools and look at the paths laid out for them by the school. They evaluate how they might fit into those neatly prescribed journeys through high school. This approach works for many students and feels "right" to families who value a tidy outcome from their child's high school years, but Proctor tends to attract students (and families) who thrive on the unbroken path and prefer a blank canvas to a map. And, we are the type of school that institutionally seeks to move out of the well worn tracks of education into the uncharted territory of exploring how adolescents learn best. How much more exciting is it to walk through the unbroken snow? To follow a path while we get our bearings, and then set off on a journey that is truly our own?