The fall athletic season is nearing its end and Fall Term exams are just a week away. While we all are anxious about the final week and a half of the term and the significant amount of work that awaits us, we must take a minute to reflect on the past ten weeks and all we've accomplished.
School is hard work. At Proctor, we think we make that work as fun as possible given our educational model, but there is no way around the fact that sometimes learning requires hard work. As educators, our challenge is to create a learning environment that not only values hard work (as our effort grade system seeks to do), but helps students connect that hard work to meaning beyond the classroom.
The above Ted Talk by Dan Ariely provide insights into what makes us feel good about our work. Ariely cites seven factors that shape our views about work:
Seeing the fruits of our labor may make us more productive.

The less appreciated we feel our work is, the more money we want to do it.

The harder a project is, the prouder we feel of it.

Knowing that our work helps others may increase our unconscious motivation.

The promise of helping others makes us more likely to follow rules.

Positive reinforcement about our abilities may increase performance.

Images that trigger positive emotions may actually help us focus.
As a school, we try to immerse students in a community that challenges each individual to work hard while consistently recognizing other students' efforts. This weekend's athletic awards ceremony, art show, dance performance, vocal ensemble recital, and jazz/rock concert will represent the hard work of nearly 100% of the student body. That is pretty remarkable.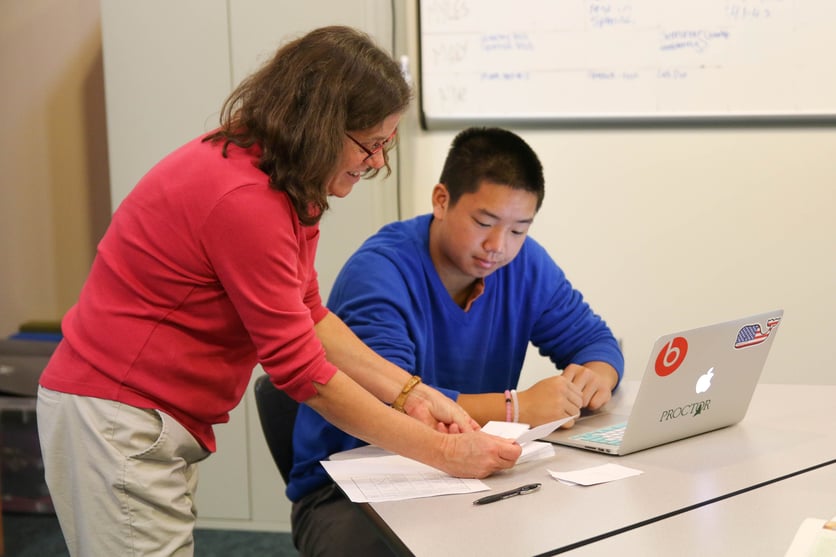 In this previous post, we reflected on the aims of end of term assessments. Testing knowledge is important, but connecting students to their learning remains our ultimate goal. End of term evaluations will vary tremendously; iBook projects, traditional exams, research papers, community service, and even an evening of social entrepreneurship, studio art, and robotics presentations Thursday night starting at 6:00 PM in the Wise Center. Each of these assessments will demonstrate learning in a slightly different manner, and that's all right with us.
As we enter this final stretch of classes and end of term exams, make sure you let those around you how much you appreciate their hard work. We love when our students share their knowledge with others in a way that not only reinforces their learning, but connects that learning to the world outside of Proctor.