Last year, we published a blog post You Are What You Assess. As students enjoy a week of vacation following exams, we revisit the message in that post with a look at last week's final assessments.
While a role for traditional assessment methods (cumulative examinations) certainly still exists, the ultimate goal of Proctor's end of term assessments is to evaluate student learning and growth. Memorizing facts and regurgitating them on a test do little to sustain learning in students, studies have proven this time and again. Instead, asking students to demonstrate their learning in a variety of ways reinforces content discussed, and strengthens the practical applications of that newly acquired knowledge to real world problem solving opportunities.
We have already highlighted student work final in Psychology, Social Entrepreneurship, Engineering, and Studio Art students on Proctor's Innovation Night, as well as the work of all art students in this Celebration of the Arts post. These represent a considerable amount of time and energy invested and elevate student creativity and learning in a public forum for all to appreciate.
Other assessments across departments mirror that same creative energy. Below, Izzy '16 shares her synthesis project for her globalization class, a compilation of interviews, personal reflections, and insights into the main themes of the class from her perspective.
Economics students were asked to design and create a digital textbook chapter that teaches the chapter's material to someone whose knowledge about microeconomics in minimal. By utilizing interactive graphs, embedded videos, graphs, tables, and current events articles, the iBooks allowed students to reflect their creativity, while effectively and efficiently capturing the basic principles of the chapter. Jay '17 researched factor demand, human capital, and the production function, and you can download and view his iBook here.
In Anatomy and Physiology, students had the opportunity to combine knowledge with artistic ability as they sketched bone diagrams. Tsheifu '17 and Alexis '16 leveraged their artistic abilities on this assignment to diagram the complex bone structures of our hands and feet.
Other final assessments may feel a bit less exciting, but are just as vital in evaluating student learning. When considering the whole of how each student's learning is assessed, a variety of assessment types is imperative. Grace '18 demonstrates mastery on this Chemistry lab, while Hannah's '17 problem set from Algebra 2 represents attention to detail and perseverance in what has been a long math journey for her.
The World Language Department offered both oral and written examinations, while Erik Cole-Johnson's Spanish 1 class produced videos like this one by Nelson '19!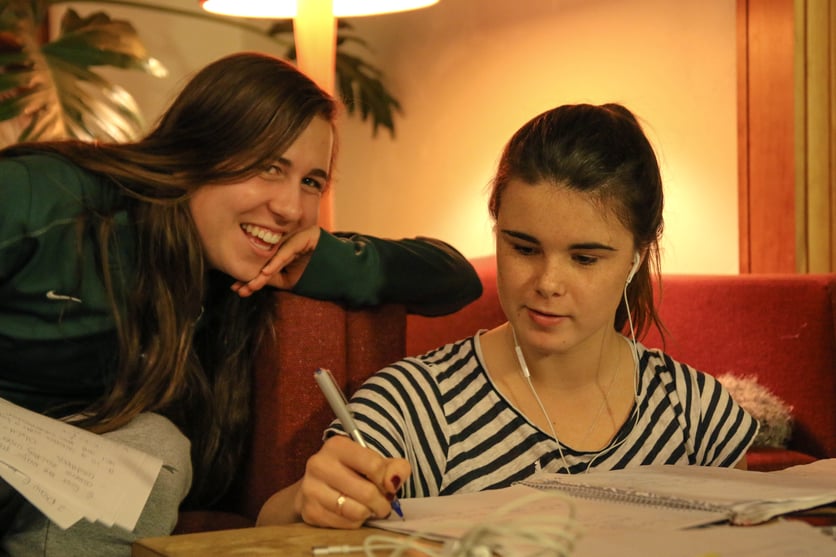 We understand no two students are the same, and therefore, no single assessment method will be universally effective in measuring the learning taking place in all of our 135 academic courses. If we truly are what we assess, then we must be a creative, diverse, fun, engaging community that values a variety of assessment methods!