For the fourth time in the last eleven seasons, Proctor's varsity football team has completed an undefeated season, following in the footsteps of the 2006, 2008, and 2012 teams who also ran the table in the Evergreen League. Proctor's team was selected for its fourth New England Bowl berth in program history, earning a bid to the Wayne Sanborn Bowl vs Hamden Hall School scheduled for Friday evening at 5:00 PM at Worcester Academy.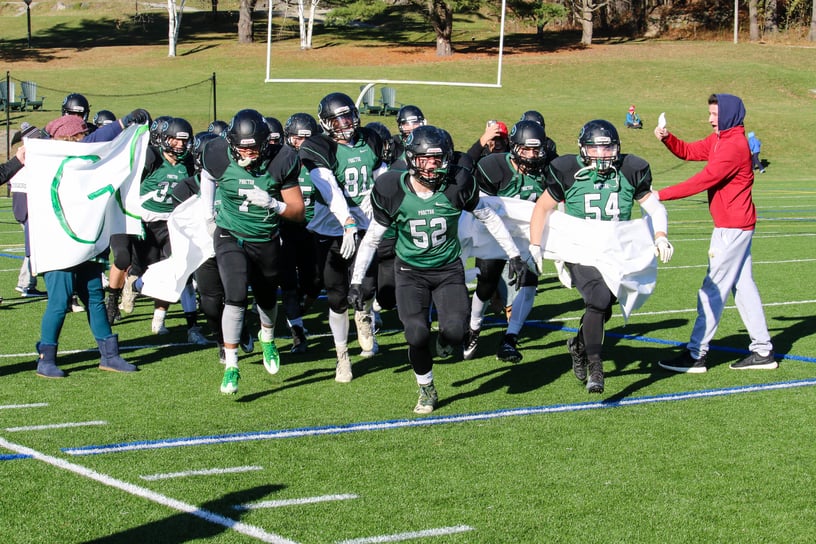 Under the guidance of head coach Casey McCormack (4th season) and his coaching staff, the Hornets battled their way through a competitive Evergreen League schedule with impressive wins over New Hampton School (37-29 in Week 1), Class B St. Paul's School (24-7 in Week 3), and a Tilton School team that was undefeated last season (38-33 in Week 4). Coach McCormack acknowledges the key to victory in each of these games proved to be a combination of timely defensive plays, tremendous special teams play, and a consistent running attack that wore down opposing defenses. Perhaps the most telling statistic for the season is the remarkable turnover differential, as the Hornets have forced 25 turnovers and only coughed the ball up twice all season.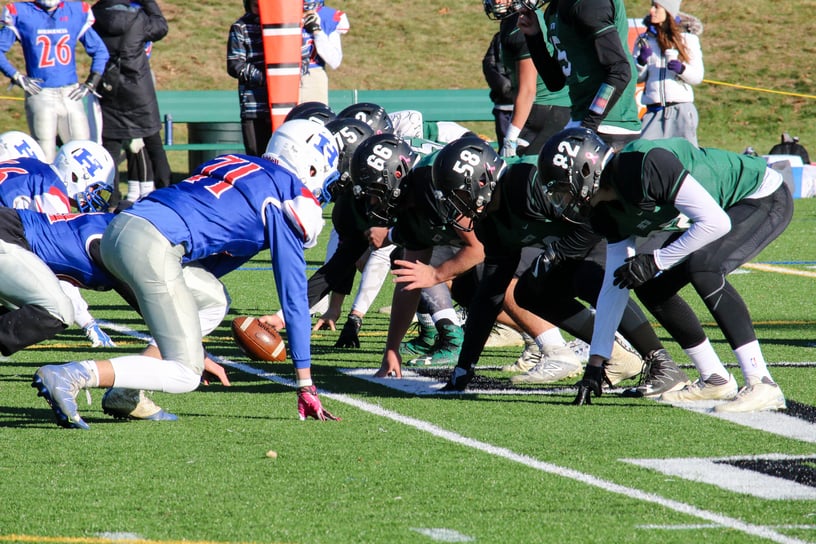 Ask any player on Proctor's team their greatest strength and they would reply in unison their defensive cohesiveness that has led to those 24 forced turnovers. Speed, athleticism, and full commitment to their coach's scheme have resulted in confused opposing offenses all season. The off-the-charts football IQ of Greg Reddick '19 (Miami, FL), combined with the intuitive athleticism of Ian Krishnan '18 (Boyds, MD), Mikel Derring '19 (Boston, MA), Eric Nemirovsky '19 (Sunapee, NH), Joe Moynihan '18 (Bedminister, NJ), and David Johnson '18 (Shelburne, VT) make for a stellar secondary responsible for nearly two dozen interceptions on the year. The linebacker core of Kenny Fusco '19 (Wilmot, NH), Dylan Oakes '18 (Enfield, NH), Alex Kaupp '18 (Danvers, MA), and Ezra Jenifer '19 (Andover, NH) possess an equally impressive combination of speed and strength behind the experienced defensive line of Liam Prescott '18 (Cohasset, MA), Lance Crate '18 (Enfield, NH), AJ Fox (Bedford, NH), Nicky Kurtz '18 (Chicago, IL), Hunter Cleary '20 (Edgartown, MA), Ronan Walsh '20 (Andover, NH), and Noah Sweet '19 (Rehobeth, MA). While the entire defense may be slight in their build, their ability to fill gaps and stop the run game, and simultaneously lock down opposing receivers, has proven daunting for opponents all season.
Since Proctor's football program was revitalized in the mid-2000s, a ground based attack has been central to the Hornets' success. This season was no exception as a platoon of running backs churned out the yards day in and day out over the past nine weeks. Leading this group of runners was Ezra Jenifer '19 (Andover, NH) who gained 884 yards on 122 carries, including 7 TDs. A deep stable of running backs has helped Jenifer as Ian Krishnan '18 (Boyds, MD) has added 400 yards and 4TDs on 54 carries, David Johnson '18 (Shelburne, VT) has run for 322 yards and 4 TDs on 52 carries, and Nemirovsky added 293 yards and 8TDs on 23 carries. Of course, this running attack would not be possible without the tireless work of Proctor's offensive line, specifically Jack Walker '19 (Wilmot, NH), Crate, Walsh, Prescott, Fox, Oakes, Kaupp, and Fusco.
Calling the plays and managing the offensive unit is yet another local talent, as Henry Bechok '19 (New London, NH) was under center for the third straight year for the Hornets. In the run-heavy offense, Bechok's ability to use deception in handoffs mixed with the occasional play-action kept opposing teams on their heals. The selective passing attack of Proctor consistently finds Krishnan (236 receiving yards on the season), Prescott (89 receiving yards), and Andover's Ronan Walsh '20 (65 receiving yards) as Bechok has completed 64% of his passes, and only thrown one interception on the year.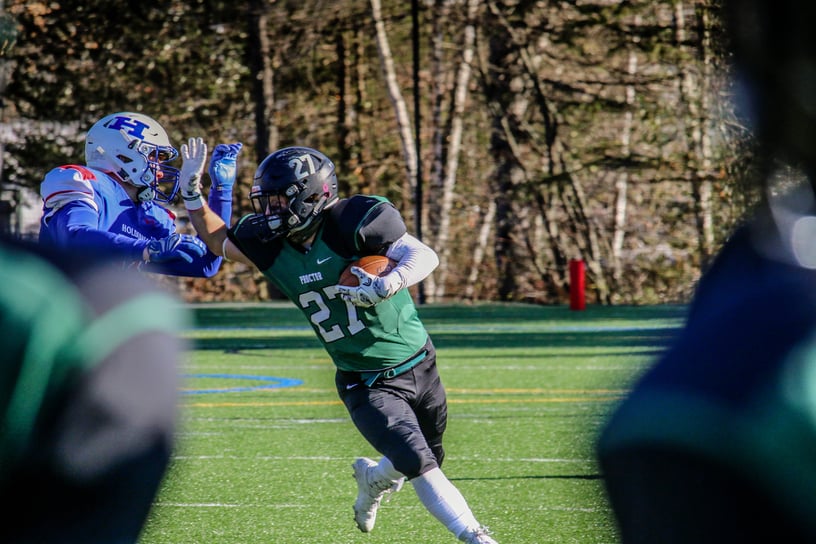 Solid offensive and defensive play kept the Hornets in games all year, but it was their special teams play that made the difference and turned the tide in the close contests early in the season. As a team, Proctor boasts seven special teams TDs on punt and kickoff returns, while the kicking game of Krishnan has not only consistently converted field goals of 45+ yards this season, but also pinned opposing teams deep in their own ends, giving Proctor a constant advantage in terms of field position.
Facing off against a talented Hamden Hall team, the Hornets know they will need to execute all facets of their game in order to keep the opposing Hornets (yes both teams wear green and white and have a Hornet as their mascot) at bay. Coming into the bowl game, Hamden Hall boasts a 9-1 record with their sole blemish coming last weekend versus undefeated Berkshire School (34-14). Hamden Hall has a pair of incredibly talented running backs in Michael Johnson '18 and Jordan Benoit '20, while quarterback Nick Bailey '19 has passed for 1,390 yards and 17 TDs this season. Bailey's air raid has a plethora of options including Michigan commit tight end 6'6" Luke Schoonmaker '18, David Spitz '18, and Andrew Rice '18.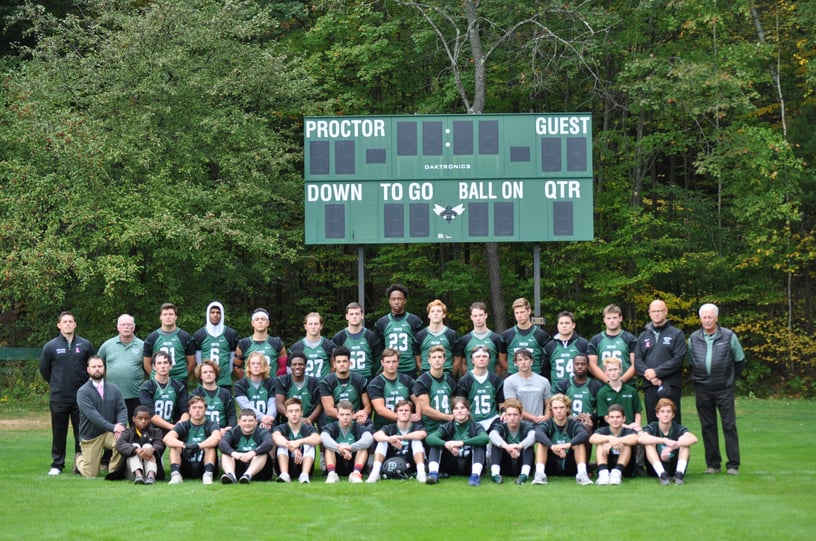 Proctor will certainly have their hands full with Hamden Hall, but as any fan of high school sports knows, nothing matters except that which is decided between the lines on game day.