Stewarding a community like Proctor is never the task of an individual, but rather the responsibility of every person whose life has intersected the school. Whether you consider yourself an alum, a student, a parent, a faculty or staff member, a grandparent, or a parent of an alum, your stewardship of the Proctor community matters. Today's celebration of the Class of 2018 at Proctor's 170th Commencement was a reminder of how the collective work of everyone in the Proctor community, past and present, has shaped Proctor into the perfectly imperfect place it is today.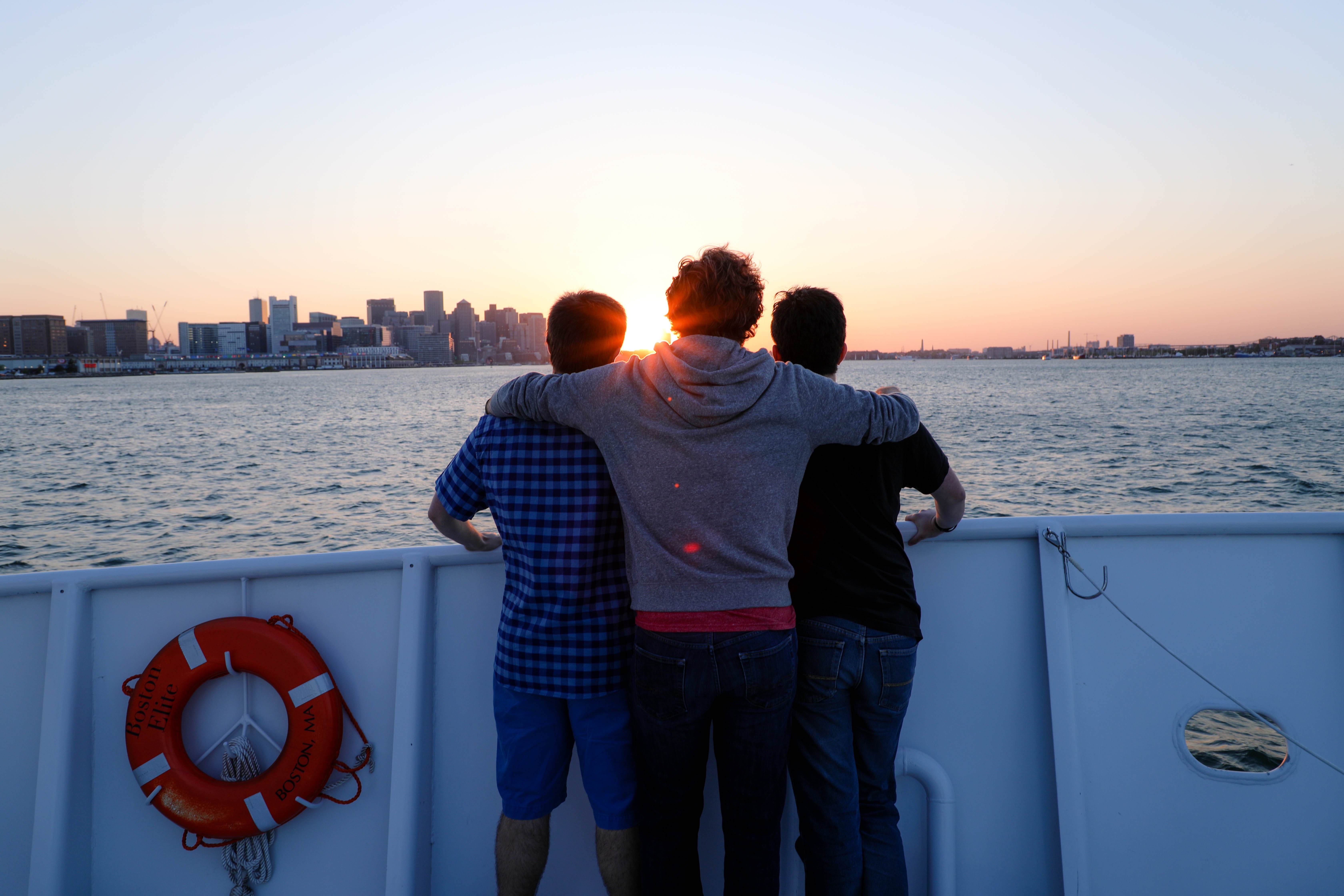 Weekends like this seem to accelerate once they begin. We know the schedule ahead of time. We know it will be incredibly busy as we dance from one event to another. But without fail the final 72 hours of the school year transpire in a blur. Beginning with the senior class trip on Thursday afternoon, the Class of 2018 spent their last days at Proctor laughing, reminiscing, and soaking up their final sunsets over Carr Field. Bittersweet walks around campus, late night talks with roommates, and, of course, final runs across the street to Jakes for a sandwich are squeezed in between Friday's Senior Breakfast, the class gift dedication of a beautiful granite bench and tree in honor of Lindsey Degon, graduation rehearsal, and Senior Dinner.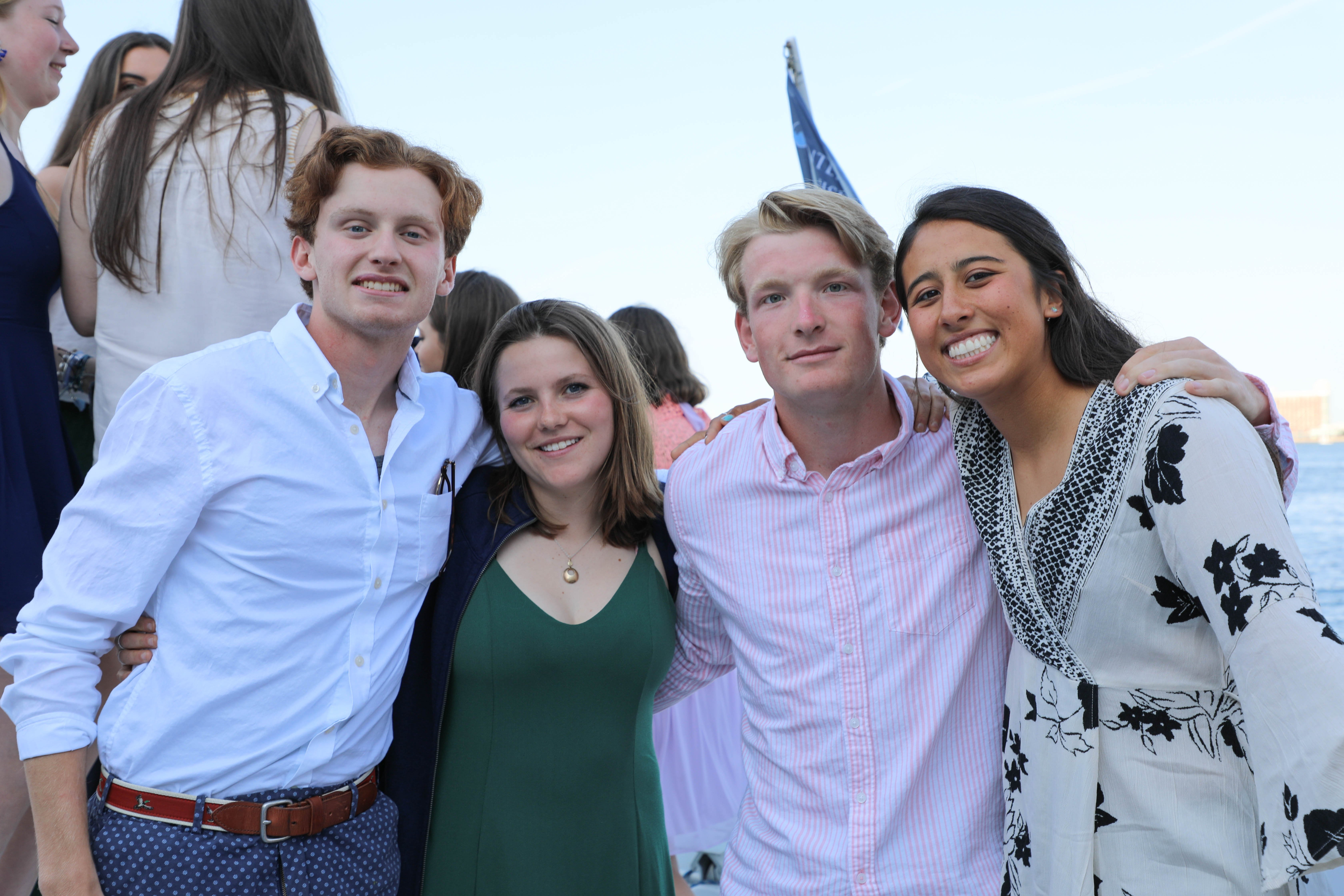 As we mingled with families outside the Brown Dining Commons on arguably the most beautiful evening we've had for a Senior Dinner in recent memory, we looked around at the individual journeys of the 85 members of the Class of 2018. Some paths stretched a full four years, others just a single year, all winding in different directions but arriving at a common destination of self-confidence and readiness to commence a new journey post-Proctor.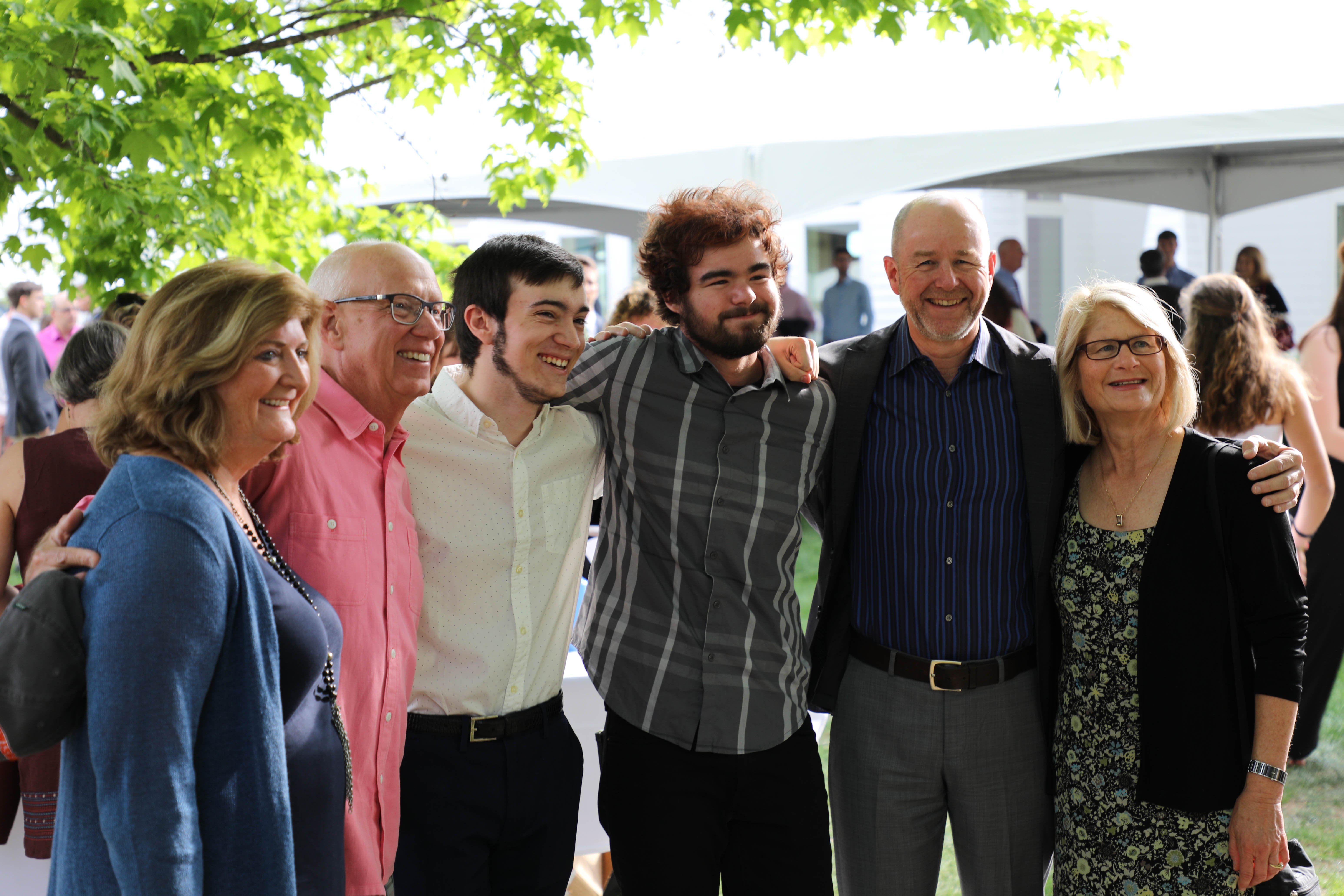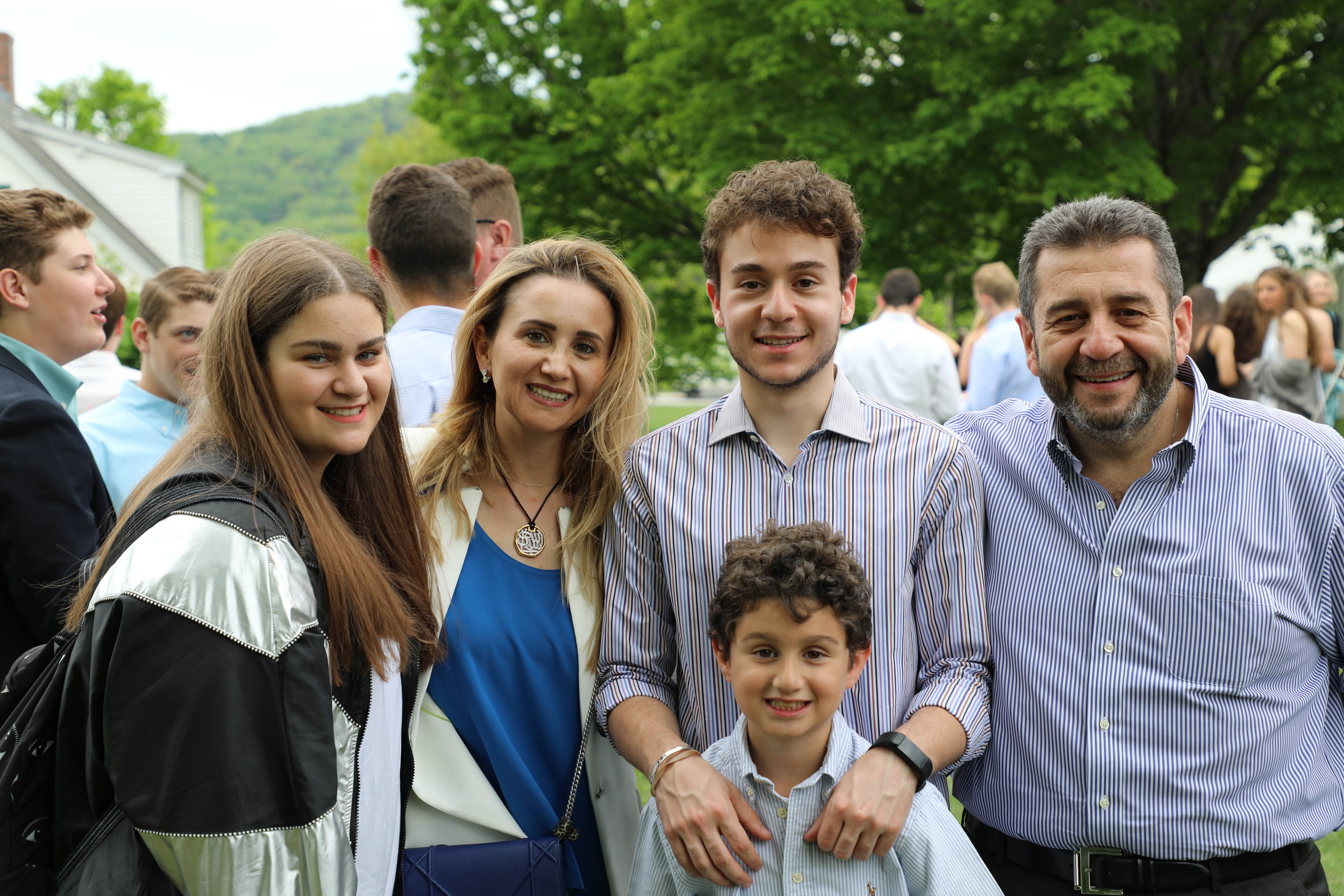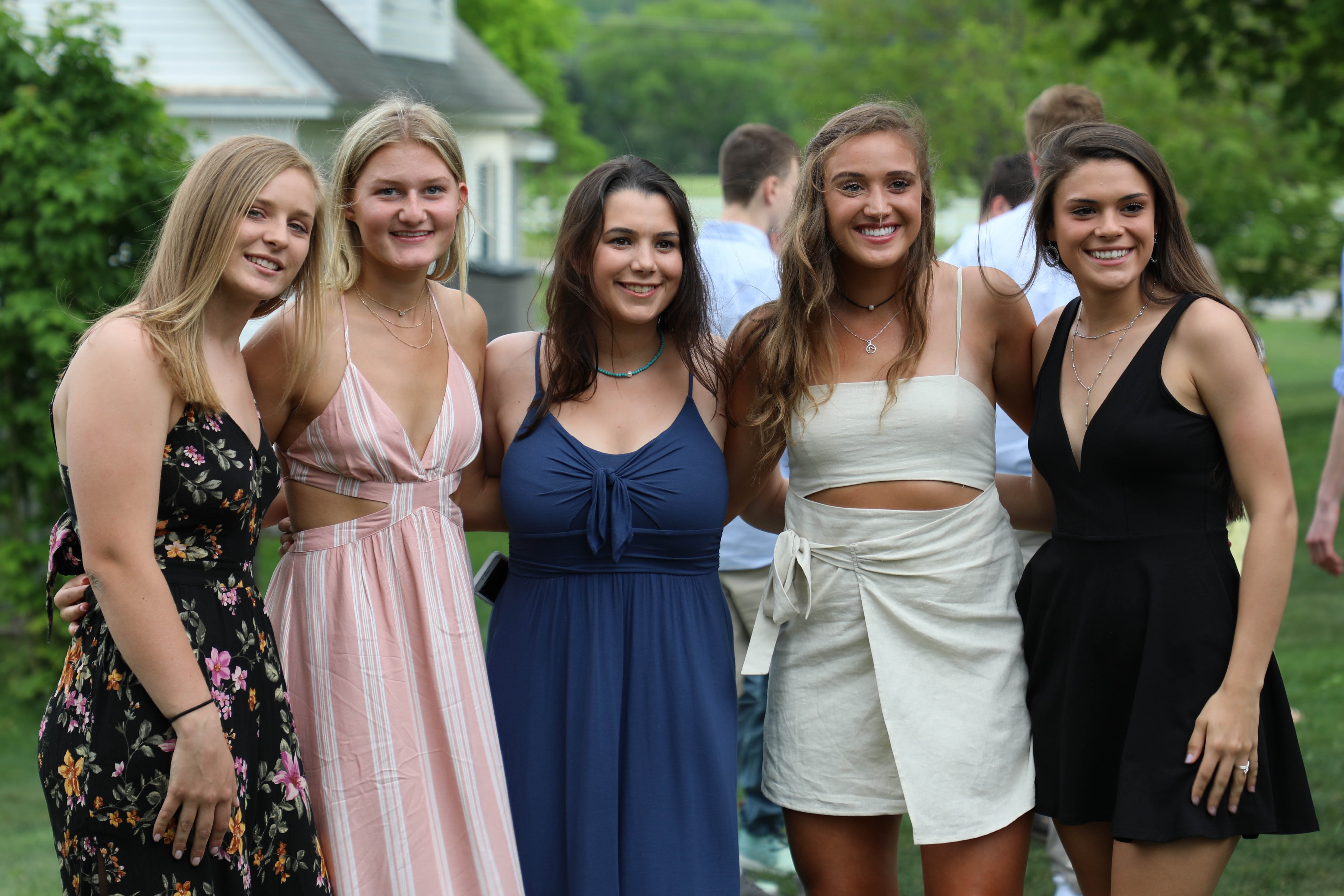 Our Admissions team talked with each of these students during their admissions interviews about the process of self-discovery that would take place at Proctor. Facilitated by the relationships they would develop with their teachers, coaches, dorm parents, and advisors, the students who arrived at Proctor are not the same who walked across the stage today. The journey to cap and gown is never linear, and the pride students have in their own growth, and we, in turn have in them, is an emotional reminder of why we choose to dedicate our lives to teaching and mentoring young people.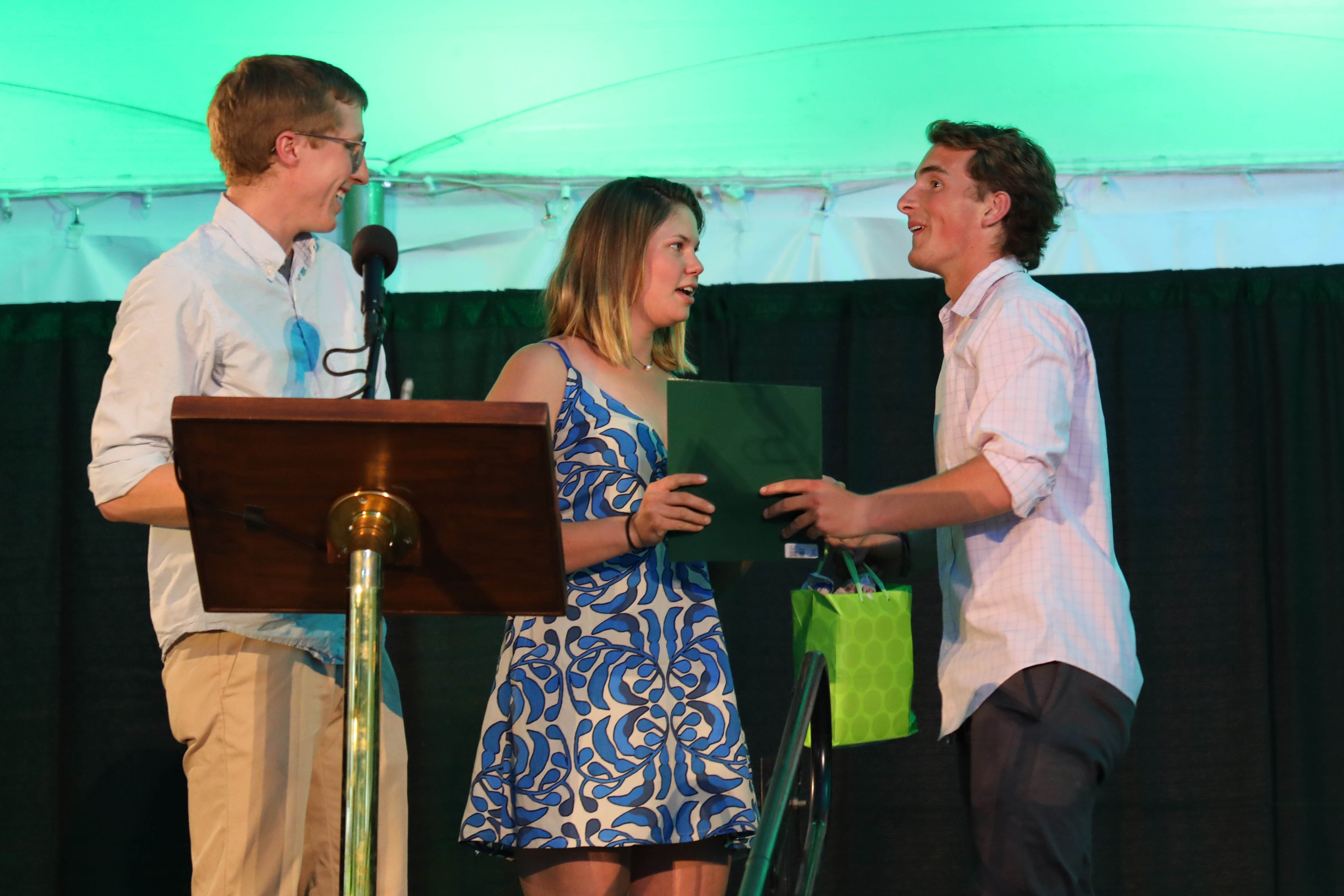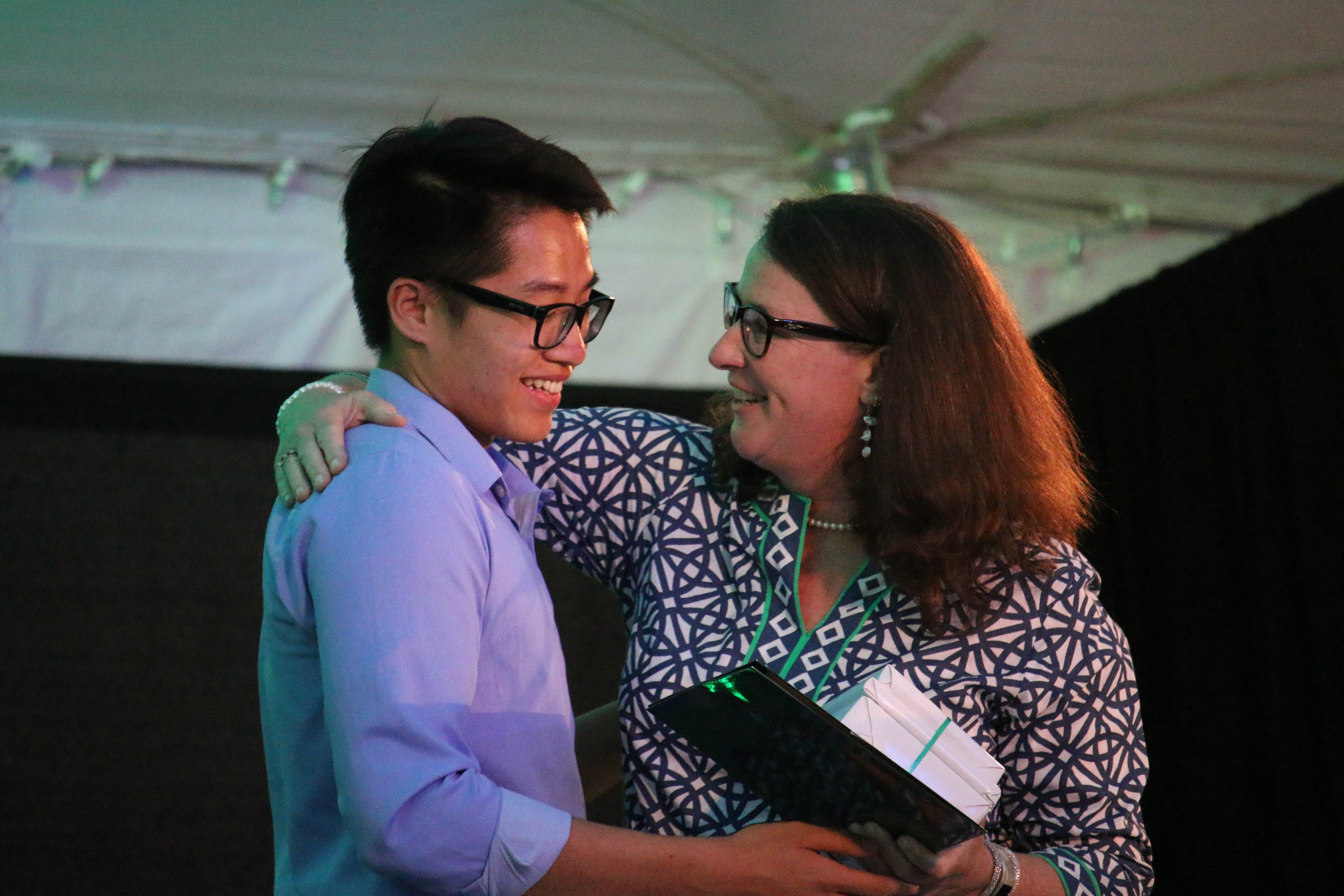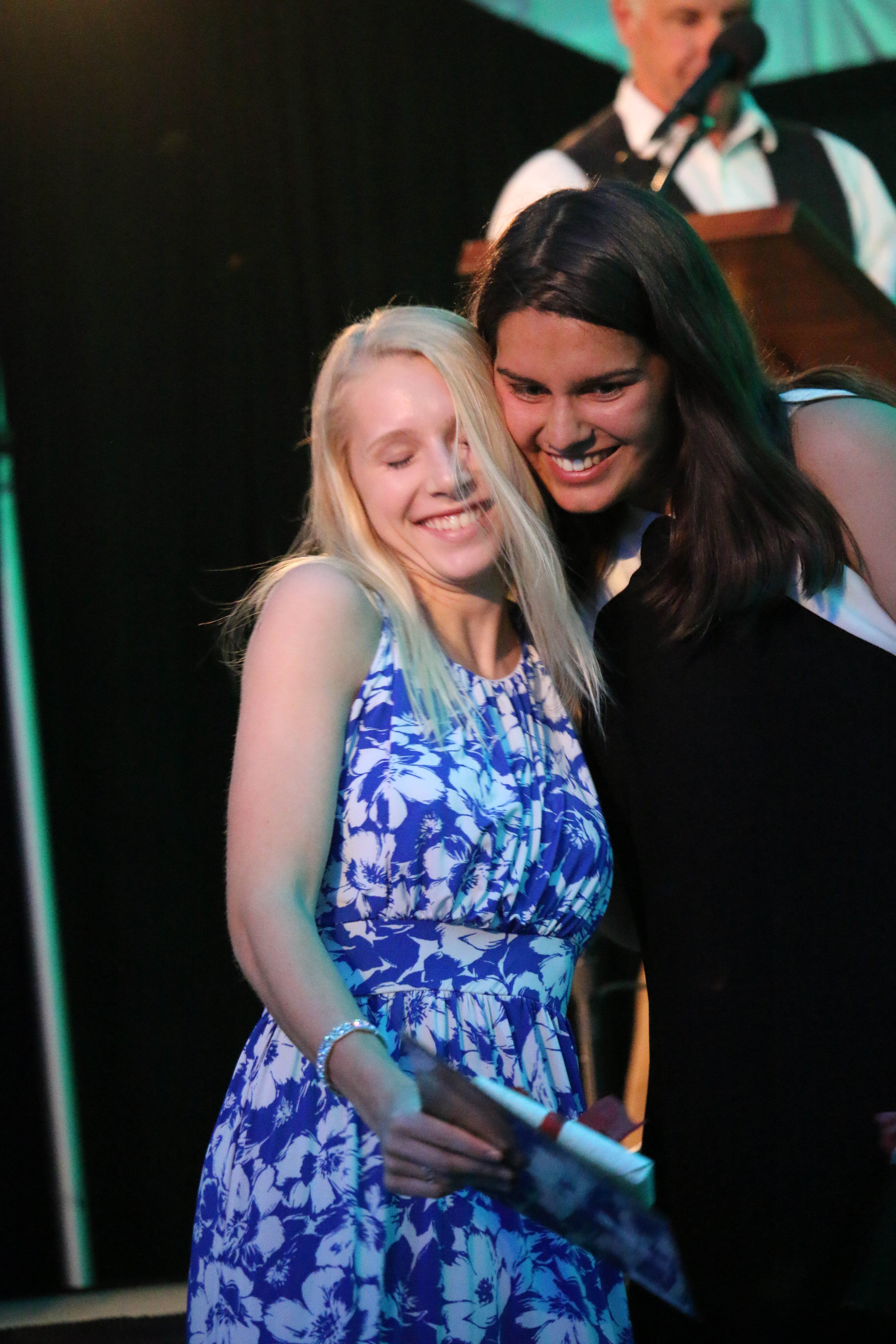 Head of School Mike Henriques opened Proctor's Commencement ceremony with a reminder of the unseen stewardship that takes place daily at Proctor; Diane Benson leading our housekeeping team late at night and early each morning, Kurt Meier making sure our Maintenance crew keeps our facilities running smoothly and our grounds looking good, Barbara Major's Dining Services team gracefully feeding over 800 mouths at Friday's Senior Dinner, and over 1,000 meals for Saturday's post-commencement luncheon. Stewardship of a community takes place behind the scenes, often unnoticed but never unappreciated. Senior Speaker Sam Fulton '18 acknowledged this unique culture at Proctor, "We all know what makes Proctor special, and it's not the off-campus programs or athletics or buildings. It's the Lisa Scarry's. It's the Alex Estins. The Peter Southworths, Alex Lyttles, and dozens of other faculty and staff who care more about us and about this school than you could ever imagine. They are who make Proctor special."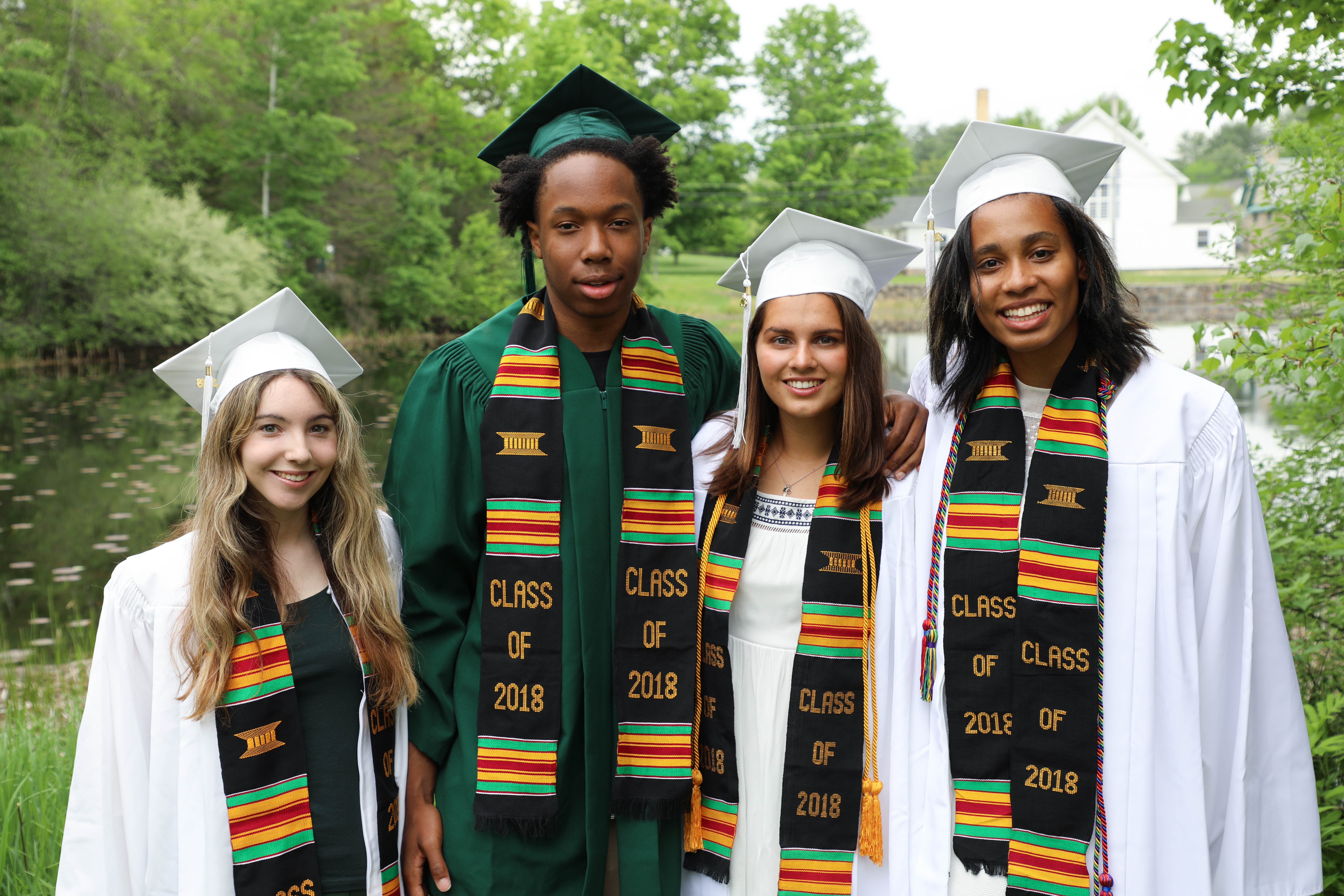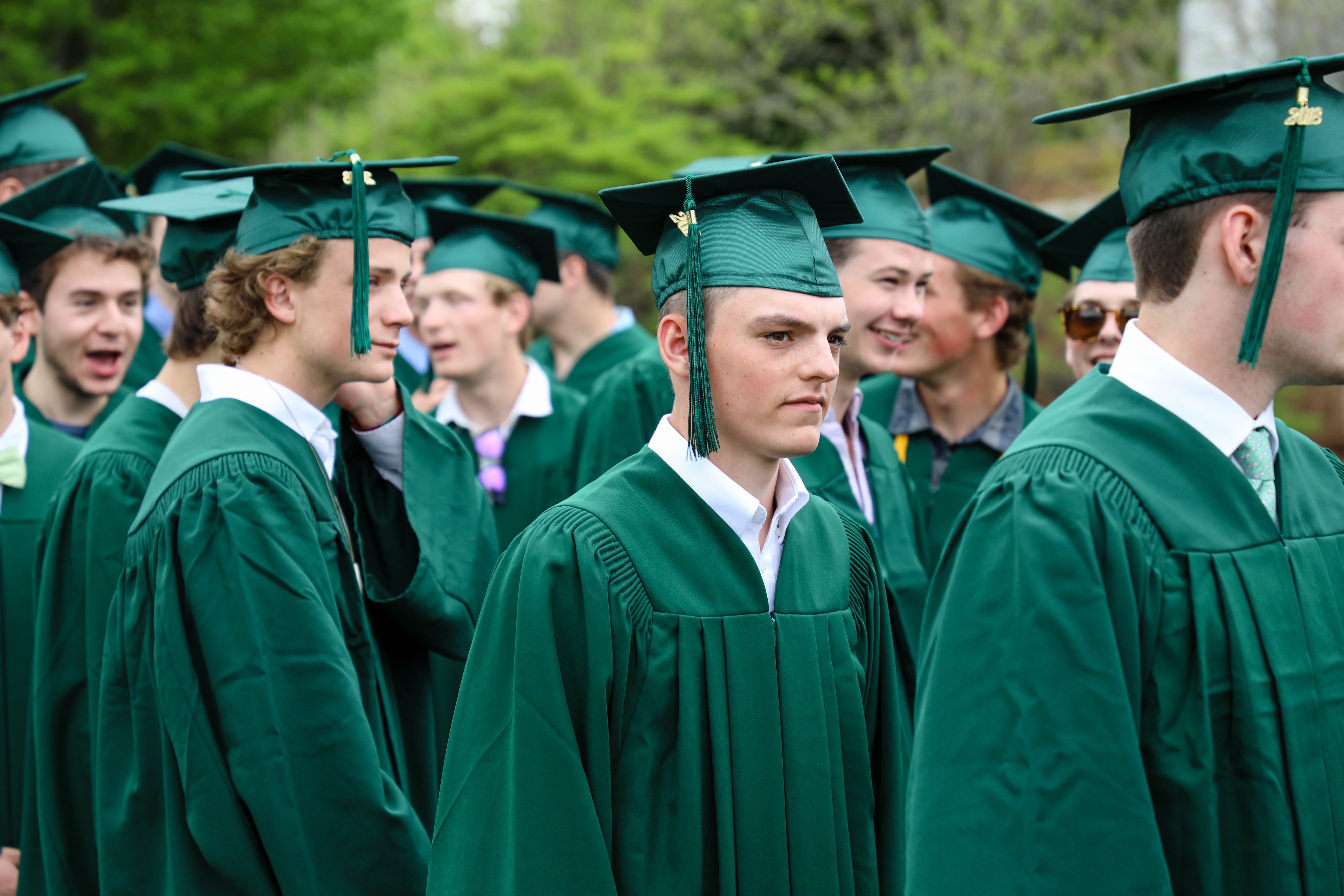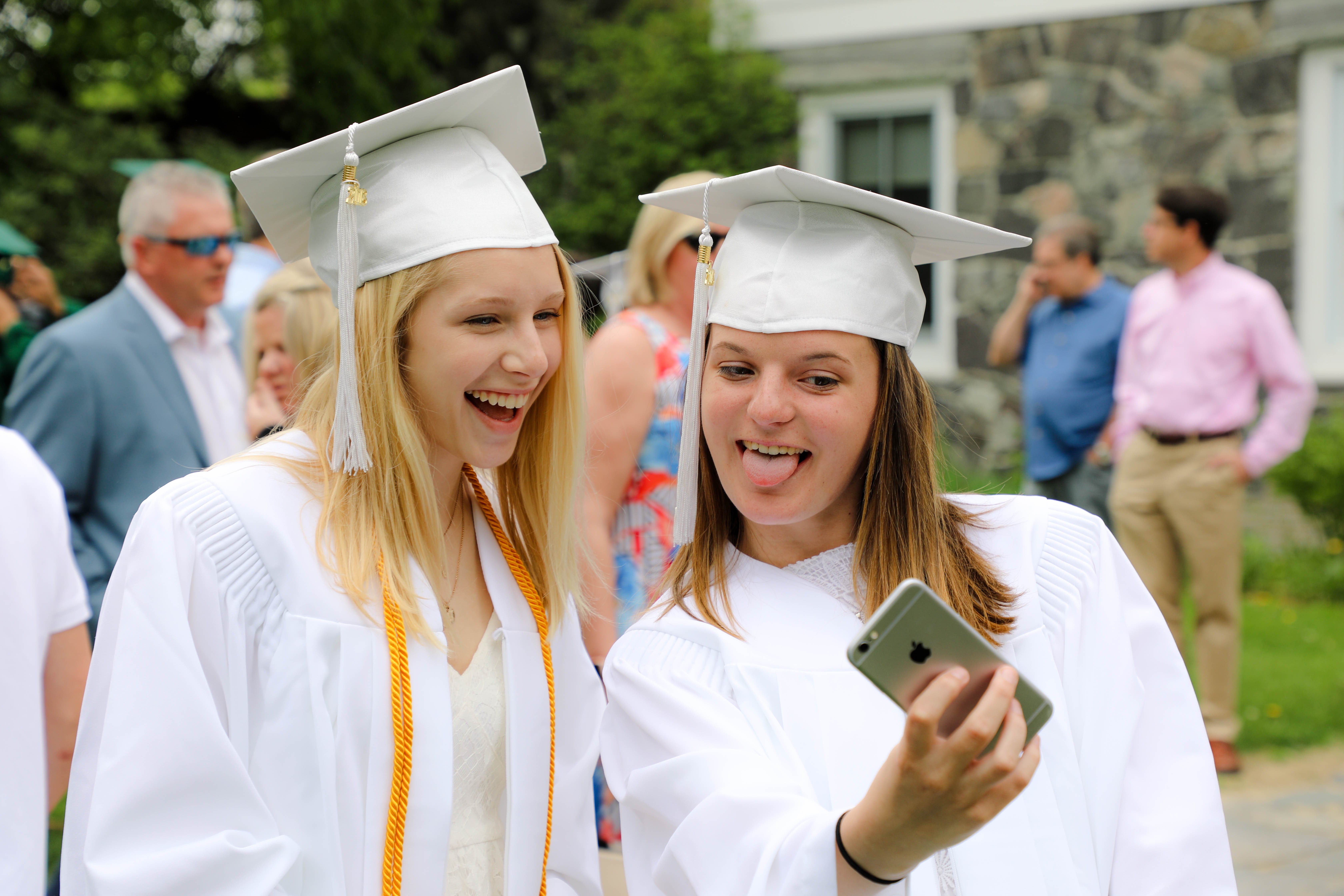 Equally important to the active stewardship of those currently a part of a community is the legacy of stewardship left by those who dedicated their professional life to Proctor. We were fortunate to have former Head of School David Fowler (1970-1995) on campus over the past week in preparation for his granddaughter's graduation. Saturday morning, David, former Board Chairs Bill and Betsy Peabody P'82, '86, and former faculty member, Mike Stanley, reconnected decades after they last worked together to guide Proctor through some of its most transformative years. Proctor does not stand on the foundation it has today without the work for these individuals, and countless others like them, whose tenacity for learning and leading forged the community we enjoy today.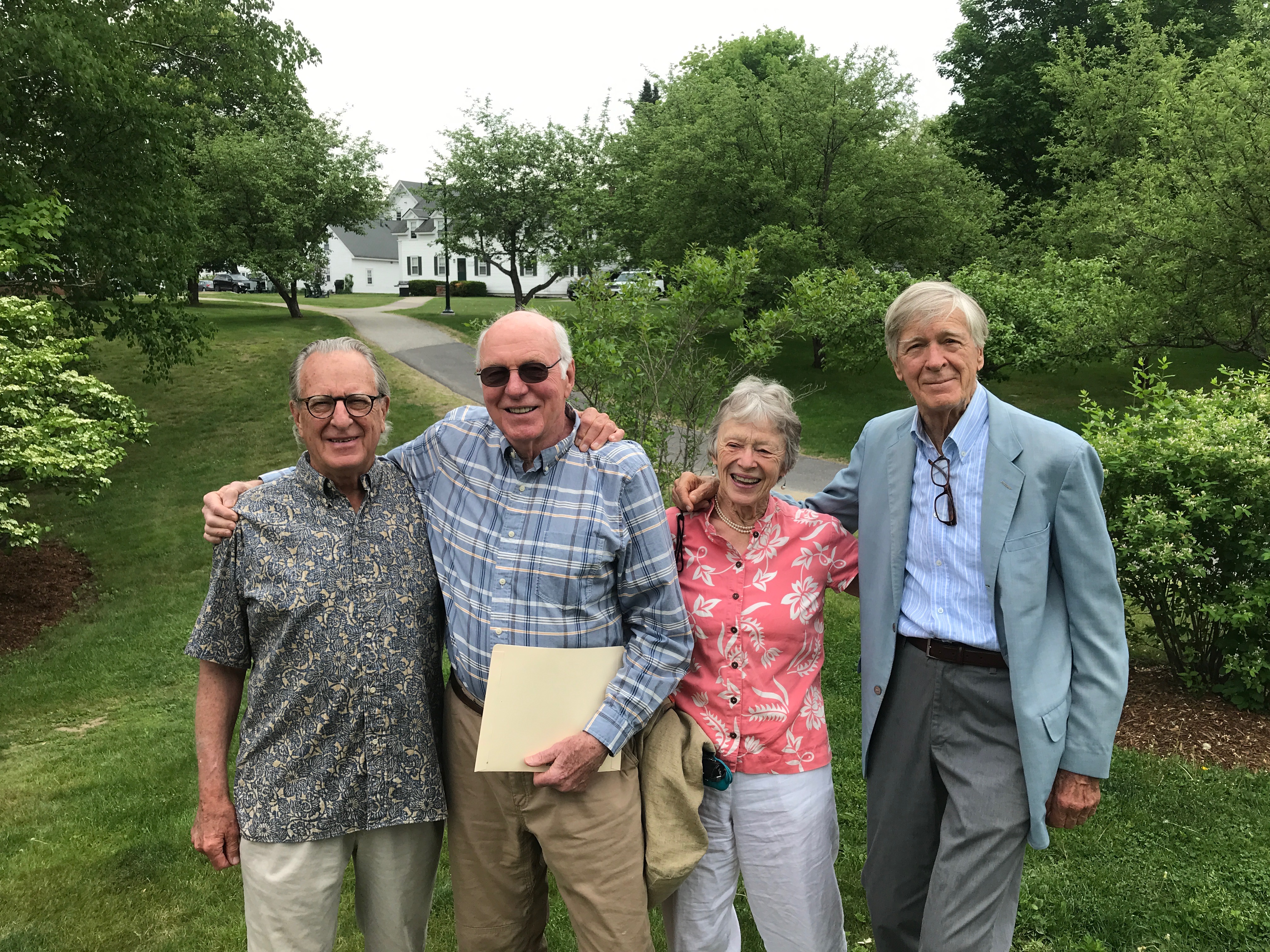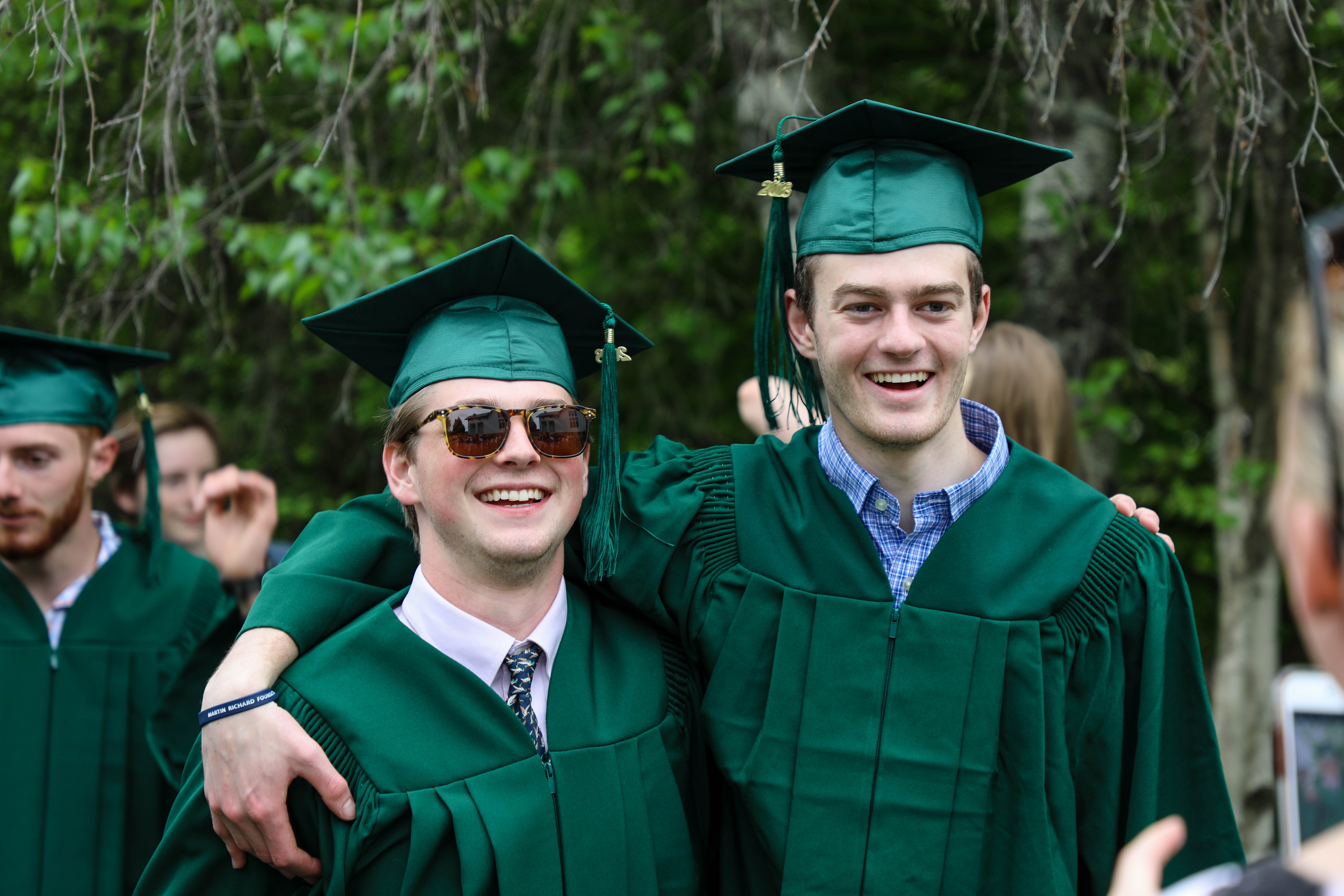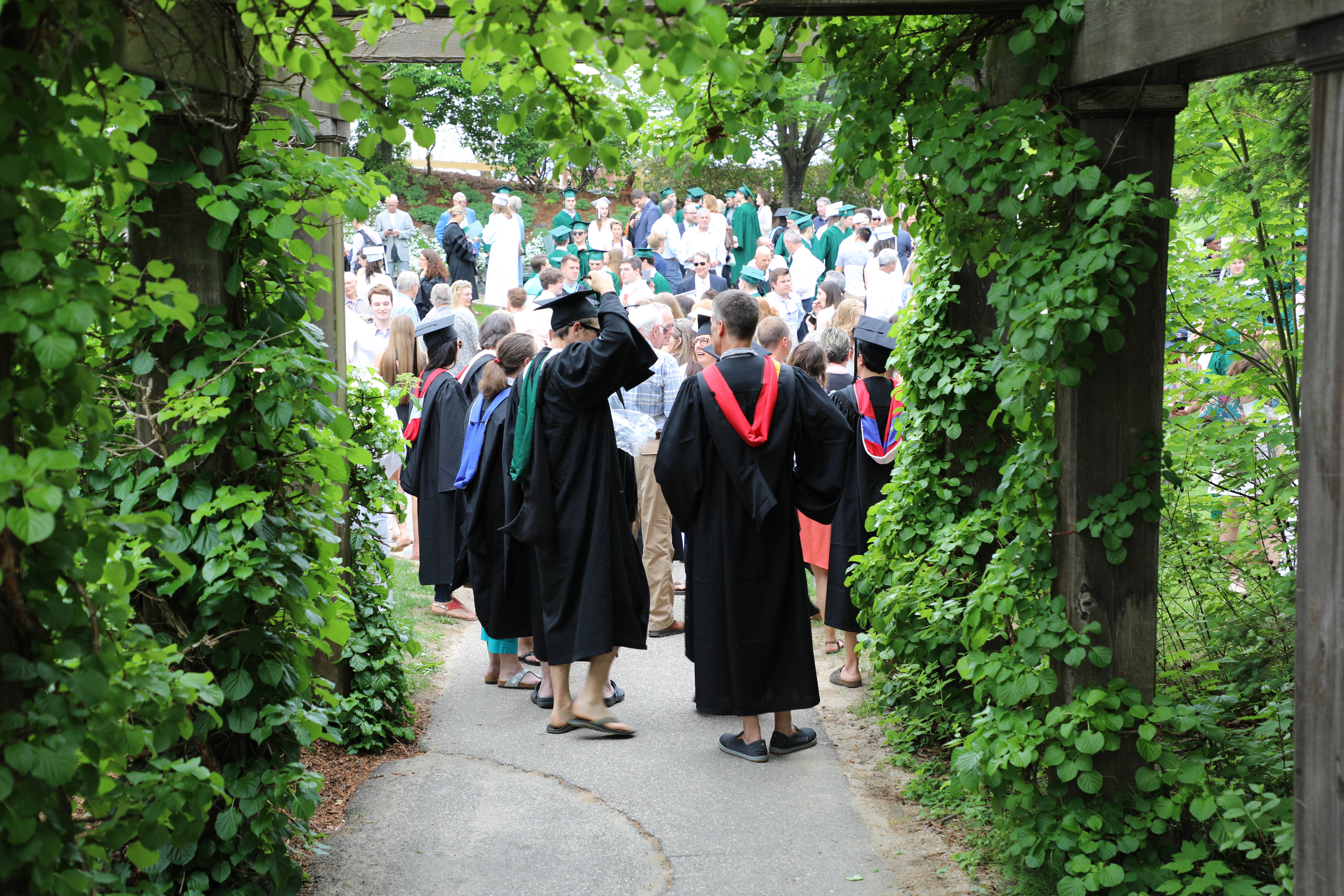 And so as our celebration of the Class of 2018 continued throughout the morning, these stories of the past, present, and future stewardship of the school continued to weave a beautiful narrative representative of who we are as a school. Assistant Head of School Karin Clough shared about the transformational power of love to take the old and make it new as she encouraged us to never under-estimate or under-sentimentalize love around us; both for others and for a place like Proctor.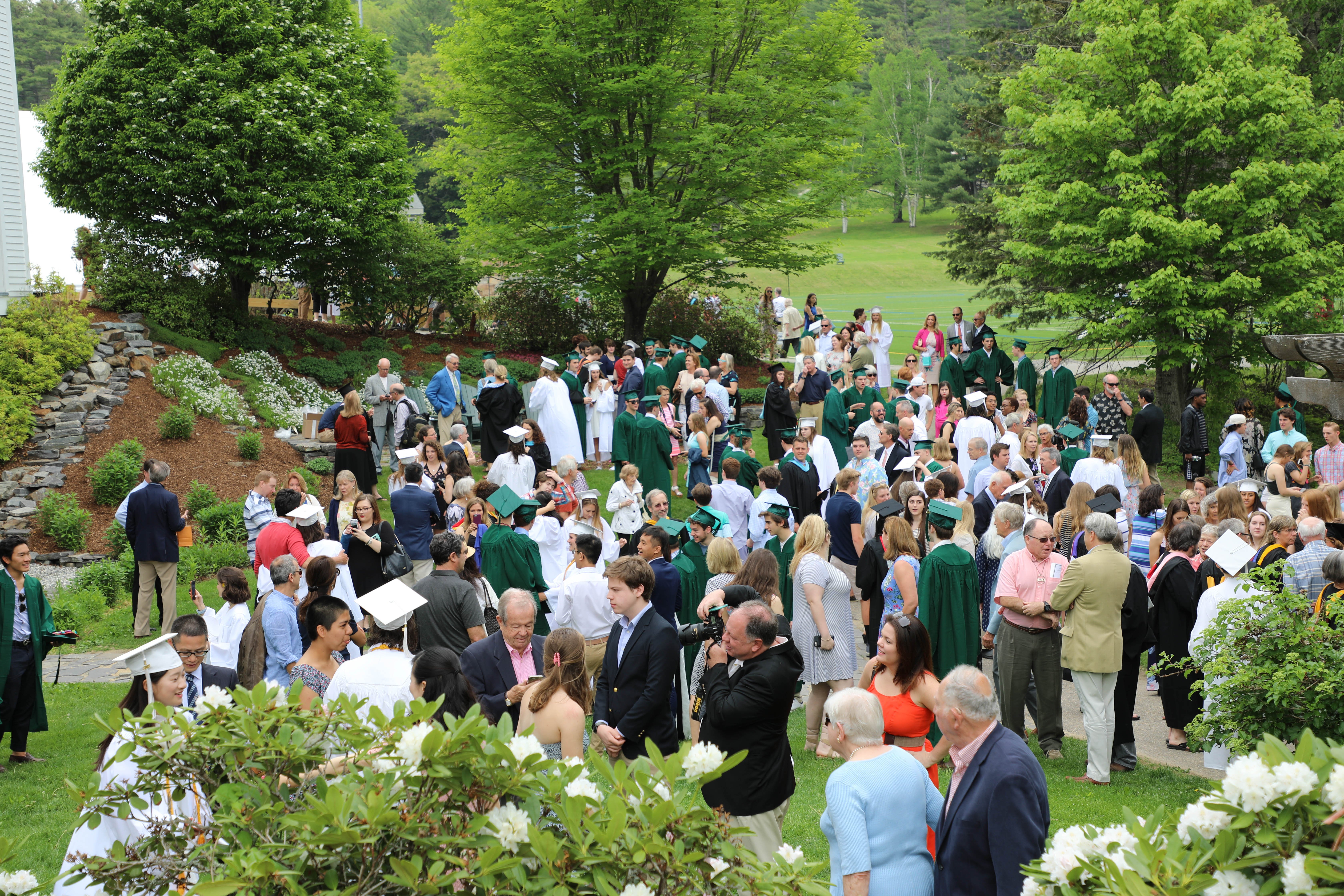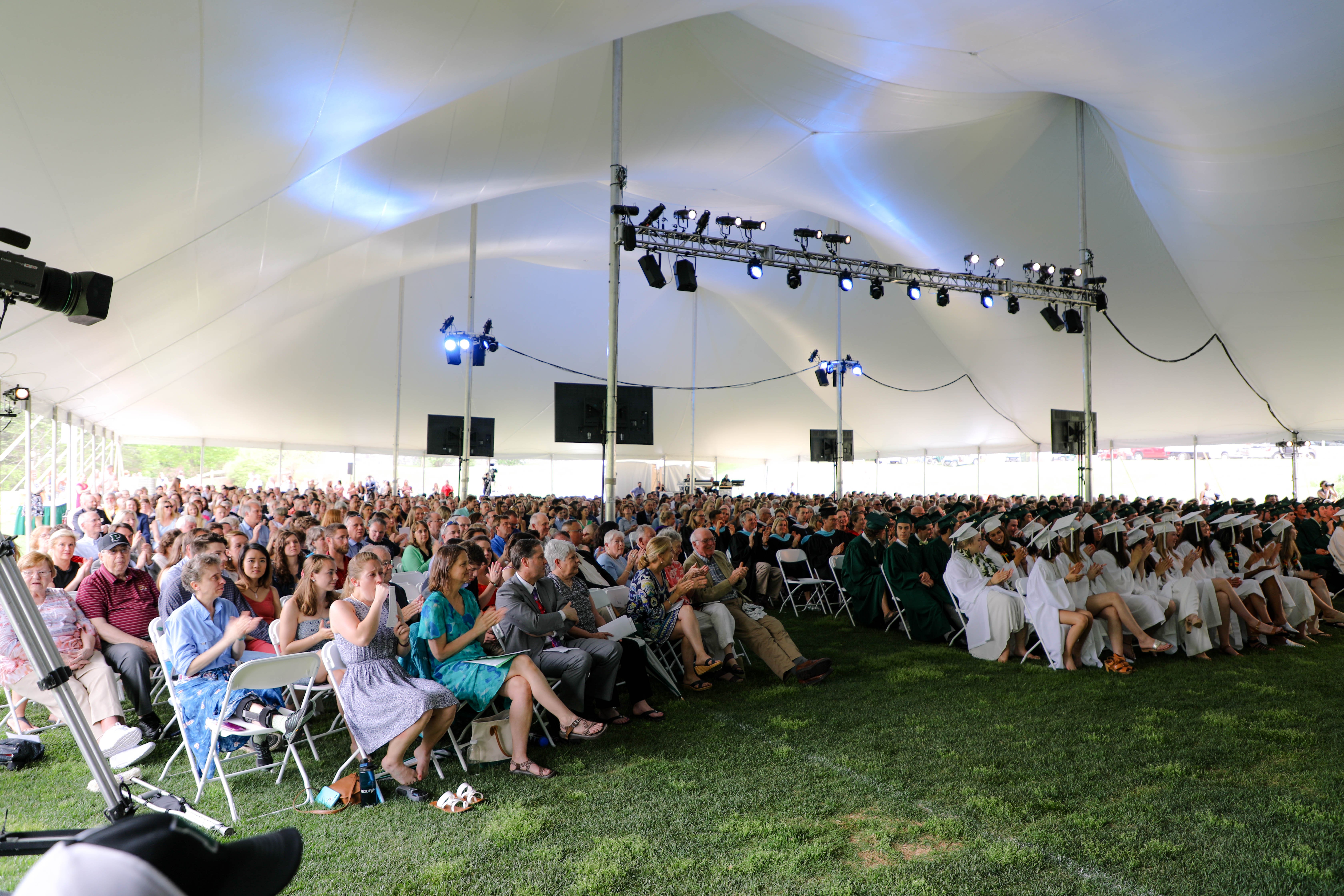 Salutatorian Grace Wang '18 (below) encouraged us to be ourselves; to be comfortable in who we are, and not always be yearning to be like someone else we admire. "In the process of imitating those we see as a strong, our individual strengths fade away."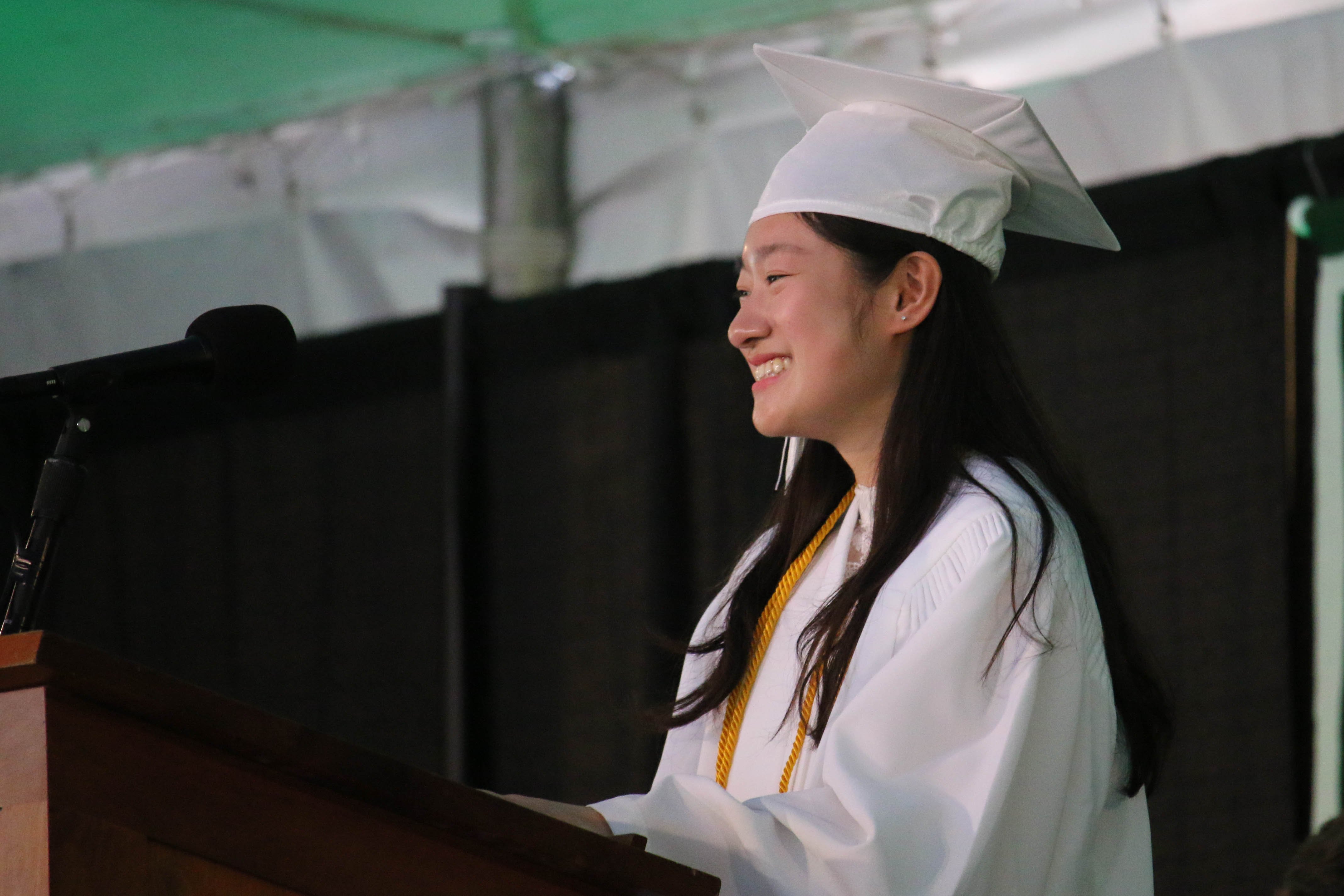 Valedictorian Sarah Ferdinand '18 (below), fresh off European Art Classroom this spring, shared a few of her "Paint | Turpentine | Canvas" reflections from her time at Proctor. Each of these beauties, challenges, and unknowns build upon each other. "We each plunge into the unknown differently, but each of our canvases will be filled with our own beauty. Take a moment to pause during the mayhem of this weekend and sip, or maybe gulp, the last drips of Proctor before it's gone."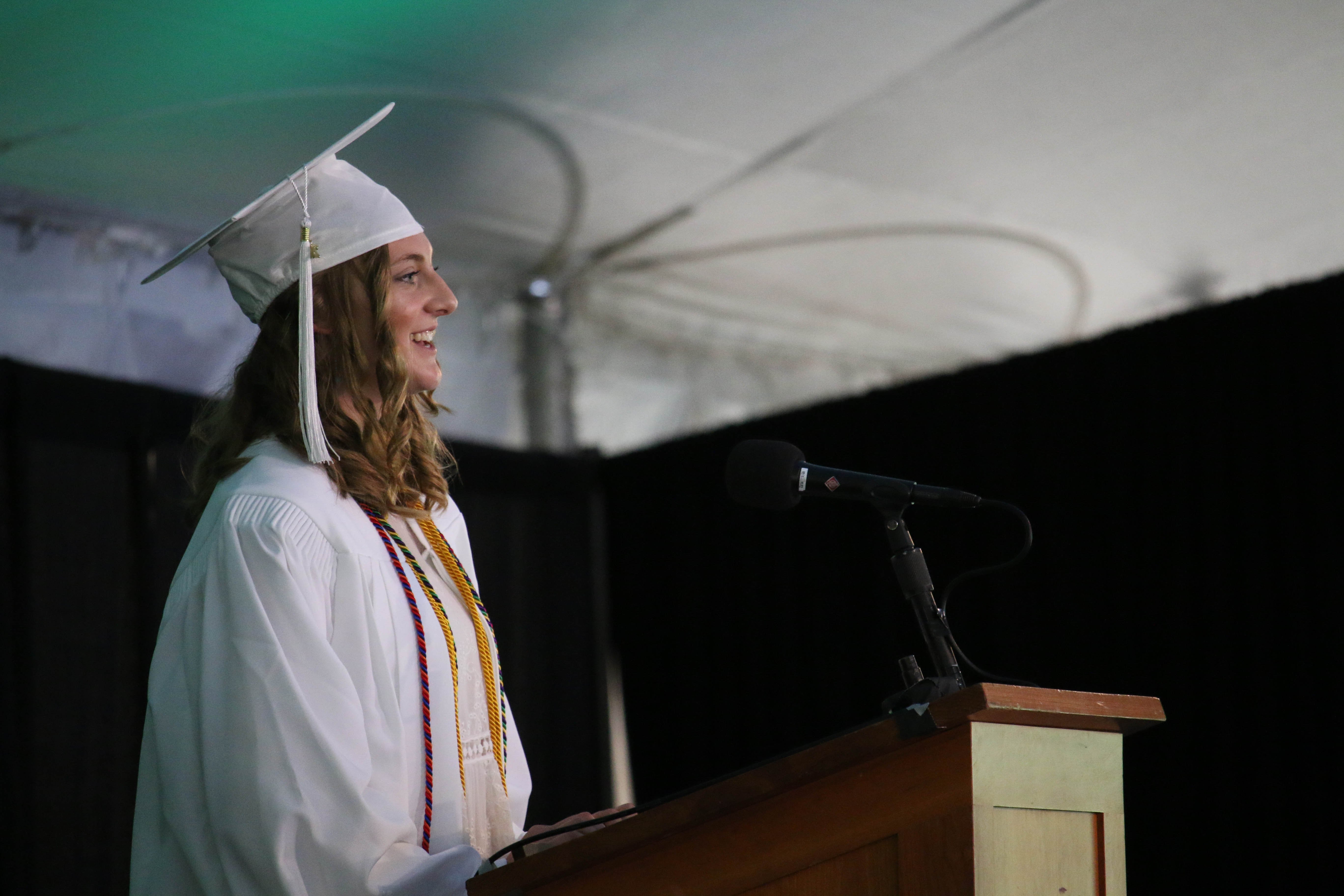 Commencement speaker Billy Demong, US Olympic Gold Medalist in Nordic Combined, added to the wisdom shared Saturday morning with lessons he's learned throughout his journey. Perhaps most poignant was his revelation that his winning an Olympic Gold Medal was not the best day of his life, but rather it was the time in between those achievement moments that were most enjoyable. "In your pursuit of high goals, do not be afraid to fail. Don't think that the achievement of your highest goal will define you as a person, that will only get in your way. Set those goals, but ultimately, enjoy the ride."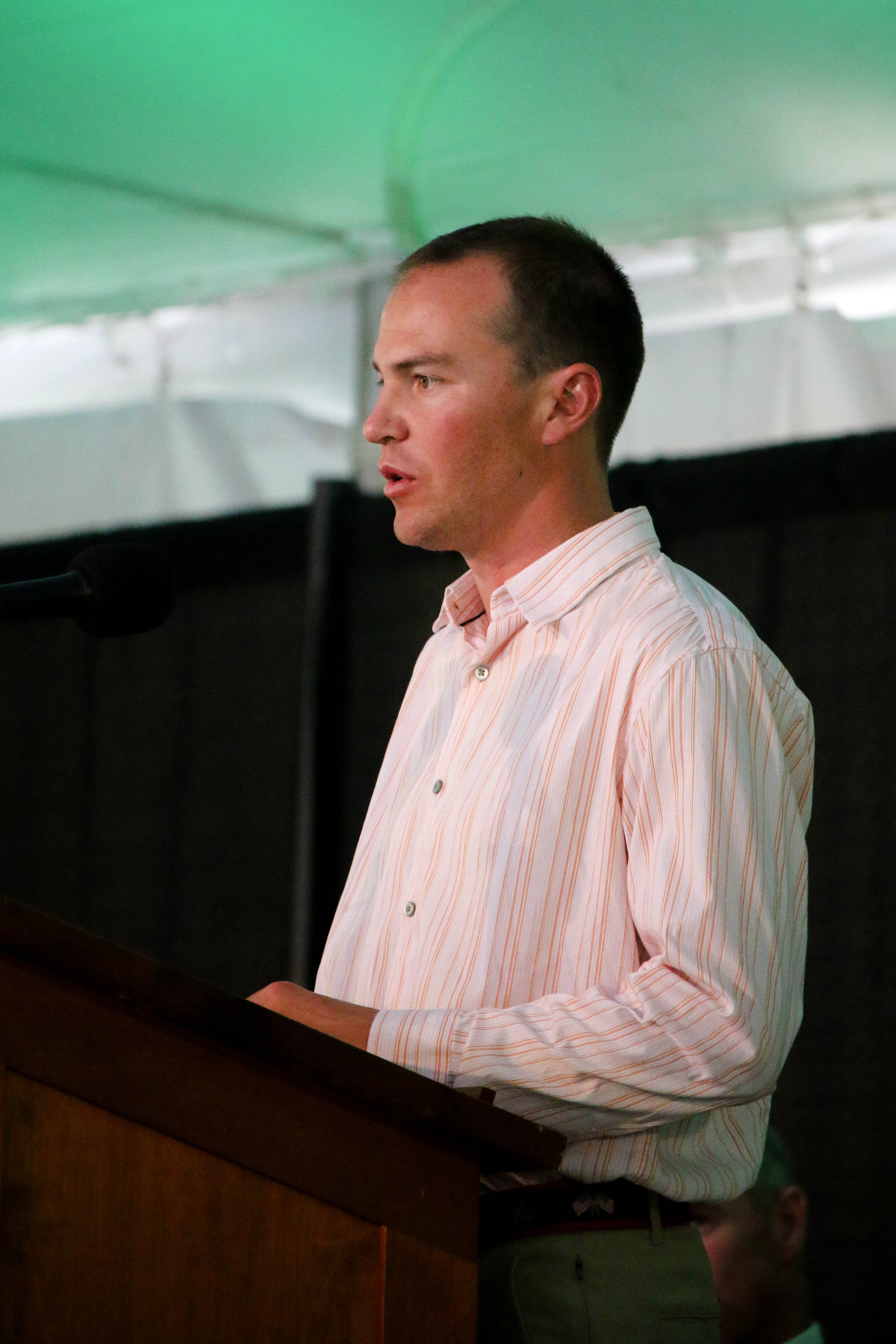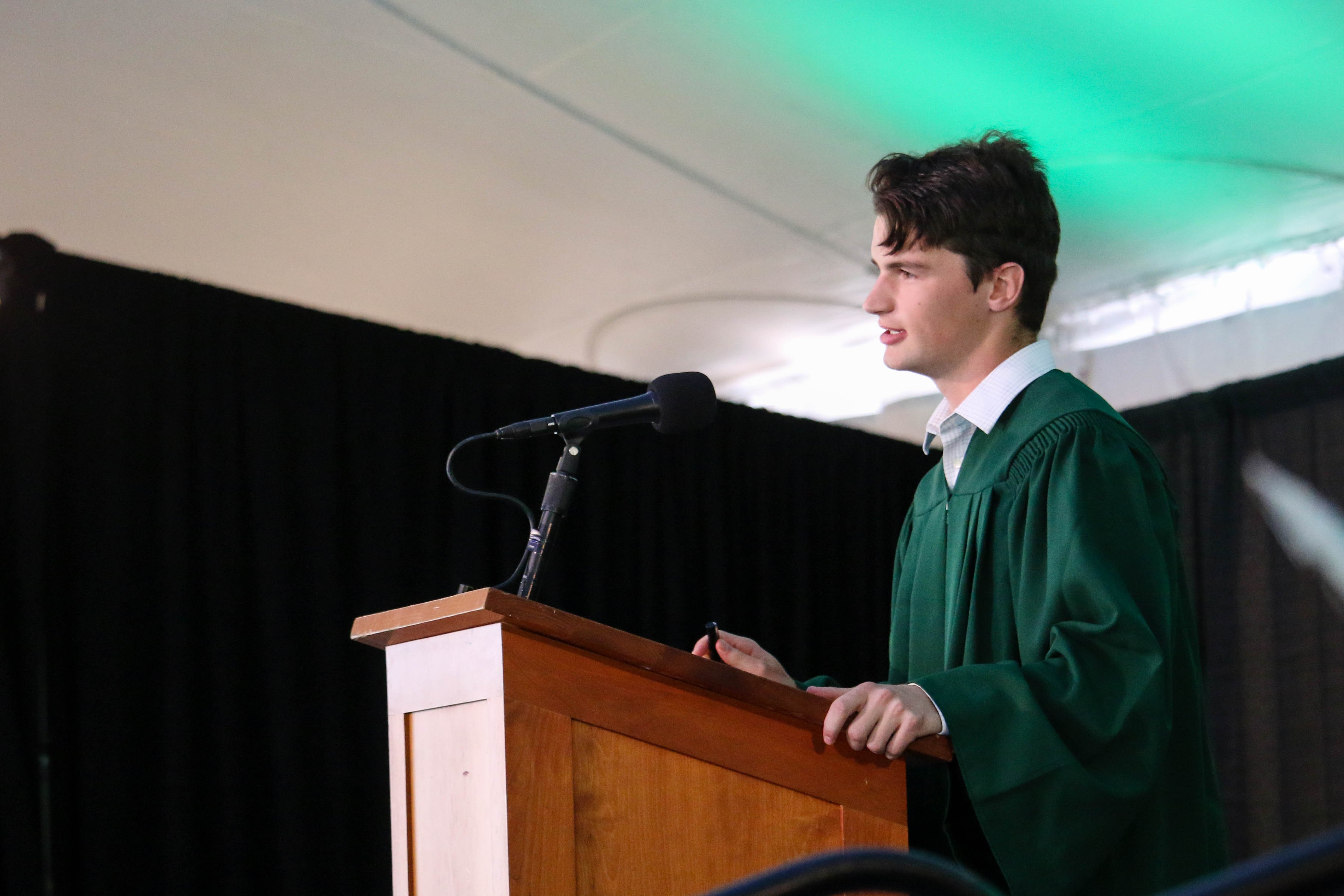 As the Class of 2018 recessed out of the tent to applause and threw their caps in the air, Sam's first and last line of his senior speech stuck with us. As ninth grader, he introduced himself to his Wilderness Orientation group, "Hi, I'm Sam from Boston." As a senior, he now introduces himself, "Hi, I'm Sam from Proctor." May we always introduce ourselves this same way, with our identity rooted in the place that has made us who we are: Proctor.