No one is having a busier summer than Jim Cox, our Director of Technology and Information Services. With the installation of a new phone system and regular technology maintenance issues, the past month has been non-stop work for Jim and his tech team. A member of the Proctor community since 1990 when he first served as a Mountain Classroom instructor, Jim has played a vital role in the evolution of our technology integration and use on campus over the past 30 years. Each week throughout the school year, we feature a faculty/staff profile in our weekly Parent Page and will start sharing some of those profiles to a larger audience this summer. Read about Jim's Proctor experience and the technological changes that have occurred during his time at Proctor in the interview below!
How did you come to Proctor?
I started out as a Mountain Classroom instructor 27 years ago. In the late 1970s and early 80s I was training as an outdoor and experiential educator, and Proctor was known for having flagship programs in those areas. Back then, Mountain went out on all three semesters, and my first year working I led two terms of Mountain Classroom and then taught chemistry in the spring. I owned my own carpentry business then as well, and because of that I was one of the few faculty that had a computer. As the school's technology needs grew so did my technological responsibilities, and after four years of teaching chemistry I moved to Tech full time.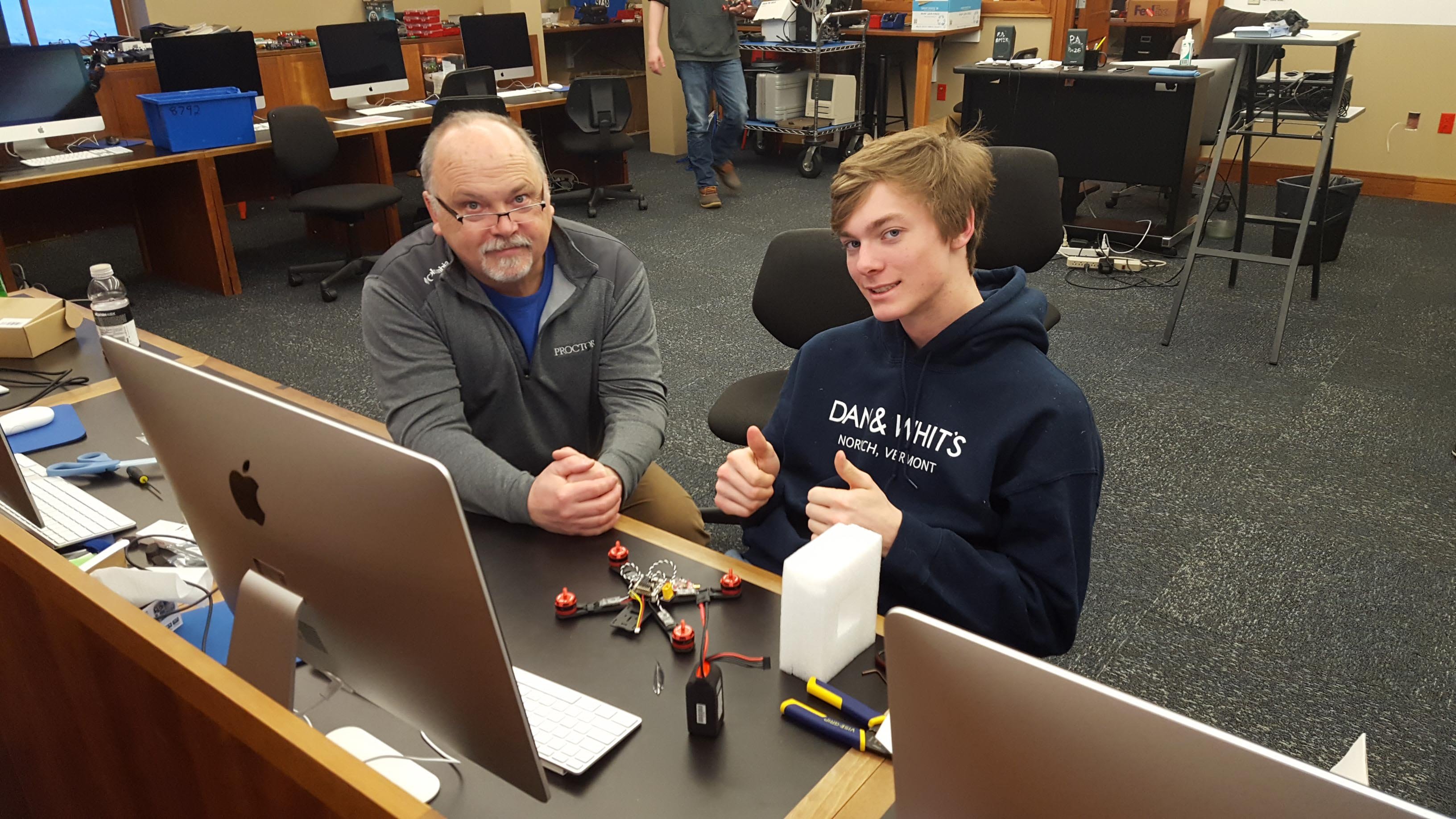 What has it been like to see the progression of technology on campus?
It's been fascinating to watch the evolution. We started talking about networking the campus early in the 1990s. Some of our peer schools had undergone an expensive process with external phone companies, but we decided to do it ourselves in 1995. My son, Ben '13, had just been born and I was going around campus hooking up conduits with him strapped on my chest. The first connection was from Maxwell Savage Hall to the Lovejoy Library. In 1998 there was a big push for all faculty have laptops, which is pretty incredible considering we had only networked the campus three years prior. All the faculty received the clamshell Macbooks, and they were all wireless! And in 2000 all the students were told to bring laptops to campus, because previously it would take two months into the Fall semester for the Tech Group to go around to individual rooms to make sure everyone's desktops were set up to get on the network.
What are some other things you've done on campus?
In my early years I coached JV Boys' Soccer, Cross Country Skiing, Rock Climbing, and Snowboarding. I had only been on a Snowboard twice, but they needed someone, so I stepped in! Most of the students were better than me, and I like to think I was the "Most Improved". I've also been a dorm parent, and continue to be an advisor.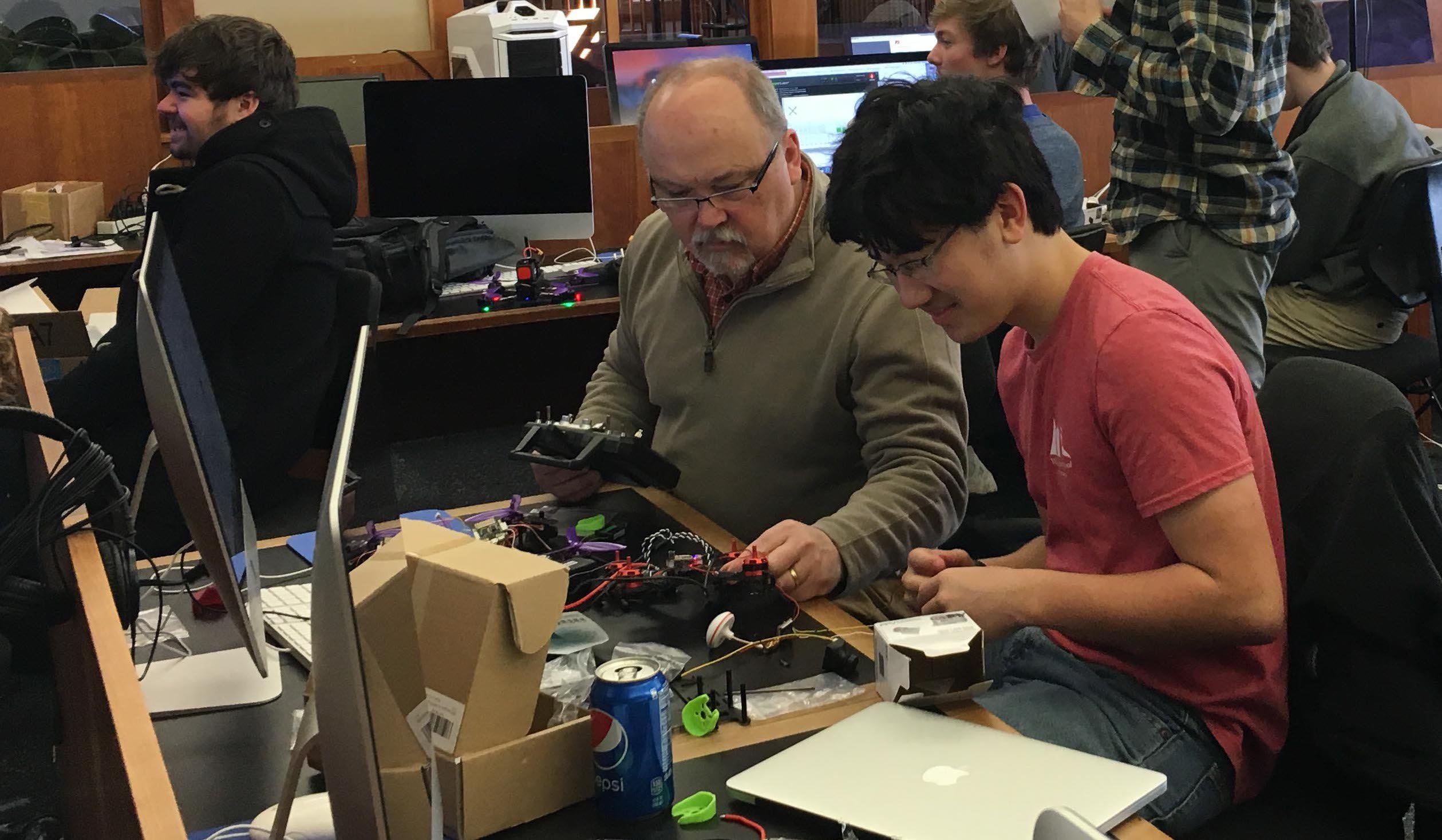 What are some of the biggest challenges in your role?
Technology is always changing, and there is no way to truly keep up with everything. One of my areas of focus is cyber security. Most students have multiple devices and the network is always growing and changing, so it's a challenge that we have to keep up with, but one we certainly prioritize.
Any hobbies?
Paddleboarding!
---
Technology certainly is ever-evolving, and with every new advancement we must negotiate the its impact on our lives and the human relationships . As a community, we discuss its role through visiting speakers, classroom projects, and activities like the tech-free campout organized by student leaders. As we analyze our personal and communal relationship with technology, we are grateful for the hard work of Jim and other members of the IT department who help us best utilize the range of tools available to us and push the cutting edge of innovation in and out of the classroom.
Note: Proctor's phone numbers will shift on July 17, 2018. Be sure to check the Student Handbook online for updated phone numbers for the 2018-2019 school year!