Friday night's tech free camping excursion to Elbow Pond, organized by Assistant School Leader Sarah Ferdinand '18, foreshadowed a massive power outage throughout the morning on Monday. A powerful Nor'Easter hit New England overnight Sunday into Monday, knocking out power to more than half the state of New Hampshire.
Hameshop Brook and the Blackwater River have spilled over their banks and flooded the driveway to the Proctor Ski Area.
Living in rural New Hampshire, occasional power outages throughout the year are expected, but the duration of this outage, and our need to keep 340 students engaged, necessitated a return to the dark ages (literally) as we delayed the start to the academic day by an hour and then held regular classes without electricity until power was restored to campus just prior to assembly.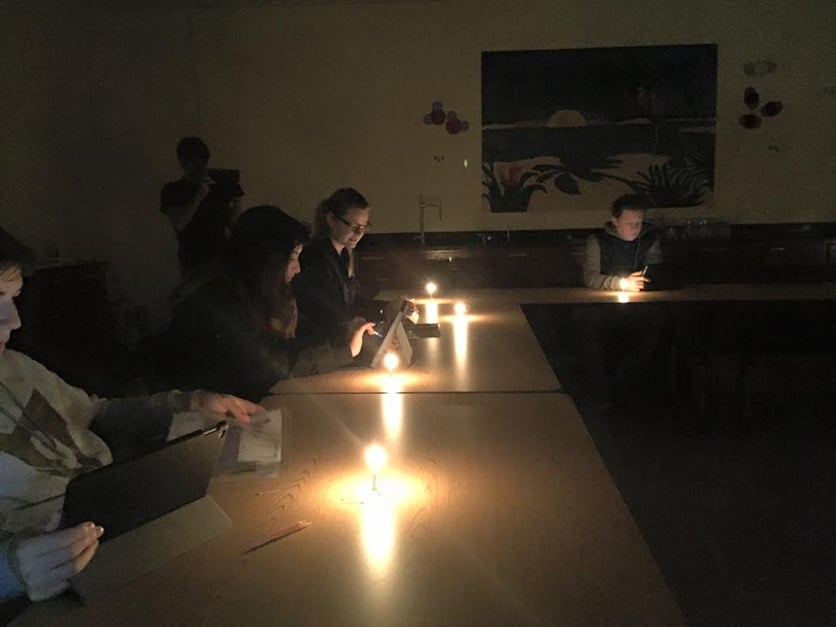 Sue Houston shared this photo of chemistry by candlelight during B Block
As is the case with any unplanned outage, you never realize how much you take electricity for granted until it is gone. Phones wouldn't charge (gasp), WiFi was down (double gasp), Snap streaks were threatened, and assignments on myProctor couldn't be read (sigh of relief from some students). Our 21st century lives screeched to a halt as we realized just how often we take out our phones to scan Instagram while walking between classes or meetings, how seemingly important a hot shower is to start our day, and how we "need" the luxuries of life in a highly developed country.
Elbow Pond has not been this high in recent memory.
And then just at the moment we think we won't make it through the next hour without a cell signal, the silence that surrounds us actually begins to ease our anxiety. We are forced to slow down, and in the process find balance we didn't know we needed. Sarah '18 understood her need to pursue this balance, hence her organization of the tech free camping night that brought over a dozen students together on a Friday night with no phones, no glow of a screen, no scrolling, no ambient noise in the background; just the peace and quiet of an Elbow Pond moonrise and real conversation with each other. (Thanks Peter Southworth for smuggling your tech to the campout so you could share the photo below with photos with us). The rest of us needed a little more harsh of a reminder like a widespread power outage to find this balance.
A few thank yous are in store after this morning's storm:
To Sarah '18: Thank you for bringing awareness to the imbalance that exists in our lives around technology.
To Proctor's Maintenance Department: Thank you for getting the generators up and running this morning at the Dining Commons and Field House, for keeping us safe around campus, cleaning up debris, and for monitoring the water levels on the pond (below) as more than five inches of rain over the last two days drained toward the center of campus.
To Proctor's Dining Services Team: Thank you for scrambling (no pun intended) to get a hot breakfast ready in short time.
To Local Utility Crews: Thank you for getting our power back on so quickly.
To all of our Students and Teachers: Thank you for embracing the unknown this morning as we held class (and Admissions Tours) with no power!
In those eight hours where we were powerless, we may have actually felt the most empowered we've felt all year. Not a bad lesson to take with us as we start the week.