Ten weeks ago, preseason athletes were arriving for Sports Camp. Temperatures flirted with 80 degrees and the hopes and dreams of a season lay in the hearts and minds of Proctor's athletic teams. Over the past two and a half months, students and coaches have worked together to form powerful relationships, goals were set and pursued, individual skill improved, and the bonds of team forged.
Athletic seasons do not just happen. Athletes and coaches do not simply show up and perform on game days, but instead spend countless hours watching film, working on strength in the fitness center, and refining both tactical and technical skills during practice. Tough conversations are had when we fall short of goals, and unfettered joy is experienced when it "clicks" for a team. The emotional spectrum traveled by every team is what makes high school sports so much fun. There are no guarantees, no hopeless games, no guaranteed victories. As imperfect humans, we simply do our best and honor our opponents each time we step foot on the field to compete.
As the fall athletic season comes to a close, we thank all those on the athletics staff who make the season possible: Becky Walsh and Gregor Makechnie '90 in the athletic office, Kelly Griffin-Brown, Gaby Zimbron, and Chris Jones '04 in the athletic training room, Trish Austin '01 and Bill Clark '86 in the athletic equipment room. We thank our Maintenance and Housekeeping teams for making sure our facilities are among the best in the Lakes Region. We thank our Dining Services team for endless boxed lunches and late dinners. We thank our coaches for the immeasurable time and emotional investment in our kids. And lastly, we thank our parents for their commitment to providing our teams with post-game snacks and goodies through the Adopt-A-Dorm program.
Marvin Awards:
Each season, coaches nominate two students for the Marvin Award; an award given to a student who is new to Proctor and has made a considerable impact on his or her team through leadership, ability, and a positive attitude. This fall's Marvin Award Recipients are Jake McElroy '20 and Lucy Werner '21. Below are words shared by their coaches: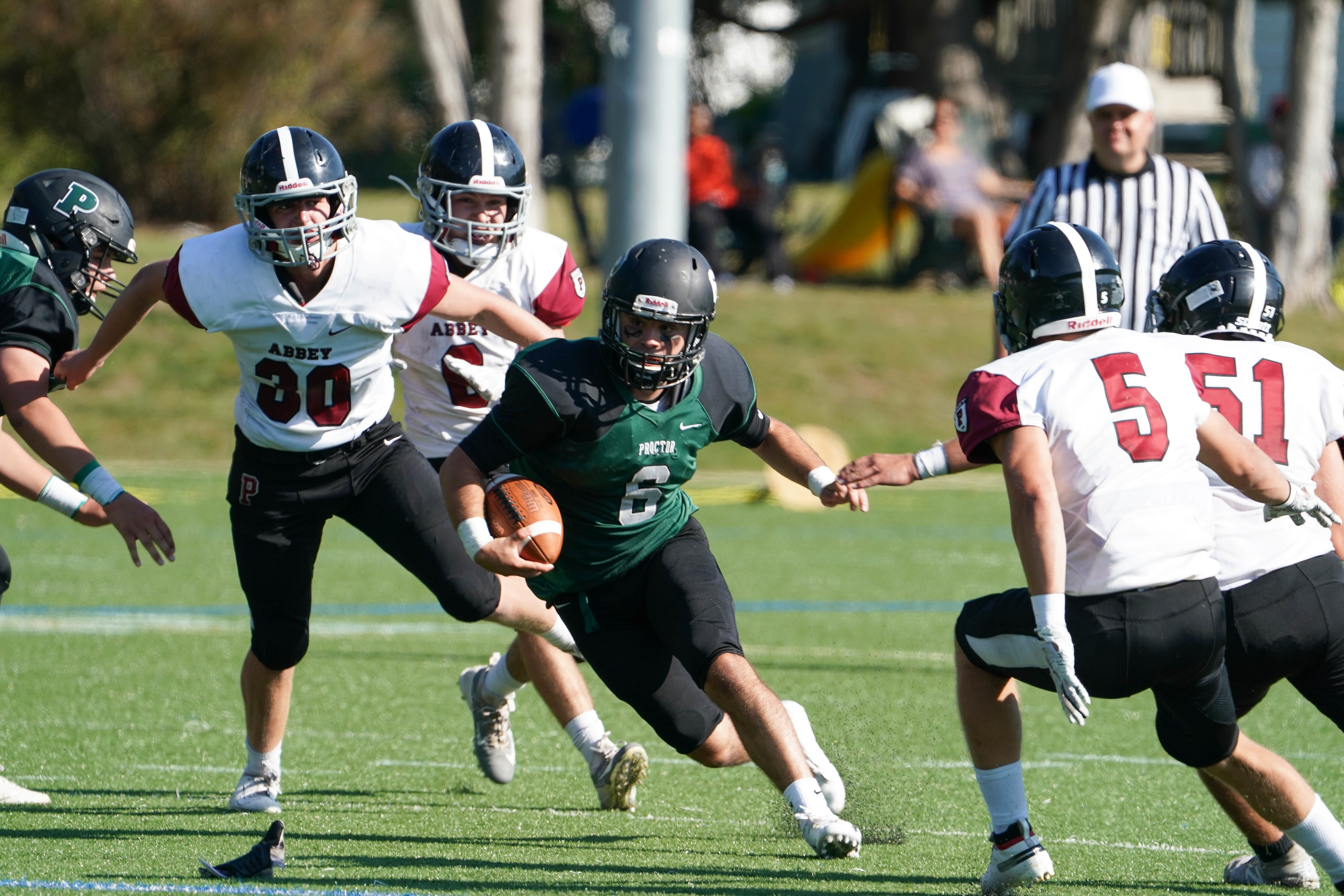 Jake McElroy '20 - Football
Since his arrival on campus this fall, Jake McElroy has been at the forefront of the football team's success. Jake is a natural leader. His actions and his words influence those within his sphere of operation. He is positive and exemplifies in his leadership, the qualities that the football program embraces. Jake is an outstanding competitor. In many closely contested games this fall, Jake willed the team to victory. Time and again, he has dragged not one, not two, but as many as three would-be tacklers down the field, gaining yardage well after he should have been taken to the ground. He possesses a "Houdini-esque" ability to evade and escape rushing defenders to extend pass plays that could have -- and probably should have -- culminated in a defensive sack. As capable as Jake is on the offensive side of the ball, he has also played on defense with acuity and efficacy. In vital moments of games, against
some of the best athletes the opponent has, J
ake has thwarted, stymied and disrupted well-conceived plays. As a coaching staff, we have worked with plenty of talented players, but never a player quite like Jake. His capacity to rise to every momentous occasion and to inspire teammates to the best of their ability is incomparable! He is an exceptional athlete, teammate, and leader.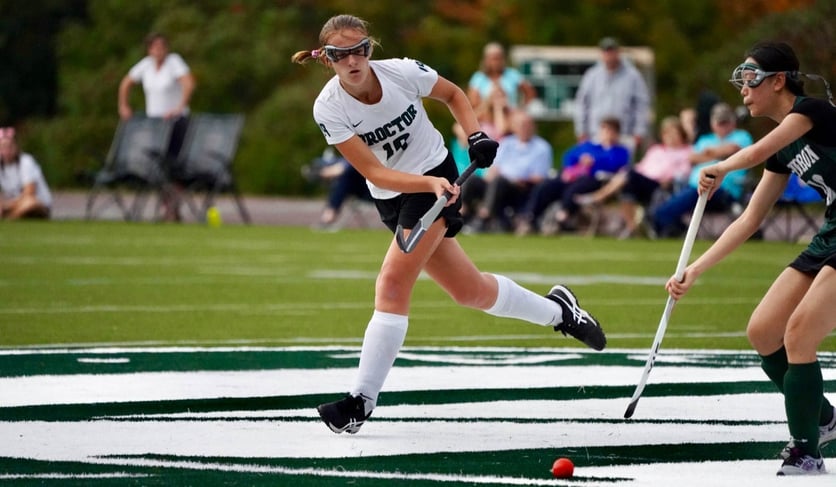 Lucy Werner '22 - Field Hockey
Lucy Werner's multi-faceted contribution to the field hockey team this fall was notable. She is a force on our defense. Although new to Proctor field hockey, Lucy has many years of experience playing field hockey, and she quickly assumed "veteran" status on our team. She used her wealth of knowledge to guide teammates. Lucy's voice is a guarantee in halftime conversations and pregame huddles. She is coachable and constantly asking how she might improve -- even in the smallest of ways. She quickly recognizes and owns mistakes, then immediately sets out to correct and learn from them. An exceptional athlete, Lucy's determined approach, her unwavering support of teammates, and consistently high energy elevate the team's level of play. Her work ethic and laughter are contagious. Lucy understands the importance of sportsmanship and models what it means to be a Proctor athlete. As coaches, we cannot thank her enough for what she has done for the team. We are looking forward to her continued growth on the field and feel confident she will positively affect the broader Proctor community through her leadership!
---
During team celebrations Monday evening, the following athletes were recognized by their coaches and teams for outstanding contributions to their fall sport. Congratulations to all award recipients.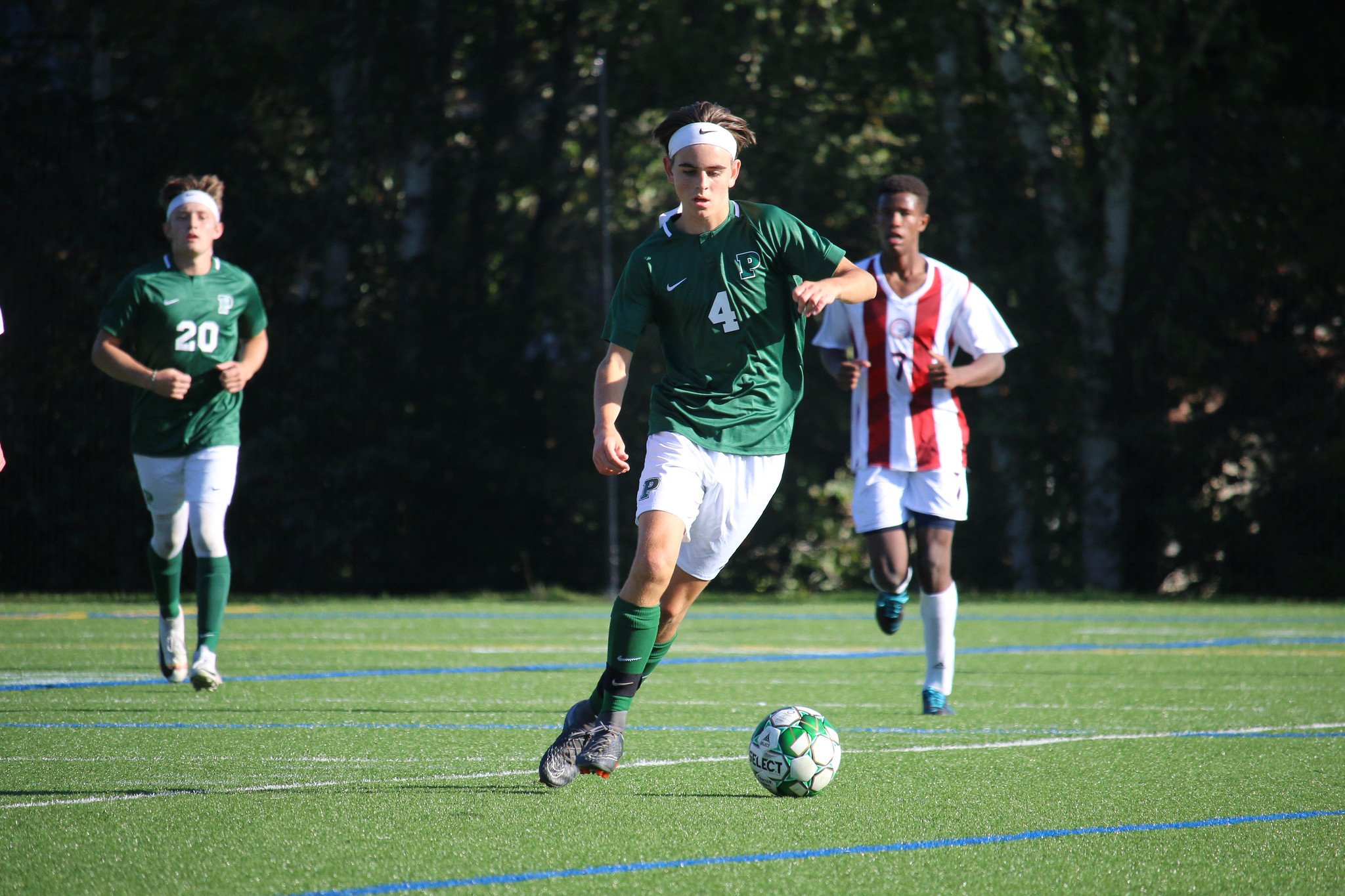 BOYS' VARSITY SOCCER
COACHES' AWARD: Timmy Bechtold '20, Nate Chickering '20
BOYS' JV1 SOCCER
COACHES' AWARD: Will Hotz '23, Alex Keskintepe '22
BOYS' JV2 SOCCER
TEAM SPIRIT AWARD: Henri Boulerice '21
COACHES' AWARD: Cam McAuliffe '22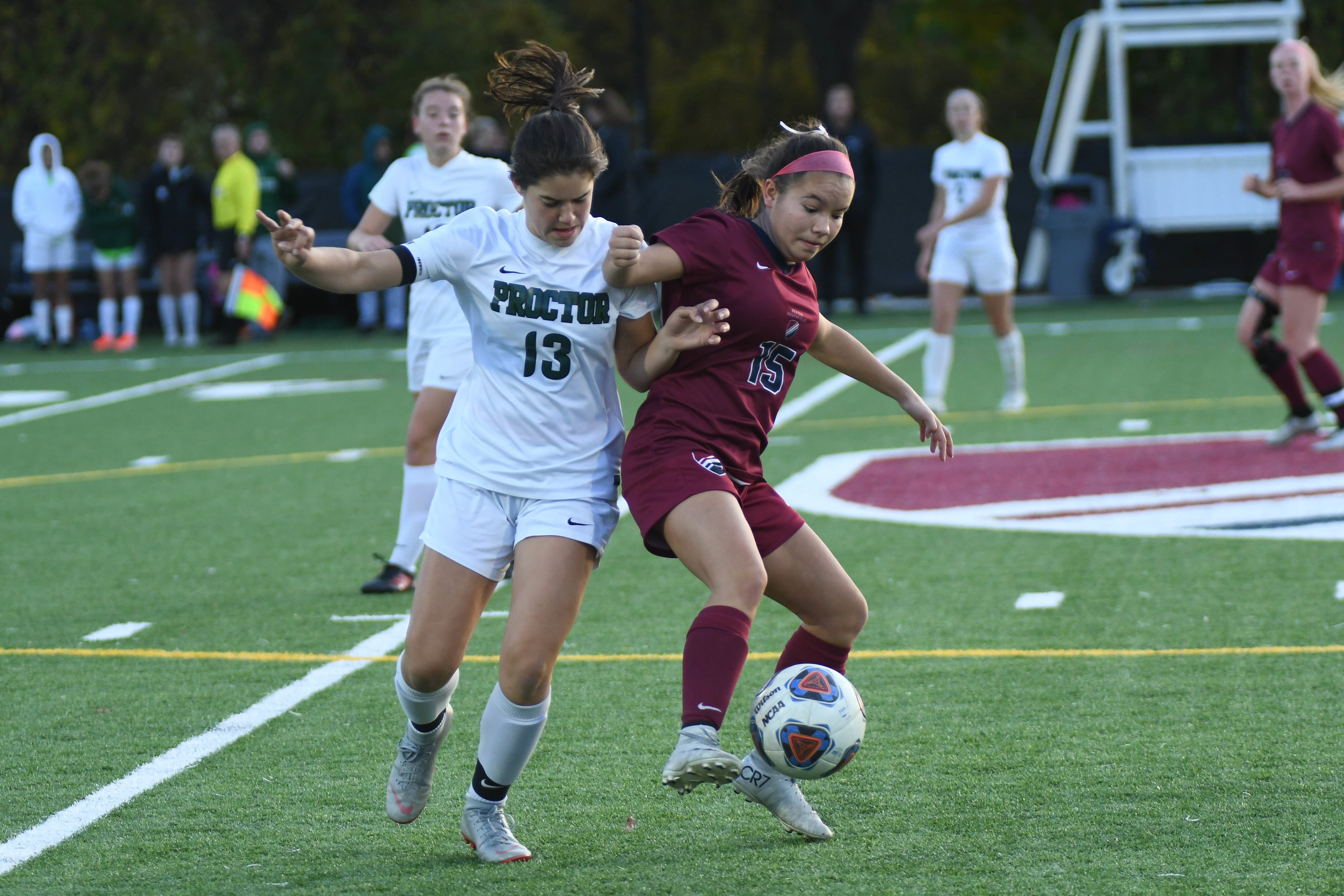 Photo Credit: Mary Gettens Photography
GIRLS' VARSITY SOCCER
COACHES' AWARD: Cassidy Joslin '22, Vienna Marcus '20
GIRLS' JV1 SOCCER
COACHES' AWARD: Libby Harrell '23
MOST IMPROVED PLAYER: Olivia Tumber '22
GIRLS' JV2 SOCCER
COACHES' AWARD: Emma Pine '23
MOST IMPROVED PLAYER: France Webster '23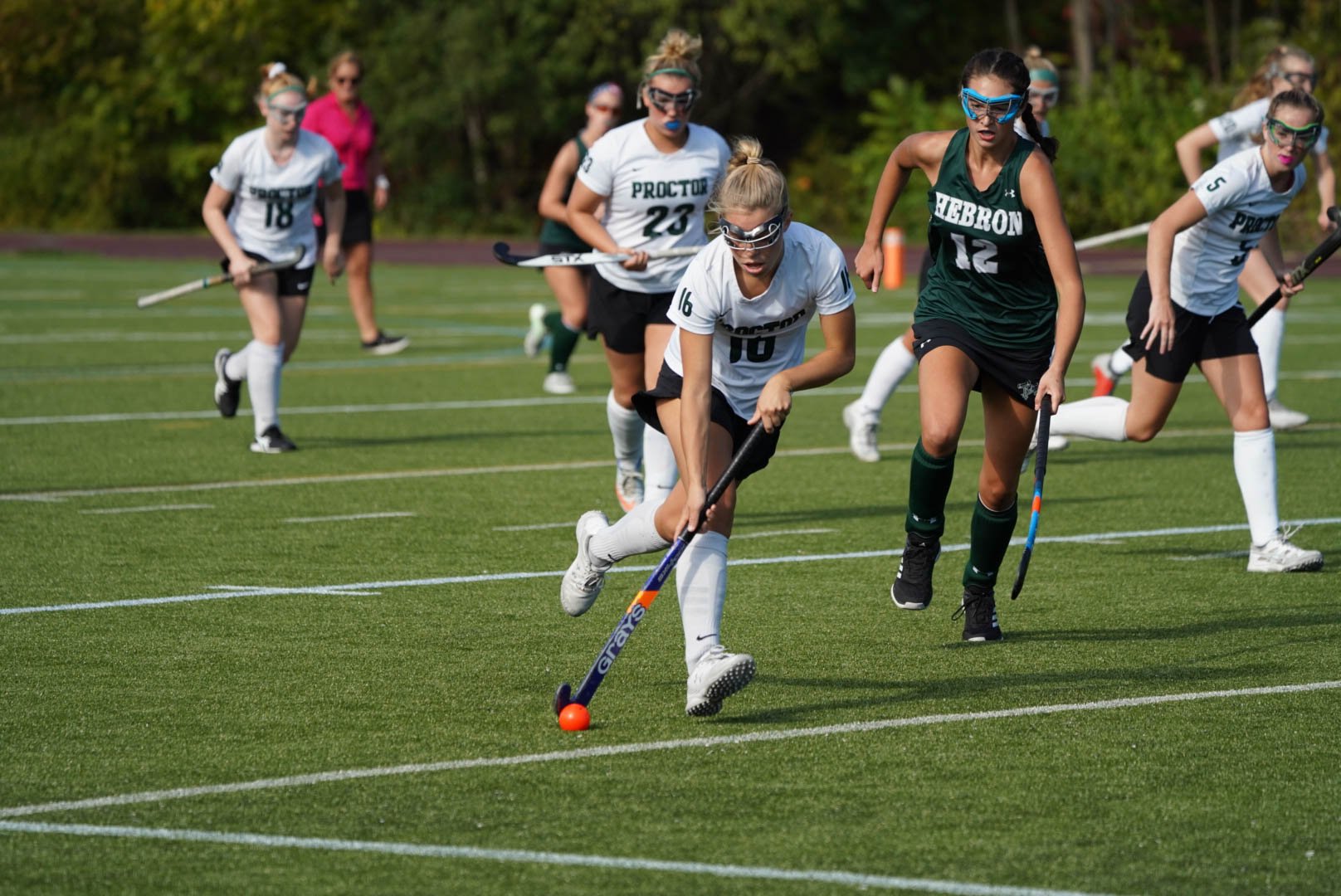 VARSITY FIELD HOCKEY
MOST VALUABLE PLAYER: PJ Shaw '20
COACHES' AWARD: Leia Brunt '21
JV FIELD HOCKEY
TEAM SPIRIT AWARD: Hailey Towne '21
MOST IMPROVED PLAYER: Blaine Hinds '20
VARSITY FOOTBALL
KENNETH HUDSON COACHES' AWARD: Nathan Hallenbeck '21
ARTHUR PRATT TEAMMATE AWARD: Jake Cole '20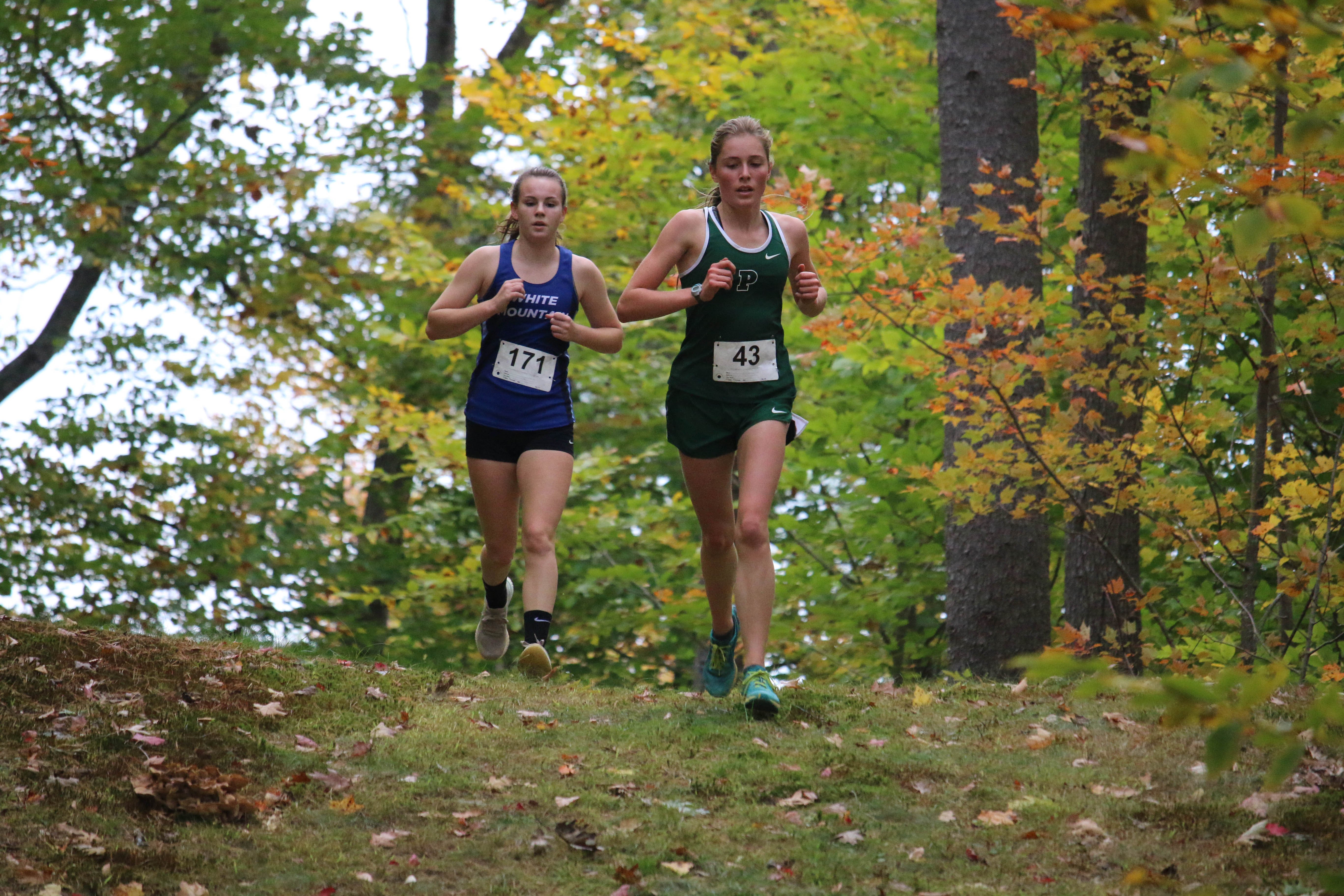 VARSITY CROSS COUNTRY
MOST VALUABLE RUNNER: Ada Gardner '22
COACHES' AWARD: Sean Slick '20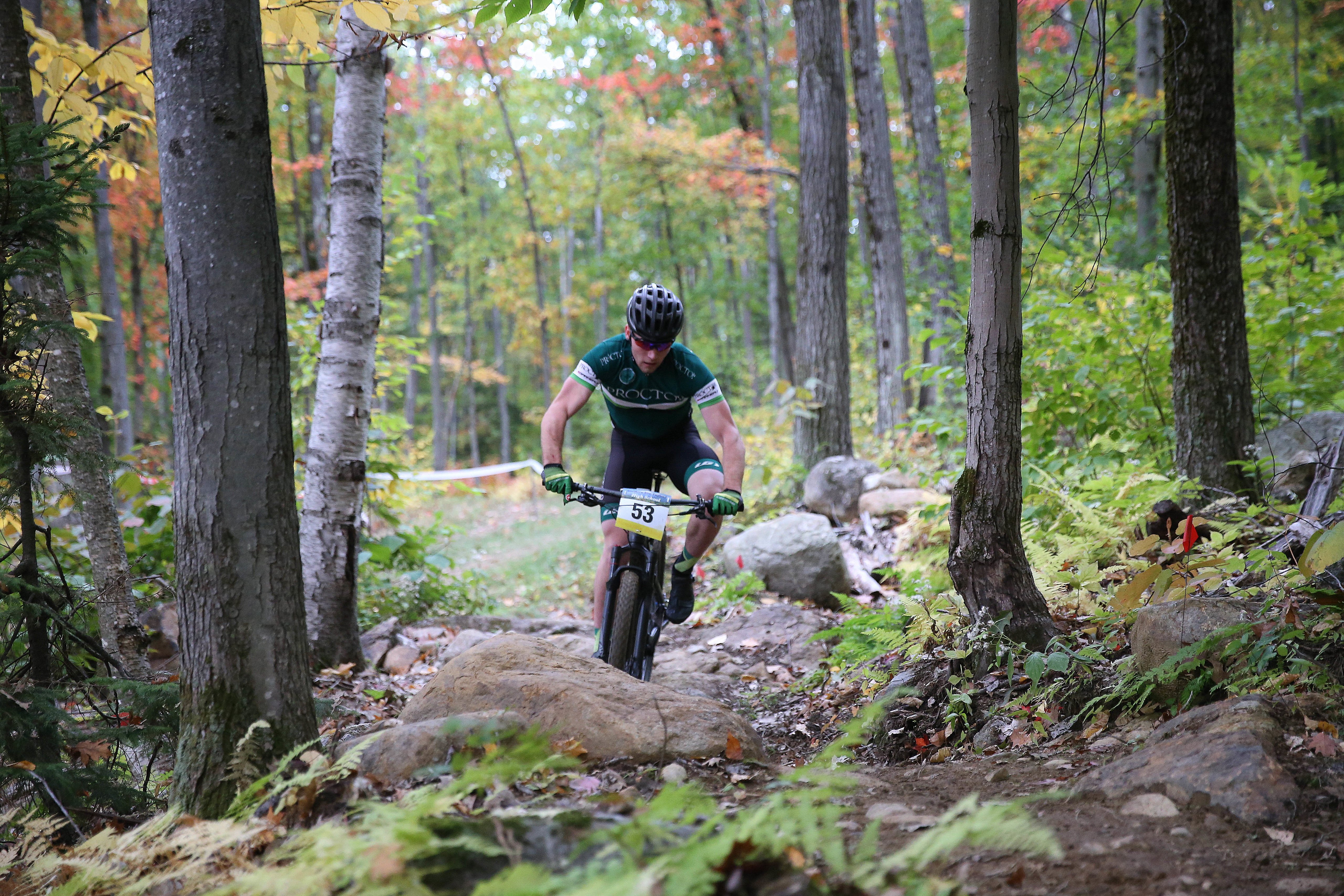 MOUNTAIN BIKING
MOST VALUABLE RIDER: Chris Golden '20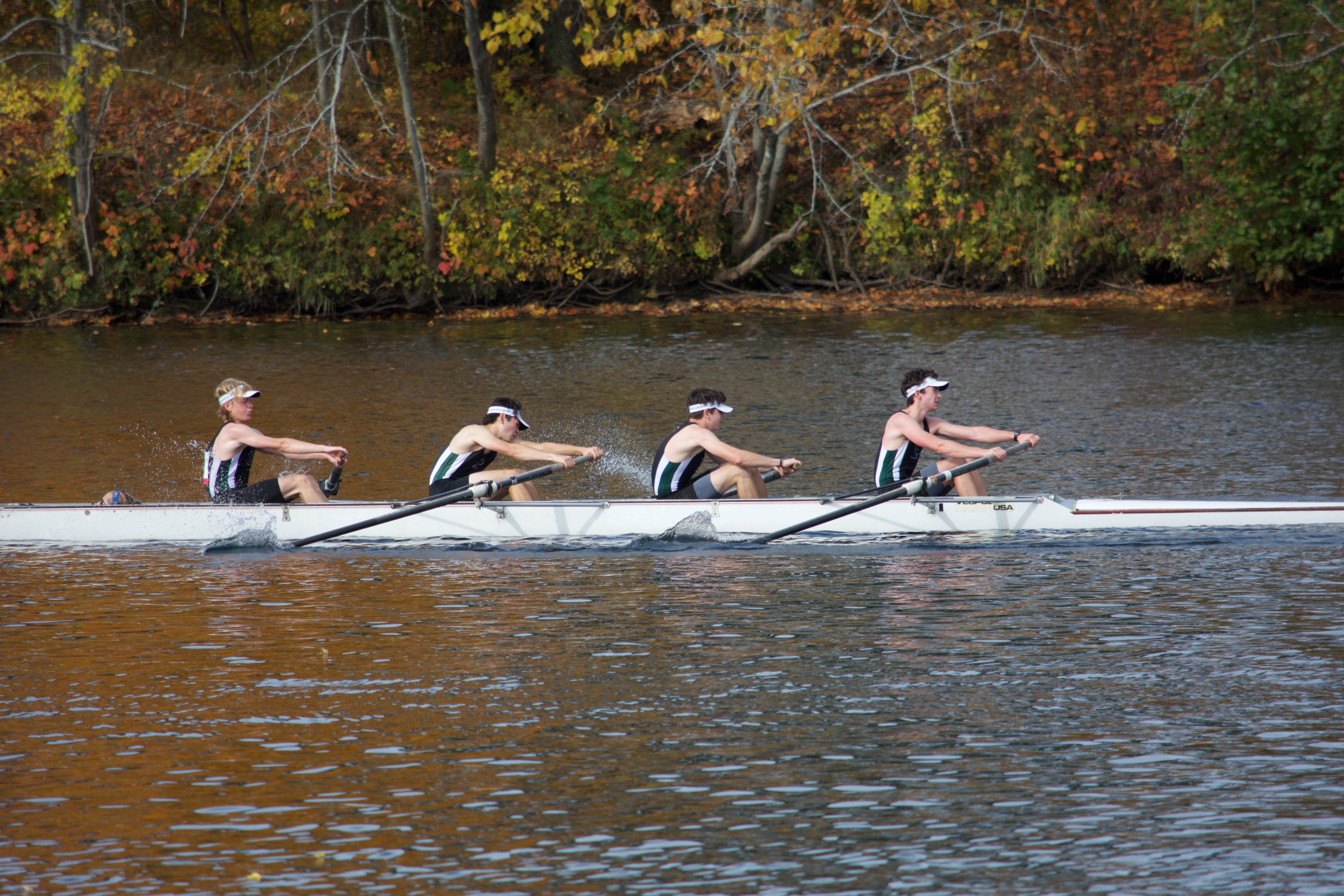 CREW
BOYS LEADERSHIP AWARD – Cole Schwabacher '20
GIRLS LEADERSHIP AWARD – Sophie Lyras '21