The Proctor community mourns the untimely death of alum and member of the Board of Trustees, Shawn Hurwitz '83, who unexpectedly died early Sunday morning in a boating accident. Hurwitz, who was Proctor's commencement speaker in 2012, was not only chairman of a Maxxam, Inc, a Houston-based real estate company, but a champion of providing underprivileged a quality education through his involvement in KIPP schools around the country.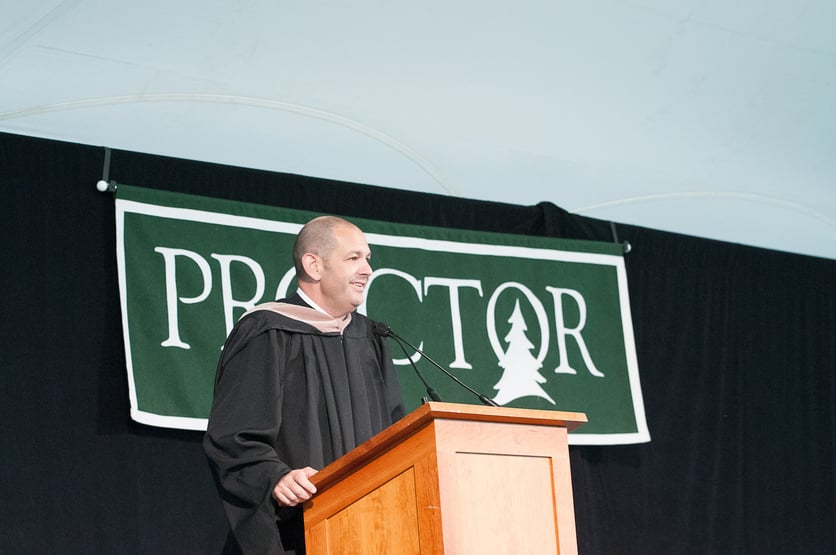 A native of Houston, Texas, Hurwitz arrived at Proctor in the fall of 1979 wearing Wrangler blue jeans and cowboy boots. A non-traditional learner, Hurwitz had the gift of learning differently than the public schools in Houston chose to educate students in the late 1970s. Karol Musher, his tutor in Houston, told him in 1979 it was time for him to go to Proctor Academy. Hurwitz had never heard of boarding school, and had no desire to leave his Texas roots to travel north, not to mention the pain associated with trading his cowboy boots in for L.L. Bean boots in order to survive the winter. But, he trusted Musher and upon arrival at Proctor realized that all he needed was a break; an opportunity to understand and gain access to his gifts that he would have never had at home.
In his address to the Class of 2012, Hurwitz noted, "I did not graduate at the top of my Proctor class, and was not a particularly distinguished student. But Proctor gave me something every person should have. Proctor gave me a break, an opportunity to achieve to my full potential." This opportunity was granted by people like Alice Fowler (who spent countless hours working on reading and writing skills with Hurwitz), Karl Methven, Dave Pilla, Chuck and Sarah Will, and an entire community of caring, compassionate, and passionate educators. He added, "In 1979 in Houston, Texas, there were no other educational opportunities for me and my learning style, not because I did not have the intellect, but because I did not have the skills I needed to reach my potential. Proctor gave me these skills and the confidence to use them."
In 1994, early in his career in business, Hurwitz became involved with a new school, KIPP (Knowledge is Power Program), focused on providing educational opportunities to underprivileged and underserved students in Houston's urban center. Despite being voted one of the best urban school systems in the country, Houston fifth grade teachers would only see 50% of their students graduate from high school. Hurwitz became passionately involved with KIPP in its infancy, providing financial guidance to the young educators behind its mission. Over the next twenty years, KIPP would grow from a single school in Houston to serve over 70,000 students in 183 schools around the country (including Chris Allen '12, below, who was Senior Speaker for the Class of 2012 and spoke immediately before Hurwitz). These free, open enrollment schools saw more than 87% of students come from low-income families, 96% of whom are African American or Latino, but 94% of whom graduate from high school and 84% go on to college.
KIPP Co-Founder Mike Feinberg noted in a KIPP press release, "All told, hundreds of thousands of children have a new-found freedom to succeed in school and life because Shawn Hurwitz cleared a path."
When Head of School Mike Henriques visited one of Houston's KIPP schools in 2011 alongside Hurwitz, he asked his host why he was so passionately invested in KIPP's approach to education. Hurwitz took some time to process his answer to Mike's question, and shared during his commencement address, "I'm emotionally invested in KIPP and each of its students because they are just like me. They need someone to have faith in their abilities and KIPP does this better than any program I have seen."
Proctor, KIPP, and the entire Houston community has lost a champion of educational reform, someone who helped thousands of students get a break, just like he did. We share our condolences with his family and friends.