In 1998, Kimball Union Academy's Mountain Bike coach Bill Farrell, Kennett High School's Chris Darling, and Phil Ostroski put their heads together to figure out how they could create a high school mountain biking race for New Hampshire schools. Shortly thereafter, the Northern New England Mountain Biking League was formed, starting with five high school teams competing, bringing roughly 100 riders to each competition by 2006. Coaches were ecstatic about the opportunity they were able to provide their riders, and over the course of the next decade, the Northern New England Mountain Biking League would grow leaps and bounds to encompass over 330 riders from 29 high schools in four New England states.
The Northern New England Mountain Biking League has grown to be the most comprehensive high school mountain biking league in the East with riders from Vermont, New Hampshire, Maine, and Massachusetts. Proctor Academy's Mountain Bike coach Josh Norris notes, "Our main goal is to teach kids to be safe, competitive, and enthusiastic mountain bikers. Every year we strive to be as competitive as we can at the races, but more importantly to teach kids about how fitness, nutrition, and sleep can affect their performance on and off the bike. While we want the kids to find success on the race course, ultimately we want them to have fun and become life long advocates for the sport. As coaches, we are all so excited to watch mountain biking grow into a mainstream high school sport."

When Proctor Academy hosted the first race of the 2016 season on September 21, 240 riders from 29 public and private high schools lined up at the starting line. One of Proctor's strongest riders, senior Scott Johannen (Chelmsford, MA), took 3rd Place in Boys' Class A in the first race of the season, and was amazed at the enthusiasm among the riders at the race, "The league has the most motivated group of riders that I've seen over the past four years. It seems like everyone on our team and on the other teams are just super excited to be on their bikes, and are having so much fun learning how to get faster and stronger. That's what it's all about at this level."
The Northern New England Mountain Bike League serves top level riders like Johannen with elite competition, many of whom will go on to compete at the college and professional level in the future. What makes the league so successful, however, is its ability to introduce novice riders to the sport of mountain biking. At the league's first race at Proctor Academy, over 100 riders competed in the Class C category for beginner riders. Over time, these beginners will gain the confidence, strength, and technical ability to compete in Class B, and potentially in Class A. It is this unique ability to provide challenge and competition to every rider, no matter his or her experience or skill level, that has so many high school students and coaches excited about the Northern New England Mountain Bike League.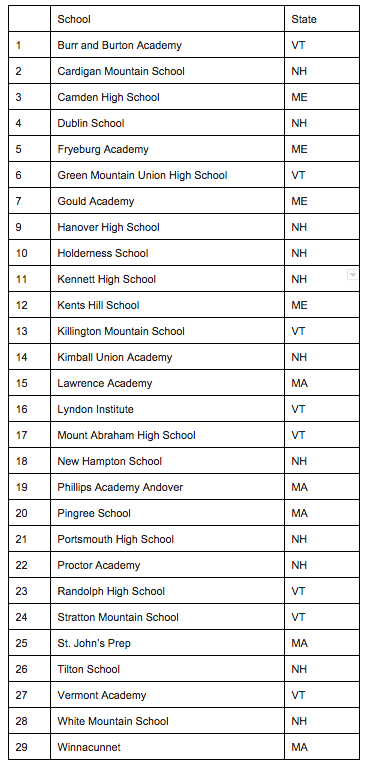 Throughout its growth over the past decade, including a split into an East and West Division for the 2016 season, the league's mission and impact has remained constant. League founders Bill Farrell (formerly of Kimball Union Academy), Chris Darling (Kennett High School), and Phil Ostroski hatched the idea in 1998 when they joined their rag-tag Mountain Biking teams together with riders from White Mountain School at a the inaugural race at Bear Notch in Bartlett, New Hampshire. Darling recalls the thirty riders in that first race being timed on a stopwatch and having their finish positions recorded with pencil on a notepad. "We've come a long way since that first race. Now with over 300 registered riders from 29 schools, we have a fully electronic timing system, GoPro cameras at the finish line, and a custom number plate for each rider." Farrell adds, "We had a vision when we started the league, and while we are thrilled with where it is today, we are necessarily surprised. The sport of mountain biking is just what adolescents need."
Farrell elaborates on his assertion mountain biking is the perfect sport for active teenagers.
"Our league is driven by coaches who are invested in the culture of mountain bike racing, and parents quickly see that mountain bike racing is the best thing that ever happened to their child. Mountain bike racing and training embraces an endurance sport philosophy that values commitment to learning, citizenship, character, and giving back to the community. And perhaps most importantly, there are no benches in mountain biking. It is suddenly inclusive. Everyone races at his or her level and there's no worry about playing time or coaches playing favorites. Riders simply get to ride their hardest and improve their conditioning and technical ability each time they race or train."
Mountain biking may be classified as an individual sport by many, but as any team in the Northern New England Mountain Biking League will tell you, it is anything but. Bill Farrell notes, "Trust me...rigging up and loading trailers with thirty bikes, getting lunches and fluids ready, tires pumped, frames washed, cow manure scrubbed out of knobby tires, chains degreased and convoying vehicles over the Kancamagus Highway to races in North Conway, New Hampshire or Fryeburg, Maine on a beautiful autumn day represents "team" at its highest level."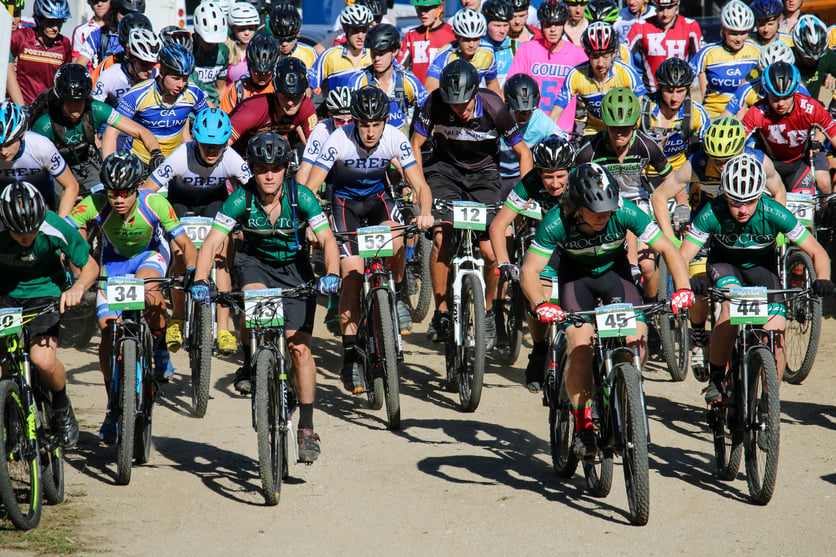 To learn more about the Northern New England Mountain Bike League and Proctor Academy's Mountain Biking program, visit Proctor Academy's website or the Northern New England Mountain Biking League website.