Today's blog post from Ocean Classroom serves as an account of the first half of a nearly two week transit from Charleston, South Carolina to St. Croix. Proctor's crew of 21 students has arrived in St. Croix and we will soon post the remainder of their Ship's Logs and more photos/video, but for now, enjoy this window into life at sea.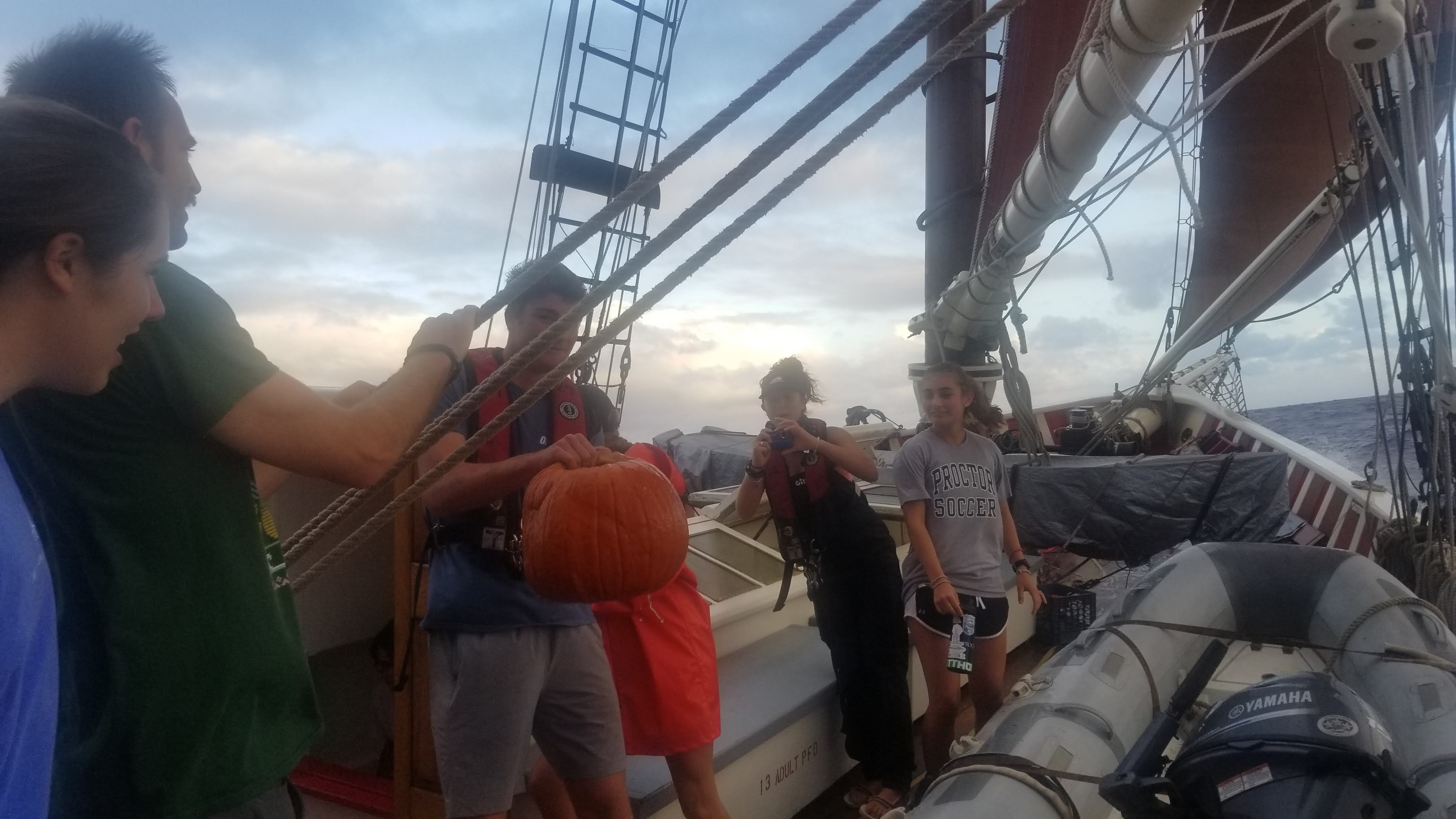 Day 47: Olivia '21 - Atlantic Ocean
Happy November 1st Voyage Log! Wow, I can't believe we have 22 days left until we're boarding the plane to fly home. That is so crazy. We left Charleston at 1400 today to begin the long voyage toward St. Croix. One of our second to last port stops... :( This whole experience has flown by and I want it to slow down. I have loved Ocean Classroom and can't imagine actually going back to school. This long voyage ahead of us scares me because it's potentially 14 days on Roseway not seeing land. I can't wait for St. Croix though. It's going to be amazing sailing down there. I can't wait for the water color, the animals, and the warmth! Oh, we also started JWO's (junior watch officers) today... OMG that scares me so much. I am also the next one for my watch, 2000-0000 which is good because I'm getting it over with, but it's also a ton of responsibility and stresses me out. I really want to do well! It also didn't feel like Halloween yesterday since it was so hot! I would take that though over snow any day :) Well I'm excited for this next journey in the Ocean Classroom experience!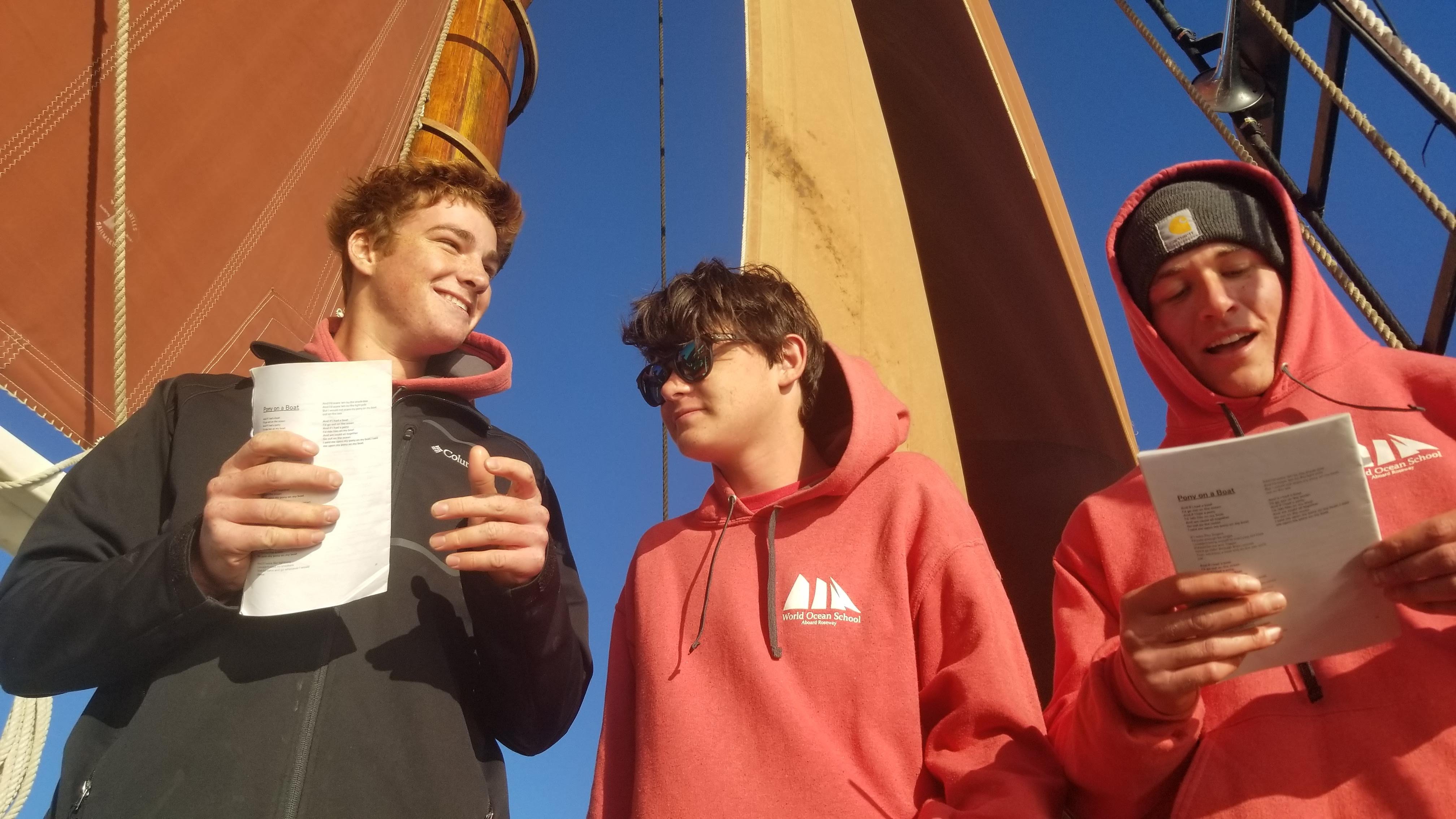 Day 48: Cole '20 - Atlantic Ocean
Wow, this is weird to write because this is my last voyage log I will ever write for Ocean Classroom. But apart from that I will tell about my day. I woke up and immediately had the 0800-1200 watch, so that was fun. It was very basic and I did very little but we did start to encounter foul weather. As soon as that started to happen I put on my foul weather gear so I could be resistant to the waves that were crashing on the deck. After watch I ate another fantastic meal made by Lizzie (our cook), and after that I went down to bed and immediately fell asleep, which was nice to have after sleeping very little the night before. After getting sleep I woke up for dog watch and then dinner. Dinner was very tasty, and after dinner I went back to bed before my morning watch.
Hi Dad and Mom, see you soon!
Happy birthday on the 19th Dad
Happy birthday on the 22nd Mom
Day 49: Kara '20 - Atlantic Ocean
Today was a Sunday which means no class and much appreciated rest. For me, the day started at 03:15 for A watch's 04:00 to 08:00 watch. The usual wake up is 03:30 but I was already awake so I got up. Saturday involved a lot of rest as well so I wasn't sleepy. At around 01:00 I felt so inspired to help our ecosystem that I fed the fish. Since I woke up early I had some time to do a little baby wipe shower and eat a Nature Valley bar. Feeling "clean," I started watch. We had a pretty chill watch besides a little rocky sea state. After watch and before breakfast we set the main. I was very excited to hear that we were having oatmeal for breakfast. I've always heard that Ocean Classroom transforms you, but I never expected to become a lover of oatmeal. I decided to take a nap from 09:45-11:45 and it was a great decision. I woke up to eat lunch but considered going back to sleep afterward. Instead of sleeping through, I completed A-Watch's engineering almanac. Since it is Sunday Best, I took a buckie and put on my cleanest clothes which involved blue Patagonia shorts and my Roseway Red hoodie. The polaroid picture today is from almanacs and has everyone on the boat except me and Lizzie. It's crazy to think that I will only have 20 days left with these 35 people. We are currently around Florida and going 9.1 knots, but I don't want the rest of Ocean to fly by like the Roseway is flying down to St. Croix. It seems like just yesterday Matthew was standing with us around a bonfire at camp Kenwood telling us to prepare for the biggest journey of our lives... and possibly massive squids. I don't like to think that we have 20 days left. I prefer to think that we've had 49 days together on this boat.
Happy early birthday Mom!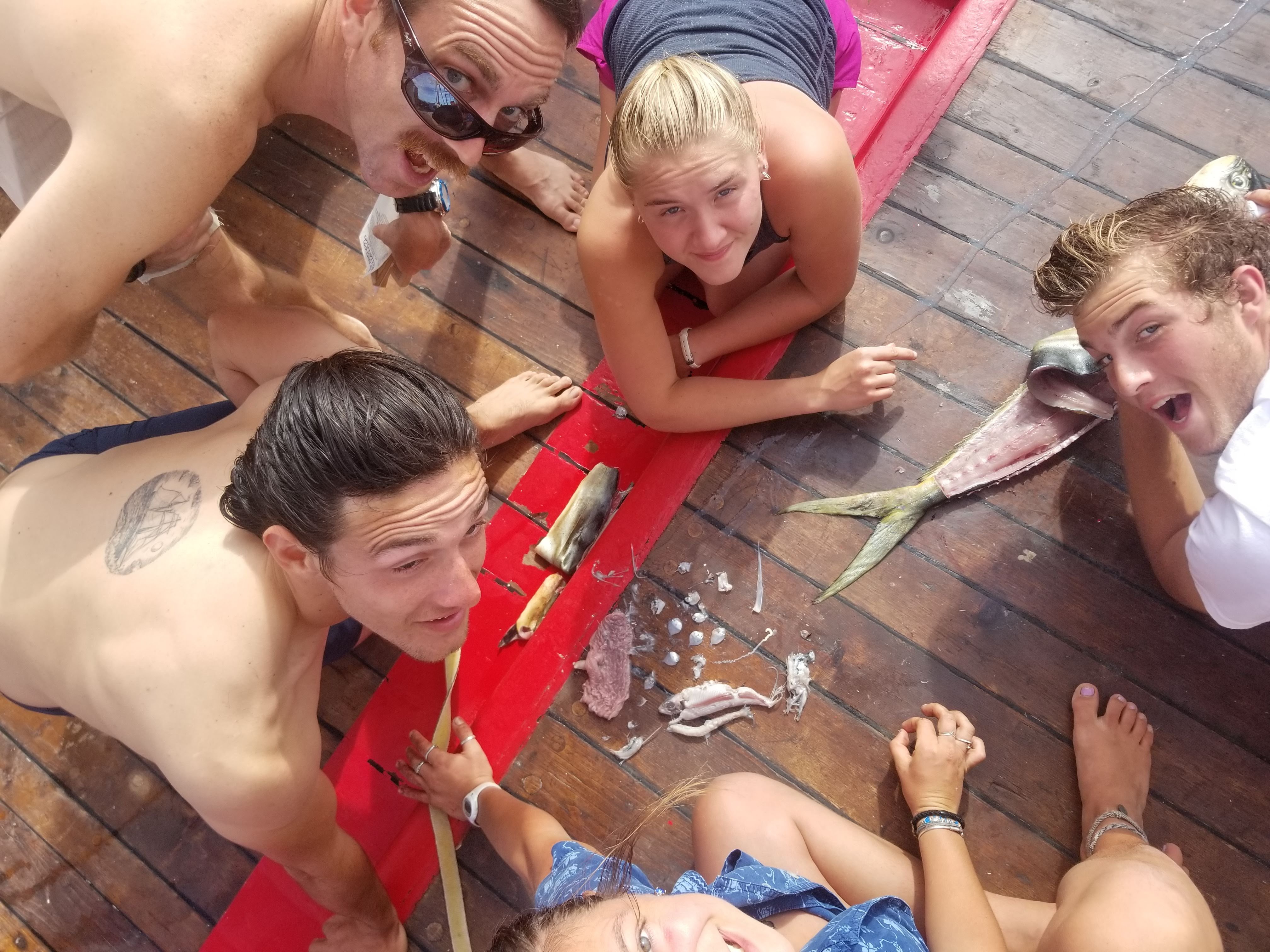 Day 50: Ian '20 - Atlantic Ocean
Wohoo, 50 days, like what? How are we 50 days after our first day at Camp Kenwood on September 16. It's been so long and everyone is so close now. Though one could say it's been quite the uneventful day, that would be a lie because every day is crazy on Ocean Classroom. So even though there were no dolphins or a bunch of Mahi on the line, we did make it out of the Gulf Stream, and made it 215 nautical miles in 24 hours. Whoo! That's crazy distance. We absolutely whipped today as well, making an average of 9 knots. We also got crazy splashed. Finally, I want to congratulate Zach for his amazing job going aloft as well as Olivia for doing that even though the waves were really rocking. This also gave Zach the ability to be aloft cleared and a super smart man.
Day 51: Emilina - Atlantic Ocean
I come to you from the salon of the Roseway, just after a lovely dog watch with all my A Watch compadres. While I enjoyed every minute of my watch earlier, I am very appreciative of the moments I am allowed to sit down and rest my feet. Also something important to note: we have SEVEN LAYER BARS for midrats tonight! While I have never eaten 7-layer bars, Lizzie, our cook, has been hyping them up for weeks and now the time has come! Wooo! Goodbye for now log book, I have some good snacks to eat before bed.
Day 52: Zack '20 - Atlantic Ocean
Today was absolutely beautiful. I had the 0400-0800 watch so I got to see an awesome sunrise. I went aloft solo to tend to a stranded watch flag. Honestly going aloft is terrifying but I still love it. I took a bucky after watch more to play in the water than to actually get clean. Today was full of classes and work. I completed a second seam on my ditty bag and saw a huge improvement in my stitches. I was so proud! Super productive day for me and my shipmates. Brandyn was detangling ropes all day and making these cool little furry things that I'm not really sure what they are but he was grinding for sure. Everyone is getting aloft cleared which is awesome to see. I know Ian did today. It's been so nice, I pretty much live in board shorts. I can't wait to get to the Caribbean but I'm sad to see the days tick by.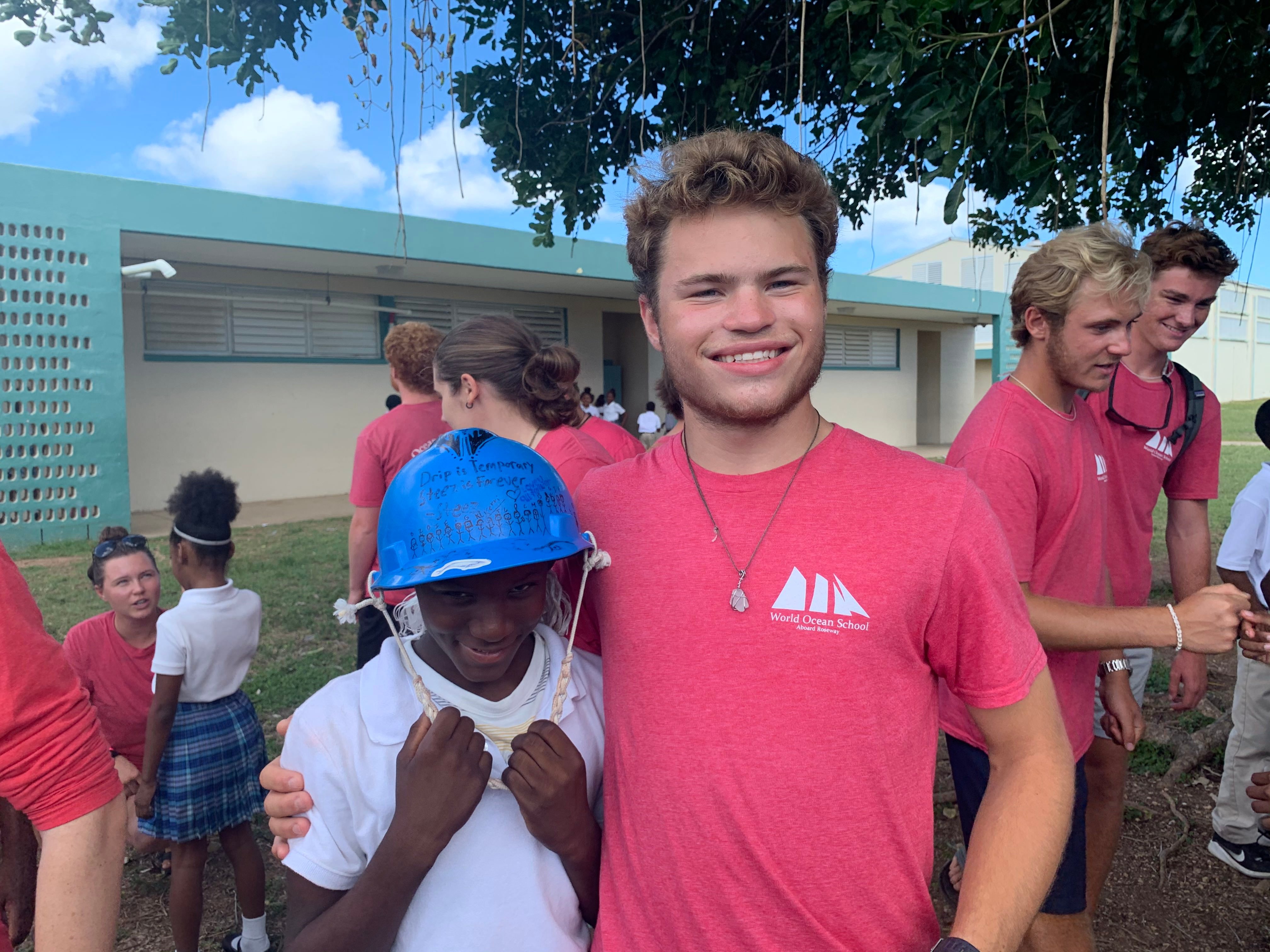 Day 53: George '20 - Atlantic Ocean
Today wasn't particularly interesting. We sailed along at around 4.5-6 knots, gradually making our way to St. Croix. We are around 300ish miles away from the island. Our weather so far has been great, apart from rough seas in the beginning, we have had a ton of wind that has pushed us through the squalls and the heat of the Atlantic Ocean. Most of us, actually all of us, are super excited to get to St. Croix as we have been in transit for about a week and everyone is looking forward to the natural beauty of the islands. This trip has gone by so fast and I can't believe this is my last voyage log entry. These last two (almost) months have been amazing and I am so happy I applied for this program.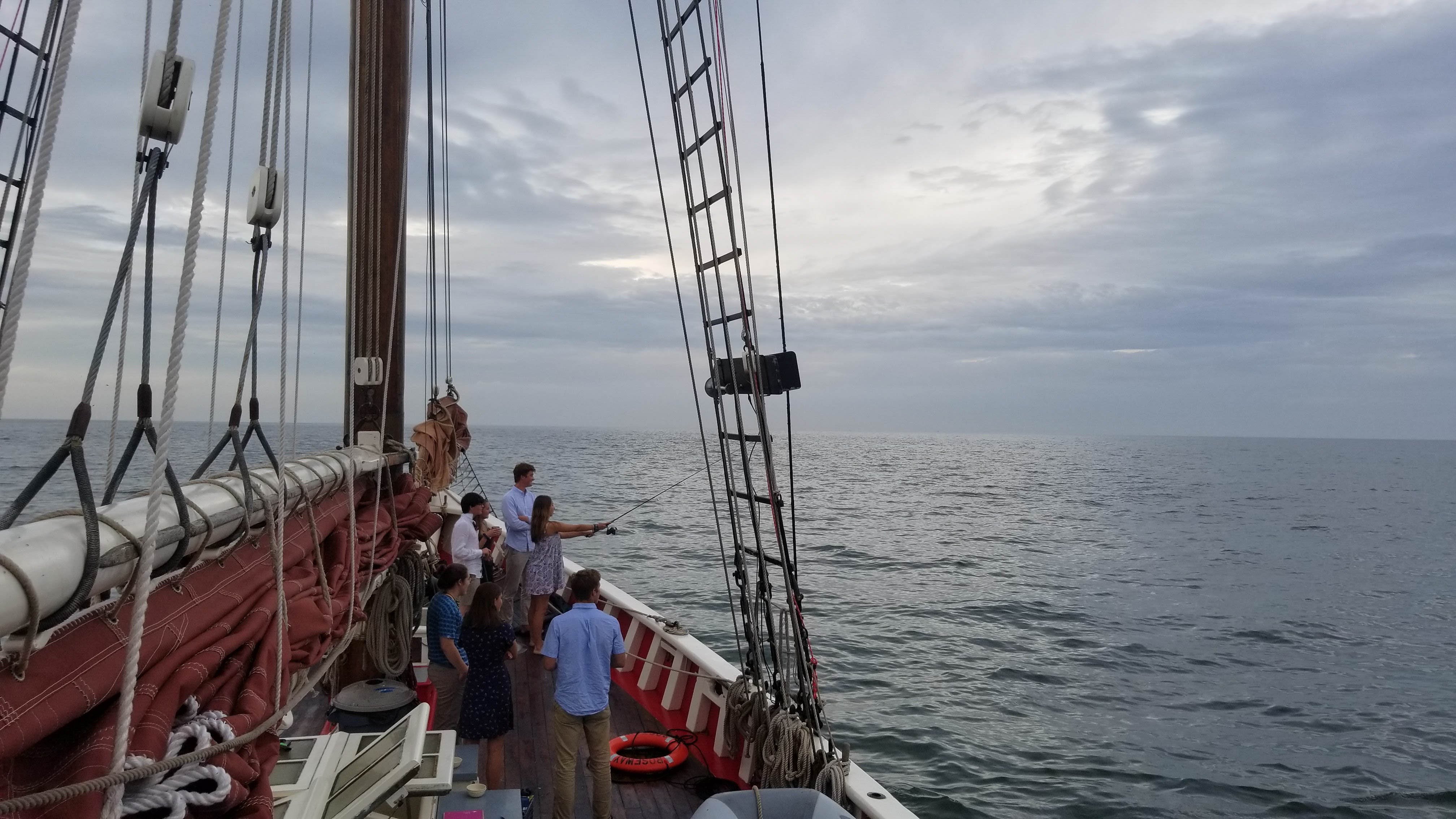 Day 54: Kerri '21 - Atlantic Ocean
Today began for me at 0000. The midnight to 0400 watch can be challenging to stay awake for but what always makes night watches fly by is gazing at the stars. On a crystal clear night miles from land the stars are more than heavenly. Last night I learned that Orion's belt points to Taurus, and Taurus's alpha star points to Pleades, a constellation of 7 stars. As the stars melted away into a spectacular display pinks and oranges, we all were woken for an egg breakfast then dispersed to make ditty bags, practice navigation, or start watch. Our new tropical location brought heat and humidity to the day. The salon had a distinct smell of sun screen despite the red faces. We ended the day with an amazingly savory dinner of pork and kale salad. We now all await a late night science class, the topic is undisclosed. Just another day slipping away on the elegant Roseway!
P.S. Sending fair winds and clear skies from home would be appreciated ;)