On any given day, we ask our students to manage a remarkable amount of independence. They are expected to monitor sleep hygiene, get to class on time, choose to engage with or lead clubs, eat a balanced diet, complete homework assignments, attend extra help, not to mention prepare for competition and performances each afternoon. The life of a boarding school student is complex, which is why Proctor has launched a performance initiative that seeks to identify ways to support our students' optimal performance in the classroom, on the athletic field, and in their daily lives.
This performance initiative, developed by Athletics Director Gregor Makechine '90 and Assistant Athletic Director Trish Austin '01, seeks to leverage afternoon program to educate students about the link between sleep, hydration, nutrition, physical fitness, substance use, and athletic and academic performance. Weekly resources are provided to coaches and teams, sparking valuable conversations around the intersection of these different factors, and the very real threats to performance that can quietly enter our students' lives without intentional work to manage them.
In conjunction with the Performance Initiative, Proctor's athletics department has launched two additional initiatives this year: a comprehensive Strength and Conditioning Program and a Coaching Teacher Learning Group (TLG) Program. The Strength and Conditioning Program, led by World Language Department Chair Ross Young, adopts a year-round approach to training using an online program called PLT4M. Coaches and athletes of both in season and out of season teams have scheduled times to work with Ross on balance speed, agility, and conditioning training. The Coaching TLG Program seeks to provide meaningful feedback and focused professional development for coaches, borrowing from our existing model for teaching faculty. Coaches will be clustered in groups of three (one fall, one winter, and one spring coach), and will meet to discuss cultivating and maintaining team culture, practice planning, game preparation, and other identified areas of professional growth.
All three of these initiatives further support Proctor's Health and Wellness programming as we seek to create an environment where students clearly understand the relationship between their physical/emotional well-being and their performance while our faculty seek to better understand the same relationship in their students and athletes.
These internal efforts coincides with Proctor's partnership with the United States Ski and Snowboard Association. Recognized as a High Performance Center, Proctor's commitment to holistic athlete development through coach professional development is now augmented by USSA resources. The USSA sees club or academy regional high performance centers as key to creating a sharing of best practices across the country. Proctor is among a handful of High Performance Centers on the east coast, and will benefit tremendously from a focus on sport science and sports medicine at regional facilities with a long-term goal of exchanging best practices between centers around the country.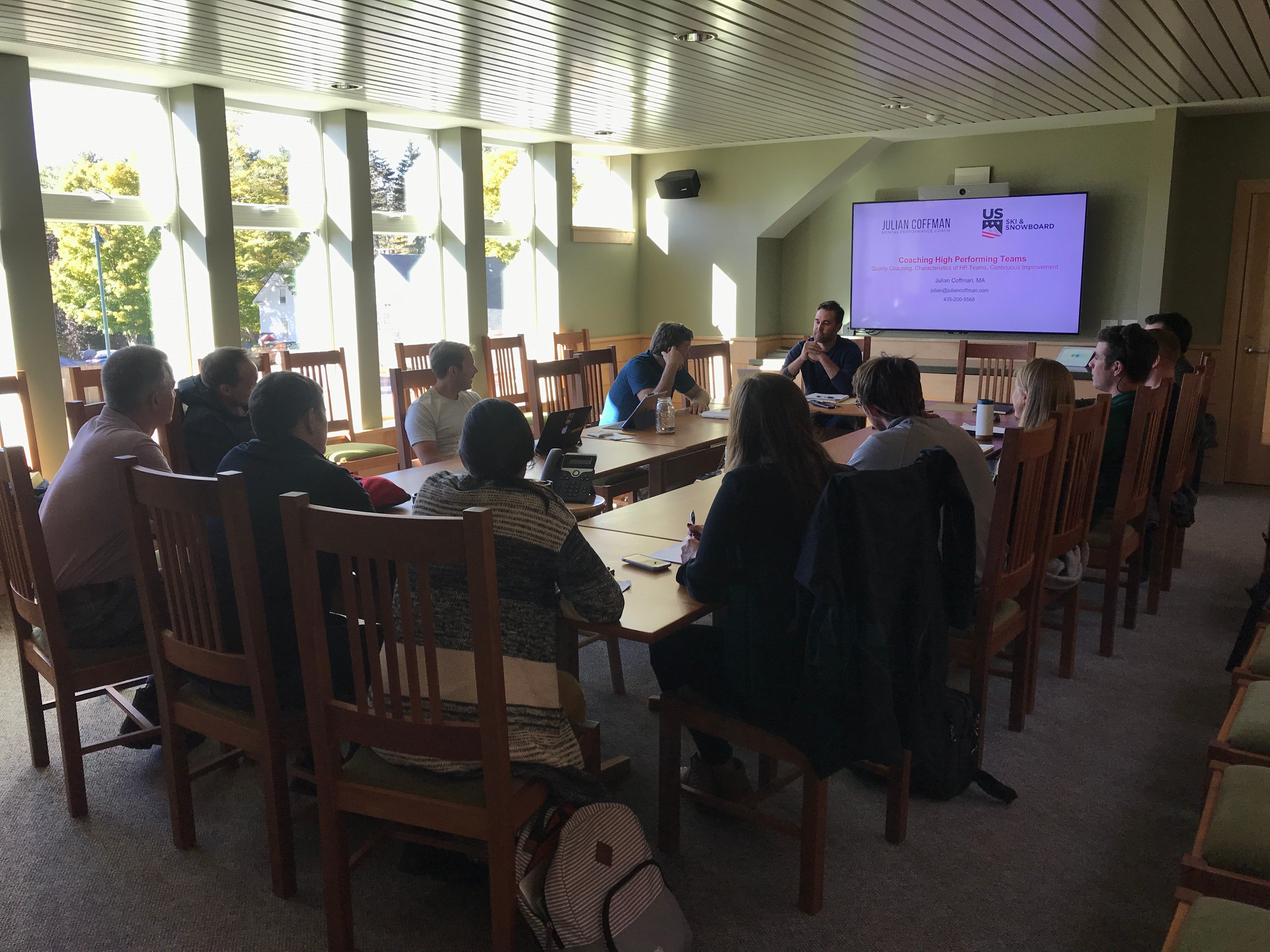 On October 5, Proctor's coaches had the opportunity to attend a day-long workshop by sports psychology expert Julian Coffman, USSA kinesiologist and high performance director Troy Taylor, and high performance coordinator Calin Butterfield (above). The group of twenty or so coaches dove into conversations around coaching, leadership and culture development, and the concept of continuous improvement. Whether it was digging deep into technical, tactical, physical or mental cue training approaches, discussing how to build self-efficacy and confidence, developing a growth mindset among our students, or figuring out how to find that ever-elusive sweet spot of accountability as a coach, those of us present found ourselves sharing personal experiences and repeatedly having "Ah ha!" moments when others discussed their triumphs and challenges with athletes.
The research, resources, and expertise shared by members of the USSA in attendance were tremendous, however, everyone, including the visiting experts from the USSA, in attendance walked away from the workshop most energized by the collaboration and sharing that took place. It was a powerful reminder for all of us (Proctor's ski coaches as well as coaches of other sports were in attendance) to hear Olympic level coaches tell us coaching, even at the Olympic level, is not about the technical aspects of sports, but about developing trust with your athletes so you will later have the opportunity to impart the technical and tactical knowledge to your athletes when they need it most. Technical knowledge without the ability to connect relationally to your students does not improve performance, and often has the opposite impact. We must constantly remind ourselves we need to spend far more time in dialogue with our students than we do in technical or tactical discussions.
This is where Proctor possesses an unparalleled opportunity to teach lifelong health and wellness lessons to our students while simultaneously improving performance in the classroom and on the athletic field. We excel at getting to know our students - how they learn, how they respond to pressure, how they view their own abilities - and it is through these multiple contact points for each student that we are able to build a culture of continuous improvement. Proctor is poised to not only benefit from the resources made available as a High Performance Center, but to fundamentally shift how other schools approach performance through a relational lens based on Proctor's educational model.