ANDOVER, NH (September 23, 2016) -- Proctor Academy launched a semester at sea program called Ocean Classroom in 1994, with a partnership with World Ocean School beginning in 2014. Each fall twenty-two Proctor students spend nine weeks aboard World Ocean School's Roseway, a 1925 137 foot fishing schooner built in 1925 to an exceedingly high standard. Throughout her history, Roseway has represented the United States in international races, set a record of 74 swordfish caught in one day, protected Boston Harbor as a pilot boat during World War 2, and was named a U.S. National Historic Landmark. This fall, the Schooner Roseway will take part in perhaps her most remarkable act of her 90 years of service when she sails into Havana Harbor and becomes the first authentic U.S. Tall Ship to dock in Cuba in 57 years.
Proctor Academy's Ocean Classroom 2016 Students and Educators
On September 23, Roseway and her Proctor Academy crew will begin a nine week journey down the eastern seaboard of the United States when they depart Gloucester Harbor. The group will make stops in Woods Hole, Massachusetts, Mystic Seaport, Manhattan Harbor, Baltimore Harbor, and Charleston, South Carolina before a long passage to the U.S. Virgin Islands. Roseway and its Proctor Academy crew will make their way to Havana Harbor, where Roseway will dock and Proctor's students will have the opportunity to engage in community service projects throughout the city of Havana. World Ocean School will invite Cuban students to the docked Roseway to learn about the history and restoration of Boston's Tall Ship. The purpose of this visit is to launch an ongoing relationship between Cuban and U.S. students with Roseway serving as an ambassador ship between the two countries on annual visits.
Over the next nine weeks, the 137 foot Roseway will make its way down the eastern seaboard to Cuba.
World Ocean School's Board Chair Pamela Cunningham remarks, "With this unprecedented voyage to Cuba, we are bringing U.S. students an extraordinary opportunity to see a new part of the world and to engage, collaborate and foster lasting relationships with their peers in Cuba. We are honored that Roseway will become the first authentic, original U.S. Tall Ship to dock in Havana in almost 60 years, and will be part of such a positive and important cultural and educational exchange."
Proctor Academy students study Maritime Literature, Marine Biology, Navigation and Maritime History aboard the Roseway.
Proctor Academy Head of School Mike Henriques is equally excited about this historical event Proctor students will experience aboard Roseway this fall. "We continually seek opportunities for Proctor students to step into larger learning landscapes. A new program in China this past summer, Cuba with Ocean Classroom this fall...it's part of the mission of our school to seek out new experiential opportunities, it's core to what we do. And wouldn't we all like to be on that boat when they sail into the harbor?"
Proctor Academy's Ocean Classroom director, David Pilla, adds, "This is a very exciting time for Proctor and World Ocean School. The opportunity to go to Cuba is unprecedented in Ocean Classroom's history and we are very excited about the opportunity to expose our kids to this amazing place that is now finally open to receiving visitors from the United States. We trust the port stop will be enlightening and powerful for all involved. We are indebted to all the people who helped make this opportunity a reality for our students, especially those involved with World Ocean School."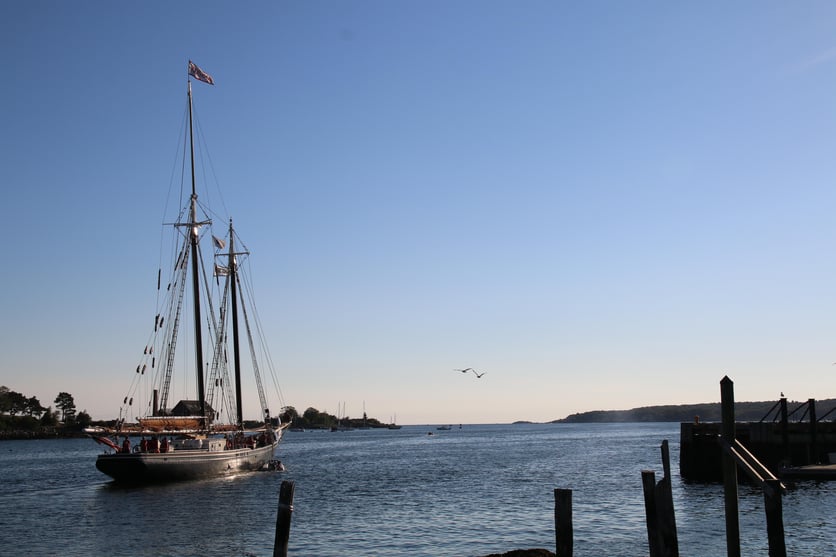 .....................
Proctor Academy, a non-profit 501(c)(3) independent day and boarding school located in Andover, New Hampshire serves 360 students from around the globe. Proctor's Ocean Classroom program is one of five term-long abroad programs offered to students. Other programs include Proctor in Spain, Proctor in Costa Rica, European Art Classroom, and Mountain Classroom. More than 70% of Proctor graduates take part in at least one of these five programs. Learn more about Proctor Academy and it's educational model at www.proctoracademy.org.
World Ocean School, a non-profit 501(c)(3) organization, has served thousands of Boston students for the last decade. The rigorous educational programs focus on critical issues for today's youth: community service, leadership and academic advancement. With more than 75% of World Ocean School students designated as under-served, these programs have an effective and lasting impact on Boston's communities. In the evenings, Roseway provides the city with a memorable tourist attraction, offering the public evening sails on Boston Harbor. To reference all World Ocean School has already achieved, go to www.worldoceanschool.org.