Proctor Academy's USSA/FIS ski program recently returned from a ten day training trip to Mammoth, CA where coaches and athletes continued to tighten the gap athletically between ski academies and independent schools by kicking off a four camp prep period for the 2016-2017 season. Traditionally, young ski racers have to make the difficult choice of pursuing elite level skiing at a ski academy or focusing on their academic development at a traditional independent or public school that does not offer the same training options. Proctor's bold offering to aspiring ski racers is simple: you no longer have to choose.
This year's Mammoth Camp was a targeted U16 camp, bringing together four Proctor athletes and two coaches with guest US Ski Team athlete Tommy Biesemeyer, a leading USST speed skier. The group spent ten days in Mammoth taking advantage of late season snow by training alongside academies from around the country. Over the course of the ten days in Mammoth, Proctor's racers focused on a three-discipline development, working backward from SG into Slalom with the targeted goal of refining technique and equipment choices for the 2016-2017 season.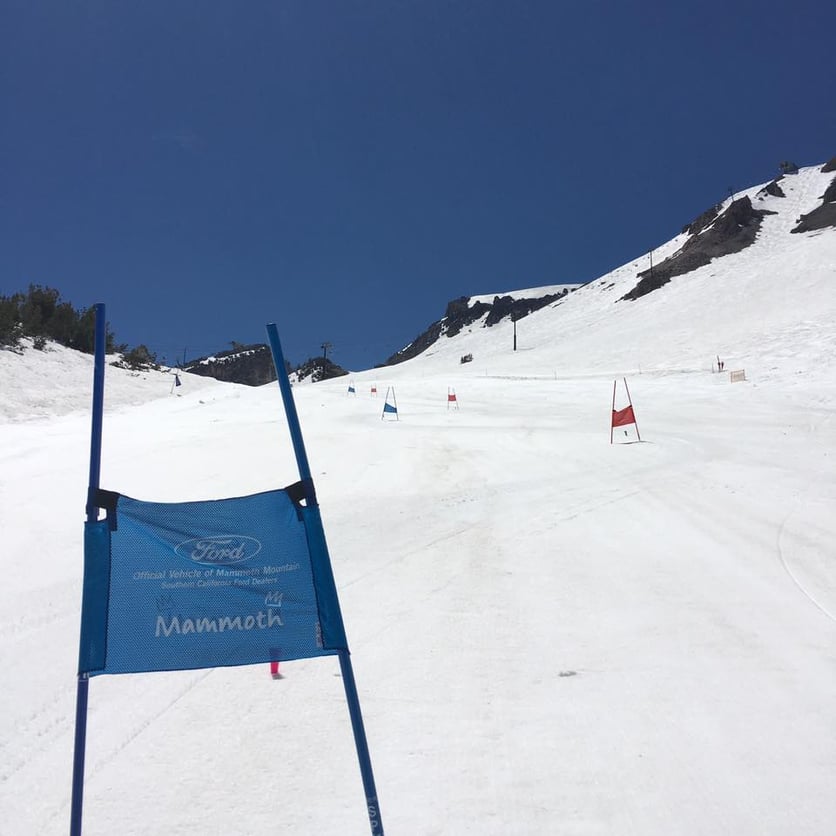 Most elite level U-19 ski racers will have in excess of one hundred days of "in season" on snow training days, and fifty to seventy, preseason training days. Since ski racing has evolved into a year-round sport, Proctor's USSA/FIS program has moved to a four camp model that will offer Proctor's elite level ski racers in excess of fifty days of on snow training before December 1. The four camps are strategically planned and targeted to build periodization for all age classes and race management plans.
Camp 1: Mammoth Mountain California - June 2016
Mammoth offers the only viable non glacier training in the US well into the summer months. With some of the highest snowfall amounts of any ski area in the United States, early summer conditions are perfect for three event progressions and gate training.
Camp 2: El Colorado, Chile - August 2016
Training in South America in the summer months is invaluable for snow conditions and volume because it's winter! Athletes get twice the volume of on snow time than glacier training by making the effort to train in the Southern Hemisphere.
Camp 3: Snow World Indoor FIS Training Facility, Holland - October 2016
October can be a challenging month to find productive preseason training. However, securing a seven day block of high volume slalom training with predictable weather and snow surface can be done - at Snow World Indoor FIS Training Facility. The goal of this small camp is a single discipline focus for a select group of athletes, targeting a high volume gate count of 1000 gates a day, to prepare for early December execution. This camp is not open to all athletes.
Camp 4: Aspen, Colorado - November 2016
Aspen will be the team's final preseason camp, culminating their progressions, free skiing, and gate training to the pre-race and execution phases. This camp affords our college bound athletes a clear advantage to show their talents to college coaches by being in top form for early-season December races in the Northeast.
Proctor's sense of community, unique educational model that inspires a global worldview, remarkable faculty and staff, and ability to explore new passions through more than 130 academic courses has made Proctor an ideal fit for countless families regardless of a student's interests. When you add the Proctor Ski Area (one of the Northeast's premier ski racing facilities) and a robust USSA/FIS program to the mix, Proctor becomes an ideal fit for the prospective family that doesn't want to choose between elite level racing and the academic development of their child.