Proctor Academy alumni are no strangers to the Olympic Games. Five Proctor alums have competed in the Olympics, with many others directly involved in the Games through leadership and support roles. During this winter's Beijing Olympics, three Proctor alumni were directly involved in supporting the United States' efforts.
Christine (Toriello) Walshe '97 serves as President of the US Olympic and Paralympic Foundation, raising funds to support athletes and coaches on all of the US Olympic and Paralympic teams. While Christine was stateside throughout the Beijing Olympic games, her unending support of Team USA was felt halfway across the globe where Max Cobb '83 (President of US Biathlon) and Jed Hinkley '99 (Sports Director for US Nordic) were onsite supporting athletes during the games. Read reflections from Max and Jed below!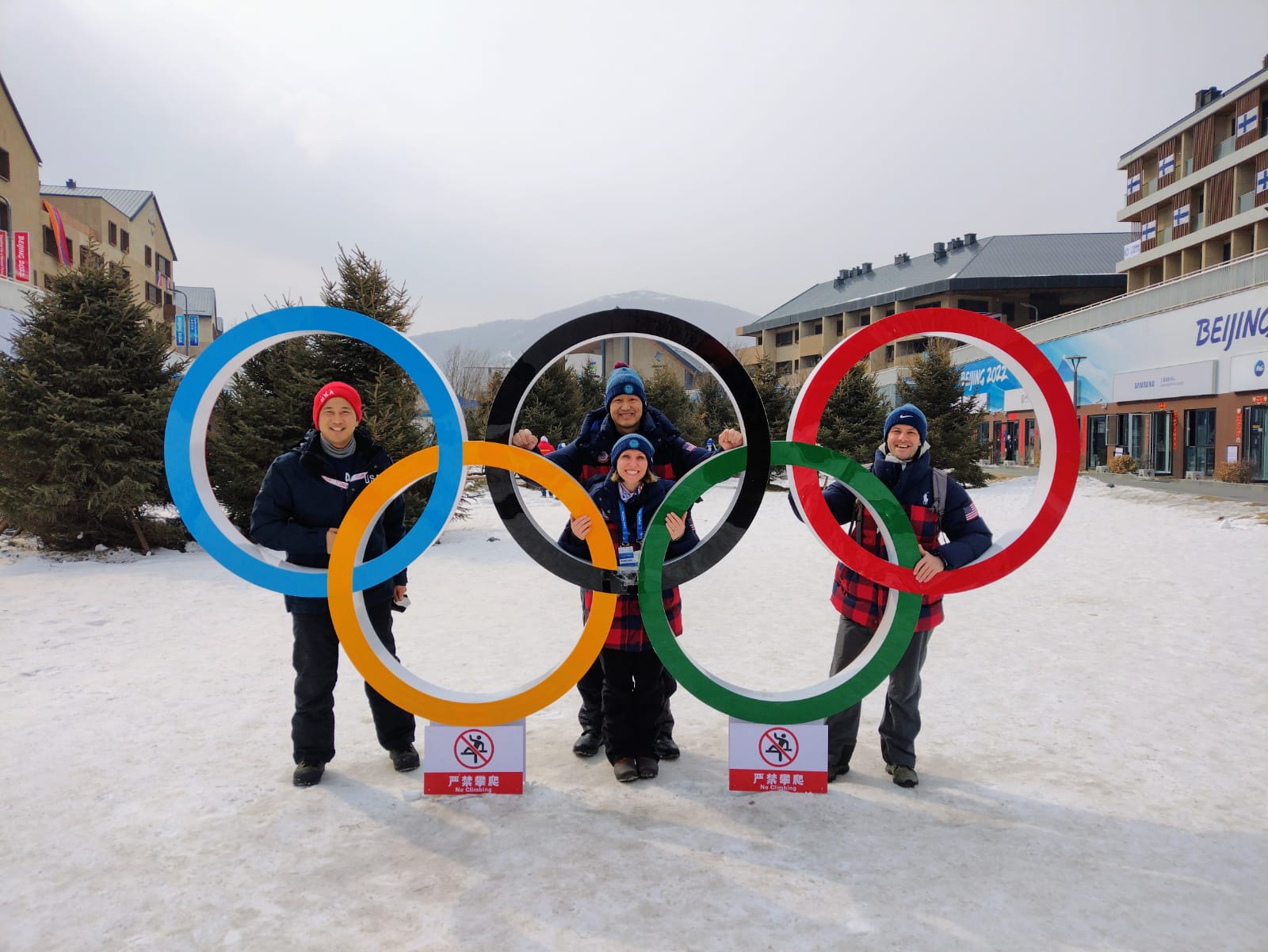 Max Cobb '83 | President, US Biathlon | Impressions from the Olympic Games in China
I have been fortunate enough to be a part of each Winter Olympics since 1992 (30 years, where did the time go!) as a coach, chief of competition, official or technical delegate. Each has its own magic, but none of them were conducted in the middle of a pandemic like this year's games in Beijing. It was most certainly unique and changed the way we all interacted with our Chinese hosts. In some ways, I think a dedicated fan at home in the USA got to see more than we did on the ground since COVID protocols and distances between venues made it difficult to get to see sport beyond our own competition clusters.
Max Cobb (L) with Mr Tong, at the biathlon venue, head of sport for Beijing 2022 Olympic Games Organizing Committee. I have known him since the mid 1990 when he was the biathlon team leader.
The infrastructure was simply amazing - very fit for purpose as is required but also stunningly over built from my perspective based on likely future use. The Chinese not only provided athletes with a great competition venue but also impressed the world with their engineering and investment. I love trains, a boyhood fetish, and riding on the sleek ultra modern train to Beijing and back to watch the women's hockey final was a real treat. It covered a three and a half hour bus ride in 50 minutes, smooth and fast. Town-sized ski resorts were built in two clusters linked by high speed trains to Beijing. The mountains are not that big, and do not get much natural snow, a few inches per year, and in January and February it was very cold and very windy, but the facilities were top notch.
At the biathlon range with shooting coach Matt Emmons, Olympic champion in rifle marksmanship. Showing where the shots hit the target on a clipboard.
In biathlon, where I spent nearly all my time, we had really exciting races and some best ever finishes by the American team, though we continue to fight for our first Olympic medal having won many at the World Championships. The weather conditions were a severe challenge. Competition in cold weather is always difficult for the athletes because it takes much more energy. On top of that the athletes try really hard to keep good feeling in the trigger finger. We had special gloves made especially for the conditions but it was still very hard for the athletes. In most of the regions where we compete very cold temperatures are accompanied by calm winds but that was not the case in China so the athletes faced difficult shooting conditions and the effects of wind chill making it some of the most extreme conditions we have ever experienced for a major competition. I admire the athletes for facing these challenges day after day with a good spirit.
Max Cobb (L) with Olympian Susan Dunklee (R) after the biathlon pursuit competition together Sarah Hirshland, USOPC CEO, and the General Counsel Chris McCleary.
For every athlete and team member the Olympics are special and an unforgettable experience, for many it's a defining moment in their lives, to achieve their dream of competing at the Olympic Games, sport's biggest stage, with the best athletes of every country. The challenging conditions and COVID risks and protocols were faced by all, and coping with all that added stress while creating an even stronger bond between the athletes, one born of shared sacrifice. Even more than other Games these ones truly brought the athletes of the world closer than ever, delivering on the fundamental promise of the Games even in a pandemic. Many thanks to our Chinese hosts for the great venues and all the extra efforts to allow the Games to happen for this generation of athletes even during a global pandemic.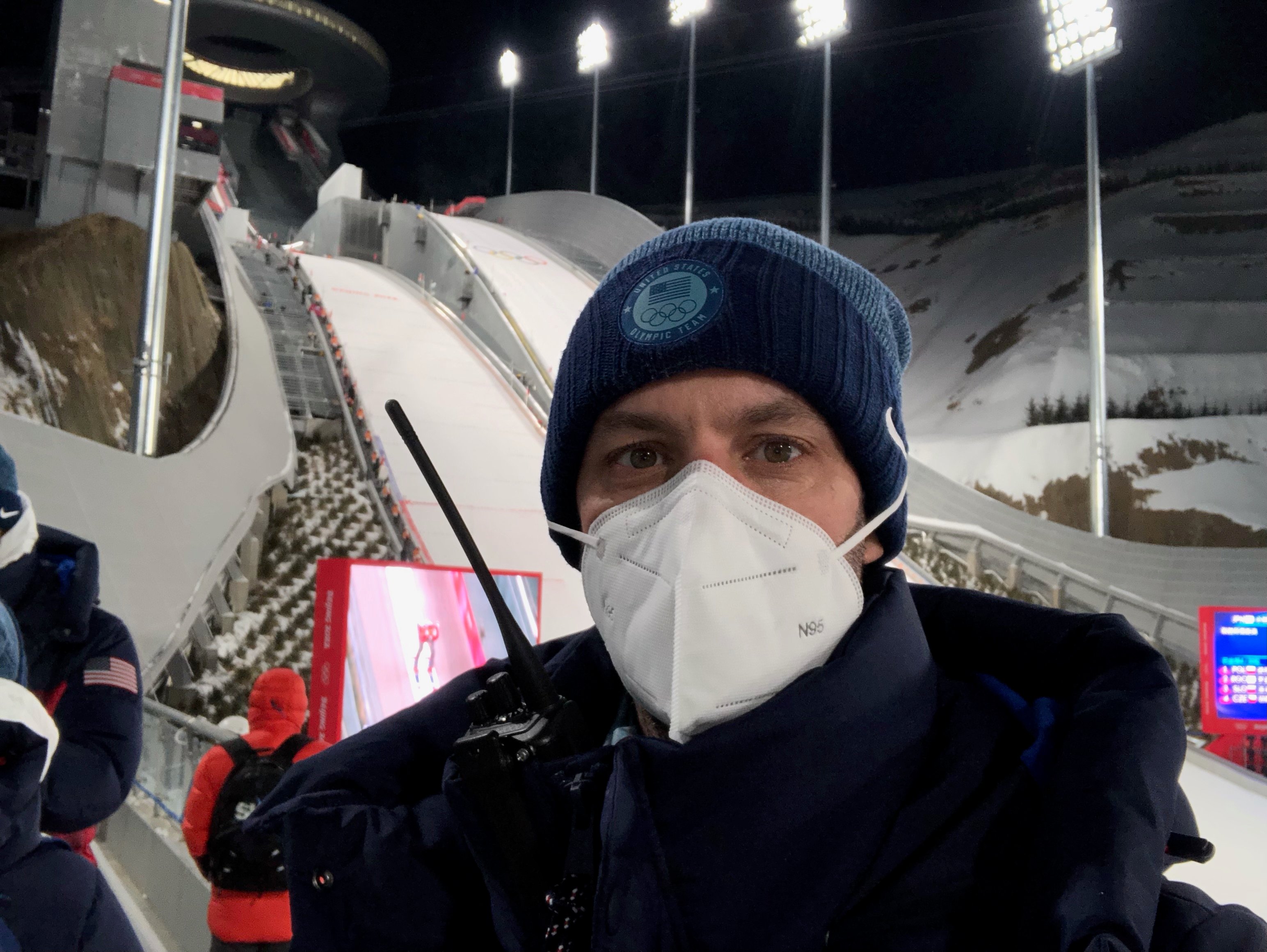 Jed Hinkley '99: From Andover to Beijing
This was my first Games since I was an athlete in 2002, and it definitely seemed like a "different" kind of Games given the state of the world right now. Our teams were lucky to not have had any major setbacks with COVID in athletes or coaches, but many teams have been impacted, particularly on arrival with individuals who had recently had COVID.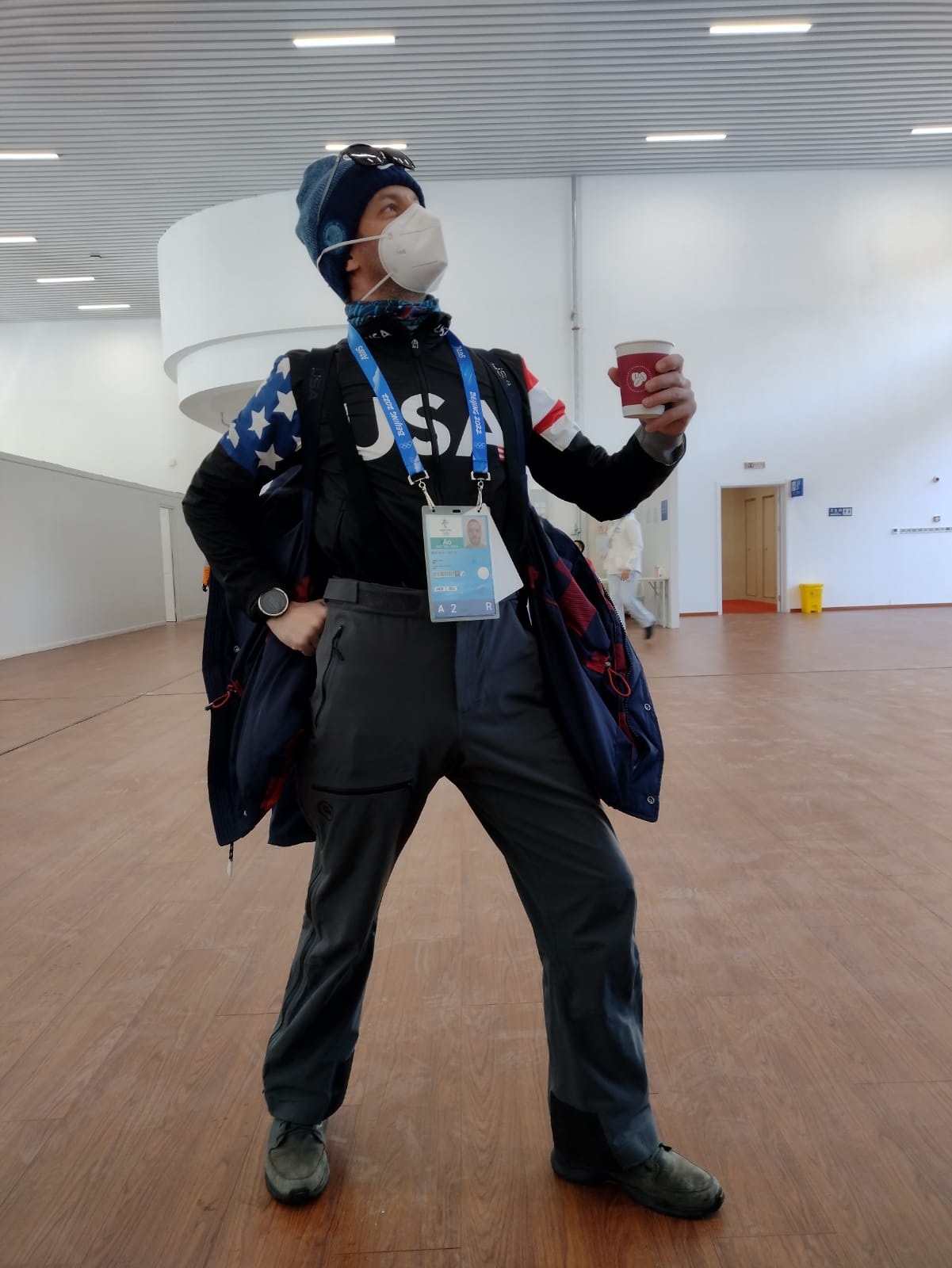 The Beijing Olympic committee did a good job at mitigation at the venues, village, and hotels, and I definitely felt safe while being there, but we were pretty limited on what we could go see and do outside of our own events and the village. We were tested each day, and wore N95 or KN95 masks at all times outside our rooms unless we were eating, training, or competing, so we all had pretty raw noses.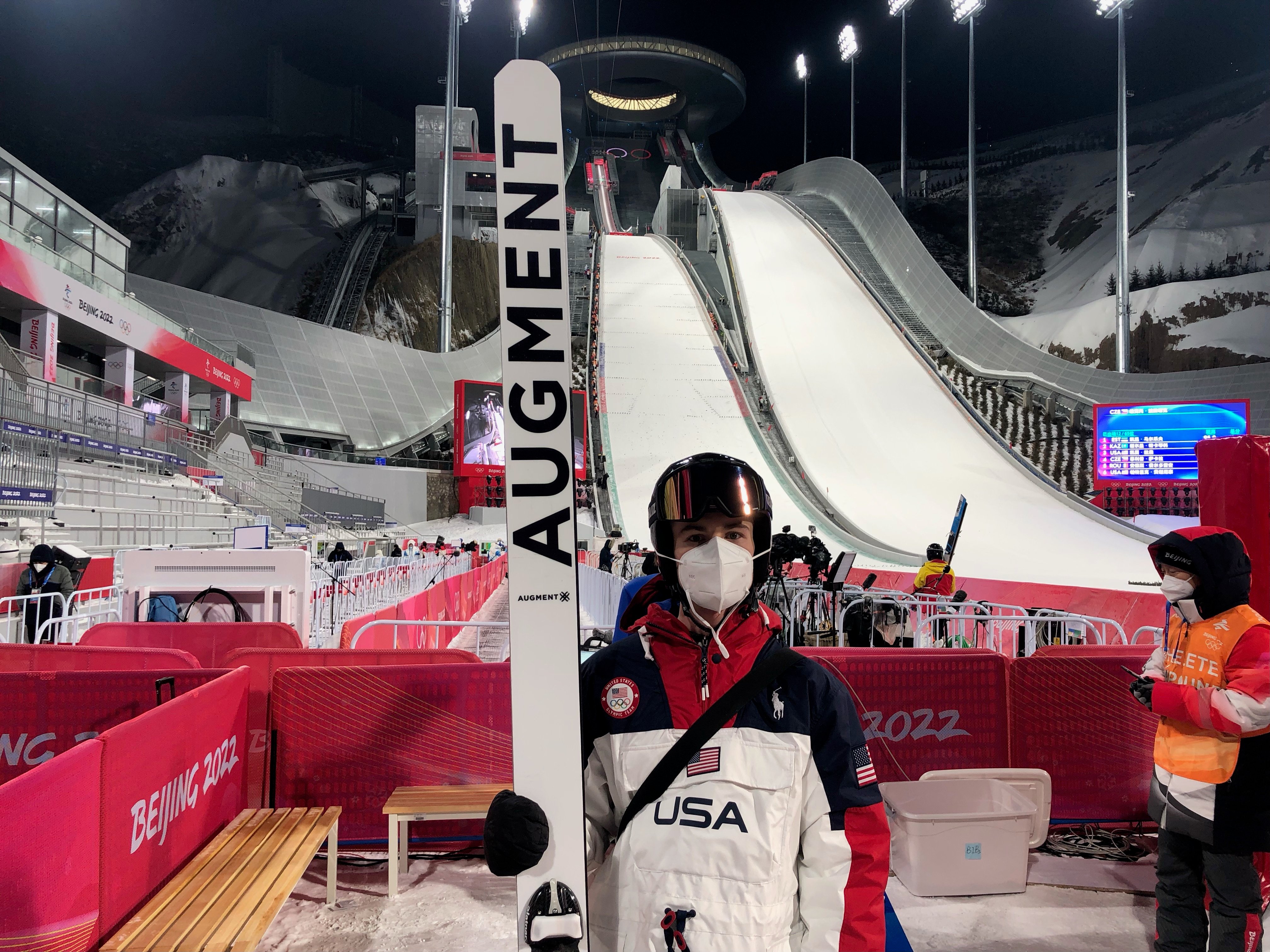 We qualified a woman's ski jumper late (above), and were able to get her and her coach Blake Hughes to Beijing without any issues on short notice. They were more here for the experience, but we were definitely happy to be able to field an athlete in all our events. We also qualified four athletes for the men's ski jumping finals on the normal hill, with our best result being Casey Larson in 39th, but each of our athletes had their longest jumps since being here in competition, which was great. We have qualified 3 athletes for the large hill and were hopeful to be able to crack the top 30 in that event.
On the men's Nordic Combined side we had our best result since 2010 in the first event with four athletes in the top 25, and spirits are good amongst the team. Even though it is very restricted, it is still the Olympics and it is really cool seeing all the other teams coming together to celebrate sport despite all the crazy things happening in the world.