The average population density of the United States is roughly 87 people per square mile, but in New York City that number jumps to an astonishing 27,012 people per square mile. A rapidly changing climate will impact the 82% of US population living in cities more acutely than those living in suburban and rural areas as the urban heat island effect raises average annual temperatures by as much as 5°F in cities. For Charles Callaway '85, a native New Yorker, he saw an opportunity to work at WE ACT for Environmental Justice as a way to address multiple needs in his neighborhood: climate education, environmental health, and the production of good jobs to meet changing demand in the workforce.
For the past thirteen years, Callaway has held a variety of positions with WE ACT, most recently serving as director of job training where he prepares people of all ages to get the experience and certifications needed to install solar panels (he has trained 80 people to date, 20 of whom have already landed a job with solar companies installing panels in New York City). WE ACT works predominantly with low-income people of color, but their impact expands well beyond their immediate community as they helped introduce Bill 1253 in New York City that passed on April 18, 2019 with the explicit goal of reducing building carbon emissions rates 80% by 2050. The bill is aimed at buildings with 25,000 SF of floor area and larger, which represent a majority of greenhouse gas emissions produced by buildings in NYC.
"Proctor taught me to be a good neighbor. A healthy community nurtures everybody, and Proctor showed me the importance of how to empower those around me to be their best selves."
With less than 1% of the solar industry comprised of low-income people of color, Callaway and WE ACT see a tremendous opportunity to empower those people who will be impacted most by climate change to take action. Their next major project will form a solar collaborative among the owners of low-income housing units in the West Harlem community, many of whom are seniors living on fixed income with energy costs as their single largest expense. Callaway and his team recognize the opportunity that exists to provide meaningful jobs to young people, dislocated workers, and previously incarcerated individuals while helping reduce energy costs for fixed-income seniors in the community.
While not everyone recognizes the link between job training and protecting the environment, Callaway has long understood the importance of good, sustainable jobs in creating a healthy community. "Everyone is talking about the Green New Deal, a model for transforming our economy to a more sustainable and equitable one, and that's what I have been doing on a local scale here in Harlem, helping to reduce our community's dependence on fossil fuels while creating renewable energy jobs for residents."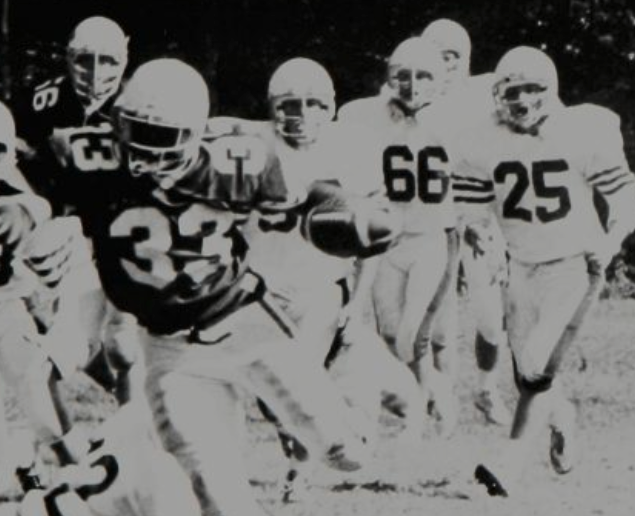 Since his time at Proctor, Callaway always knew he wanted to pursue a career related to sustainability, and moved back to New York in 2007 after a period of time working in the northeast (including a year at Proctor in 1997-1998 where he taught math, history, and coached football and basketball). A self-described inner-city kid, Callaway took part in the Dome Project which helped him land at Proctor 1981. Dyslexic and wanting to find a path out of the inner-city, Proctor was the perfect fit for him.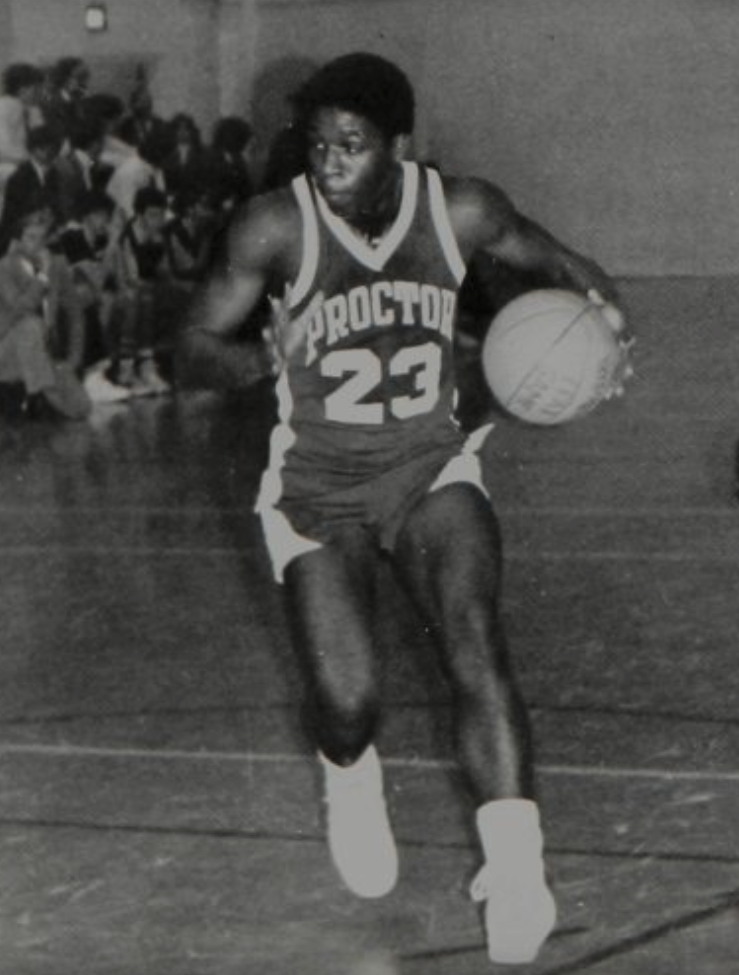 A three sport standout at Proctor in football, basketball, and lacrosse, Callaway pursued football at the collegiate level and helped lead Ithaca College to the 1989 National Championship. (Callaway will be inducted into the Proctor Athletics Hall of Fame in June.) He credits his success in college to the foundational relationships developed at Proctor. "I was influenced by so many people at Proctor: my Learning Skills teacher Ellen (Yenawine), my advisor Eva (Mansell), Coach Schoeller, Bob Livingstone, Dick Beaullefille, and Mrs. Giampolo. She was the smile of the community. Every time you walked by her office and said hello, she smiled and at that moment, I knew I was OK. She was there for all of us, and sometimes those little moments mean the most to a kid who feels far away from home."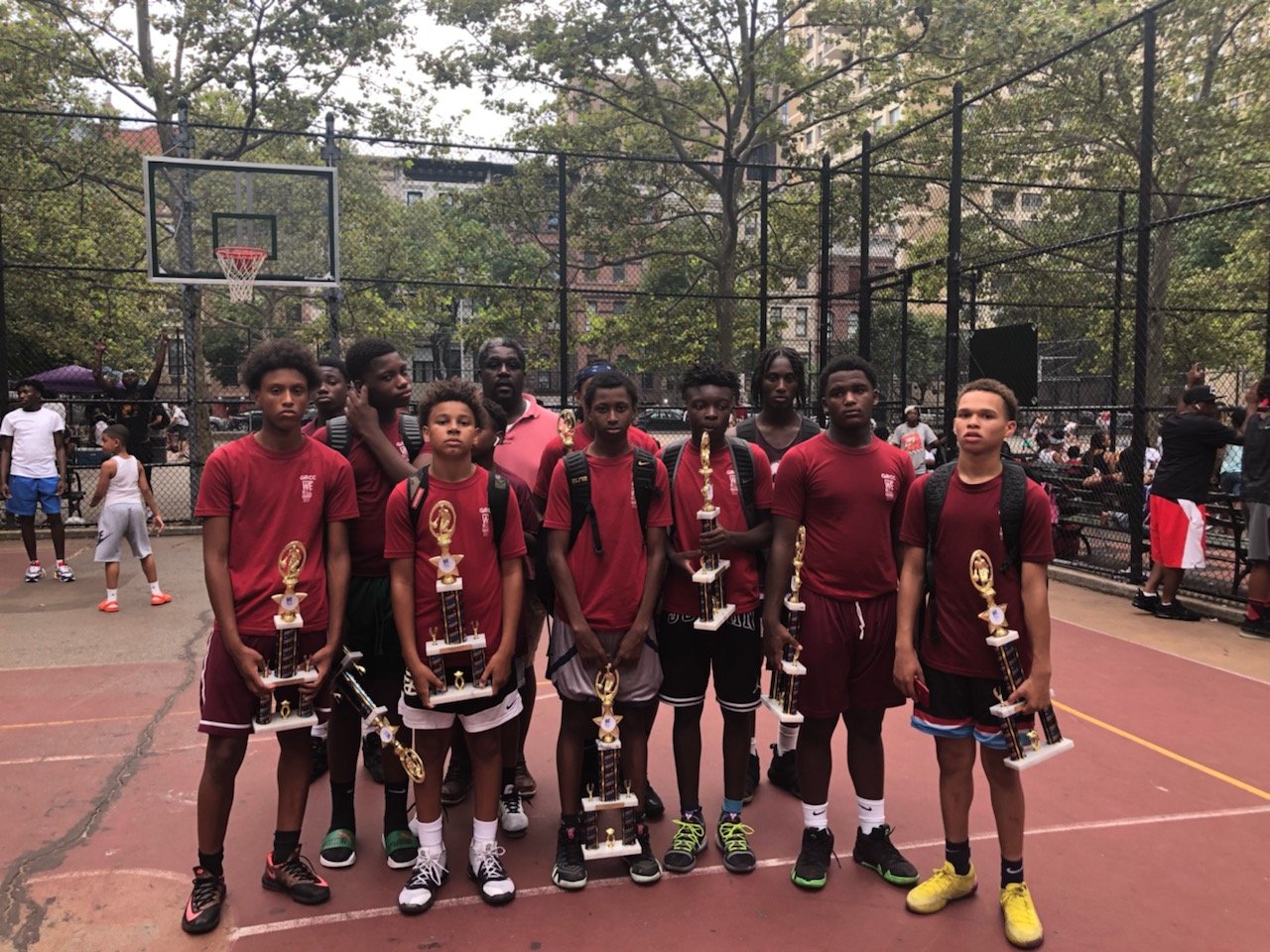 Today, Callaway provides that same smile to countless people in his community. Whether it is through his work with WE ACT, the customers of his small scarf business Peter Charles Savvy (he designs and makes each scarf), or the volunteer basketball program he has run at his church for the last 17 years, he centers those around him, helps provide a path forward, and inspires action.