When Derek Beard '90 arrived on Proctor's campus as a sophomore in the fall of 1987 he already had an affection for the outdoors. Growing up on a large plot of land in Connecticut, Derek loved to spend time exploring outside and felt fortunate to have parents who recognized and encournaged his love of nature. His forestry class with Dave Pilla during his senior year simply solidified that passion. On Wednesday morning, Derek returned to Proctor's campus to share his professional work as a forester for the state of Massachusetts with another generation of budding Proctor foresters.
During his three years at Proctor, Derek ran cross country, was a Nordic skier, studied for a term on Mountain Classroom, and spent as much time on Proctor's land as he was able. After earning a degree in forestry from the University of Vermont's School of Natural Resources, Derek embarked on a career as a private forester before joining the forestry team at the Quabbin Reservoir (Boston's water supply) in Belchertown, Massachusetts.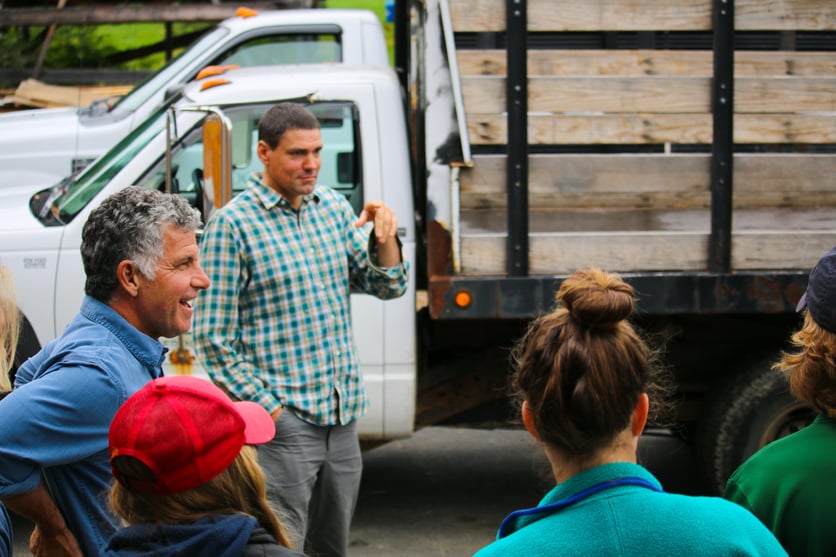 Over the past eleven years, Derek has managed an 11,000 acre parcel of the Quabbin Reservoir's 66,000 acres of land. After giving a brief history lesson on how the Quabbin was formed in the 1930s (a fascinating story itself), he explained the relationship between effective forest management and quality drinking water. "The forest is the filter and conservator of our water supply. My job is to manage this forest and to make sure we don't have all our eggs in one basket and are responsibly looking after our water."
As Derek walked with Pilla's forestry class up the Cistern Trail behind Leonard Field, he elaborated on his role as a forester, "My work is like a treasure hunt as I look at old maps, old boundary lines, stone walls, and seek to keep our forests healthy. Every day I get to be out in the field, acting as both a detective and a forester trying to figure out what is happening on the land, how the land was used in the past, and how our management of the land can positively impact the environment at Quabbin."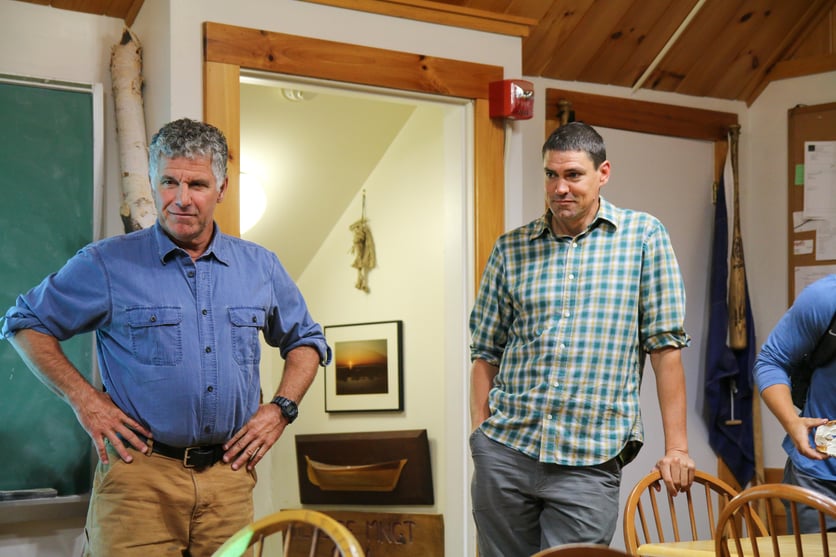 Proctor is incredibly fortunate to have a 2,500 acre campus as a laboratory for our students. Our land serves as our connection to the environment and the world around us. For a few students each year (like Derek when he took Forestry in 1990), Proctor's Forestry and Wildlife Science classes will serve as a catalyst for future fields of study and even careers. For all the others, the classes provide an opportunity to gain a new kind of connection to the land and our role to steward the environment around us.
As class ended, Derek offered advice to Forestry students, "Be passionate about something and follow that passion. When you are able to take your passion into the workplace, people around you notice and feed off of your energy and commitment. I owed it to myself to pursue a career in forestry because it was my passion, and I'm so glad that I did. My hope for each of you is you are able to do the same with whatever your passions may be."