For Bob Beattie '51, a post-graduate year at Proctor Academy in 1950-1951 was just what he needed to propel him into his collegiate years at Middlebury College and a career coaching and promoting the sport of alpine skiing. Beattie passed away at the age of 85 on April 1, 2018. Today, we recognize his unparalleled impact on the sport of alpine skiing and his connection as an alum of Proctor Academy.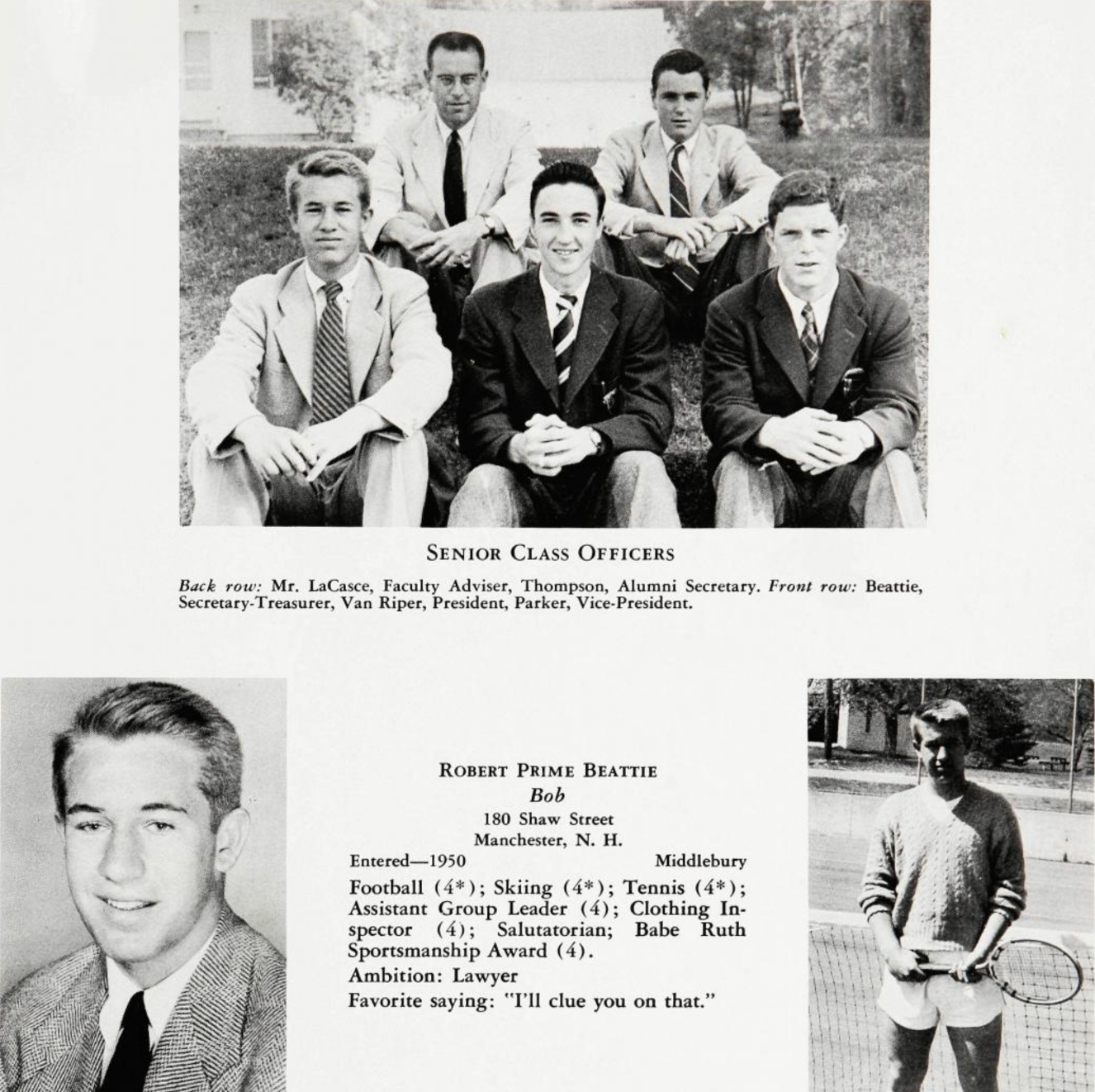 During his year at Proctor, Bob Beattie immersed himself in all aspects of life at boarding school. Recognized as the Salutatorian and with the Babe Ruth Sportsmanship Award despite being a one-year student, Beattie's prowess in the classroom matched that on the athletic fields. A letter winner in football, alpine skiing and tennis at Proctor, Beattie would go on to letter in a remarkable four sports (football, cross country running, alpine skiing, and tennis) at Middlebury College from 1951-1955.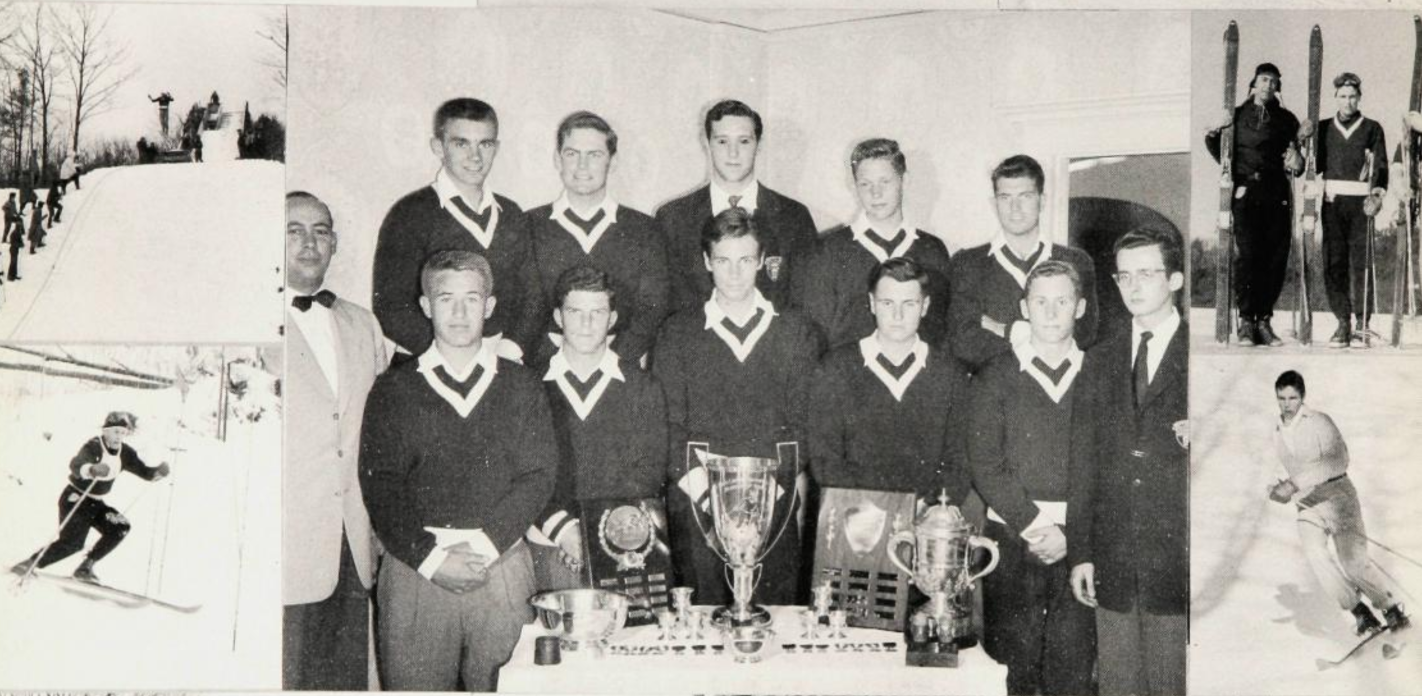 As a three-sport athlete at Proctor, Beattie '51 made an immediate impact on the football team during the fall of 1950 as a "powerful guard", according to the team's write up in the yearbook, on a team that beat Canadian rival, Westmount, 11-0. As a member of the alpine team, Beattie had much success racing alongside legendary Proctor skiers Bill Paine '51 (learn more about Proctor's Bill Paine '51 Nordic Center here) and Doug Burden '51 (the namesake of Burden Trail at the Proctor Ski Area and one of Proctor's first representatives to ski at the Junior Nationals in 1951).
A glance through the 1951 yearbook (check it out here) reminds us why Proctor was known as "The School on Skis"; skiing was THE only winter sport offered during this time period. The 1951 ski team won the New England Championship, going undefeated in meets throughout the winter of 1950-1951, and having only been defeated in two meets over the past two seasons. Beattie's passion for skiing, a passion he would pursue for the rest of his life, contributed significantly to this culture of success on the ski hill for Proctor.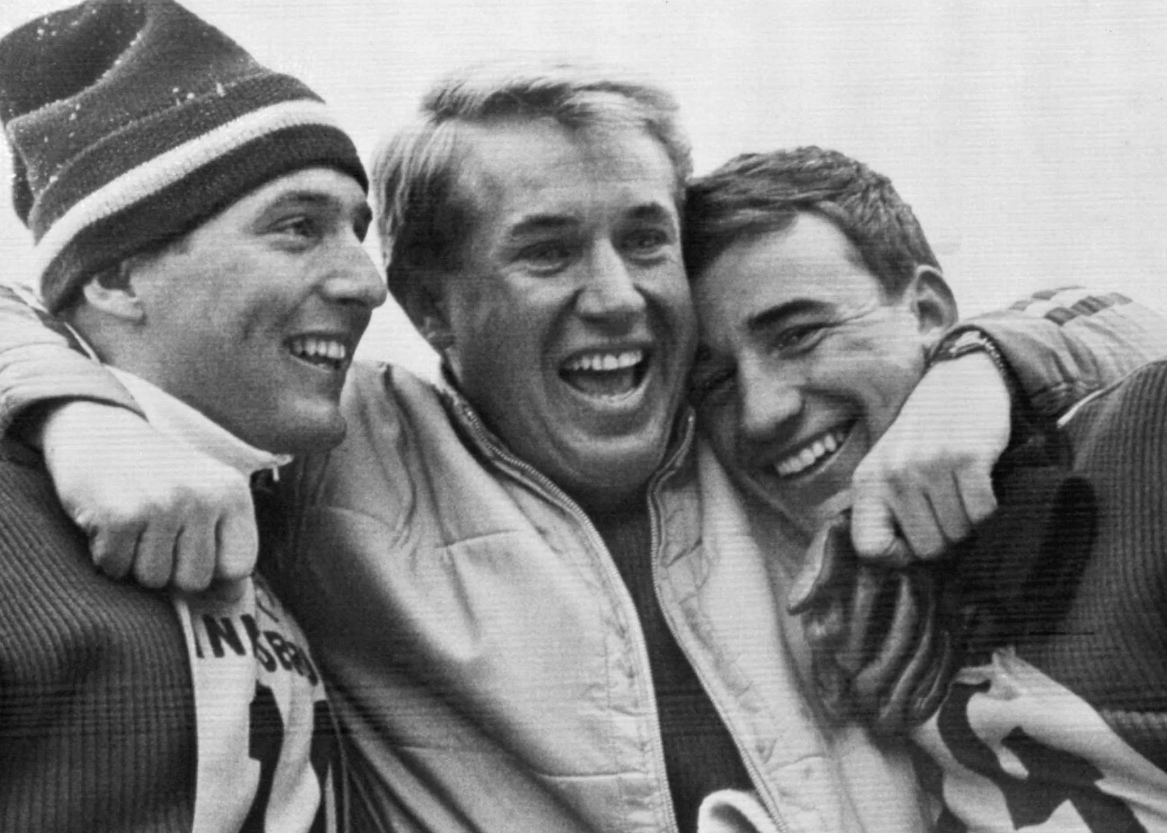 Bob Beattie '51 celebrating podium finishes at the 1964 Innsbruck Olympics: Photo Credit AP
Memorials for Beattie have been written by every ski magazine and countless organization around the country honoring his life and his accomplishments. We would never pretend Proctor paved the way for his career; his combination of charisma, intelligence, and passion paved that road long before he attended Proctor. Instead, we share this piece because we are proud of our association. We are honored that in some small way, Proctor had the opportunity to shape Bob Beattie's adolescent life for a year and to show him how much a group of people can love skiing.
A timeline of Bob Beattie's '51 impact on the sport of alpine ski racing:
1950-1951 - Attends Proctor Academy for a post-graduate year, competing in football, skiing, and tennis.
1951-1955 - Four Sport Letter winner at Middlebury College (cross country running, football, skiing, tennis)
1955-1957 - Alpine Ski Coach at Middlebury College (taking team to 3rd place finish in Collegiate Championships during his first season)
1957-1959 - Alpine Ski Coach University of Colorado (coached team to National Titles in 1959 and 1960)
1961 - National Ski Association names Beattie first national team coach
1964 - Beattie coaches US Ski Team to unprecedented four medals at 1964 Olympics at Innsbruck.
1966 - Works with other coaches to organize leading ski races around the globe in the first Alpine Ski World Cup.
1969 - Starts work as television commentator for NBC and went on to work Winter Olympics in 1976, 1980, 1984 and 1988, as well as the 1984 Summer Olympics in Los Angeles. Contributes to ABC's Wide World of Sports and founded ESPN's Bob Beattie's Ski World throughout the 1980s.
1970 - Founder of the World Wide Ski Corp., pioneering the World Pro Ski Tour which runs until 1982.
1984 - Inductee into the U.S. Ski and Snowboard Hall of Fame
1986 - Drive negotiations with the Aspen Skiing Co. to provide affordable skiing for kids in the Roaring Fork Valley. The Aspen Supports Kids initiative has supported more than 1,800 youth in the sport of alpine skiing.
1988 - 2018 - Remains one of alpine ski racing's fiercest advocates and supporters until his passing on April 1, 2018.