Now more than ever we crave connection. We miss running into each other on the pathways on the way to assembly or waiting in line for lunch. We crave the informal daily interactions that fuel us as social beings. This weekend would have been Alumni Reunion Weekend. For classes ending in 0's and 5's, a time to return to campus and connect with each other. For faculty and staff, a time to see our former students return as adults forging their way through life.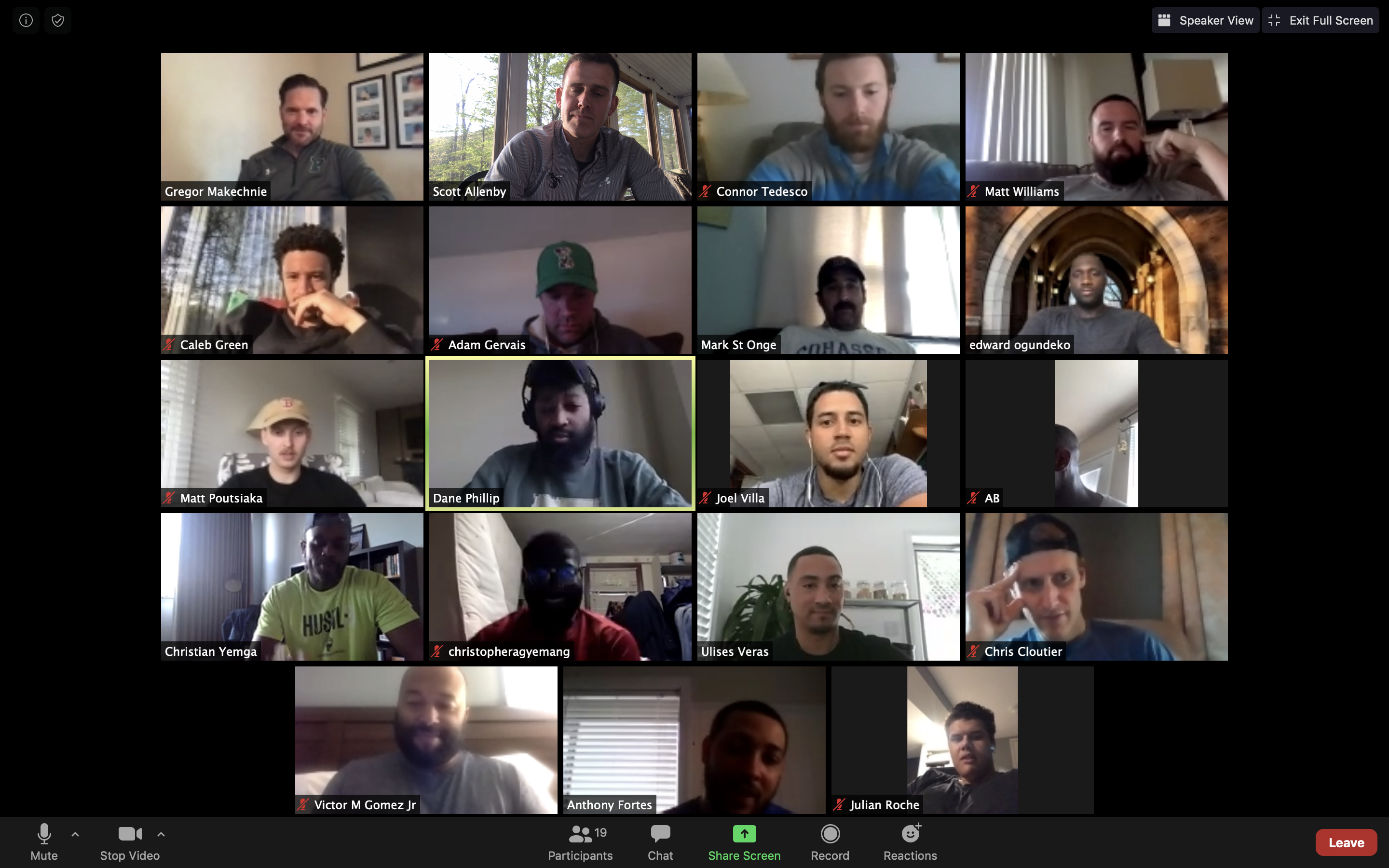 Boys' Basketball Alumni Together Series Gathering
While we have postponed Reunion 2020 until June of 2021, Proctor's Alumni Relations team launched the Together Series, a series of virtual events gathering alumni from around the globe together around shared passions. Each of these conversations focused on a specific topic ranging from class get-togethers to baking lessons with faculty member Patty Pond or paint-and-sip sessions with European Art Classroom directors Dave and Jen Fleming. The result? Powerful conversations rooted in shared experiences from alumni of all ages.
Class of 1991 Together Series Gathering
To the hundreds of alumni who joined these events from around the globe, thank you. Thank you for staying engaged. Thank you for sharing your stories and your talents. Thank you for reminding us the power of a Proctor education and the good work our alumni are doing.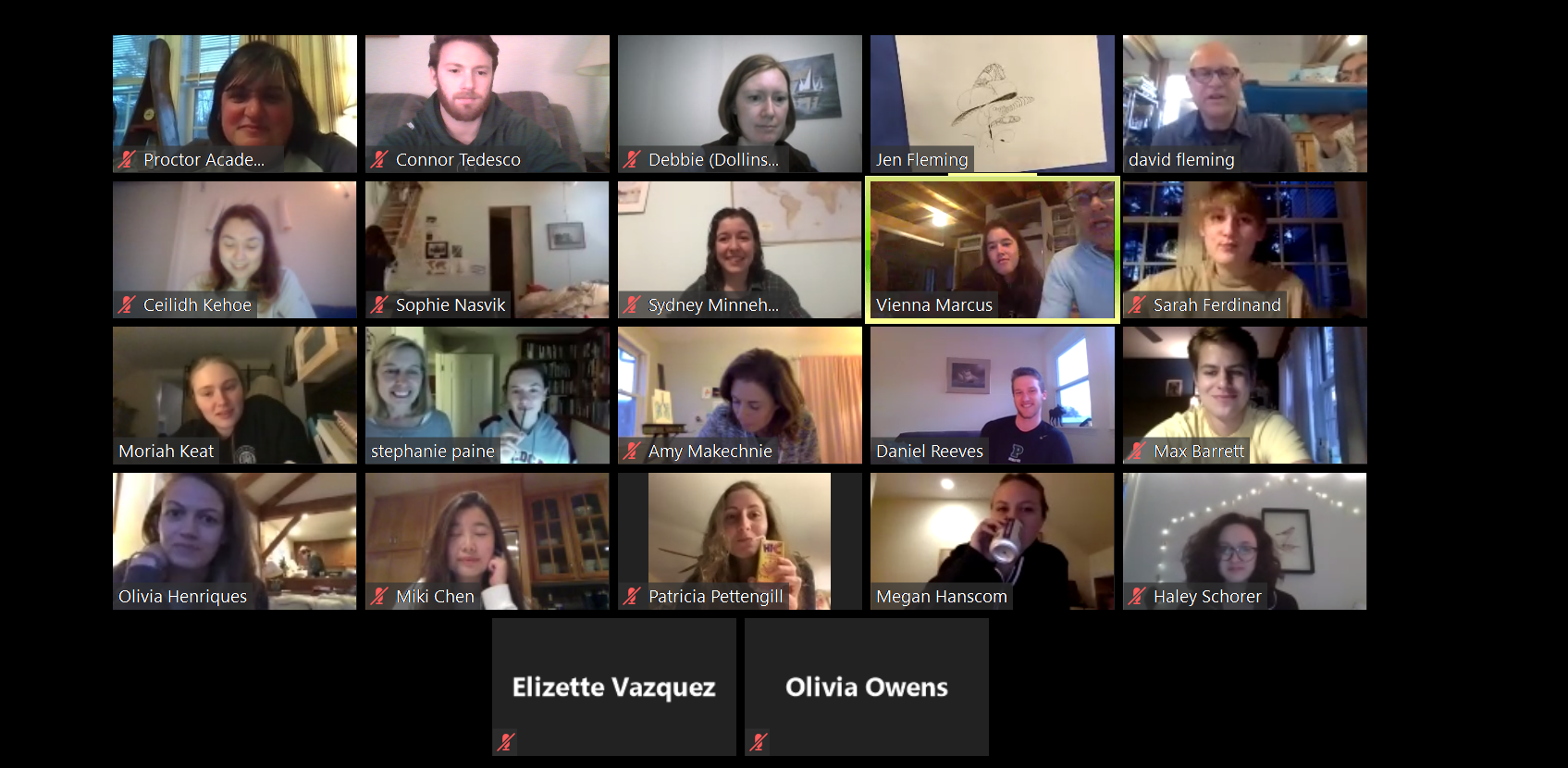 Drawing with Dave and Jen Fleming Together Series Event
Proctor Alumni Together Series Line-Up - Spring 2020
March 25, 2020 - Matt Nathanson '91 Concert Happy Hour
April 3, 2020 - Virtual Java Hut with Patty Pond and Kyle Connolly
April 9, 2020 - College Meetup
April 13, 2020 - Timezone Friendly Virtual Java Hut with Ryan Bowse '93
April 16, 2020 - Learn to Draw with Dave Fleming
April 21, 2020 - Finance 101 and The Market Today with Joe Chase '05
April 23, 2020 - Teaching Virtually - a Conversation with William Whipple '10 and Britt King '06
April 28, 2020 - Class of 1970 Virtual Meet Up
April 29, 2020 - Class of 1991 Virtual Meet Up
April 30, 2020 - Mindfulness and Meditation with Terry Stoecker
May 4, 2020 - Baking with Patty Pond
May 6, 2020 - Class of 1992 Virtual Meet Up
May 7, 2020 - Sip and Draw with Dave and Jen Fleming
May 19, 2020 - Boys' Alumni Basketball Hangout
May 26, 2020 - Virtual Book Club - The Resistance led by Melanie Maness
June 6, 2020 - Class of 1970 Virtual Meet Up
June 11, 2020 - Girls' Alumni Basketball Hangout
June 18, 2020 - Class of 1990 Virtual Meet Up
June 2020 - An Open Forum on Race (details coming soon!)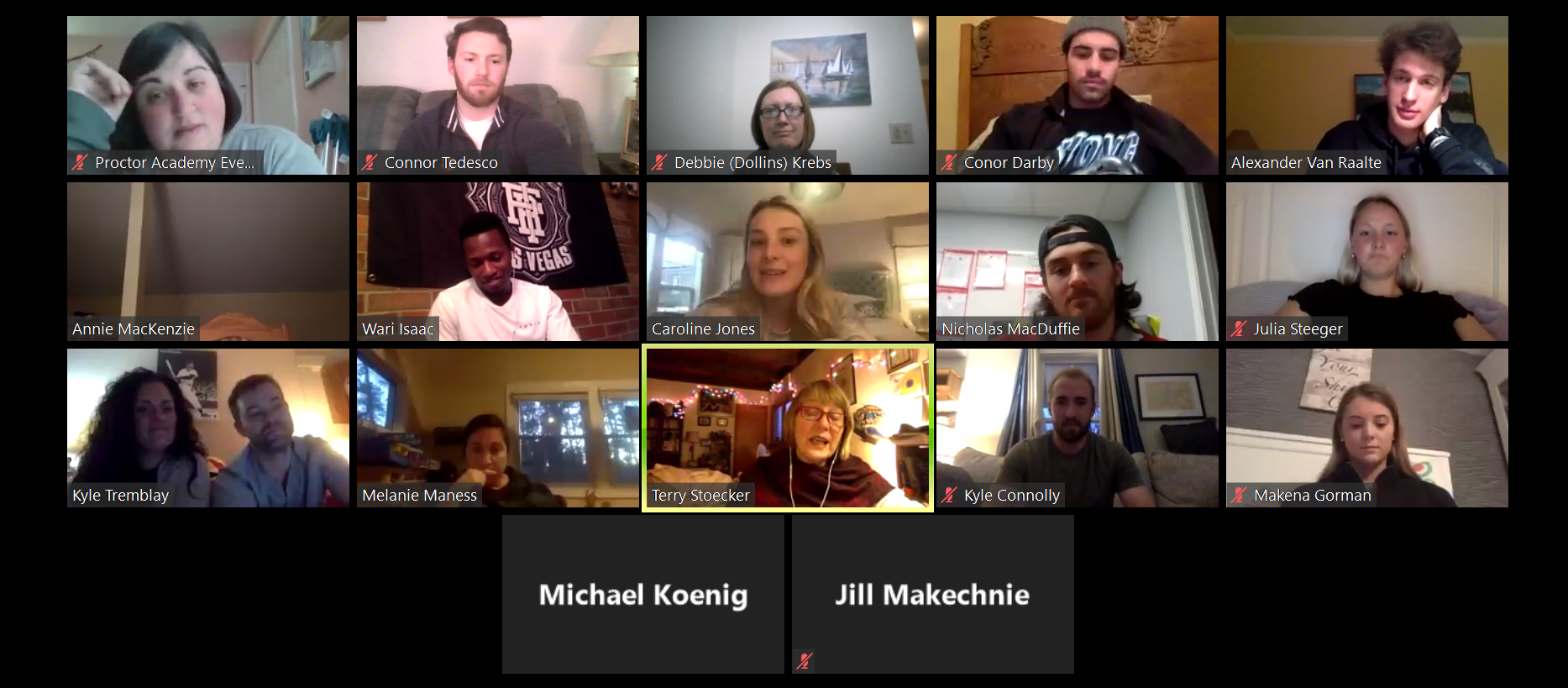 College Meet-Up Together Series Event
As we turn the calendar to June, we will continue to populate the calendar with Together Series events. If you have an idea for an event, would like help organizing an event for your class, or would like to host an event, reach out to Proctor's Alumni Relations Director Connor Tedesco '14 with your thoughts.