As Proctor wraps up exam week, closing out the winter term, reflection on the work of the many diverse arts disciplines on display over the past couple of weeks offers a wonderful sense of satisfaction for all. Both visual and performing arts were hard at work throughout the term, finding considerable success on many levels.
---
VISUAL & INDUSTRIAL ARTS
Our on-campus visual and industrial arts team (Corby '92 & Molly Leith, Kate Austin '01, Jill Jones Grotnes, Patrick Coffey, Greg Allen, and Gordon Bassett '96) featured students' work in a number of on- and off-campus shows this term. In early February they displayed in New London's "Center for the Arts" Art Show presenting around 20 two-dimensional student works, exposing our local community to Proctor students' developing art. Annie Sheehy '16 'and Erin Meegan '16 tied for the "People's Choice Award." Also participating was Jazz/Rock Ensemble student Addie Lindley '17, who provided vocal music during the reception.
Then, mid-February, our arts team headed north to the AVA Gallery and Art Center in Lebanon, NH, to participate in the "Best of the Upper Valley High School Exhibition 2016" where Proctor was one of 17 participating schools. Participating Proctor students included Jared Abner '17, Emma Brophy '18, Ceilidh Kehoe '16, Erin Meegan '16, & Cole Mosner '17. Of the approx.150 students represented at the show, the sole Juror's Recognition Award was presented to Proctor's Jared Abner for his beautifully crafted, tilt-top, pedestal table made from cherry lumber harvested from Proctor's own woodlands (image below). Jared is a student of Greg Allen, our woodworking and boat-building teacher.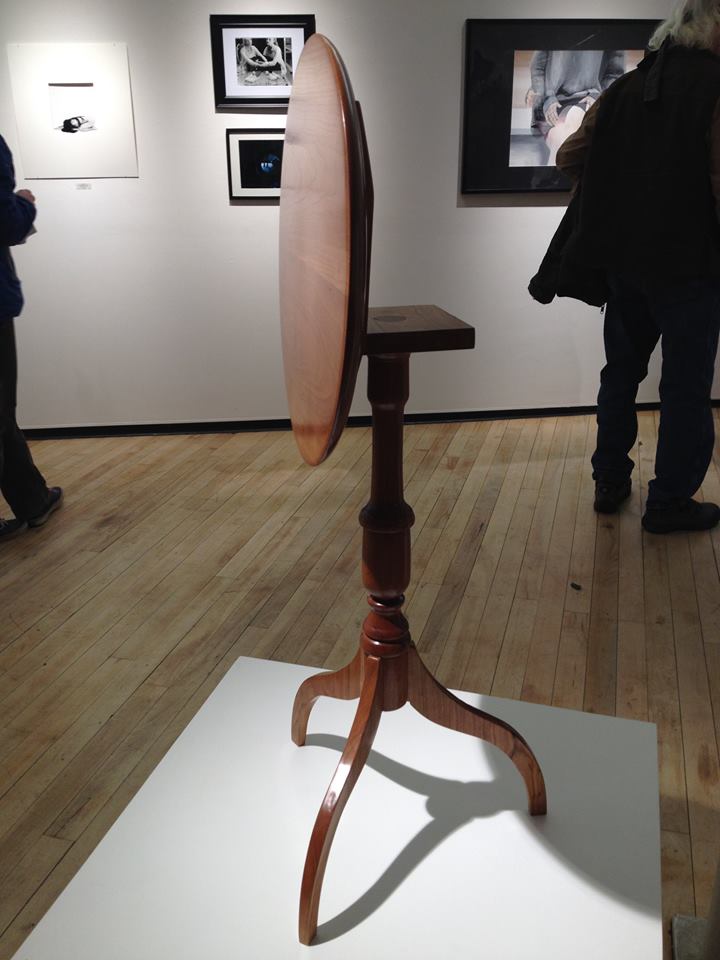 Our visual arts team worked tirelessly arranging for, coordinating, transporting, and hanging art for multiple shows, concluding with their third on-campus show in lobbies of Proctor's Wilkins Meeting House. This final presentation displayed the work of all of our visual and industrial art students. Included were self-portraits; soft pastels; ceramics; photography; tables from woodworking; pepper grinders from metal-working; and steel sculpture. Of interest were large mixed media charcoal and paint pieces coupled with short animated films (video highlighting the process, depicting the transformation of these pieces over time). The work of Annika Johnson '17 and Sampson Jemison '18 notably stood out. The visual and industrial arts had a prolific and exciting winter term of work!
---
THEATRE ARTS
Jen Summers, the director of last winter's To Kill A Mockingbird, once again chose a winner with "Harvey," Mary Chase's 1944 Pulitzer Prize winning play about Elwood P. Dowd, who has a presumably imaginary friend – Harvey - whom Elwood describes as a six-foot, three-and-one-half-inch tall pooka resembling an anthropomorphic rabbit.
As producer, director, set designer, and as a new mom, Jen worked tirelessly to mount this delightful production. She designed and, with students' and select faculty's help, built an amazingly professional, Broadway-like, transformative set that rotated for scene changes. Working closely with assistant director Michael Littman and technical director and costumer Joan Saunders, Jen unified her work force and slowly brought together actors and stage crew to launch another dramatic HIT!
For anyone who knows these student actors or had seen them in previous productions, it was clear that each had embraced their character wholeheartedly and experienced tremendous growth, not only as an actor but also as a confident individual ready to step forward and be heard. For Erin Meegan '16 (Veta Louise Simmons), Elwood's wealthy sister, she delivered a captivating performance, with a wonderful consistency to her character development, complete with those necessary ad-libs that served to seamlessly segue things along. For Drew Childs '17 (Elwood), his timing and affected delivery grew on the audience with each line until we looked forward to the next and the next. For Remy Miller '17 (R.N. Ruth Kelly), her performance showed personal growth that was both extraordinary and entertaining. Other actors like Haley Schorer '16, Jacob Rousseau '18, Sam Pellegrini '16, Nick Kates '16, and Princess Blamoh '16, delivered their usual strong performances. Still, some impressive projecting with new levels of risk came from K. Irving '17, Ceilidh Kehoe '16, Matt Arruda '17, and especially from Jacqui Morris '17, whose clarity and volume was outstanding!
Last minute tech help arrived from Brooks Bicknell, helping with set construction and coordination for the set rotation during the performance. In general, costumes, lighting, sound, and all other supporting pieces were exceptional, allowing for a wonderful show reflecting a unified cast and crew. Congratulations Jen and company!
---
MUSICAL ARTS
For anyone who attended the Vocal Ensemble performance at Proctor's Chapel two Sundays ago or has had the opportunity to read the most recent Mike's Notes, they know that something magical happened that afternoon and that magic is directly related to the power of Performing Arts. Our new choral director at Proctor, Rob St. Cyr, is experiencing success in both increasing numbers for his ensembles and in the quality of their performances.
Success in performing arts can often be understood as excellence as it is compared to some universal standard. Still, in educational performing arts, there can also exist individual or personal excellence. When this happens, students reach new heights personally and in the way that their personal performance contributes to the ensemble.
Rob's program, Amour – Reflections of Love and Desire –, featured 15 strong Ensemble vocalists, and highlighted two other Applied Vocal student soloists. Despite the struggle in finding common time to bring these Ensemble members together for rehearsal, these singers brought nine thought-provoking songs to life. While all strong, certain selections stood out as notable. Certainly "Loch Lomond," the song mentioned in Mike's Notes, with Ceilidh Kehoe's '16 awe-inspiring solo nestled in the group's sometimes six-part harmonies, was one. And so was Pudu Blamouh's '16 "Let Me Grow Old." The other was "The Last Song," in fact, their last song, where Haley Schorer '16 not only sang, but acted out a very theatrical rendition that brought the house down and served to close the program perfectly!
The Saturday night just prior to the Vocal Ensemble performance, Proctor's Jazz/Rock Ensemble, under the direction of Bill Wightman, gathered in a transformed Wise Center to perform their program, "Extraordinary Tuneage." Featuring 23 Proctor student musicians, the ensemble performed for an hour and a half, presenting 17 extraordinary instrumental and vocal music selections. Ranging from ballads, to blues, to Sinatra swing, to Sam & Dave Motown, to student originals, this eclectic program showcased students playing drums, bass, guitars, keyboards, saxes, trombone, and vocals. The set up for this ensemble was extensive and used as many as 24 channels of audio to support what is traditionally an electrified event. Fortunately, student engineer Connor Timbrell '18 was there to run the mixing board throughout the show.
It was clear that for many of the students who took the stage that night, they not only performed their learned written musical parts well, but also courageously stepped into a place of personal risk to create on-the-spot improvisational solos. Some of the highlights that night included Addie Lindley '17 singing "Fly Me to the Moon" and "Feeling Good," Cope Makechnie '17, Paris Healey '16, Addie, and Jay Pier '17 singing an impromptu vocal rendition of "Johnny B. Goode," and Vinny Luo '17 creating an original arrangement of and singing "Danny Boy." Paris gave another powerful delivery of "Hold On I'm Coming" and perhaps, to date, her most moving and sensitive performance of "New York State of Mind."
Creative guitar solos were provided by Drake Leask '19, Sam Pellegrini '16, Logan Marcus '16, and Will Bullion '16, along with keyboard solos from Carl Hubbard '17 and Jay Pier '17. Courageous and inventive saxophone and trombone solos were provided by Hallee Courtemanche '19, Sam Marshall '17, Kai Pilla '19, Kyle Heller '16, and Scott Johannen '17. In the engine room were bass players Cyrus Davis '17 and Will Cox '16, switching with each song and each at one time stepping to the microphone to sing, as well. For Cyrus, his versions of "I Feel Good" and "The Wind Cries Mary" were his debut public singing performances. Will sang the Bill Withers funky classic "Use Me." Each of the drummers, Dylan Conrad '17 and Max Kaesshaefer '16, also stepped well outside their comfort zones to contribute and make the ensemble complete. And, bringing it all together at the start of each song were emcees, Pierre Robertson '18 and Grace Hovem '16, who stood front and center and creatively informed and invited the audience to enjoy some aspect of each of the songs.
---
Again, as Mike's Notes indicates, the performing arts are, can, and should be an important component of a student's high school education. The lists of individual students whose lives were positively transformed, often by even the smallest of involvement, continues to grow in schools everywhere. Everywhere, the performing arts are beginning to garner the same regard and level of importance given to other educational mandates, thereby allowing for that magical impact to be further realized. A huge "thank you," along with appreciative words of congratulations, to all of Proctor's arts faculty and students for a truly remarkable and magical term of exceptional art!
- Bill Wightman, Arts Department Chair