Proctor's theater department has worked hard all term to prepare the winter play, Harper Lee's To Kill a Mockingbird. With a cast of seventeen students and an additional eleven students working on costumes, props, set building and lighting, director Jen Summers has worked wonders staging a magnificent, and truly powerful show.
Thursday night's full dress rehearsal afforded the pictures in this post, however Friday and Saturday night will be the first full performances at 7:00PM in Proctor's Wilkins Meeting House.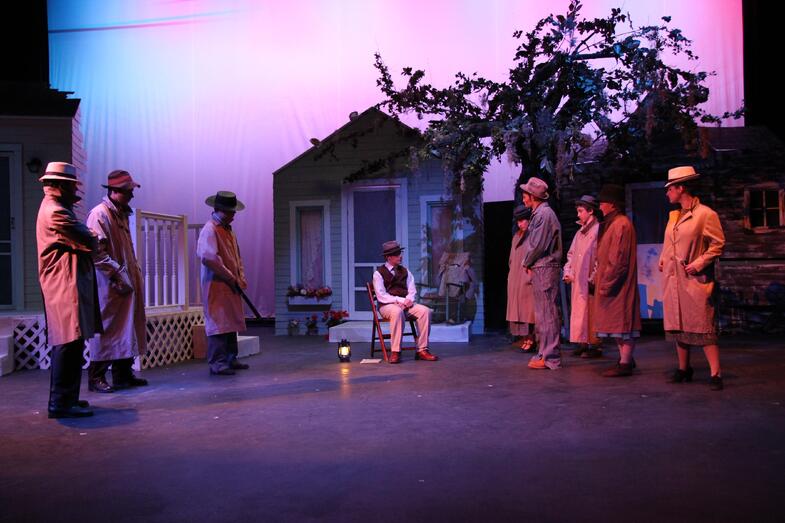 The play is adapted from Harper Lee's Pulitzer Prize-winning novel as the controversial case of Tom Robinson (Nathan Kyeame '15), a black man who has been accused of raping a young white girl, is seen through the eyes of Scout (Cope Makechnie '17), the daughter of Atticus Finch (Nick Kates '16), who has been assigned to defend Tom Robinson from Bob Ewell's (Drew Childs '17) accusations. Narrated by Miss Maudie (Bailey Rymes '15), this 1935 sleepy town of Maycomb, Alabama, comes to life as we watch Scout and her older brother Jem (Brett Hoffman '18) along with Dill (Remy Miller '18), a friend visiting for the summer, let their imaginations run wild about the "scary" neighbor Boo Radley, a mad dog named Tim, and of course the impending case that everyone is talking about.
While the performance is powerful, the impact of the journey for this group of young actors is perhaps even more impactful. On-going conversations around race, equality, and civil rights in today's world have been an important part of the community this year. Proctor's student organized Martin Luther King, Jr. Celebration set the stage for open, honest conversations about where our society is, and where we need to be, and this play has allowed those conversations to continue in a productive way on campus.
The short video below sheds some light on the growth this group of actors has undergone as their performances have come to life on stage.
Cope Makechine notes, "One of the main themes of this play is that two children learn the world isn't what they thought it was...and that is something we all have to face at some point in our lives." Nathan Kyeame adds, "The themes in this play are relevant in our society, everyone who sees the play is going to be impacted by how these themes in this classic story are still relevant today. We all have a responsibility to understand our world, and to understand how we can impact it. Seeing this play will help with that responsibility."
There is no cost for tickets, but we encourage you to reserve seats by visiting the link below. We hope to see you there!