Proctor's Arts Department presents The Foreigner written by American playwright, Larry Shue, and directed by Jen Summers as its winter production. The hilarious story lines follow equally powerful themes of racism, identity, and injustice as two British visitors spend time at a rural Georgia fishing lodge. Kudos to Proctor's cast and crew for putting on a tremendous show, and for fully embracing the depth of the content within the production. Enjoy this review of the play and be sure to reserve your tickets for this weekend's performances (see link at the bottom of this post)!
Froggy LeSueur (Britta Johnson '19), a British demolitions expert, and her fellow countryman, Charlie Baker (Cooper Bulens '19), a painfully shy proofreader whose dying wife has begged him to leave home, retreat to a rural fishing lodge in Georgia. When Froggy has to leave the lodge for military service, she tells her friend and lodge owner, Betty, (Amanda Hinds '19), Charlie is from an exotic country and does not speak or understand English in order to protect Charlie from having to have conversations with strangers at the lodge.
Over the course of the next three days, other visitors at the lodge unknowingly reveal their deepest and darkest secrets with Charlie in their presence. As scandals emerge ranging from a plot to devalue the fishing lodge by Owen (Jacob Rouseau '18), to a local pastor (Matt Arruda '17) and his pregnant girlfriend Catherine (Remy Miller '18), to Ku Klux Klan members threatening the visitors, Charlie finds himself unwillingly at the center of it all, all while Catherine's younger sister Ellen (Ingrid Cole-Johnson '20) finds her identity through helping "the foreigner" navigate life at the lodge.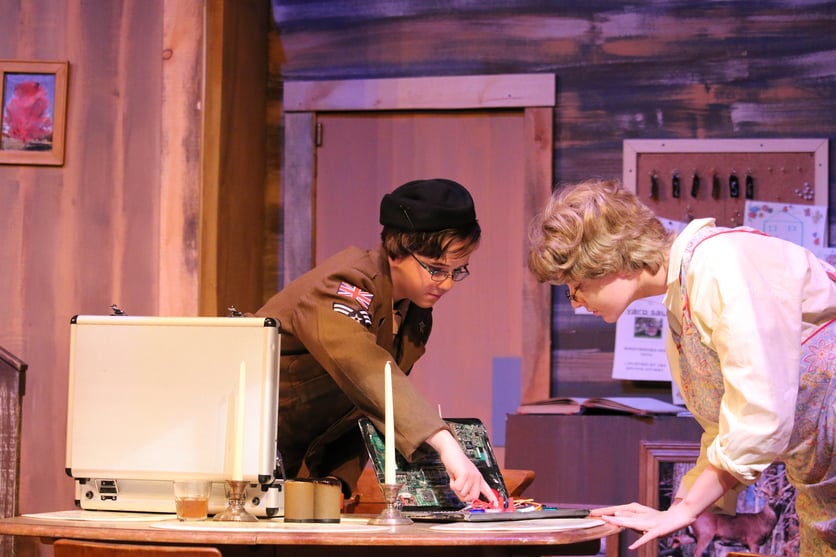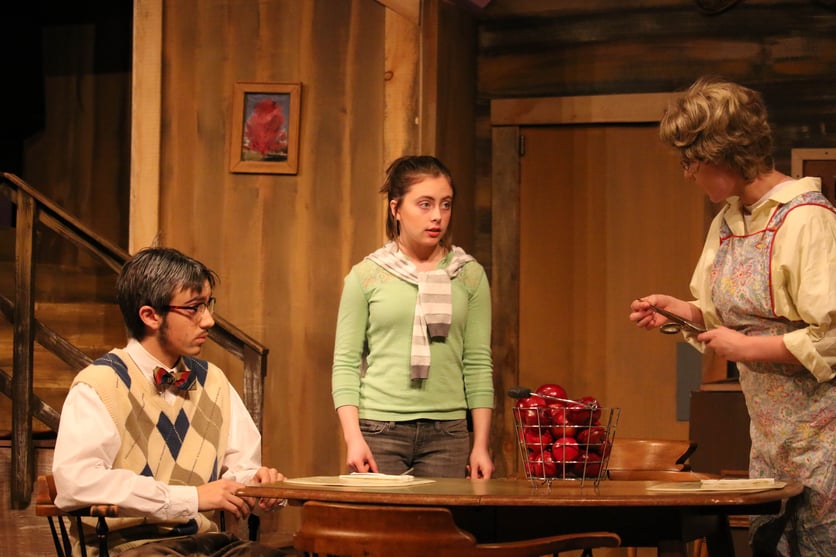 Throughout the equal parts humorous and thought-provoking performance, the cast captures the complexities of racism, intolerance, and introspection of the main characters. While the curtain will be drawn on Friday and Saturday evenings at 7:00 PM in the Wilkins Meeting House, the process of creating a production like this is where the educational value of the performing arts lies. The long hours of rehearsal, scrambling to make sure set construction goes as planned, last minute constume details, and late nights memorizing lines create bonds among the cast, crew, and faculty involved. While we, as an audience, enjoy the culmination of an entire trimester's hard work and dedication, the cast and crew have the unique privilege of enjoying every step along the way.
We hope to see you at the Wilkins Meeting House Friday and Saturday evenings (show starts at 7:00 PM) for the production of The Foreigner. Be sure to come early to enjoy the Winter Art Show beginning at 6:00 PM each night.