The past two decades have spoiled us as New England fans. Think about it; five Super Bowl wins for the Patriots since 2002. World Series Championships in 2004, 2007, 2013 for the Red Sox. The Bruins (2011) and Celts (2008) have done their share of winning as well. Much of the country (let's be honest...everyone outside of New England) thinks we New Englanders take this success for granted and are pompous, spoiled fans who do not fully appreciate each championship run. To this, we scoff and look to the finer points of a championship run that keep us just as excited this year as we were in 2002; the personal storylines within the story that connect us on a personal level to "our" team's success. This year, one of those storylines involves our very own Anna Zerilli '19.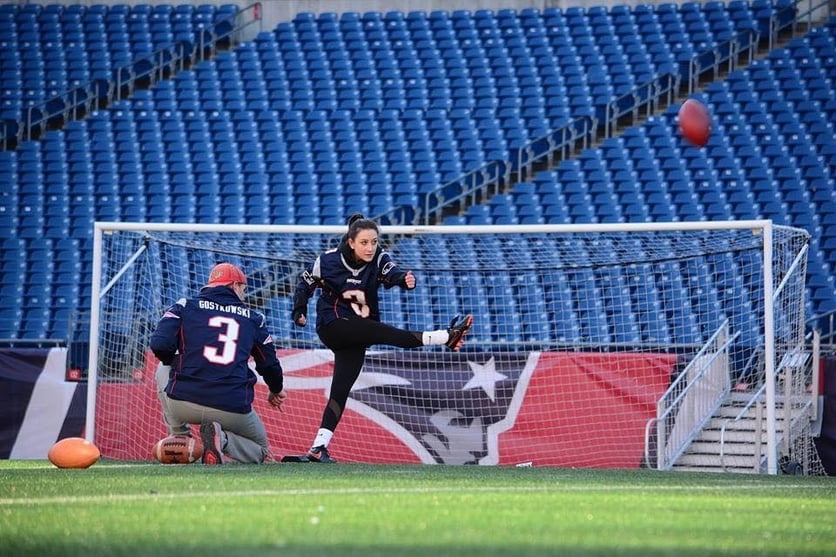 Anna, a native of Rockport, MA, became the first female place kicker on her Manchester-Essex High School's football team as a freshman in 2015 (check out this story CBS news did on her this fall). After kicking her first extra point as a freshman, she entered the Massachusetts record books as the first ever female kicker in the Cape Ann League to score a point, and just the second ever in the state. Fast forward three seasons, and Anna has developed into a talented kicker who is not only known for breaking down barriers, but for being a key player on her team (she was one of the team leaders in scoring and among the top scorers in the league overall).
Her football journey has brought considerable attention to the 17 year old over the past three seasons, including the New England Patriots taking notice of her success with the Manchester-Essex Hornets this past fall. After the Patriots pitched a storyline on Anna to The NFL Network, Anna was invited to kick at Gillette Stadium this past weekend for a feature they will run during Super Bowl Sunday!
After arriving at Gillette Stadium on Friday, Anna took the field for what she thought was a filming session with the NFL Network, only to be surprised by Patriots kicker Stephen Gostkowski for a kicking session in front of the cameras. Anna reflected on the day, "I was so suprised by the whole day. I was told the NFL Network wanted some footage of me kicking and to do an interview on what it is like to be a female kicker in a male dominated sport, but to kick with my favorite NFL hero and favorite kicker...it was unreal. It was such a surreal experience for Stephen Gostkowski. He gave me tips on accuracy, shagged balls for me, and took so much time out of his day right before the super bowl to help me. It was unbelievable." Many thanks to Anna's parents Beth and Sal for taking the photos and video here and sharing them with us.
Anna's trip to Gillette Stadium to kick with one her heroes, Gostkowski, was no ordinary Friday. But nothing about Anna's journey thus far has been ordinary. Transferring to Proctor in December, Anna missed being a part of Proctor's undefeated 2017 football regular season and New England Bowl appearance, but is excited to be a part of the team next year. She has jumped right into JV Girls' Hockey this winter, and already feels at home in her classes, her dorm, and her advisory. Anna notes, "My transition to Proctor this winter has been great. Socially, academically, athletically - everything has been great and I can't wait to kick for Proctor's football team next fall and to hopefully pursue kicking in college someday."