Proctor Academy's boys' varsity basketball team is off to a 7-2 start as it nears the midway point in its season. As a member of NEPSAC Class AA, the Hornets compete in arguably the nation's strongest basketball league. After narrowly missing last year's NEPSAC tournament, this senior-laden group is doing everything in its power to make sure it earns a chance to compete for a NEPSAC championship come the first week of March.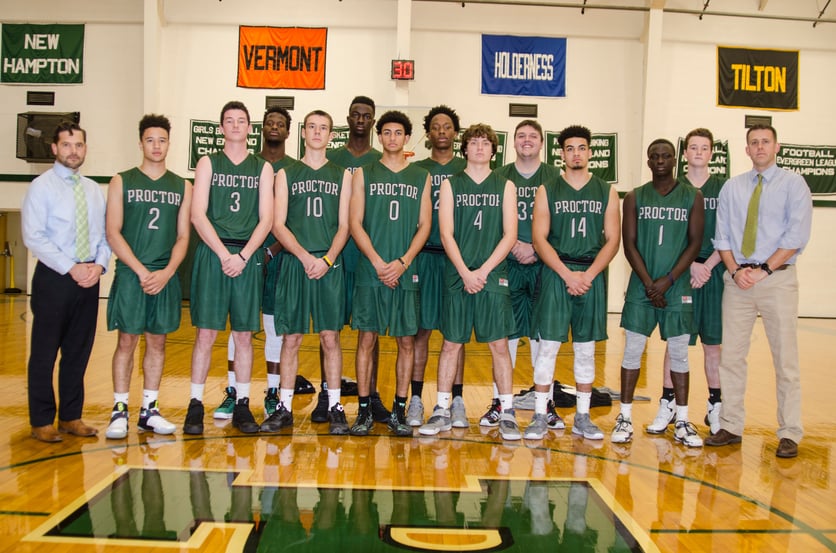 Led by six seniors, including co-captains Caleb Green '17 and Geo Baker '17, the Hornets recently bounced back from a disappointing home loss to Tilton School with a convincing 85-59 win over Worcester Academy on the road that saw Proctor get out to a 20-0 lead to start the game. Reflecting on this recent win, Green notes, "When we've met adversity this year we have seen it as more of a challenge that we can overcome together instead of fighting and arguing. We have grown closer instead of further apart as we navigate tough games, faced, and Wednesday's win over Worcester is representative of that mindset coming out of the Tilton game."
In a league as competitive as NEPSAC, the Hornets know every game on their schedule is important, and every opponent is dangerous. Baker notes, "The league is just so fun. Every game you find yourself playing against a top recruit or an under the radar guy who is ready to prove he belongs. Anyone can beat anyone so you have to show up focused no matter who you play, no matter what their record is. To us, that is the greatest part. We love to compete and this league brings out the competition and fight in every player."
Friday night will be yet another test against one of the strongest teams in New England when perennial basketball powerhouse, New Hampton School, comes to the Farrell Field House for a 6:00 pm tilt. While the Hornets may be overmatched on paper against the Huskies, this group of experienced veterans understands the importance of teamwork and commitment to a shared goal. Green notes, "We feel that in order to stay focused we have to continue to play together, follow our coaches lead, and trust what we've been doing because that's what has gotten us this far. No one guy is going to be able to be them, so we have to run our sets and be patient on offense. When we are all trusting each other that is when we're at our best."
Building that trust within a team of six seniors, four sophomores, and two freshmen requires leadership and a commitment to establishing a culture of 'better every day' within the group. While Green and Baker serve as captains, the leadership of fellow seniors Tshiefu Ngalakulondi, Drew MacInnis, Eamonn Healey, and Grey Bechok is invaluable to the team chemistry that has evolved among this group. Baker notes, "The younger guys have really grown up fast for us and have grown into large roles for our team. As seniors we just try to give as much advice as we can having already played a lot of varsity basketball. One of the biggest things is to just make sure that they aren't nervous to make a mistake when they're in the game. Not one of us is going to be mad from a missed shot or a bad pass, we just ask that you get back on defense and work your hardest to make up for it. The younger guys have really bought in and I think a big part of that is us seniors leading by example."
Be sure to come out and support the boys in their game tonight. If you cannot make it, tune in live HERE!