Each year approximately 20% of the Proctor Academy's graduating class goes on to compete in NCAA athletics at the collegiate level. The Class of 2016 is no exception with 22 of 95 members of the class pursuing careers at the collegiate level, including a remarkable eight NCAA Division 1 athletes! Thank you to all members of the Class of 2016 for their contributions to Proctor's athletic programs over the past four years. Thank you, also, to James Neylon '16 for helping put this article together on the majority of our Division 1 athletes, and to Rich Tilton P'16, '18 for the photography.
Check out Jake's highlights here.
Jake Pappalardo '16 (Salem, NH) - University of Maine - Men's Ice Hockey
Why did you choose the University of Maine?
I chose Maine for many reasons, the school was a New England School which I wanted and part of Hockey East - one of the best divisions in college hockey. The coaches wanted me, and the team is in a rebuilding stage, so I knew I would have the chance to earn minutes right as a freshman next year. My decision was sealed when I attended a game there this winter, the atmosphere was unreal and I knew it was the only place I wanted to play college hockey.
Who mentored you during your three years at Proctor?
A lot of people at Proctor influenced me as both a student and as an athlete, but the two most influential people were my hockey coaches, Mike Walsh and Ian Hamlet. They helped me not only become a better player, but also a better person off the ice.
How have you grown as an athlete while at Proctor?
At Proctor, I have made remarkable strides. When I first came to Proctor playing Division I hockey was a dream and a goal. I had worked hard for years, but never had talked to a college coach or had much interest from anyone other than prep schools. That changed in a hurry, and before the summer after my first year at Proctor, I had visited five schools and had an offer. My overall ability as a player has increased dramatically, in addition my leadership skills and attitude when facing adversity have improved.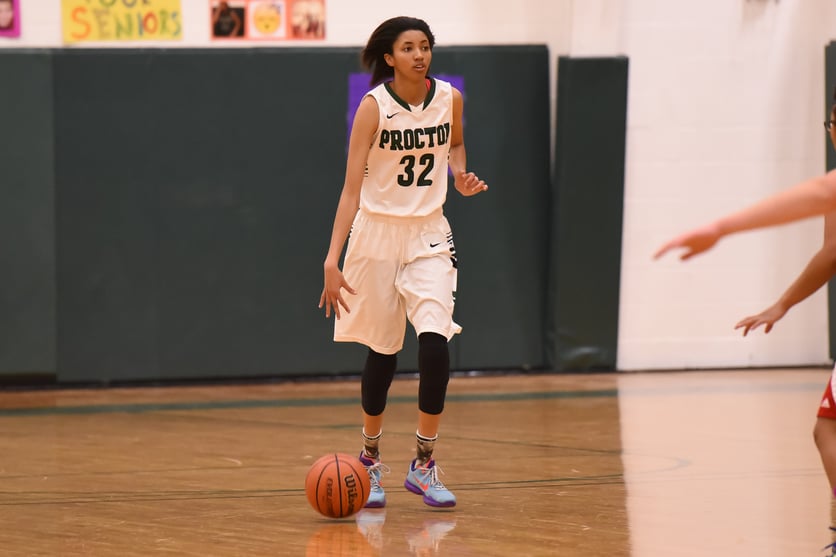 Check out Amber in action here!
Amber Wilson (New York City, NY) - University of Rhode Island - Women's Basketball
Why did you choose the University of Rhode Island?
I chose to URI because when I visited the campus, I felt at home. I felt comfortable and I knew I could succeed there. Also, when I talked to the coaches, they cared about me as a person. They took time to get to know me on a personal level. I'm also looking forward to playing with my best friend (and fellow Proctor alum) Elemy Colome '16 at URI!
Who has mentored you during your four years at Proctor?
This whole community has helped me to be the best I can be. There are a lot of people who have been an important part of my journey, but one person stands out: Liz Mcnamara. As my basketball coach, she pushed me to be the best player I can be. I appreciate that. I will miss her dearly.
How have you grown as an athlete while at Proctor?
I've grown a lot since freshman year, like A LOT. The most important lessons I've learned are to be patient and to be a team player. I used to think that I had to do it all by myself and it took me a lot time to learn that. When it finally clicked, we won a NEPSAC championship this winter!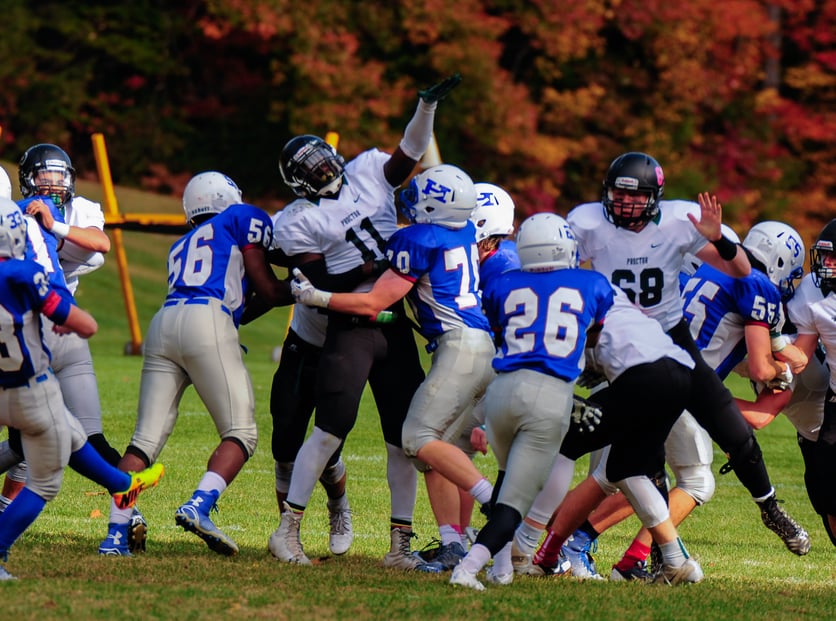 Check out Chris in action here!
Chris Agyemang '16 (Billerica, MA) - Sacred Heart University - Football
Why did you choose Sacred Heart University?
I chose Sacred Heart University because I feel it was the best place for me to develop as a football player, while providing me the support I would need to succeed academically and beyond for my future. When I visited, it just had a real welcoming feeling to it.
Who helped mentor you during your two years at Proctor?
My parents, my football coaches (Coach McCormack, Coach Hoffman, Coach Fleming, etc), basketball coaches (Gregor, Scott, and Junior), my teachers, and my dorm parent Lisa! There are many more supporters that I could name but that would take a while!
How have you grown as an athlete at Proctor?
Coming to Proctor was different than my public school because there are a number of students looking to compete at the college level after Proctor - when you have people on the same mission as you, who have the same dreams, you learn to become a leader and have an even stronger work ethic than you otherwise would.
Annie Sheehy '16 (Wilmot, NH) - Marist College - Women's Lacrosse
Why did you choose Marist College?
I chose Marist because I loved the location and really enjoyed the coach and students at Marist.
Who mentored you during your four years at Proctor?
My sister, Meaghan Sheehy '14, and my teammates influenced me most during my Proctor athletic career. They always encouraged me to push myself and to give my best effort each day on the field or court.
How have you grown as an athlete while at Proctor?
I have definitely improved as an athlete at Proctor, largely, I think, because I've played three sports each year. Each sport I play helps me in the next one. My coaches and teammates have helped me sharpen my skills and become a smarter, better, and faster athlete because of this well-rounded athletic experience.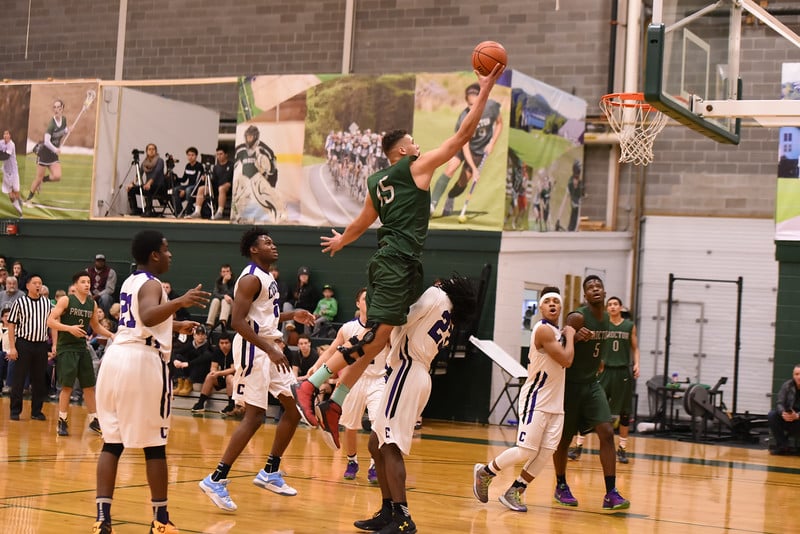 Check out Julian in action here!
Julian Roche (St. John, New Brunswick) - Santa Clara University - Men's Basketball
What made you chose Santa Clara University?
I chose Santa Clara due to my Canadian upbringing, and admiration towards Steve Nash and the competitiveness of the WCC. As soon as I received the opportunity to attend Santa Clara to be a varsity athlete and to be apart of a extremely competitive academic atmosphere, I took it as a sign that it was meant to be and jumped on the opportunity.
Who mentored you during your three years at Proctor?
I would say there was a lot of influences as an athlete here at Proctor. The community is so close and intertwined that close friends, professors and even fans have an influence. My college counselor also helped guide me in this process and the choice was much easier with the support of those around me around campus.
How have you grown as an athlete during your time at Proctor?
From coming to Proctor as an athletic prospect to becoming a division one athlete certainly wasn't an easy path. To make matters even more difficult, suffering an ACL tear during my junior year certainly sidelined my Division 1 aspirations for a while. I had to grow as an athlete, and as a person, and develop a new mindset in order to overcome these obstacles and am proud to have done so.
Check out Lexi in action here!
Lexi Tilton '16 (Bedford, NH) - Holy Cross University - Women's Field Hockey
Why did you choose College of the Holy Cross?
I chose Holy Cross because, not only was it an amazing opportunity to play field hockey, but it also will provide me with a great education that will set the stage for my future success.
Who mentored you during your time at Proctor?
The person who influenced me the most at Proctor was easily, without a doubt, Lynne Kenney. Without her, I would not be playing field hockey in college. She was the one that really helped open my eyes about the sport and see just how much I loved it. During the season, my mind was usually just hockey, hockey, hockey, but Lynne really helped me slow down and enjoy the field hockey season just as much. Not just for the sport, she always pushed me academically as well. Being my advisor, it made it easier for her to help me set my goals far.
How have you developed as an athlete while at Proctor?
My biggest growth has been in shifting from someone who just played field hockey because I had to play a fall sport, to someone who goes out of their way to play it whenever I have free time. I've developed a passion for field hockey while at Proctor, and never thought I would.
---
Congratulations to all of these members of the Class of 2016 who will pursue an NCAA Divsion 1, 2, or 3 career!
Football:
Chris Agyemang - Sacred Heart University
Tristan Moulton - Simon Fraser University
Field Hockey:
Lexi Tilton - Holy Cross University
Boys' Soccer:
Max Barrett - Dickinson College
Wari Isaac - College of St. Rose - Albany
Girls' Soccer:
Jamie Dee - St. Lawrence University
Boys' Basketball:
Julian Roche - Santa Clara University
Girls' Basketball:
Amber Wilson - University of Rhode Island
Boys' Hockey:
Jack Hall - Stonehill College
Owen Kuhns - Nazareth College
Connor Simpson - Connecticut College
Jake Pappalardo - University of Maine
Jack Scannell - Stonehill College
Girls' Hockey:
Alexis Fagan - Plymouth State University
Taylor Methven - Colby College
Skiing:
Alexandra Clarke - St. Olaf University
Noah Drummond - Plymouth State University
Anjelica Nella - St Lawrence University
Boys' Lacrosse:
Owen Kuhns - Nazareth College
Girls' Lacrosse:
Annie Sheehy - Marist College
Avery Melville - Colorado College
Annie Sedoric - Bates College
Paris Healey - Denison University
Golf
Andrew Edwards - Roanoke College