Proctor Academy's football program has been among the strongest in the Lakes Region over the past decade. With undefeated seasons and appearances in a New England Bowl Game in both 2008 and 2012, the program has alumni playing at NCAA Division 1, 2 and 3 schools across the country. This year's squad is off to a 1-1 start and looks to write another chapter in Proctor Football's storied history.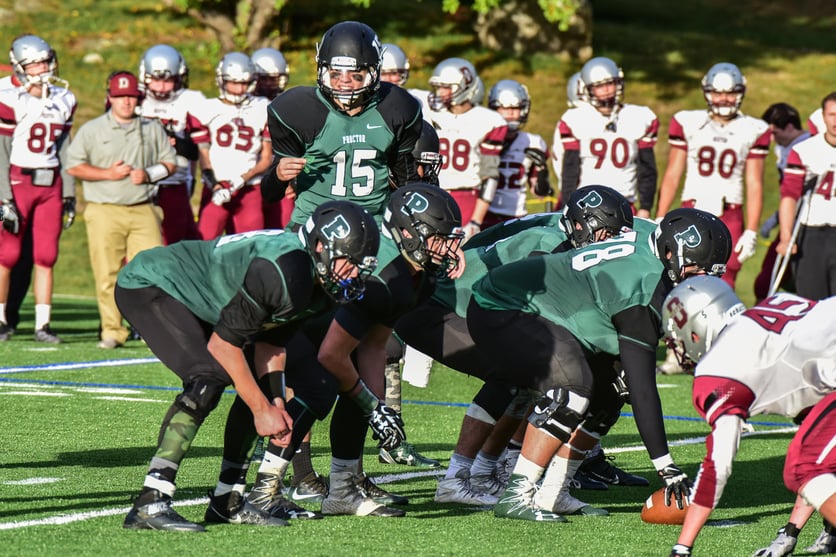 Photos courtesy of Rich Tilton Photography
After a disappointing 0-17 opening loss to St. Paul's School, the Hornets bounced back last Saturday with a convincing 22-3 win over Evergreen League foe, Dexter School. Despite a smaller roster than previous years, the depth of talent on this year's team is substantial. A veteran offensive line (seniors Grey Bechok, Peter Laviolette, Bryce Swan, Rowan Moynihan, Tshiefu Ngalakulondi, and juniors Lance Crate and Liam Prescott) provides stability and leadership in front sophomore quarterback Henry Bechok and a slew of talented running backs. The team will lean heavily on its 12 seniors as they head to league rival and perennial powerhouse New Hampton School for a Friday night game under the lights of Kennedy Field.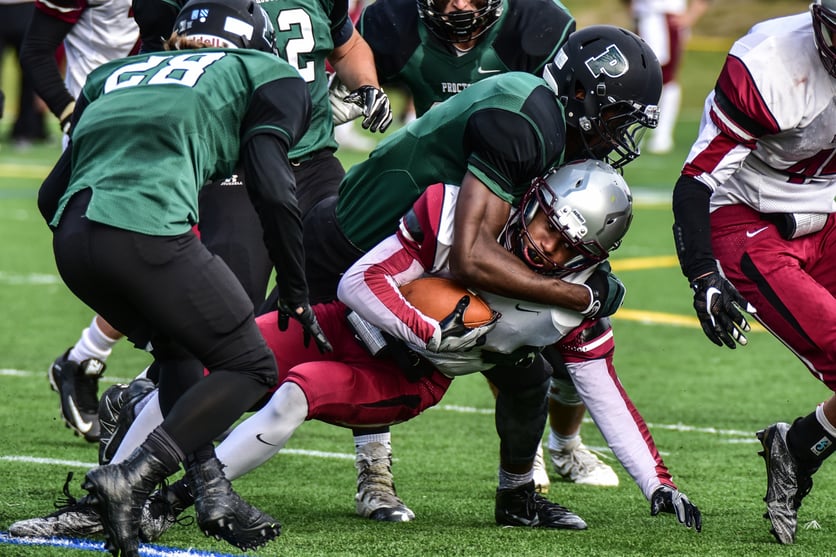 Four year senior and captain, Peter Laviolette knows he and his teammates will be up for the challenge, "We're a small team that shows a lot of heart in our play. Each of us is willing to lay everything down on the field for our brothers. We're not scared of the big name teams despite our size, and we have a chip on our shoulder going into Friday's game against New Hampton knowing we haven't won against them in four years." Junior co-captain Lance Crate echos Laviolette's comments, "New Hampton is a big game for us. Last year we were outsized, but also didn't come ready to play. We believe this year will be different. Our hope is that at the end of the game, we can each say we left 100% on the field, and can be proud of our efforts."
The mix of young talent and veteran experience creates a unique atmosphere on this year's team. Younger players have found great success at the junior varsity level, recent recording a 34-14 win over Holderness School. Head Coach Casey McCormick notes, "We are very proud of our underclassmen and could not be happier with their effort and commitment to the program. Our JV team had a strong showing in their opening scrimmage, and they followed it up in their first game with a resounding 32-14 win over rival Holderness. We are excited to see them in action today versus Exeter High School."
Crate elaborates on the chemistry present on this year's team, "Our goal as upperclassmen is to do our job each and every day and to set a positive example for the younger players to follow. We are a well-coached team, and we are very strong on the defensive side of the ball. We have a core group of guys who like to be physical, work hard, and understand the role teamwork plays in football. It's the start of a great team, and as we continue to come together as a group, we have confidence we can win each game on our schedule."
McCormick knows every game in the Evergreen League is a battle, "There are a bunch of really good teams in the Evergreen League, and we are challenged every weekend. We have a talented team, and it is going to require them to trust each other more, ensure ball security on offense, and improve tackling on special teams to keep the momentum going against New Hampton Friday night." Best of luck to Proctor's football team this weekend, and be sure to catch the Hornets in action on Farrell Field over Fall Family Weekend when they host archrival Holderness School at 2:30 pm on Saturday October 15.