Proctor's girls varsity basketball team boasts a 10-3 record as they surpass the midpoint in their season and look ahead to defending their NESPAC Class C championship from last year. While the core of the team remains from last year's championship run, roles have evolved and new additions to the squad have brought key new pieces to the puzzle. With a jam-packed February ahead of them, the team and its veteran leadership looks to continue its development under first year-head coach Junior De La Hoz.
In order to continue their strong play against Class C opponents, the team needs to continue practicing at the same strength as they play. Senior Amanda Torres (committed to University of New Hampshire) notes, "To keep playing at the level we are now, I think it is definitely going to come down to our practices. We need to keep the high energy and intense practices to prepare us for the games. I think we are starting to understand each other and get along well as a team, too."
It was this foundation of strong work ethic that helped the team win its second NEPSAC Championship in program history during the 2015 - 2016 campaign. The returning players on the roster understand what it takes to win a championship, and have helped the newcomers understand the commitment, intensity, and daily hard work necessary. For senior captains JoJo McDonald and Torres, this season will be their last season playing varsity basketball for Proctor, and their goals are ambitious. "Our team goal is to get another championship, and I think that would be a great way to end our careers here at Proctor."
While the core of last year's team remain in place (only Amber Wilson '16 graduated), including all of its key role players who were critical to last year's championship run, the season has not been without its share of transition. First year head coach Junior De La Hoz has brought a new style of play to the team, which has taken some time to adjust to. Torres notes, "We're finally all starting to get on the same page, and to understand how Junior's style of play is going to work for our team. We feel like we are starting to click, which is exciting as we enter this final month of the season."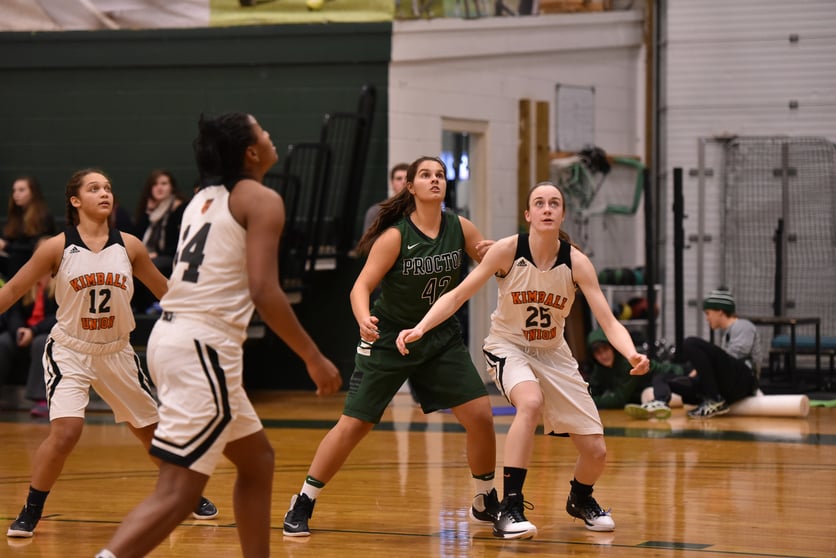 Quite a few games remain between the team and a potential third straight NEPSAC tournament appearance, however. Torres notes, "We definitely have some big games coming up. We play New Hampton and Bradford Christian after Bonus Weekend, and both are huge games for us. I think we just need to keep working hard and coming together as a team in practice to help us win these games." On Wednesday February 1st, the girls host New Hampton School at 2:30 PM, followed by another home game versus Bradford Christian Academy on Monday (2/6) at 4:30 PM. Come on by to support the girls team as they continue their quest for another championship!