Proctor's girls varsity hockey team is off to a 3-4 start on the young season, most recently securing an overtime win versus North Yarmouth Academy just before Winter Break. Under the guidance of Head Coach Hunter Churchill '01 and first year Assistant Coach Kate Piacenza, the Hornets are finding their identity as a team after graduating nine seniors off of last year's squad. Read insights from Hunter and Kate below, as well as reflection on what it means to play for the Hornets by senior Natalie Daniels '22.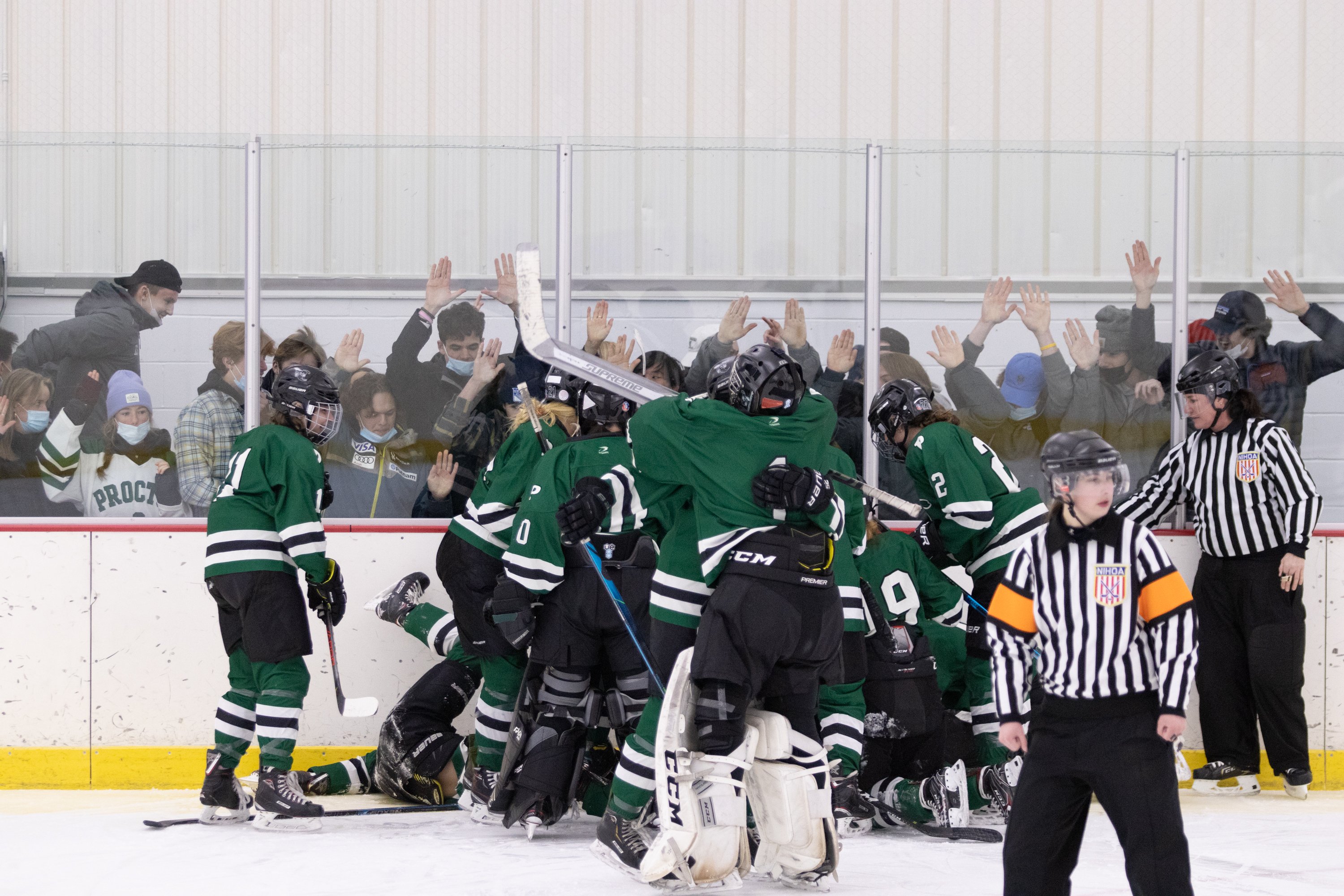 Photo Credit: Mary Gettens Photography
Each year, your team welcomes new pieces to the puzzle. It takes time to gel and find your rhythm. How has this group worked early in the season to find that rhythm as a group?
Heading into this year we had graduated nine seniors from the program, with big holes to fill. This provided a great opportunity for returning players to lead and new players to adjust to a fast and physical league. We had limited time to find our rhythm before our first game with both girls varsity soccer and field hockey making playoffs. We are proud of the work our kids put in during the fall season and were ecstatic that many of our players experienced playing in NEPSAC playoffs. When we were able to hit the ice as a full team, our players came out with energy and intensity. They asked questions, communicated with each other, and worked together. Team bonding is a focus this year and the kids are getting ready for our annual lip-sync battle this week!
Coming off of a busy early season schedule and heading into the bulk of your Lakes Region schedule after break, what lessons have you learned about yourself as a team so far?
Through our tournament experience at Exeter we learned that when we work hard every shift, win battles, and make the small plays, we can compete with any team. Providing support for each other and staying positive throughout the ebbs and flows of a game is what gives us the ability to win. So far this season we have come through in big moments, winning close games and sticking together. This will be the key to our success in a very competitive league.
Who do you feel are the teams to beat in the Lakes Region? Why?
The Lakes Region supports a tremendous amount of talent spread out amongst all the teams. On any given night the team that can put together a complete game in all three zones of the ice puts themselves in a good position to win. These matchups will prove important throughout the season, they will be fun to watch as we have already noticed that strong competition brings out the best in our team.
What do you love most about playing for Proctor hockey? Could be the quality of play, the girls on the team, the coaches, the fans, whatever floats your boat!
"I came to Proctor my freshman year, unaware of the team I would be entering into. Immediately, I felt welcomed in the locker room which transferred to my confidence on the ice. Every year since, the coaching staff along with my teammates have given me the opportunity to grow as both a player and a person. I look forward to the winter season because our team becomes a family which is really special. Girls join varsity hockey because they are invested in becoming a better hockey player, but by the end, it becomes so much more. We share a love for the sport and support each other outside of the rink which adds to a supportive team culture. I am excited for the rest of my senior hockey season with our team and look forward to competing in the Lakes Region and beyond." - Natalie Daniels '22