As students return to campus after a two week hiatus, Proctor's girls' varsity hockey team kicked off the new year with five games in three days including four games at the Phillips Exeter Tournament. Suffering two losses on the first day of the tournament, the team played better with a tie and then a convincing 6-0 win over Vermont Academy in their last game of the tournament before returning to The Ted with a 2-1 win over Tilton School on Wednesday. The team, which sits at 5-4-1 to date, continues to improve, meshing new players and old, into a unique chemistry that will serve the group well as they head into a very busy stretch over the next eight weeks. *Thank you to Zach Webster '18 for sharing his photography for this piece!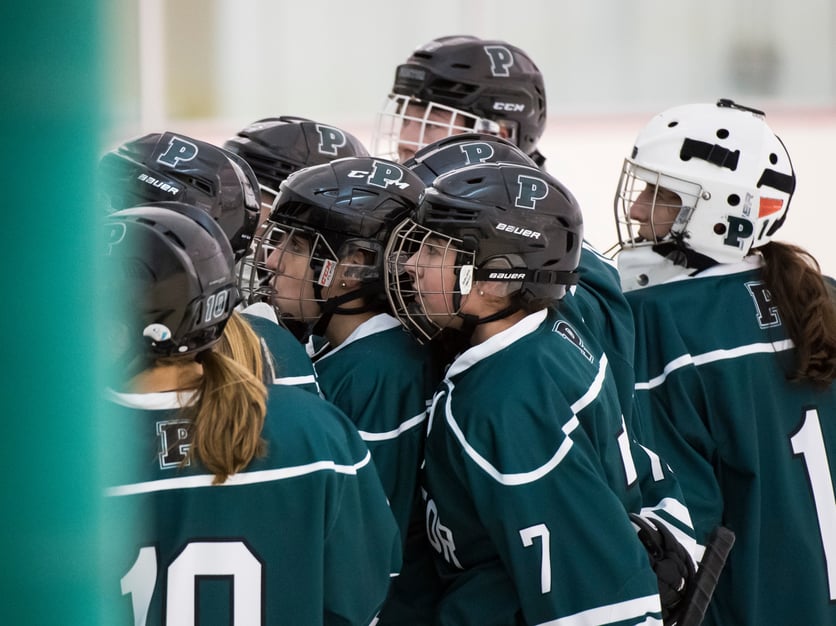 Photo Credit: Zach Webster Photography
Head Coach Corey Cooper reflects on the busy start to the season, "The girls have shown impressive resilience throughout the beginning of the season and have done a good job navigating a game-heavy stretch during which we've already played 12 games and only had 9 practices. With a few three-game weeks to start the season, more to come, and an intense tournament schedule, we've focused our energy on always moving forward as a group, regardless of what may have happened during the previous game, or the previous shift. We are lucky to have student-athletes who love to compete, and that makes bouncing back an exciting challenge for them."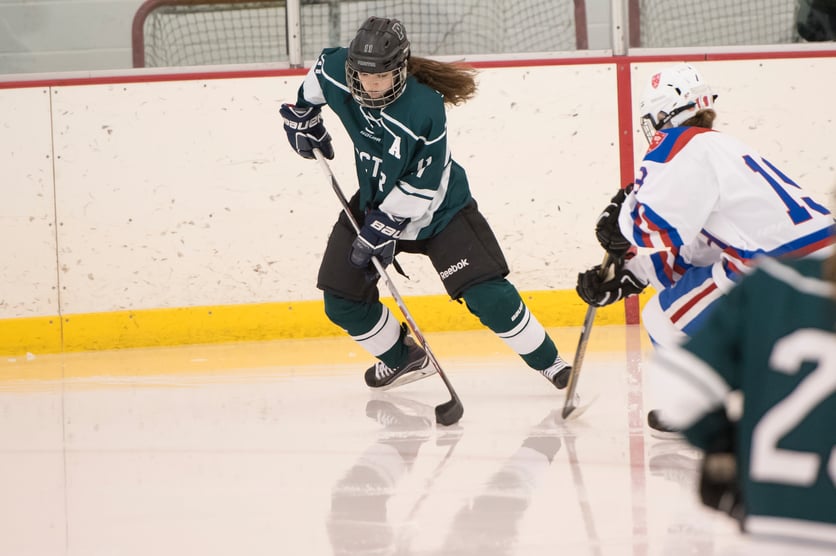 Photo Credit: Zach Webster Photography
Tri-Captain Addy Shannon '17 adds, "The Exeter Tournament was a good experience for us because we had to push ourselves in the sense that we had to show up physically for games against good teams back to back. We had good energy even coming off of a hard day and used that energy to perform well in our games on Tuesday against Rivers and Vermont, and then again on Wednesday against Tilton. Our ability to keep up enthusiasm has been big for us this season."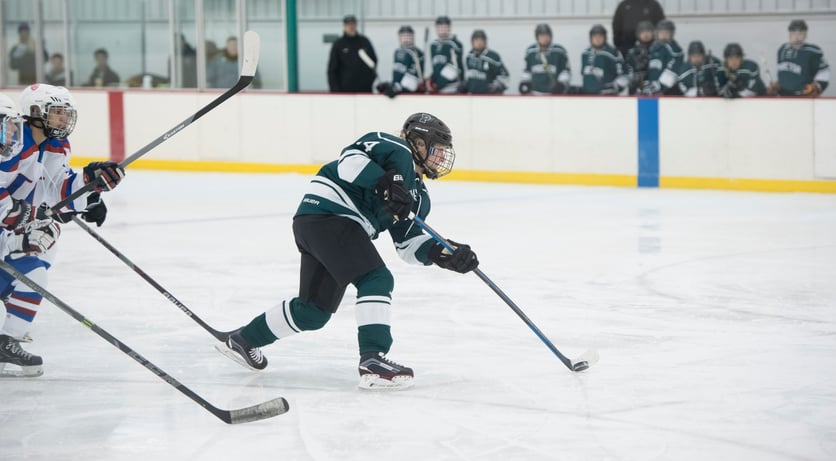 Photo Credit: Zach Webster Photography
The bounce-back performances after two tough losses at the Exeter Tournament demonstrated the importance of team chemistry within this group of athletes. Cooper notes, "The girls pride themselves on working hard with one another in order to come together as a group. Whenever they find themselves in the face of adversity, it brings them together, and the players who are new to the team took no time to jump in and become contributing members. Our captains and leadership core have worked hard to bring everyone into the fold and work each day to establish and maintain a team culture of respect and accountability while also prioritizing a high level of healthy competition in the rink." As the new team continues to grow closer, their relationships with one another off the ice become as important as those on the ice. Shannon notes, "The chemistry on this team is awesome. The new kids don't even seem new and everyone adds a different perspective, and distinct value to the team."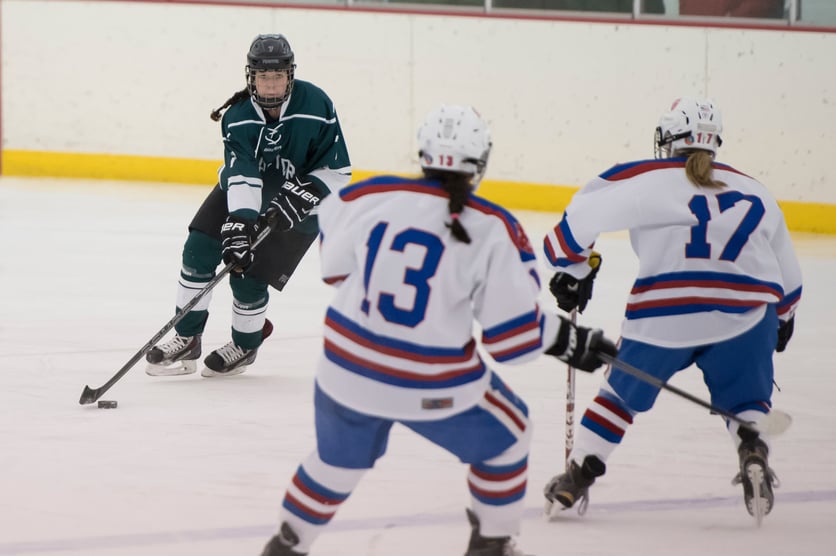 Photo Credit: Zach Webster Photography
With a busy schedule ahead, there will plenty more team bonding opportunities as the team faces off against some of the toughest competition in New England. Cooper notes, "We are excited for the next eight weeks, as they will present us with high-caliber games against some very talented teams. With regard to on-ice play, we want to be a team that is hard to play against and wants to battle everyday. We will continue to focus on process over product. More than on-ice play, though, it'll be the team's ability to value our time together, and to enjoy coming to the rink each day to improve individually and collectively, that will help us move forward!" Shannon adds, "Our key to success will be that we continue to work hard and grow every day on and off the ice."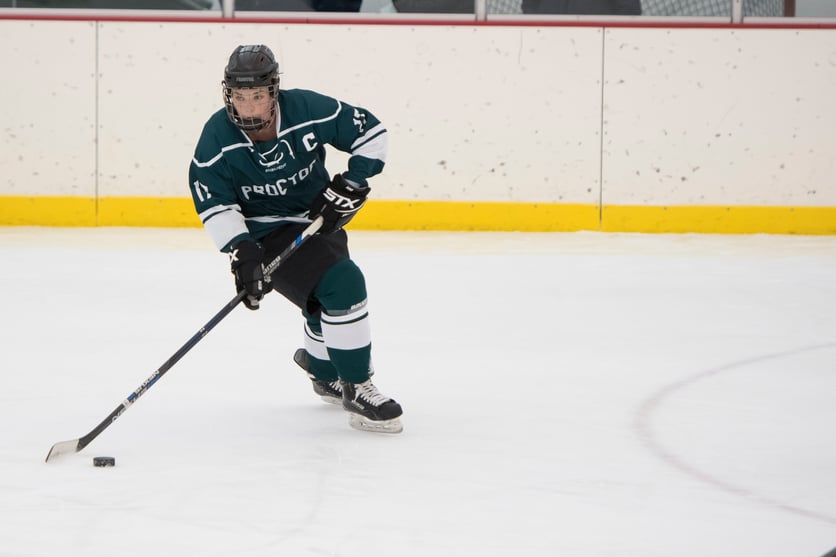 Photo Credit: Zach Webster Photography
Be sure to follow the girls' varsity hockey team on Twitter for insights and updates from the ice and come out to The Ted to see them in action next Monday January 16 when they host Worcester Academy at 5:00 pm.