Proctor Academy launched an Athletic Hall of Fame in 2017 with the intent of recognizing athletes, coaches, and teams who have distinguished themselves as outstanding contributors to athletics while at Proctor and who have continued to exemplify the values core to the community: respect, responsibility, compassion and honesty in their personal and professional lives. During 2022 reunion, we publicly recognized three classes of inductees. Read more about these individuals and teams below:
2020 Inductees
Derek Mansell (Coach)
Passionate coaches inspire their athletes to compete with the same intensity and commitment to their craft. Throughout the 1980s and early 1990s, Derek Mansell helped transform a competitive wrestling program into a New England powerhouse. His commitment to teaching masterful technique while building a team culture of accountability and high standards helped students expand their identity as athletes all while pursuing excellence on the wrestling mat. Derek lived this philosophy in his own life as a science teacher, dorm parent, drama tech expert, director of Proctor en Segovia, and avid woodsman who helped develop Proctor's first comprehensive trail map. When students learn from coaches with a diverse set of interests and a deep commitment to being a well-rounded individual, they become the type of Proctor graduates who positively impact the world around them. Derek was a master at this type of mentorship both in his role as coach as well as his greater role of educator.
Max Corcoran '90 | Equestrian
Max Corcoran '90 was exposed to riding and the equestrian world in Manchester, Massachusetts, from an early age. She started fox hunting with Myopia Hunt out of Pine Grove Stables in South Hamilton, Massachusetts. She continued to compete at Novice and Training levels in Eventing throughout her time at Proctor. Max's experience at Proctor mirrored that of many other students: becoming a more self-aware learner through the support of talented educators, forging lifelong friendships with classmates, and having fun competing in multiple sports. After Proctor, Max continued her passion for equestrian and became an integral part of Team U.S.A.'s Equestrian Team, serving as a Groom to some of the nation's top riders. As of her induction to the Proctor Athletics Hall of Fame in 2020, Max had been a four-time Team U.S.A. Member, President of the United States Eventing Association, United States Eventing Association Board of Governors member, Eventing Riders Association of North America board member, Equine Safety Committee, and organized the Middleburg Horse Trials, Great Meadow International, The Event at Rebecca Farm, The Fork, Ocala Horse Trials, and Ocala Jockey Club.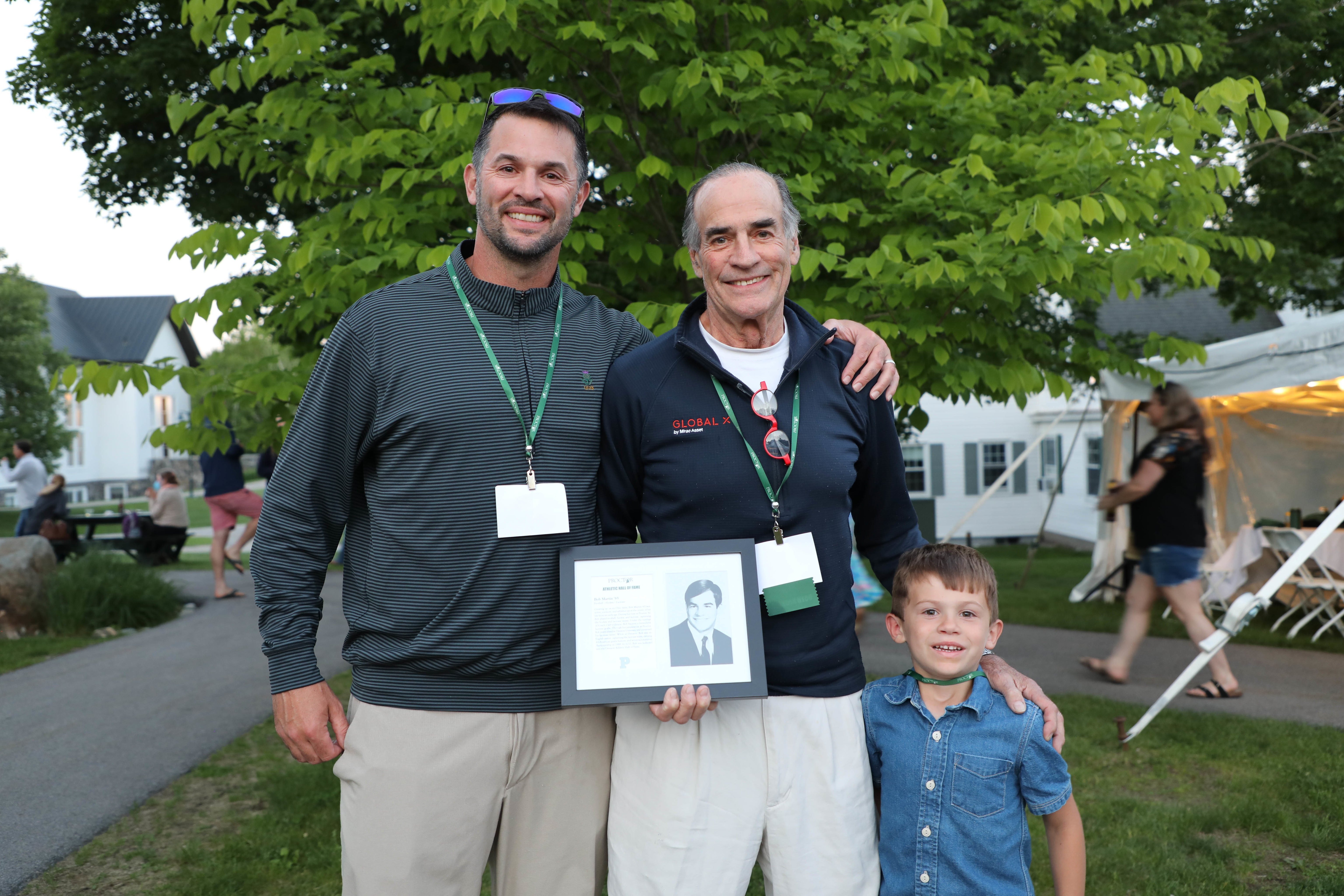 Bob Martin '65 | Football, Hockey, Lacrosse
Growing up on an Ohio farm, Bob Martin '65 was active outdoors, and athletics sat at the center of his life from an early age. During his time at Proctor, he Bob played football, hockey, and lacrosse, captaining the hockey and lacrosse teams. Under the tutelage of Coach Cliff Gillespie, Bob became a formidable lacrosse goalie. Through his preparation at Proctor, Bob matriculated to Denison University and continued his lacrosse career. While at Denison, Bob was an English major, captaining the lacrosse team, earning All-American goalie honors, and winning a national championship in 1968. In 2011, Bob was inducted into the Denison Athletic Hall of Fame.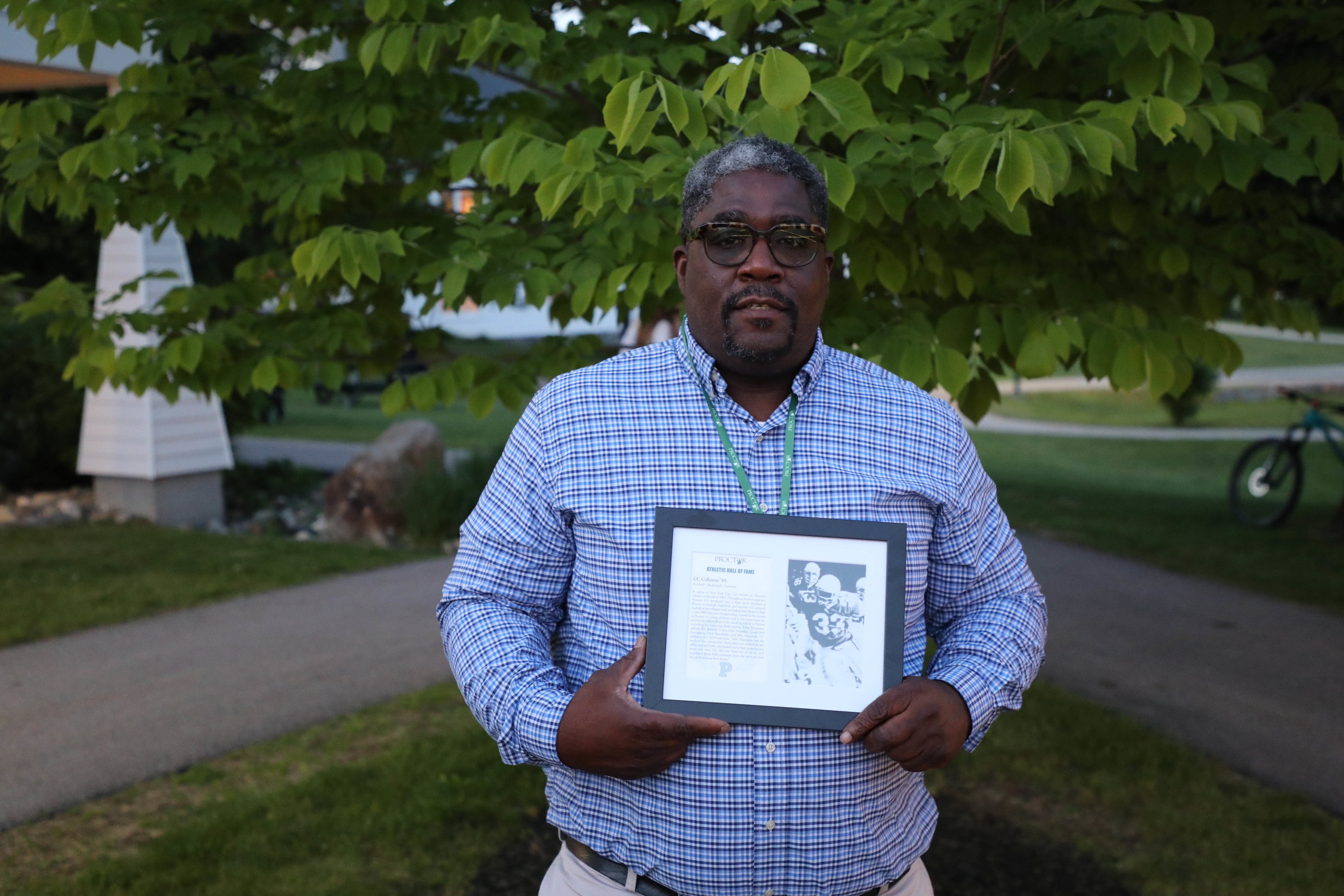 CC Callaway '85 | Football, Basketball, Lacrosse
A native of New York City, CC arrived on Proctor's campus in the fall of 1981. Throughout his four years as a Hornet, CC developed into a three sport standout at Proctor in football, basketball, and lacrosse. CC pursued football at the collegiate level and helped lead Ithaca College to the 1989 National Championship. Central to his success at Proctor, in college athletics, and in his career were the mentoring relationships of the adults in his life at Proctor including his Learning Skills teacher Ellen Yenawine, advisor Eva Mansell, Coach John Schoeller, Coach Bob Livingstone, Dick Beaullefille, and Mrs. Giampolo. CC reflected in a 2019 interview, "Mrs. Giampolo was the smile of the community. Every time you walked by her office and said hello, she smiled and at that moment, you knew you were OK. She was there for all of us, and sometimes those little moments mean the most to a kid who feels far away from home."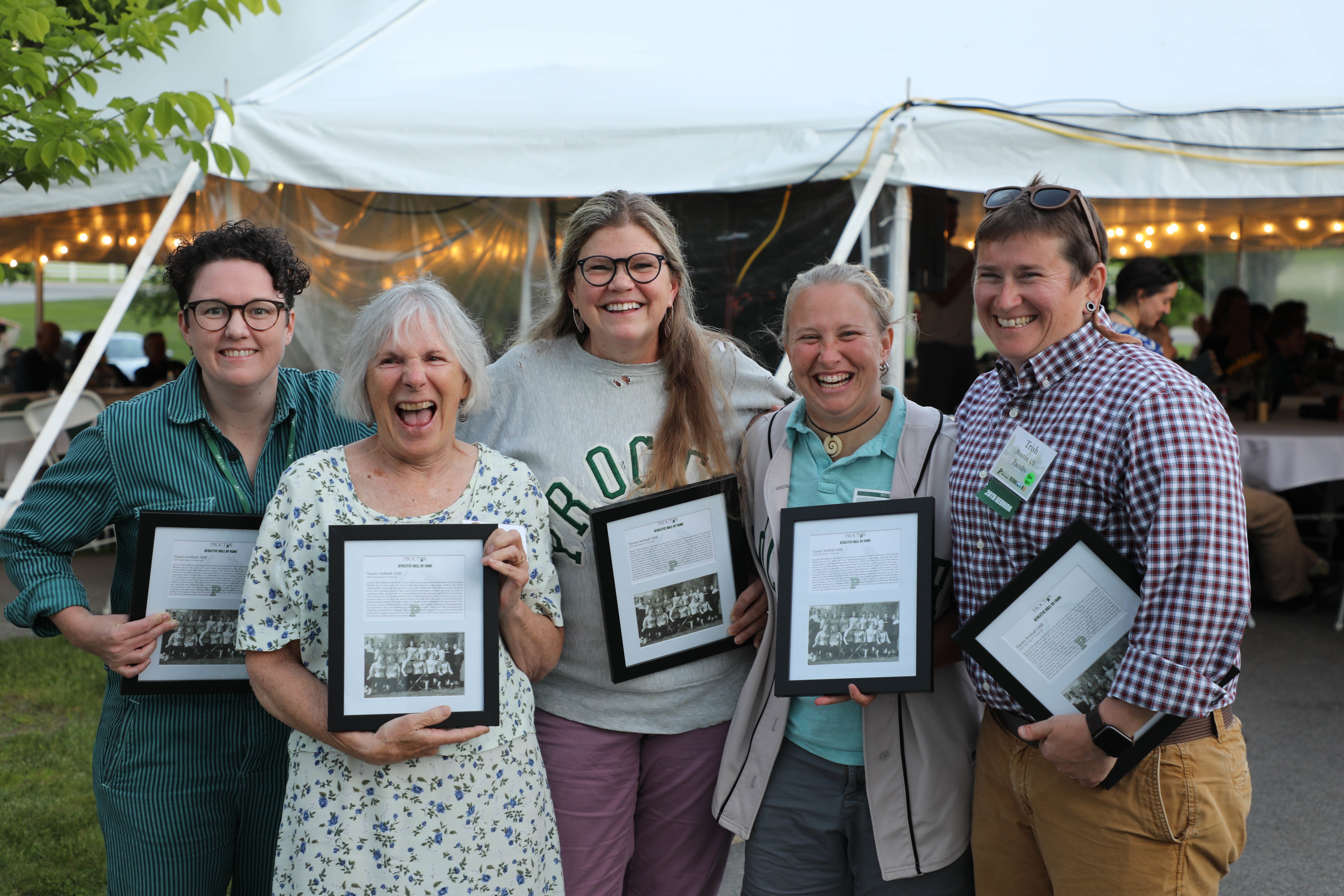 Girls Varsity Softball 2000
Proctor's 2000 softball team benefitted from the school's most dominant battery combination in Erica (Kattalia) Wheeler '00 and Trish Austin '01. Erica's double digit strikeouts in every game, combined with Trish's catching ability, immediately put opponents on their heels. While rivals Tilton School and New Hampton School were incredibly strong in league play, Proctor's combination of talent, teamwork, and sense of community within the group led to an unblemished record that spring. Coach Patty Pond remembers, "The combination of fierce competitiveness with a relaxed approach as a team made this group so much fun and so easy to coach. Erica had special rituals for the infield when they came to the mound after each strikeout, and the fireballs and double bubble in the dugout clearly contributed to the team's success!" This was a team that saw athletes with little softball experience come together to be a part of something bigger than themselves. They saw something special in the way the team treated each other and approached competition that drew them to the sport. Behind the leadership of its captains Erica and Kirstyn (Stockwell) Sterling '00, alongside coaches Patty Pond and Dani Hinkley, the 2000 Proctor Softball team secured the first, and only, undefeated season in program history.
---
2021 Inductees
Larry Maderia '86 | Soccer, Hockey, Lacrosse
A three-sport standout for the boys soccer, hockey, and lacrosse teams, Larry Maderia '86 was a force to be reckoned with both on the field and on the ice. A three-time member of coach Karl Methven's soccer team during a highly successful time, and four-time member of coach Bob Livingston's boys lacrosse team, as well as a two year player on the boys varsity hockey team under coaches Karl Methven and Doug Houston, Madeira's impact on Proctor athletics during his four years was significant. He would go on to play lacrosse at New England College and become the president of Rhode Island Youth Lacrosse beginning in 2005 until present day. In 2019, Madeira took over as the University of Rhode Island's club men's lacrosse team, leading the team to a national championship game in 2022, all while continuing his impact on young people in the sport.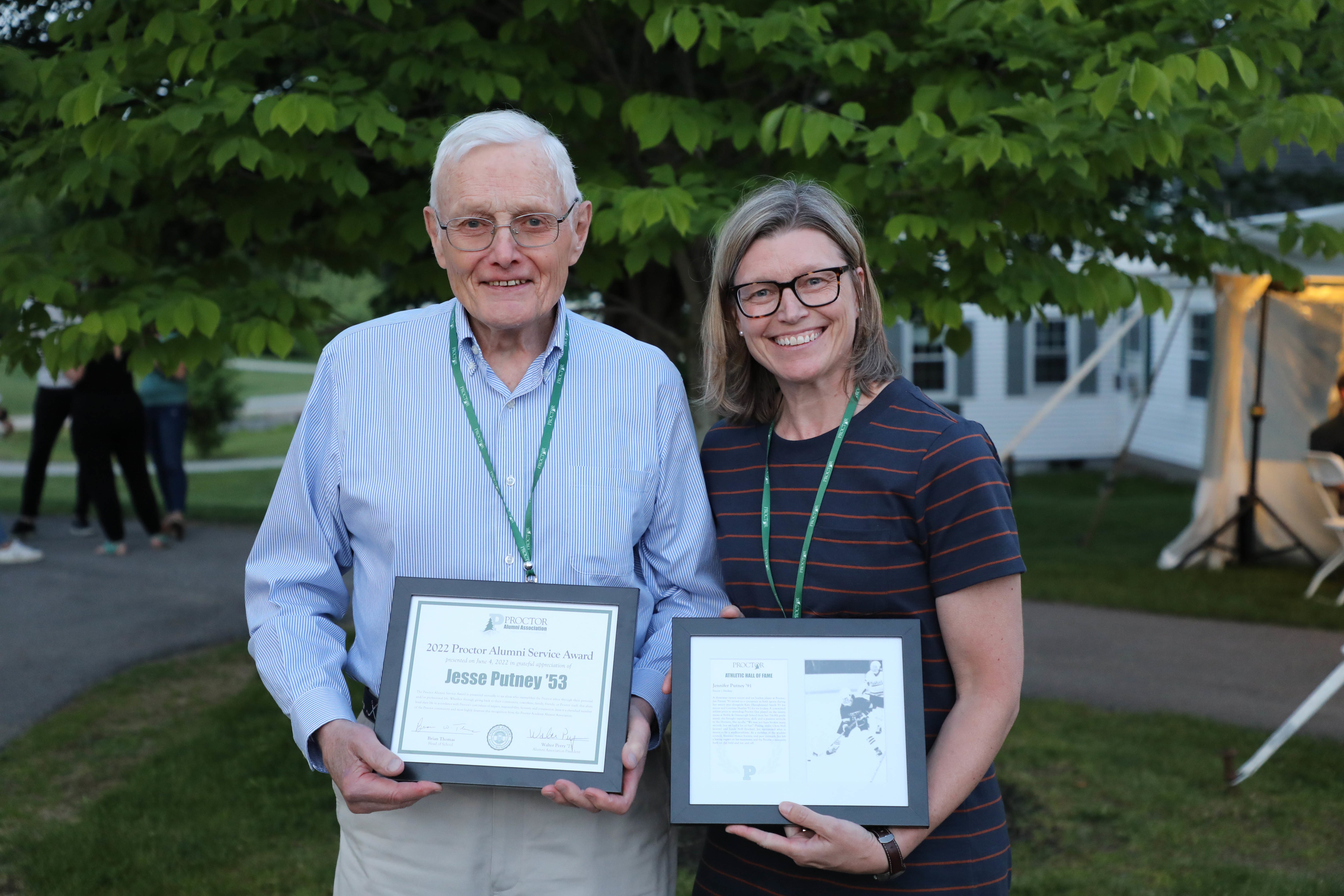 Jennifer Putney '91 | Girls Soccer and Ice Hockey
A three-year varsity soccer and ice hockey player at Proctor, Jen Putney '91 served as a co-captain in both sports during her senior year alongside Kate (Shaughnessy) Smith '91 for soccer and Caroline Heatley '91 for ice hockey. A committed athlete prior to attending Proctor (Jen played on the varsity teams at Noble & Greenough School from her 7th-9th grade years), she brought experience, skill, and a positive attitude to the Hornets. She recalls, "We may not have broken many records, but we had a lot of fun!" Playing under Chris Noll (soccer) and Linda Noll (hockey), Jen epitomized what it meant to be a student-athlete. As a member of the student council, National Honor Society, and peer outreach, Jen left a lasting impact on her teammates and the Proctor community both on the field and ice, and off.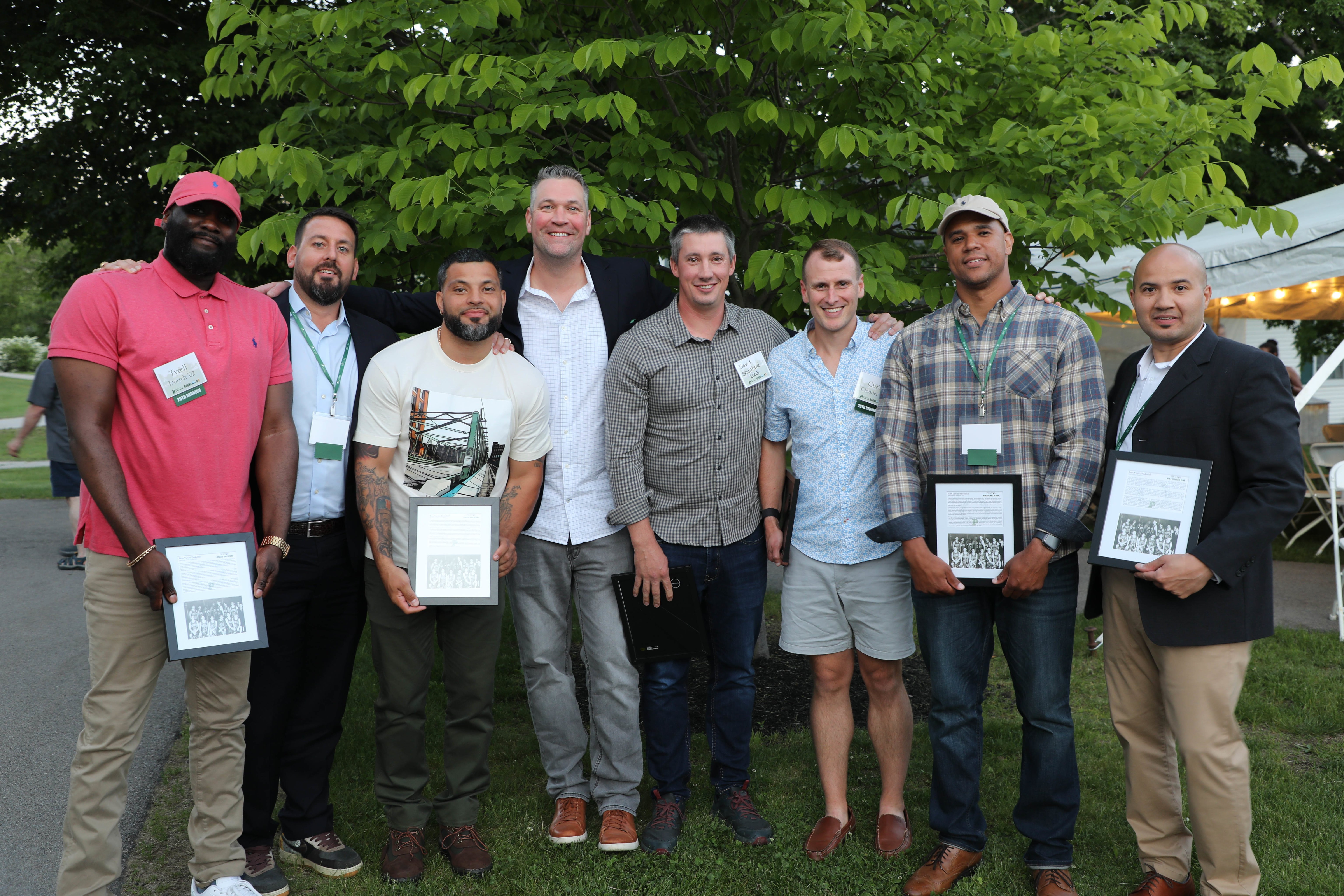 Boys Varsity Basketball, New England Champions 2001
Under the leadership of head coach Gregor Makechnie '90 and assistant coach Rigo Nunez, the 2000-2001 Proctor Academy boys basketball team stepped into the New England spotlight with the program's, and school's, first run at a New England title. Captains Adrian Maldonado '01 and Stevie Martinez '02 led a deep, talented, committed group of young men into battle each day. The team's hallmark was a relentlessly aggressive trapping defense. Whether it was an opening drill of practice or the final seconds of a playoff game, this entire roster competed and pushed each other to be their best selves.
Throughout the season, each member of the team wore a wristband with the letters DTRT, an abbreviation of the phrase Do The Right Thing. The team embodied a willingness to consistently do the right thing on and off the court. Members of the team served on the Student Council, as dorm leaders, participated in theatrical and musical performances. Each member of the team excelled academically, earning Honor Roll or Heads List distinction. Each of the 13 members of the team played multiple varsity sports. Ten members of the team participated in college athletics after graduating from Proctor.
Having compiled a regular-season record of 20-4, the team was awarded a home contest in the quarterfinal round of the NEPSAC tournament against Thayer Academy. The atmosphere was electric. Feeding off the energy of the crowd, the team prevailed by a large margin of victory and advanced to the semifinal game against Suffield Academy and the championship game against Tabor Academy. The team overcame a 13 point halftime deficit to earn a dramatic come-from-behind victory in the final seconds of the championship game, upsetting #1 seeded Tabor Academy. It was the complete and unwavering commitment to team and deep a love for one another that propelled the 2000-2001 basketball team to success on campus and on the court.
Erin Davey '06 | Soccer, Hockey, Softball
Some athletes are simply game changers. Erin Davey '06 was one of those players for Proctor's girls soccer, hockey, and softball teams of the mid-2000s. A two-time captain of the girls hockey team and leader on both the soccer pitch and the softball diamond, Davey elevated the play of those around her through her skill, attitude, and commitment to her teammates. During her senior season she helped lead the girls soccer team to a 9-2-2 record and the girls hockey team an 18-7-4 record. In addition to her exploits on the field, Davey embraced the entirety of her Proctor experience by studying off-campus on Ocean Classroom during the fall of her junior year. Davey would go on to star for Connecticut College's women's hockey team from 2006-2010 before joining the prep school ranks as a coach at Williston Northampton School where she has coached soccer, hockey, and softball. Her hockey coach during her senior year at Proctor, Christina Dotchin reflects, "Erin Davey was an incredible athlete and leader in the Proctor community. She always led the team by example, displaying grit, determination, and an unwavering confidence in her teammates. She knew how to strike the perfect balance as a leader, pushing her teammates to be competitive, but also had the ability to leave us all in hysterics when we needed a good laugh. I am so happy that she has continued to share her passion for athletics, leadership, and teamwork, with faculty and students in her current role at Williston Northampton. We need more educators and coaches like Erin Davey in the world!"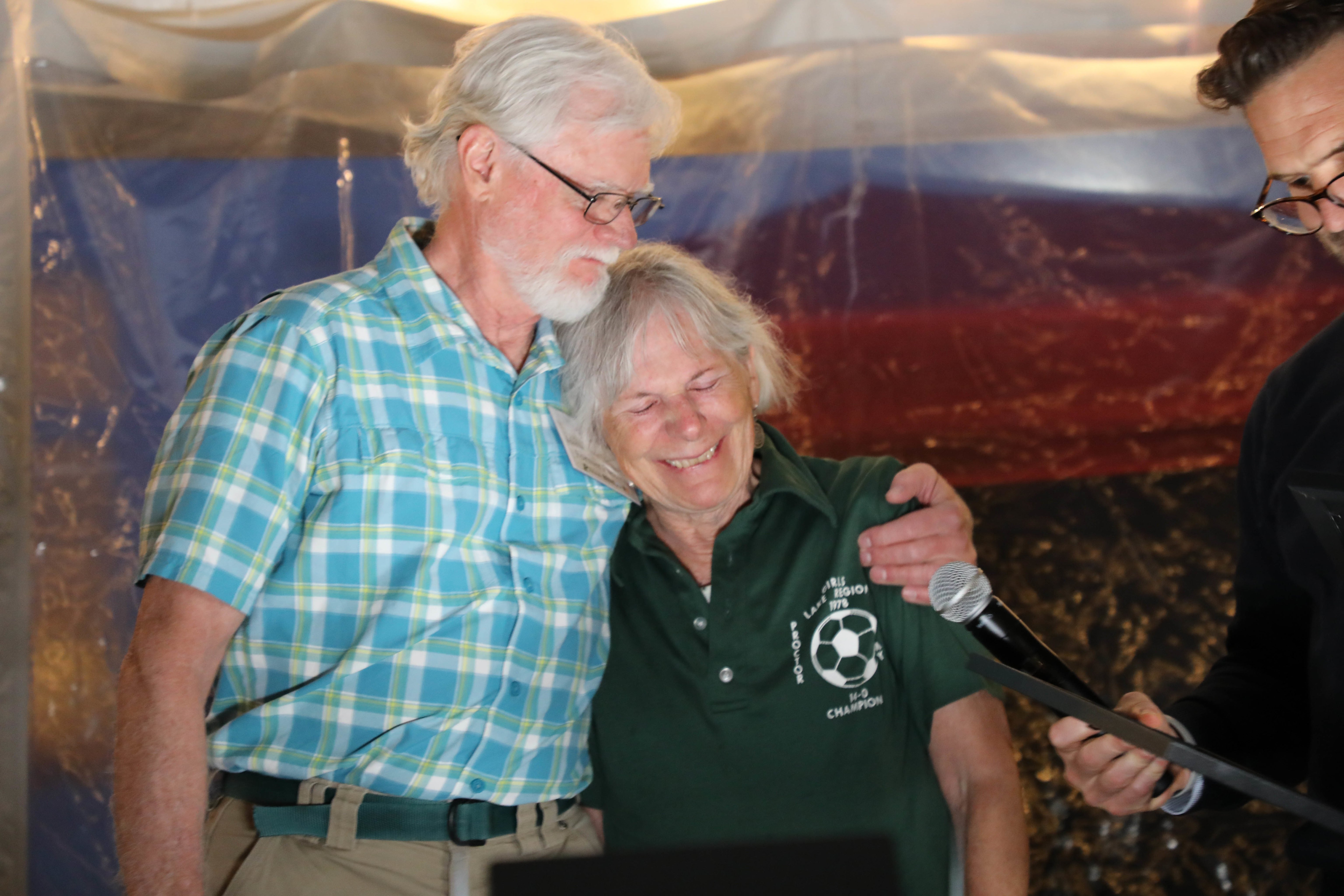 Bert Hinkley (Coach)
When an individual devotes more than thirty years of their career to a single school, building and cultivating athletic programs along the way, their impact on the trajectory of the school is lasting. When Bert Hinkley arrived at Proctor in 1975 with his wife Dani, they immersed themselves in all that Proctor sought to become as a school. Emboldened by school leadership to design athletic offerings that aligned with student interests, Bert became an icon in the world of whitewater slalom kayaking. He took a fledgling program and grew it to a staple of Proctor's afternoon program that remains to this day. Likewise, his passion for the outdoors and all things snow sports saw him create a lasting impact on Proctor's ski programs throughout the 1980s and 1990s, donating countless hours of time to the Andover Outing Club and the five Olympic athletes it produced. Just as he has in his retirement as he continues to ski and paddle regularly, Bert modeled to students and colleagues throughout his time at Proctor what it meant to be active, engaged, and passionate about lifelong participation in sports.
Dani Hinkley (Coach)
When Dani Hinkley arrived at Proctor in 1975 with her husband Bert, they immersed themselves in all that Proctor sought to become as a school. Just five years after becoming coeducational as a school, Dani's role as a female coach at Proctor during these transformative years was critical to those young women who were first afforded the opportunity to take part in athletics. As Proctor's first girls soccer, tennis, and softball coach, among countless other roles on campus and in the local community athletic offerings like the Andover Outing Club, Dani provided an essential voice for female athletics at Proctor. Dani continued to advocate for and support female athletics at Proctor throughout her career, positively impacting generations of students.
---
2022 Inductees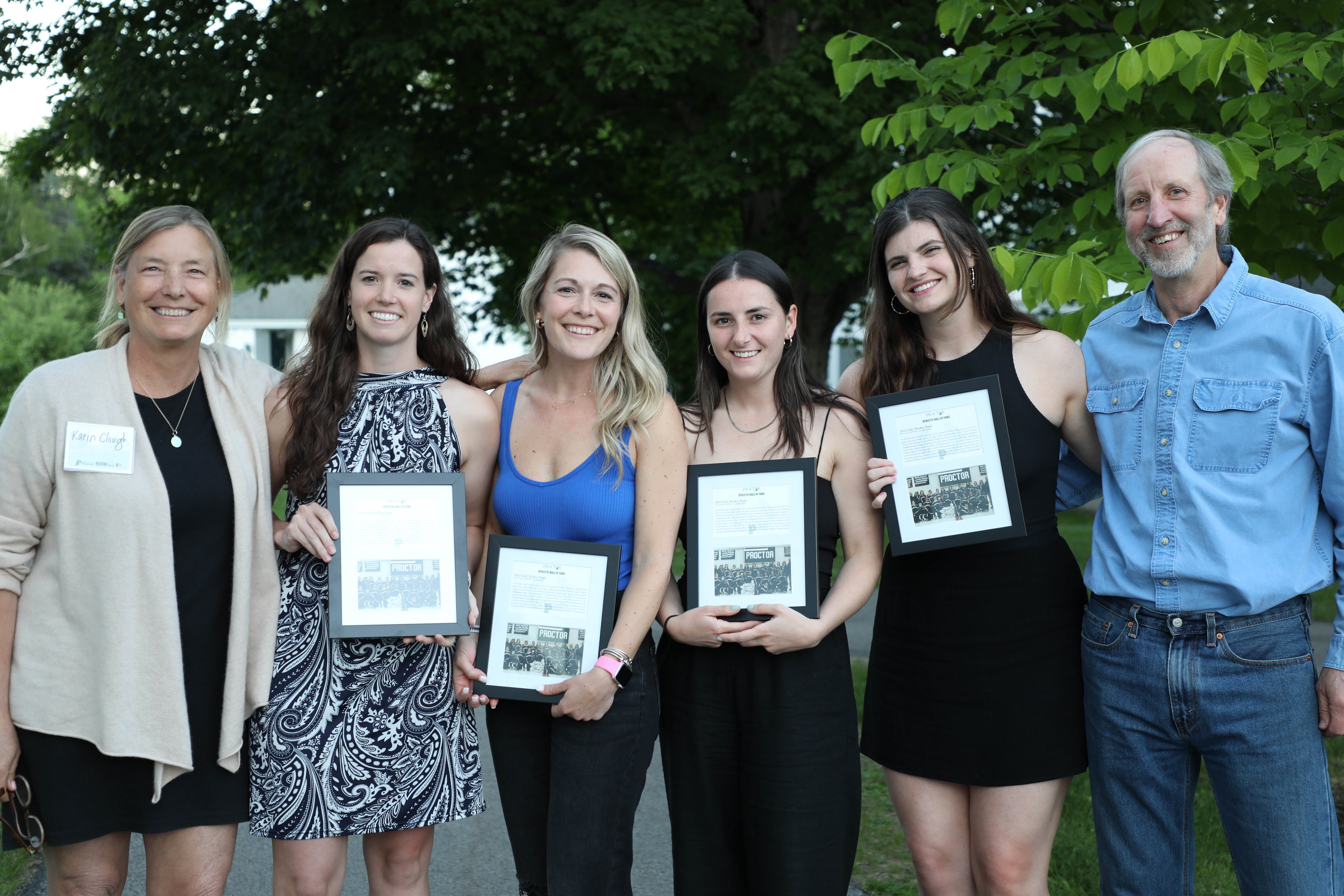 Girls Varsity Hockey 2012
As the first Girls' Varsity Hockey team to be crowned NEPSAC Champions, the 2011-2012 season was undoubtedly one for the ages. Under the leadership of Head Coach Christina Dotchin and Assistant Coaches Karin Clough and Doug Houston, the Hornets navigated a challenging regular season finishing 21-11 and earning a berth in the NEPSAC tournament. Led by team captains Kelcey Crawford '13, Breanna Davis '12, and Nikki Gorman '12, the Hornets' path to a title began with victories in the quarterfinals over Thayer Academy 6-1 and in the semifinal over Rivers School 3-1. The team would need the grit, determination, and team-first mentality cultivated over the season to edge Middlesex School 5-4 in a thrilling overtime NEPSAC Championship game, Proctor's first female sport NEPSAC Championship.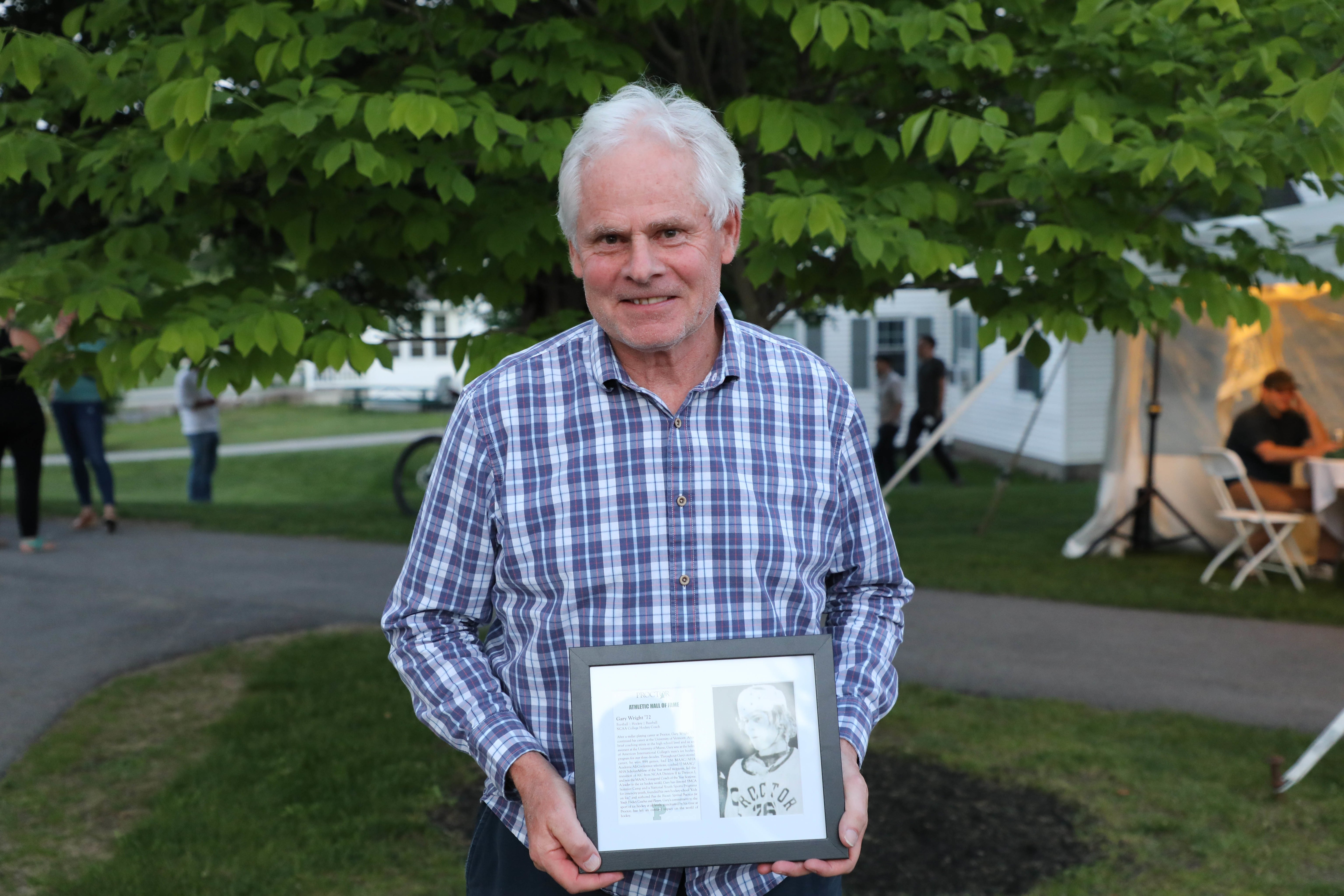 Gary Wright '72 | Hockey and Post-Proctor Coaching
After a stellar playing career at Proctor, Gary Wright '72 continued his career at the University of Vermont. After brief coaching stints at the high school level and as an assistant at the University of Maine, Gary was at the helm of American International College's men's ice hockey program for over three decades. Throughout Gary's storied career, he coached 994 games, had 256 MAAC/AHA Academic All-Conference selections, coached 17 MAAC/AHA Scholar-Athlete of the Year award recipients, led the transition of AIC from NCAA Division II to Division I, and was the MAAC's inaugural Coach of the Year honoree. A leader in the ice hockey world, Gary has directed YMCA Summer Camp and a National Youth Sports Programs for inner-city youth, founded his own hockey school "Kids on Ice," and authored Pass the Biscuit: Spirited Practices for Youth Hockey Coaches and Players. Gary's commitment to the sport of ice hockey at all levels, punctuated by his time at Proctor, has left an outsized impact on the world of hockey.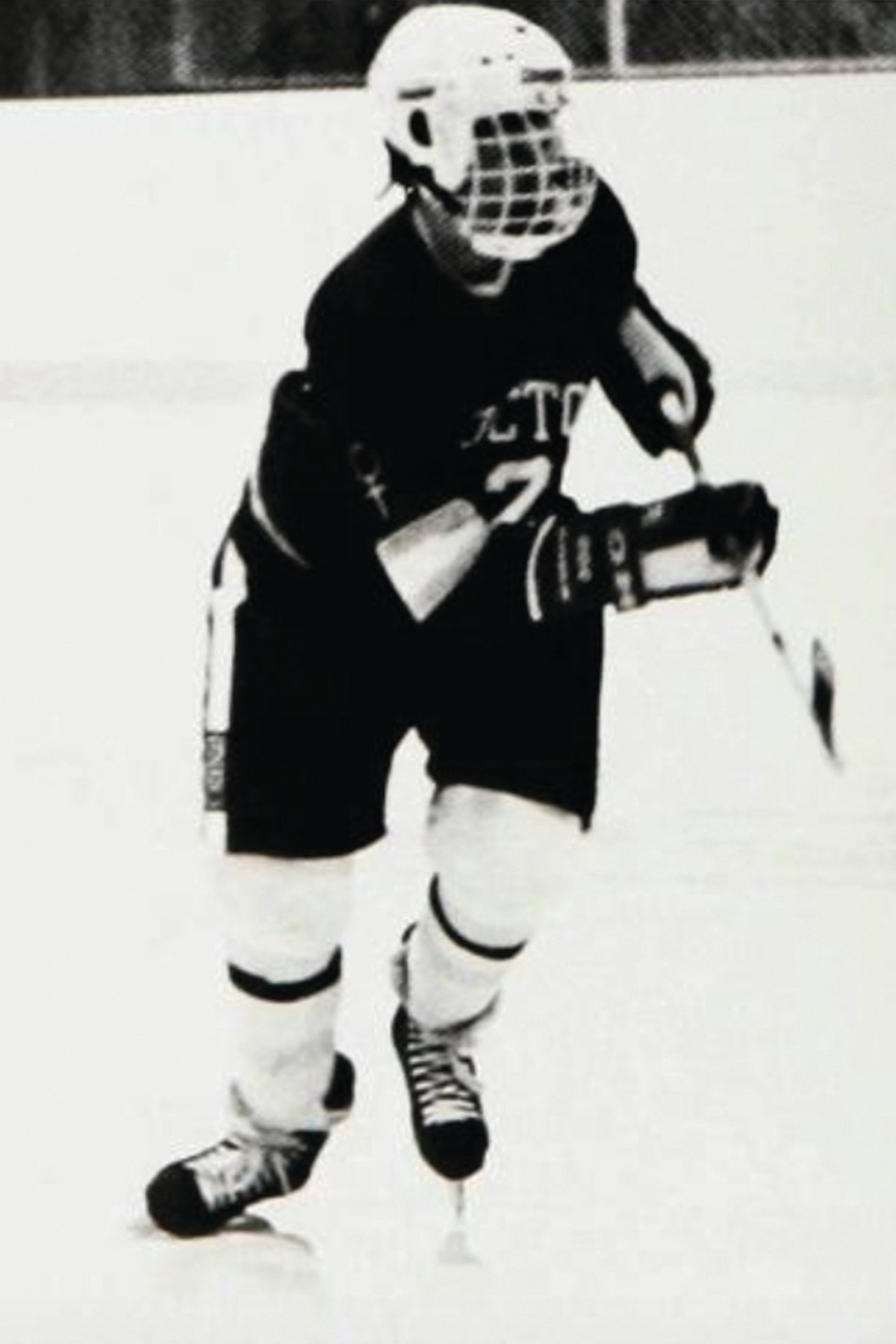 Anya (Reed) Goodridge '87 | Field Hockey, Hockey
One telltale sign of a strong team player is supporting and lifting up those around them. When Anya Reed Goodridge '87 learned of her induction into the Proctor Athletics Hall of Fame, she sent in a list of names she believed were more deserving of the award. This is emblematic of her character. A four-year student at Proctor, Anya was a member of the Varsity Girls Field Hockey and Varsity Girls Ice Hockey teams. She fondly recalls the runs up Bradley, the sprints up the hill "it seemed like a mountain" behind the football field and the car rides to tournaments in snow storms that "made it all so magical." Under the tutelage of coaches Boo Ellison and Anne Swayze (field hockey) and Tom Eslick and former Head of School David Fowler, Anya's time as a student-athlete was overwhelmingly positive, and noted that her coaches made the competitions memorable (win or lose). "Putting on skates and suiting up for practice every day or games, we learned the game with his patience, guidance, high expectations and he helped us develop confidence on the ice that helped us everywhere-on and off the ice," noted Anya. "The memories are much more a part of our psyche… down deep where they are embedded in our hearts."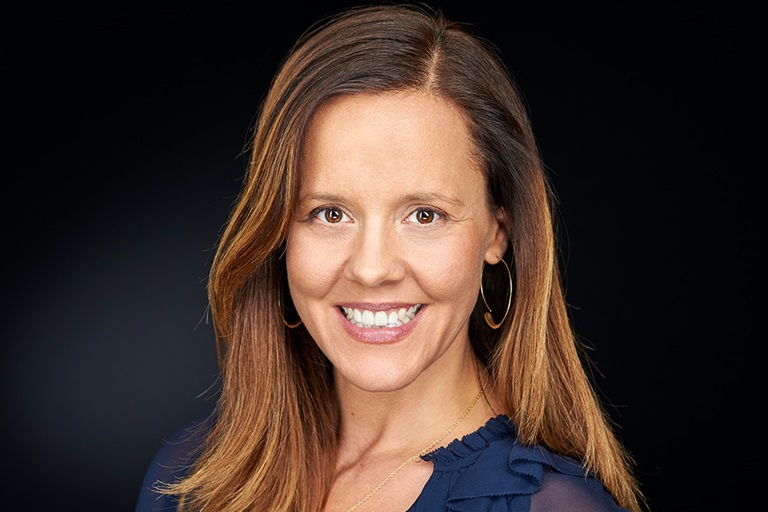 Christine Walshe '97 | Post-Proctor Impact
Christine Walshe '97 has spent a career fundraising for U.S. Ski and Snowboard and, since 2004, working with the United States Olympic and Paralympic Committee (USOPC). Serving in multiple capacities during her career, Christine became the Chief Development Officer of the USOPC and the President of the United States Olympic and Paralympic Foundation (USOPF). As a hands-on fundraiser, Christine led a staff of 30 and helped lead the USOPF in its $30M in annual fundraising among the 55 national governing bodies that make up the Olympic and Paralympic movements in the United States. Christine is committed to the mission and envisions leading the Foundation through the 2028 Los Angeles Olympic and Paralympic Games, when the country will celebrate thirty years since it last hosted a Summer Games. An avid athlete during her time at Proctor, her commitment to athletics at the highest level, for individuals of all abilities, is inspirational.
Cliff Gillespie (Coach) *posthumously awarded
Coach Cliff Gillespie arrived at Proctor Academy in the fall of 1959 after serving in the United States Air Force and attending the University of New Hampshire. At UNH he played varsity football before being introduced to the game of lacrosse by the legendary coach, A. Barr "Whoops"' Snively. Whoops was his greatest mentor and role model and instilled in Cliff a true love of the game. While playing lacrosse at UNH, Cliff received honorable mention for the All-American Intercollegiate Lacrosse Team. At Proctor, Cliff would teach math and science, coached, and was dormitory head. He led the varsity football and junior varsity hockey teams at the school before establishing the lacrosse program, at first scrounging for sticks, helmets, and other equipment, before the sport became officially recognized in 1961. After an illustrious career in education and coaching, Cliff would become the U.S. Lacrosse Association's first ever recipient of the Carroll Jr. Exemplary Coach of Year Award in 1994. He would also be inducted into the New England Hall of Fame for lacrosse, where there is a bronze statue bearing his name. Cliff had a commanding presence, but a compassionate core and always led by example, never expecting more from his players than he asked of himself.