Thanks to Technology Director Jim Cox and his tech team, almost all home athletic contests are Livestreamed to our families. With hundreds of events streamed during the past year, it is hard to select a Top 10 of 2015, but here's our best attempt. Enjoy and be sure to subscribe to Proctor's Livestream channel to catch the best of 2016 as it happens!
---
#10) Football: Game Winning TD with 7 Seconds Left
The varsity football team was all tied up with Portsmouth Abbey in the final seconds of their final game of the season when Tristan Moultan '16 capped a reslient drive by the Hornets with this touchdown run with just :07 left on the clock!
#9) Girls' Hockey: Secures Win over NMH 2-0 - February 28, 2015
In their regular season finale and final home game for seniors, the girls' varsity hockey team earned a 2-0 win over NMH thanks to Hazel Brewster's two points on the night, including a late goal to secure the victory!
#8) Boys' Lacrosse: Nate Reilly '17 Game Winner - April 17, 2015
Offering Spring Family Weekend spectators one of the best all around games of 2015, the boy's varsity lacrosse team battled Kimball Union under the lights. Nate Reilly '17 notched the game winner with less than :30 seconds to play as the Hornets walked away with the win!
#7) Field Hockey: Lexi Tilton '16 Penalty Shot in OT Win - October 14, 2015
In an absolute battle with rival Holderness School, Proctor forced overtime against the Bulls before Lexi Tilton '16 earned a penalty shot which she calmly put home to end the game and secure a sweep of the Bulls on the season! Unfortunately, we don't have film from this game, but do have some great pictures from Rich Tilton P'16, P'18!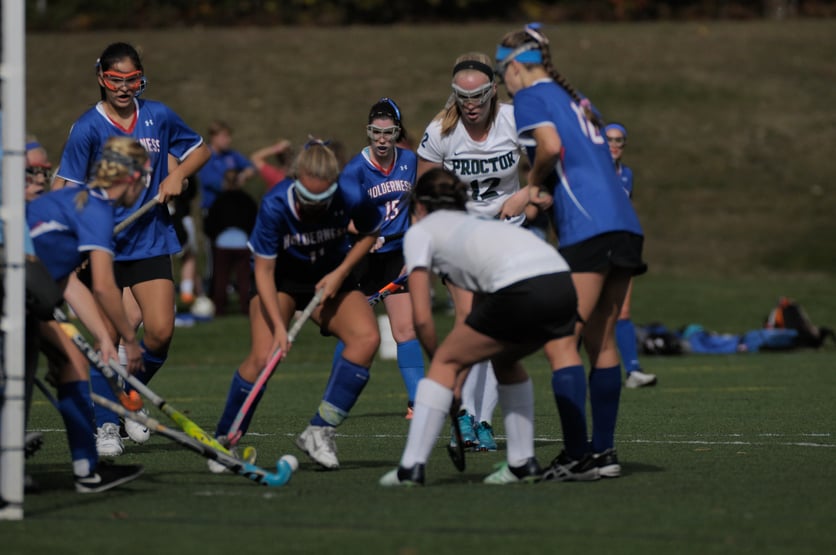 #6) Boys' Basketball: Caleb Green '17 to Tshiefu Ngalakulondi '17 – January 9, 2015
While there will certainly be more highlights by these two before their Proctor careers are over, this half-court alley-oop from Caleb Green '17 to Tshiefu Ngalakulondi '17 definitely deserves top 10 honors!
#5) Girls' Soccer: Sofia Weber '19 Game Winner – October 14, 2015
In a terrific team outing versus the Huskies, Marvin Award winner Sofia Weber '19 had the game winner on this beautiful shot from well outside the penalty box. Trust us, you'll want to watch this again and again!
#4) Boys' Soccer: Max Barrett '16 Save – October 16, 2015
Senior goalkeeper Max Barrett '16 has been making big saves for the past four seasons as a starter for the boys' varsity soccer team. He made one of his biggest against league leader Brewster Academy late in the game to preserve Proctor's first win over the Bobcats in over a decade!
#3) Girls' Basketball: Elemy Colome '15 Scores 1000th Point - February 11, 2015
Only two girls have scored 1000 points in Proctor basketball history. Elemy Colome '15 became the second as she scored five early points in a win over Brewster Academy. Here's Elemy's 1000th point!
#2) Boys' JV Basketball: DJ Rankins '19 Buzzer Beater - December 11, 2015
Down 41-42 with four seconds left in overtime, DJ Rankins '19 received the inbound pass and swished a thirty-footer at the buzzer to win the game. The crowd's celebration is almost as noteworthy as the shot itself!
#1) Peter Southworth Walks Again! - December 2015
Our #1 play of 2015 did not happen on the athletic fields, but represents the same type of grit, determination, and perseverance we hope our athletes learn through competition. After suffering paralysis due to an infection in his spinal cord, longtime English teacher and boys' soccer and lacrosse coach, Peter Southworth, was prepared to never walk again. He has shocked his doctors and brought joy to each of our lives in the following video clip shared by Adam Jones by walking independently again!