Proctor's girls' varsity soccer team knew they would experience some growing pains this season with ten freshmen and sophomores on the roster and two new coaches at the helm. After getting out to a strong start, a combination of untimely injuries and stiff Lakes Region competition have provided the types of challenges first year head coach Carlton Wheeler-Omiunu and his assistant Lindsey Allenby know will pay dividends for the program in the long run. With five games remaining in the season, the team looks to improve upon its 3-6-1 record and lay a solid foundation for the future.
Senior captain Alaina Robie has provided leadership and tough play in the midfield all season, and acknowledges the learning curve the season has presented, "We have a lot of new girls on the team this year (10), so we have spent valuable time working on communication skills and learning to play as a unit while on the field. Our passing and combination play, especially in the offensive third, is a testament to how much we've improved this season."
Wheeler-Omiunu echos his captain's analysis of the team, "We've played some very tough opponents during the past two weeks, each of whom have a core group of players playing together for three or four years. With three ninth graders starting on defense for us and two more in the midfield and up top, we understand there are going to be some growing pains that come with our inexperience. Though the scores of our recent contests may not reflect our growth, we believe we are playing as well now as we have all season and the girls are really beginning to understand tactically how to play the game."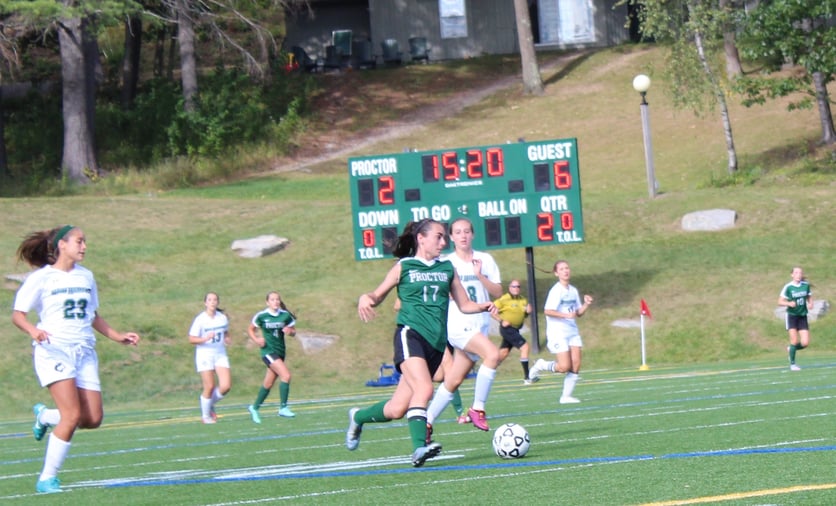 During the final stretch of the season, both players and coaches hope their hard work, vastly improved skills, and growing confidence will result in a few more tallies in the win column. Wheeler-Omiunu notes, "Our goal is to help the team understand how to move the ball on the ground and communicate effectively. As players feel more comfortable in their positions, and develop their skills technically, they are able to build confidence as individuals and as a team." Robie adds, "I have really enjoyed having Carlton and Lindsey as coaches! They really know the game, and they are both very passionate and invested in the team, which I have greatly appreciated. We've been working hard on transitioning from the back to the middle to the final third and getting enough players in the box to be dangerous. We really want to finish this season strong and are excited about the next five games!"
YCN recently did a spotlight on the Proctor Girls' Soccer Team
When looking at the team's final three weeks of the season, Wheeler-Omiunu reflects, "We keep having to remind the girls how much they have improved this year. They have learned to play two touch when needed and are able to move the ball on the ground switching the point of attack as well as finding ways out of pressure from the back. Our goal is to have the team as a whole walk off the field on our last day of training knowing they have given everything they could have given to this team. We also want them to stay hungry for knowledge and keep asking questions about how they can improve, how we can improve as coaches, and how we can keep building our team's culture here at Proctor."
The team will travel to Berwick Academy Wednesday afternoon before three straight home games (Holderness School, Tilton School, and Gould Academy) and a final away contest at Brewster Academy. Best of luck, girls!