Proctor Academy's Reilly Walsh '17 (Andover, NH) was drafted Saturday by the New Jersey Devils with the 81st pick in the 3rd round of the 2017 NHL Draft. Walsh will attend Harvard University in the fall, and played for the Chicago Steel (USHL) this past fall and spring book ending a tremendous season for the Hornets in which he became the first defensemen in more than 30 years to lead all of prep hockey in scoring with 69 points (30 goals).
A native of Andover, NH, Reilly grew up on Proctor's campus with his parents, Mike and Becky Walsh, and younger brother Ronan '20. Throughout his Proctor career, Walsh redefined the traditional role of defenseman and dazzled opponents with his stick handling and skating abilities. In a post-draft interview, Reilly reflected on his being drafted, "Hearing my name called and walking down to put on the Devils jersey was an unbelievable experience that I will never forget." He added, "As I head to Harvard for this upcoming season, I know I need to continue to improve my defensive skills and to work on becoming a pro-style defender. I'm excited about what lies ahead and know there is still plenty more hard work to come."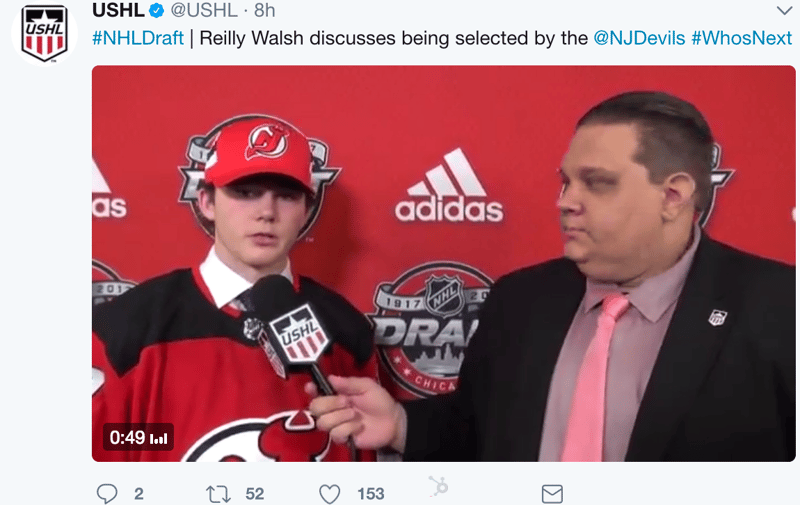 Check out video of Reilly's interview here.
Congratulations to Reilly Walsh on this outstanding honor! Walsh will join former Hornet teammate, ECAC Goalie of the Month, ECAC and NCAA East Regional MOP, Mike Richter Award semifinalist, Walter Brown Award semifinalist, and next year's Crimson captain, Merrick Madsen '13 (Harvard University / Arizona Coyotes) at Harvard in the fall. Madsen was selected in the 6th round of the 2013 NHL Draft by the Philadelphia Flyers and has since had his rights traded to the Arizona Coyotes.