As spring sports get underway on campus, we reflect on the winter athletic season and the tireless efforts of coaches, athletic trainers, athletic staff, ski area crew, hockey rink staff, and students, the winter athletic season requires a remarkable amount of energy and commitment.
We define success by many measures at Proctor. Keeping our focus on the lessons taught and relationships developed through sport reminds us why we commit the time, energy, and resources to our athletic programs. Winning is just icing on the cake. Thank you to everyone that made the winter season happen, and to the staff at the Proctor Broadcasting Network for working tirelessly to provide livestreams of all home athletic contests!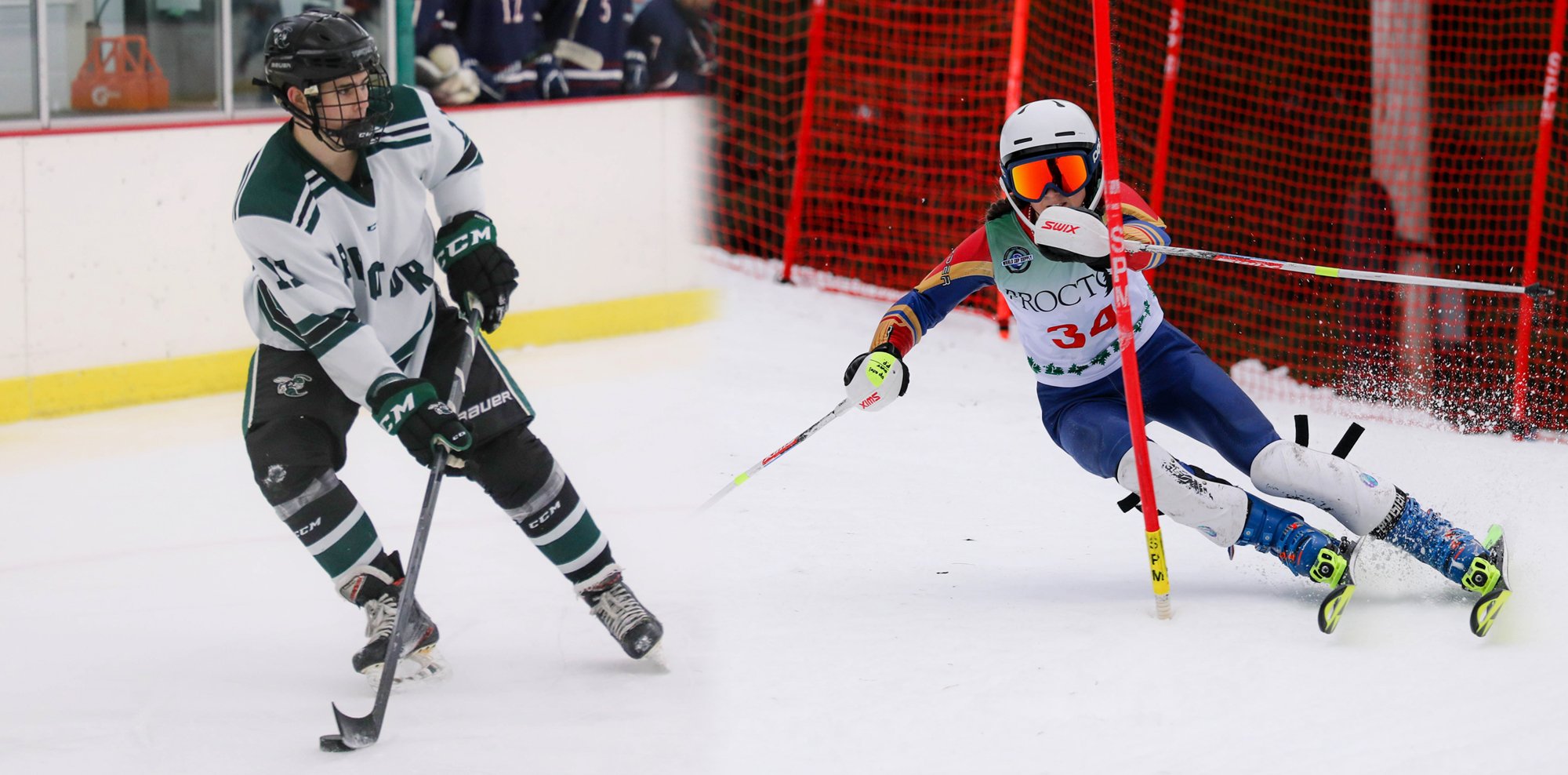 Marvin Awards
The Marvin Award is given each season to two students who are new to Proctor for their leadership, sportsmanship, and ability. This fall's Marvin Award recipients are Kendall Prewitt '26 and Jon Groth '23. Below are words shared by their coaches.
Kendall Prewitt '26 – Eastern Skiing
Kendall takes it upon herself to train with intensity and focus every session she is on the hill. This trait helped Kendall perform at an incredibly high level this season, realizing her goal of qualifying for Eastern Regionals, by earning the 5th spot out of a field of over 150 skiers. Off of the hill, Kendall is an ambassador for Proctor as a Green Key tour guide, while balancing a rigorous academic schedule with a demanding training and race schedule.
Kendall's positivity and determination make her a natural leader of the U16 ski team. She is beloved by all members of the team, and it is clear by the interactions and comments of the group that they hold a great deal of respect for Kendall. She has made a cultural difference on our team with her leadership, athletic success, and dedication. Kendall's performance on the ski hill has established her as one of the top U16s in the east, and her character has helped her team to bond.
Jon Groth '23 - Hockey
Jon Groth brought commitment, leadership and sportsmanship to the boys' varsity hockey team this year. Supremely focused and driven daily to be his best on and off the ice, Jon led by example this winter and played a large role in our success as a team, as well as in creating a positive culture in the locker room. He is a good teammate, holds fellow players accountable, and also has their backs when they are in need of support. Jon was one of our top offensive producers, but he did more than score -- he played big minutes in key situations and was a force at the face-off dot. He's a natural leader and we were fortunate to have him as a part of our team this year. We thank him for all he's given the program this season and wish him the best of luck with what lies ahead. Congratulations, Jon.
Boys' Varsity Basketball
Defensive Player of the Year – Charlie Davis '23
Coaches' Award – Chris Chol '25
All-Lakes Region - Chris Chol '25
All-NEPSAC - Chris Chol '25, Wilkin Paulino '25 (Honorable Mention)
Boys' JV Basketball
JV1 Coaches' Award – Brice Bendixsen '24 & Theo Mehlman '25
JV2 Coaches' Award - Noah Munene '26 & Owen Woods '25
Girls' Varsity Basketball
Coaches' Award – Sierra Jean '25
Most Outstanding Player – Paloma Garcia '23
All-Lakes Region - Sierra Jean '25, Paloma Garcia '23
All-NEPSAC - Paloma Garcia '23, Sierra Jean '25 (Honorable Mention)
Girl's JV Basketball
Coaches' Award – Carly Lorio '26
Leadership Award – Kyara Cruz '26
Boys' Varsity Hockey
7th Player Award – Augie Oberting '23
Warrior Award – Colin Kwak '23
Wright Hockey Award – Maks Watton '23
All-Lakes Region - Nick Marrocco '23, Cam Gwatkin '23
Boys' JV Hockey
Jivva Vezina – Charlie Maynard '24
Most Valuable Player – Simon Potter '24
Girls' Varsity Hockey
Most Valuable Player – Ella Maher '23
Most Improved Player – Cade Wiley '25
Wright Hockey Award – Lola Randolph '23
All-Lakes Region - Ella Maher '23
All-NEPSAC - Ella Maher '23
Girls' JV Hockey - no awards
Alpine Skiing
Most Improved Skier – Lily Picotte '23 & Lagan Salathe '23
Most Valuable Skier – Nina Garbarino '24 & Willem Naughton '24
All-Lakes Region - Nina Garbarino '24,
All-NEPSAC -
Lagan Salathe '23
All-NEPSAC Honorable Mention -
Evie Lovell '25,
Lily Picotte '23,
Seth Barkan '26,
Rohan Goswami '24,
Willem Naughton '23,
Niko Lyras '23
Nordic Skiing
Spirit Award – Frances Butterfield '25 & Noah Gardner '25
Growth Award – Max Preuss '26
Speed Award – Georgia Nichols '26
All-Lakes Region - Georgia Nichols '26, Braeden Mackenzie '24, Brooke McChesney '25, Phoenix Verite '23, Noah Gardner '23
Niko Cole-Johnson
Burke Pekala
All-NEPSAC Honorable Mention - Frances Butterfield '25, Braeden Mackenzie '24, Phoenix Verite '23, Brooke McChesney '25, Georgia Nichols '26, Conrad Laesch '24, Niko Cole-Johnson '25, Noah Gardner '25
Ski Jumping
Most Valuable Skier – Lillian Holley '23
Coach's Award – Natalie Sisemore '23
Freeski and Snowboarding - No Awards
All-Lakes Region -
All-NEPSAC -