While most Proctor students depart for winter break at noon Thursday, six athletic teams are gearing up for holiday tournaments and training camps. Read more about these teams, upcoming games/races, and the exciting international training trips planned below!

Nordic Skiing - Quebec Training Trip (12/15 - 12/19)
Nordic Skiing has had a busy beginning of winter term taking advantage of good early snowfall and top-notch snow-making at the Proctor Ski Area. Today, they depart for their annual training trip up to Quebec, Canada for four days (12/15 - 12/19). Katie Ball '17, the Nordic captain, notes, "Thursday after school adjourns for Holiday Break, the Proctor Nordic team will travel to just outside of Quebec City for our annual training camp. While staying at Mont St. Anne (a locale loved by the skiers for its hot tub equipped condos) PA Nordic will train at Foret Montemorency and travel into Quebec City for food and entertainment (think giant ice slide). We are anticipating very extreme weather with temperatures in the -20ºF range for the first day. But nonetheless, we have a great yield for the number of team members participating and the Canada trip is traditionally a highlight of the season as a whole." With a big season ahead of them, the Nordic ski team will be busy with lots of training sessions and activities to prepare for races to come.
Boys Varsity Hockey - Lawrence/Groton Tournament (12/15 - 12/17)
Proctor's varsity hockey team has a busy break ahead of them as they make their annual trek to the Lawrence/Groton Tournament. Thursday afternoon they face Groton School at 4:00 PM, followed by two games on Friday (Dexter School at 9:00 AM and Pomfret School at 7:00 PM). The final day's schedule will be based on performance during the first three games. Good luck to the boys this weekend!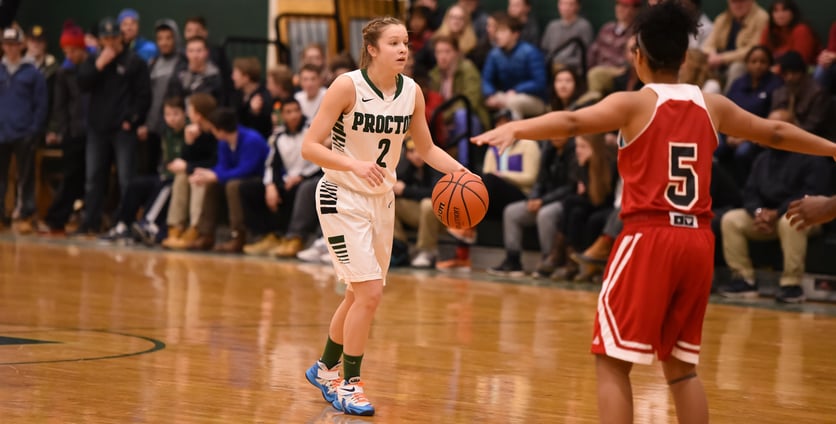 Girls Varsity Basketball - Lawrence/Groton Tournament (12/16 - 12/17)
The girls varsity basketball team also travels to Lawrence Academy/Groton School for their holiday tournament. They face off against St. Andrew's School at 5:00 PM on Friday, followed by a quick turnaround against Lawrence Academy at 8:00 PM that night. The rest of the tournament will continue with games on Saturday depending on their performance Friday night.
Boys Varsity Basketball - St. Andrew's Holiday Classic (12/16 - 12/17)
Boys varsity basketball has an active beginning of winter break as well, with the St. Andrew's Holiday Classic in Barrington, RI. Their first game versus Bridgton Academy at 3:30 PM on the Friday December 16, followed by a big matchup with Lawrence Academy at 4:30 pm on Saturday afternoon. If you are in the area, it would be great to come out and support the Hornets, and see some of the highest level of basketball in the country.
USSA/FIS Skiing Team - Training at Proctor (12/28 - 1/2)
The USSA/FIS skiing team will be training at the Proctor Ski Area from December 28 - January 2 when they will host their annual an open FIS race at the Proctor Ski Area. With meals provided in Proctor's dining hall by Ty, they will be well fueled for training! Be sure to come out to the ski area on January 2 for one of the biggest races of the year!
Girls Varsity Hockey - Exeter Tournament (1/2 - 1/3)
Girls' varsity hockey has a tournament at the tail end of winter break at Phillips Exeter Academy. They have a packed two days of hockey, playing Brooks School at 11:15 AM and Stanstead College at 7:45 PM on January 2. The following day they play Rivers School at 10:30 AM. Good luck girls!