Proctor Academy hosted the 3rd Annual Rail Trail Rally to benefit Special Olympics New Hampshire Saturday morning. With over 250 participants, including 80 Special Olympians, hundreds of volunteers, and every Proctor student (who was not taking the SAT's) taking part, the event was the biggest in its three year history. Even larger than the event itself, however, is the impact the event has left on each of our lives.
In the spring of 2014, Proctor athletic director Gregor Makechnie '90 began conversations with Mary Conroy, the president of Special Olympics New Hampshire, investigating ways the Proctor community could get involved with Special Olympics. Six months later, Proctor hosted the first Rail Trail Rally. Proctor's relationship with Special Olympics has continued to grow since that initial event to include training for Proctor students to host a young athletes program (YAP) for Special Olympics and annual participation in the Prep School Polar Plunge in Lake Winnipesaukee each winter.
How do we build a sense of belonging without relying on a common enemy -- prejudice?
- Dan Habib,
Including Samuel
In advance of this year's Rail Trail Rally, Proctor students and their advisors gathered Friday evening to watch the documentary film, Including Samuel. The window into Samuel's challenges living with cerebral palsy and the impact on his family laid a powerful foundation for the relationships faculty and students would build with Special Olympians on Saturday morning.
The idea of prejudice and diversity within the Proctor community is one we revisit often as we seek to strengthen our community and teach students to understand, appreciate, and interact with those of different backgrounds. Our mission statement includes a clear charge to educate our diverse body of learners, and we recognize we each possess a unique learning style, personality, and physical abilities. We also recognize, however, that Proctor is an independent school with a subjective admissions process that inherently favors the 'able', thus limiting our students' ability to benefit from interactions with a complete cross-section of society.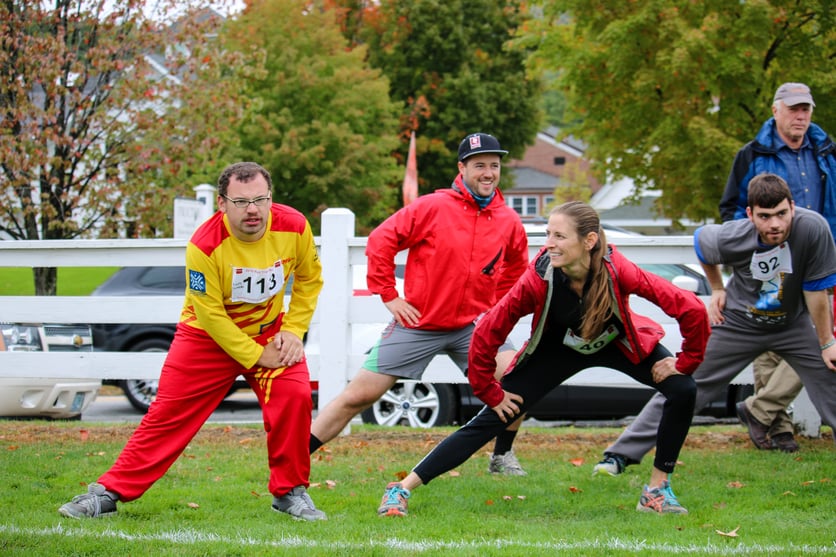 As Proctor students, faculty, and staff gathered alongside Special Olympians and their families on Carr Field conversations blossomed and new friendships formed organically. There was no need for a curriculum, guided questions, or writing prompts. Over the course of the 1.5 mile and 5k run/walk and the 20k bike ride on the Northern Rail Trail, humans interacted with other and society's labels effortlessly fell by the wayside. Collectively, we answered Habib's question posed in Including Samuel: we build belonging without relying on prejudice simply by sharing experiences with those different than you. When you get proximate to the world around you, amazing things happen.
Many thanks to the New Hampshire State Police, the Town of Andover Police, Friends of the Northern Rail Trail, Special Olympics New Hampshire, and the many others who helped make this year's Rail Trail Rally such a powerful experience for all involved!