Near record temperatures settled on campus over the weekend with highs in the upper 80s, and even warmer weather forecast through tomorrow. In the midst of this late September heatwave, we check in on all that happened over the weekend and marvel at how many different activities are available for students to plug into each weekend. This morning's assembly was filled with announcements of appreciation and highlights from the weekend.
About a decade ago, former faculty member and student activities coordinator, Dave Kenney, coined the term "Weekend Love" to describe weekend activities on campus. While the phrase may catch some people off guard, the idea that weekends at boarding school should be something we love is right on the mark. Over the past two years, Erica Wheeler '01 has continued to make Proctor's Weekend Love representative of faculty passions. This past weekend was the perfect representation of that as it was jam-packed with activities, some organized, others organic, including some stellar athletic contests on Friday night and Saturday afternoon, and tons of laughs at the annual hypnotist show in the theater Saturday night.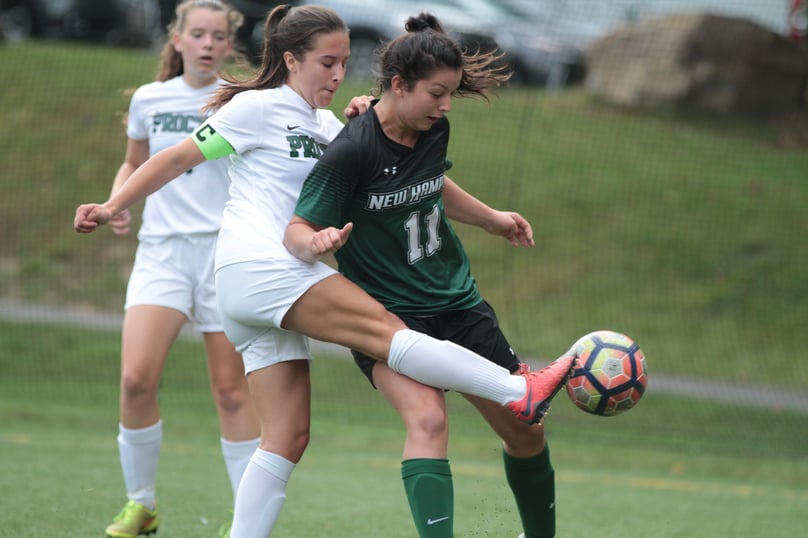 While Ocean Classroom was saying farewell from Boston Harbor Friday afternoon, the girls' varsity soccer traveled to New Hampton School for a heated Lakes Region matchup that ended in a 0-0 draw. Both teams played exceptionally hard as the Hornets continue to battle through a slew of early season injuries. Many thanks to alum and current parent Brendaen Makechnie '92 P'19, '20 for sharing photos from both this girls' soccer game and the varsity field hockey game Saturday, another epic battle with the Huskies of New Hampton School that ended in a 2-3 Hornet loss.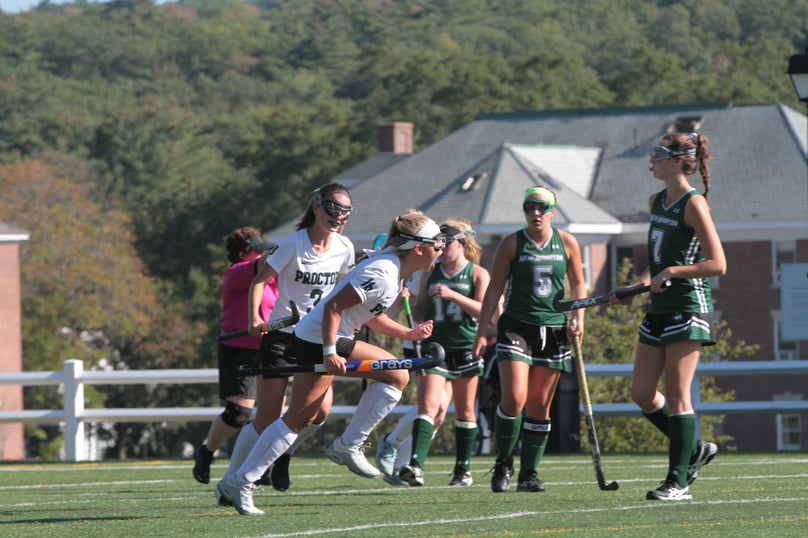 Back on campus Saturday afternoon, Proctor's varsity football team hosted perennial Evergreen League power, New Hampton School, in the season opener. In a back and forth battle, a four minute stretch in the fourth quarter decided the game. With the Hornets trailing 19-21, Ian Krishnan '18 kicked a 45 yard field goal to give Proctor the lead. On the ensuing two possessions, the Hornets forced a fumble that resulted in a 50+ yard TD return, and then broke open a long run for another touchdown to give Proctor its first win over the Huskies since the Hornets went undefeated in 2012. As noted by football captains Lance, Ezra, and David in assembly today, fan support was a huge factor in the win!
Following the game, students streamed to the Wilkins Meeting House for the annual hypnotist show. There is perhaps no better medicine after a long week of classes, homework, sports, and scheduled time than laughter. Everyone walked away from Saturday night with smiles on their faces after they watched their peers get hypnotized on stage.
After a sleep-in Sunday morning, faculty led trips to Wallis Sands Beach on the seacoast, the Currier Museum of Art in Manchester, shopping in Concord, and swimming at Elbow Pond filled the afternoon. We all entered Sunday night study hall and dorm meetings exhausted, but it was a "good" tired. The type of tired that makes you feel like you have lived life to its fullest. As we enter our third week of classes, games, meetings, and extra help sessions, we are reminded how thankful we are to live in a community where the adults make sure we fill each weekend with activities students love!