When you love snow, you do just about anything you can to find it. Proctor's USS/FIS Ski program engages in annual pre-season training camps around the globe, and this August found a group of U16 and U19 boys traveling to Saas-Fee, Switzerland for two weeks of training. The relentless pursuit of training opportunities for athletes has yielded remarkable results on the hill each winter, but the on-snow training is just a small piece of the overall experience afforded these students. Team bonding, dry land training, and cultural immersion are equally important to why our coaches, Athletics Department, and parents support these ventures. Read more from the coaches and students in Saas-Fee below.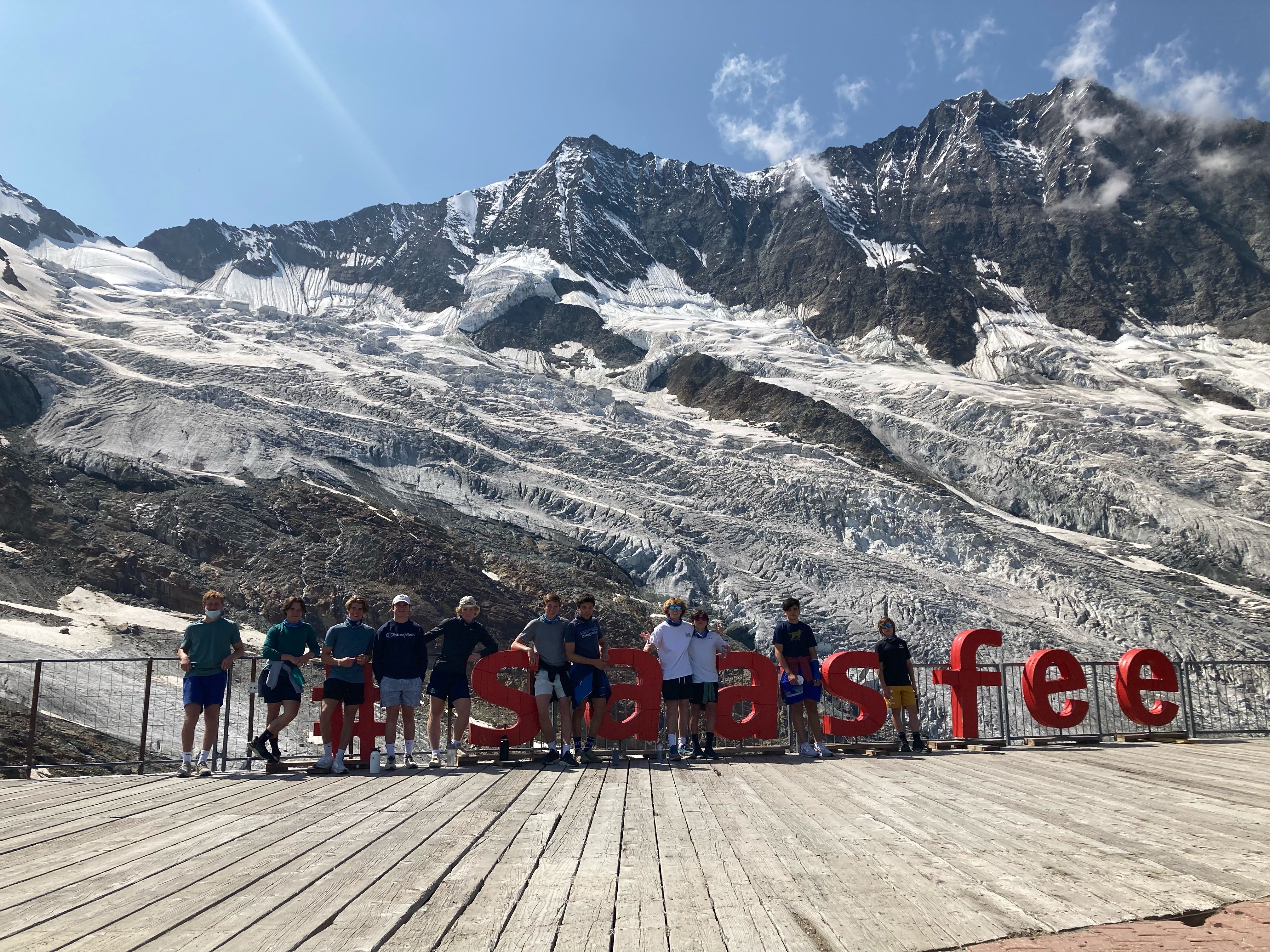 From a Coach's Perspective: Justin Sperry | Head U16 Coach
Saas-Fee is a ski racer's paradise. Nestled into a picturesque glacial cirque, everywhere you look you are shocked at the beauty around you. The training venues on the glacier are unmatched, and almost daily you get the chance to literally rub elbows with one of your world cup heroes on the T-bar. Afternoon dryland training opportunities are endless - amazing hikes and alpine lakes, and well kept indoor and outdoor sports facilities. While the views are stunning, the training is anything but easy - hard snow, steep pitches, and challenging terrain are the norm.
As a group, we have been focused on how we can best take advantage of this opportunity with our mental skills: preparation, focus, intensity, and resilience. Every session ends with a debrief, with all of us as a team evaluating the challenges we faced, successes we had, and what we can focus on to continue improving each and every day. To be our best selves as ski racers, we need to take ownership of our process, embrace new challenges, recover quickly from setbacks, and be persistent.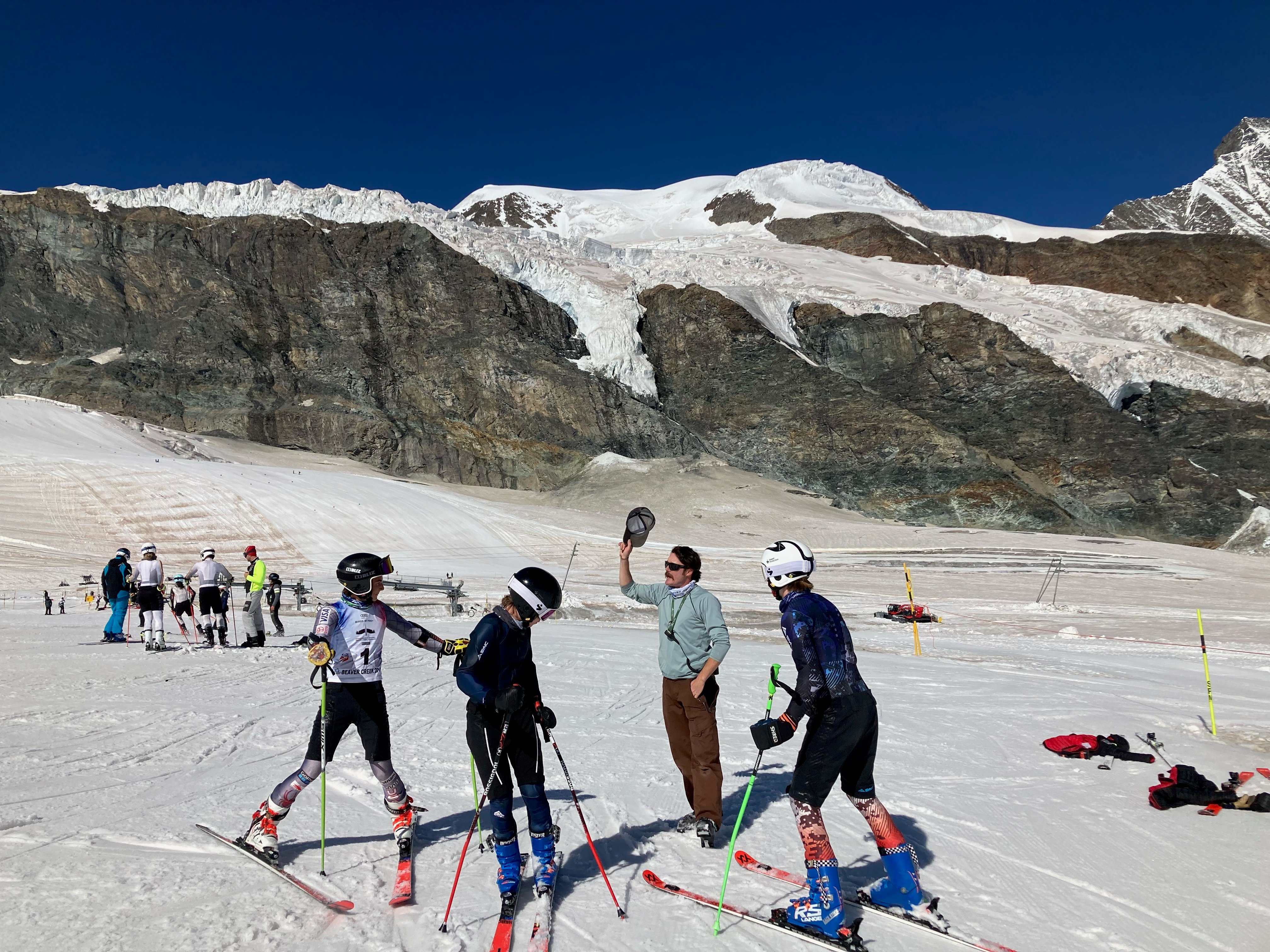 Mike Fairbrother and I are thrilled with the strides our athletes have made in their technique and tactics this camp, and we attribute it to our focus on being deliberate and mindful of how we approach training. Every morning, before our team walks through town in the dark to ride two gondolas and take a train to the glacier, our athletes and coaches know what we are hoping to achieve, and what we would like to focus on that day. We know the steps we need to take, and we are able to honestly evaluate our progress daily.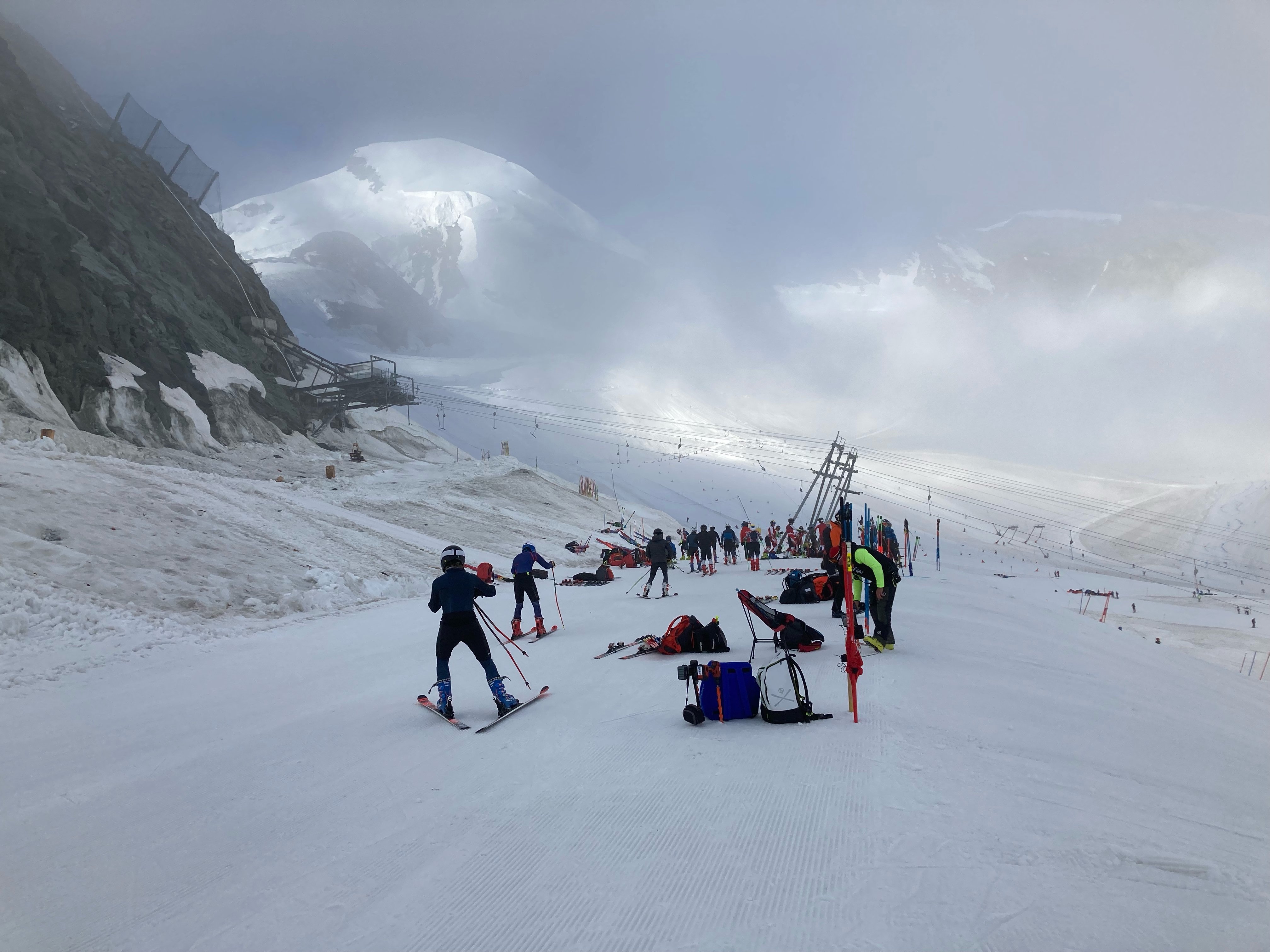 This camp has been giant slalom heavy, as the opportunities to train events other than slalom are harder to come by early season in the northeast. Afternoon dryland has been focused on recovery and on developing coordination, endurance, and core strength by taking full advantage of the hiking trails, alpine lakes and waterfalls, and athletic fields and facilities in the Saastal valley. We have been fortunate to mostly have great weather and hard snow in the mornings, and truly could not ask for a better environment to put in the hard work to prepare ourselves for the season to come.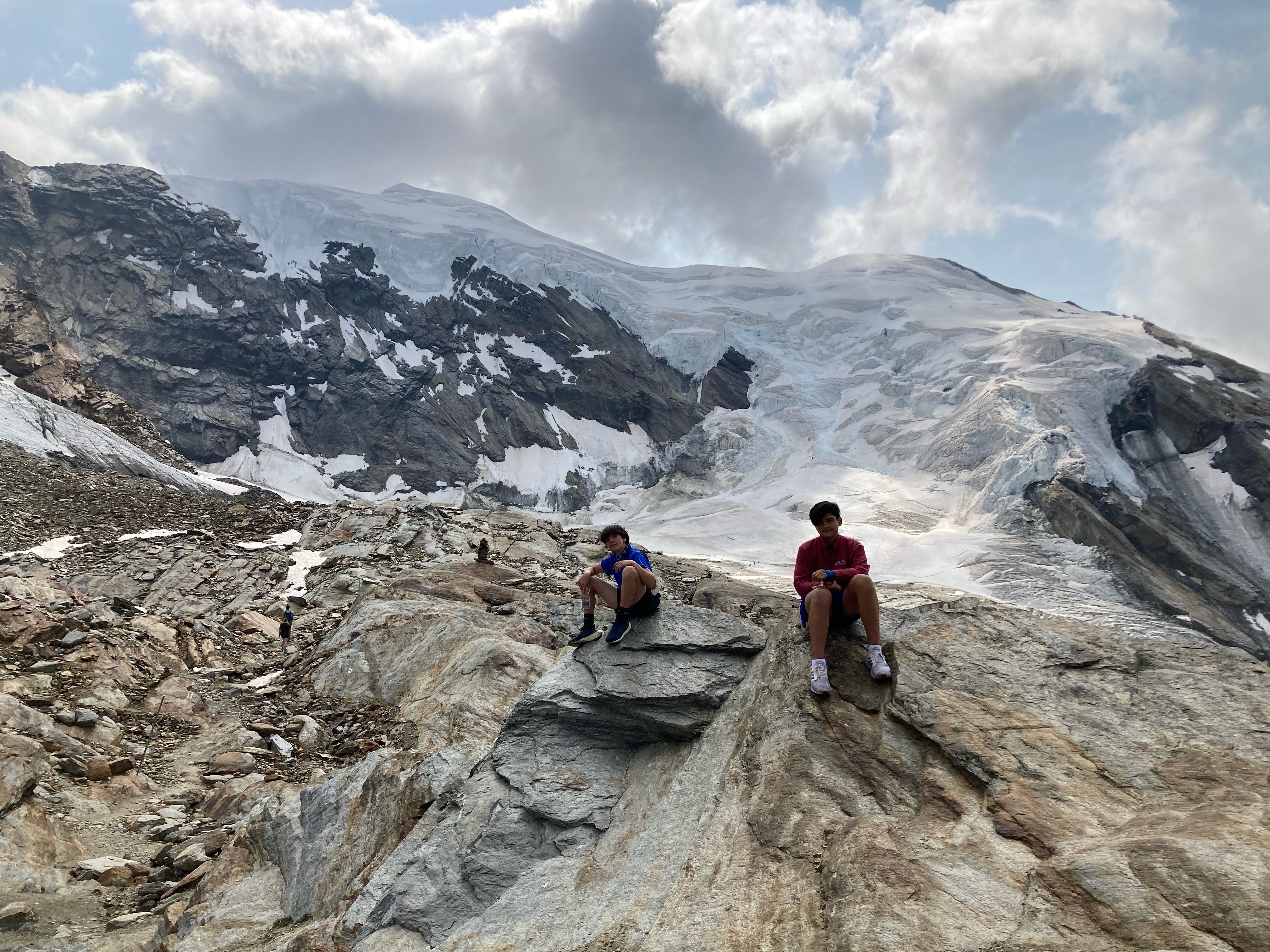 We, as a team, are incredibly lucky to be here and have this opportunity to hone our craft. Thank you to all who helped us make it possible. We are incredibly excited to continue our momentum as we move into the fall and winter.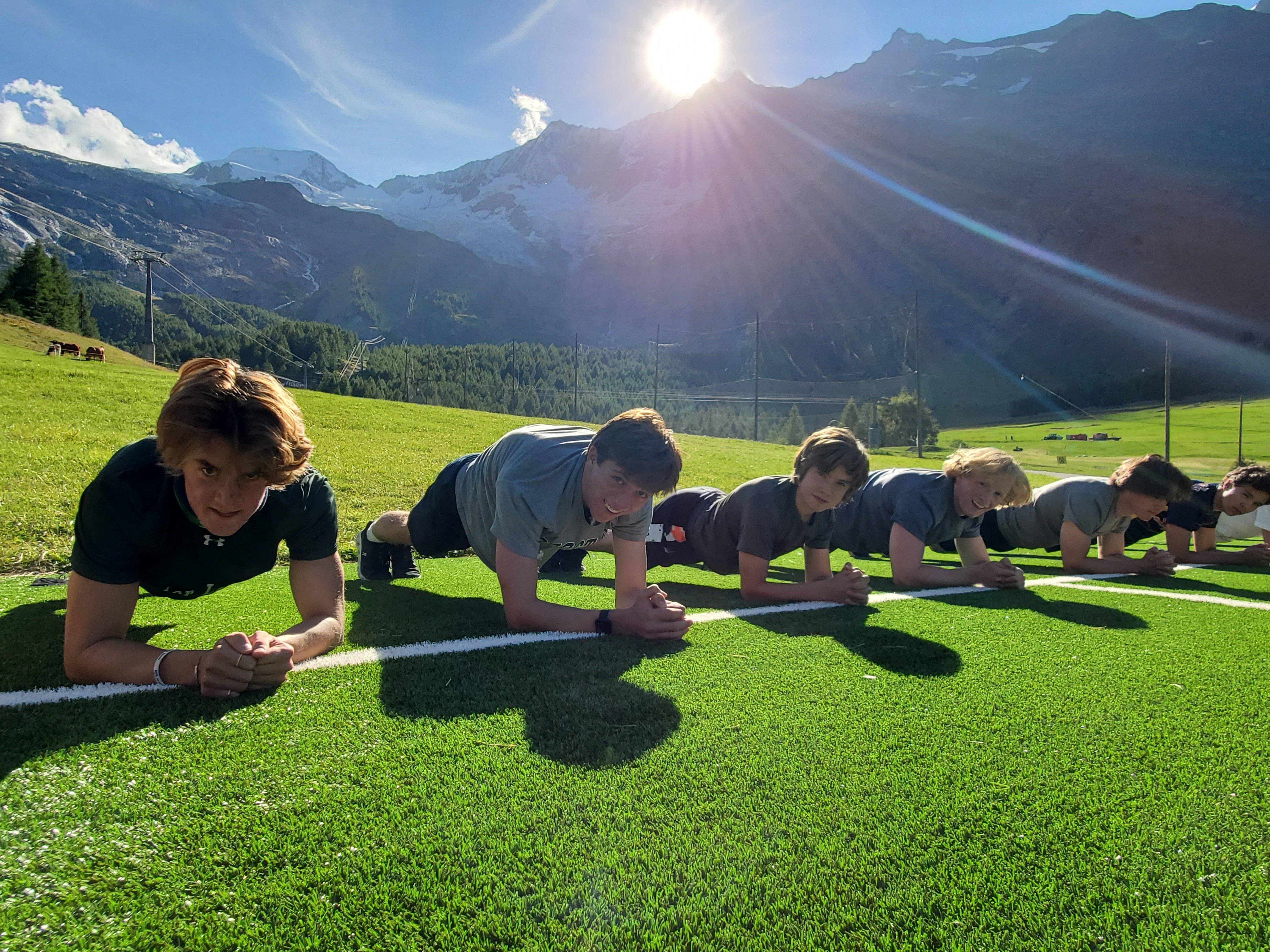 From the Student Athlete's Perspective: Henry '23
The past few days on the Saas-Fee glacier have been incredible. The early morning wake ups are easy to overcome when you see the stunning views and amazing training. It has been such a treat to ski in such a beautiful place with such nice weather and perfect conditions. Training sessions have been greatly productive and so much fun. And after we get off the hill each day, we've been lucky enough to go on some amazing hikes and excursions. One of the highlights of the trip was definitely swimming in a high glacier lake yesterday afternoon. The water was so cold, but it was an amazing experience. Overall, this has been one of the best camps I've been to. The great skiing conditions, amazing Swiss culture and weather, and awesome activities with the team have made this an unforgettable trip.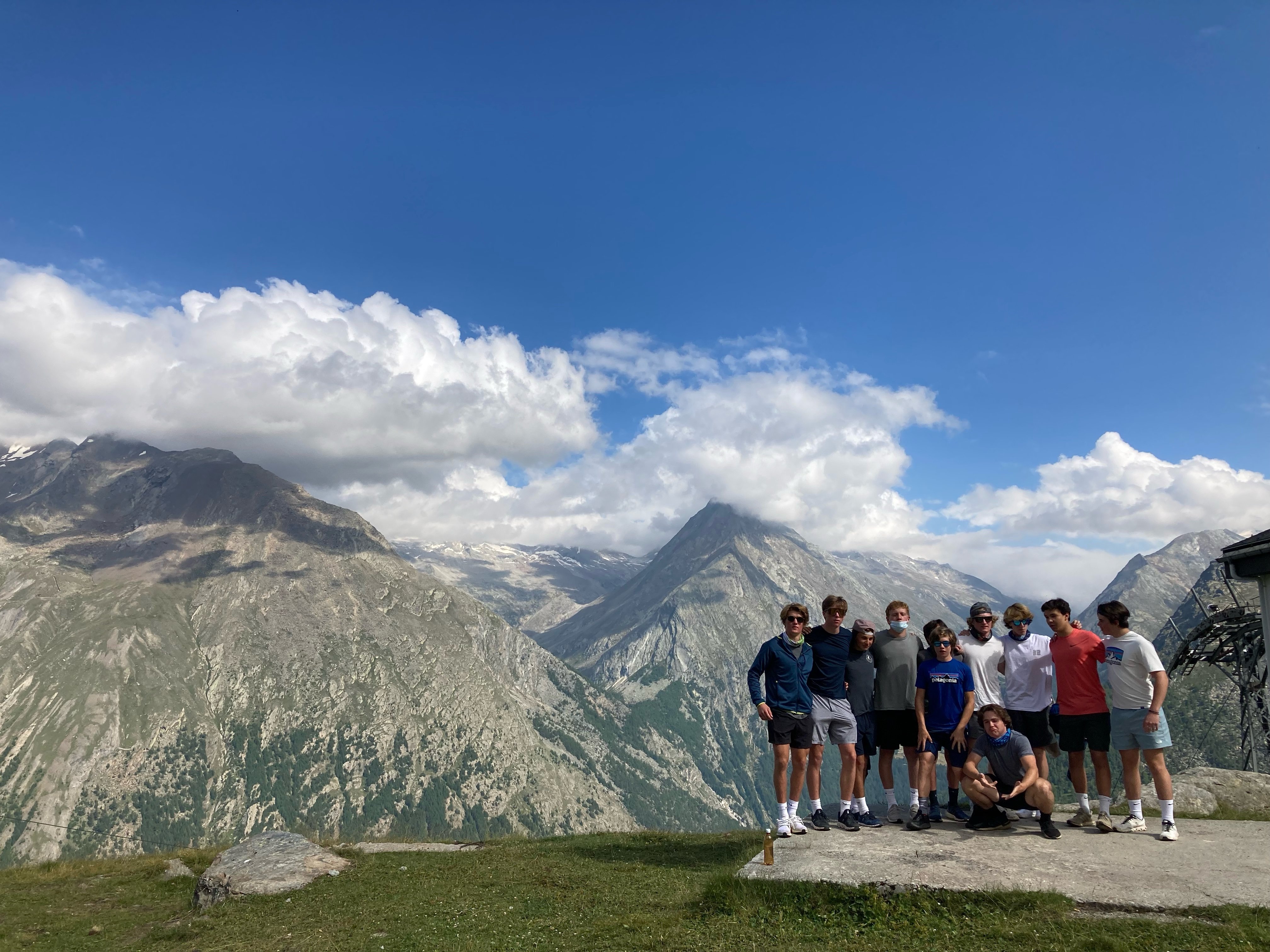 From the Student Athlete's Perspective: Brody '22
The snow-capped mountaintops of the Swiss Alps are something that you have to see to believe. As a skier, Saas-Fee is one of the racing wonders of the world. It offers beautiful, breathtaking training year-round. Each morning, traveling along the sleek white trail descending towards the training lanes lined with hundreds of red and blue gates, my mind races on how I can make this day better than the last. So far here in Switzerland, I've been reminded of how humbling the sport of alpine skiing is and how it shapes me as a person. There have been days where perseverance and a ton of resilience have been needed to march through the rough, but in the end, the opportunity to travel overseas and experience a new culture through ski racing has been a once-in-a-lifetime adventure.