After three decades of successful fall semester at sea programs, Proctor Academy has expanded its Ocean Classroom programs with a new eight week winter program at sea voyaging aboard the iconic Maine Schooner Harvey Gamage. Proctor's fall semester program has run for the past 27 years in a row, most recently aboard Roseway, and has set an educational standard that has increased student demand beyond the capacity of one sailing ship. Now, Proctor will be working with two ships, Roseway and Gamage, thus enabling additional students to access the thrill and adventure of going to sea.
The new program will start Jan. 5th in Charleston, South Carolina and finish eight weeks later in Mobile, Alabama. The academic core of the accredited curriculum will explore the historic roots of these two ports while learning the mathematics of navigation and the written communication required for vessel operations required to sail through the Bahamas, Caribbean, Florida Keys and the Dry Tortugas. While voyaging between Charleston and Mobile, students will experience the challenges of being on a continuous watch rotation and take over the full operations of the ship as crew. In addition to this they will learn the scientific principles of meteorology and marine biology as well as the history of the region while earning academic credits through hands-on lessons that will last a lifetime.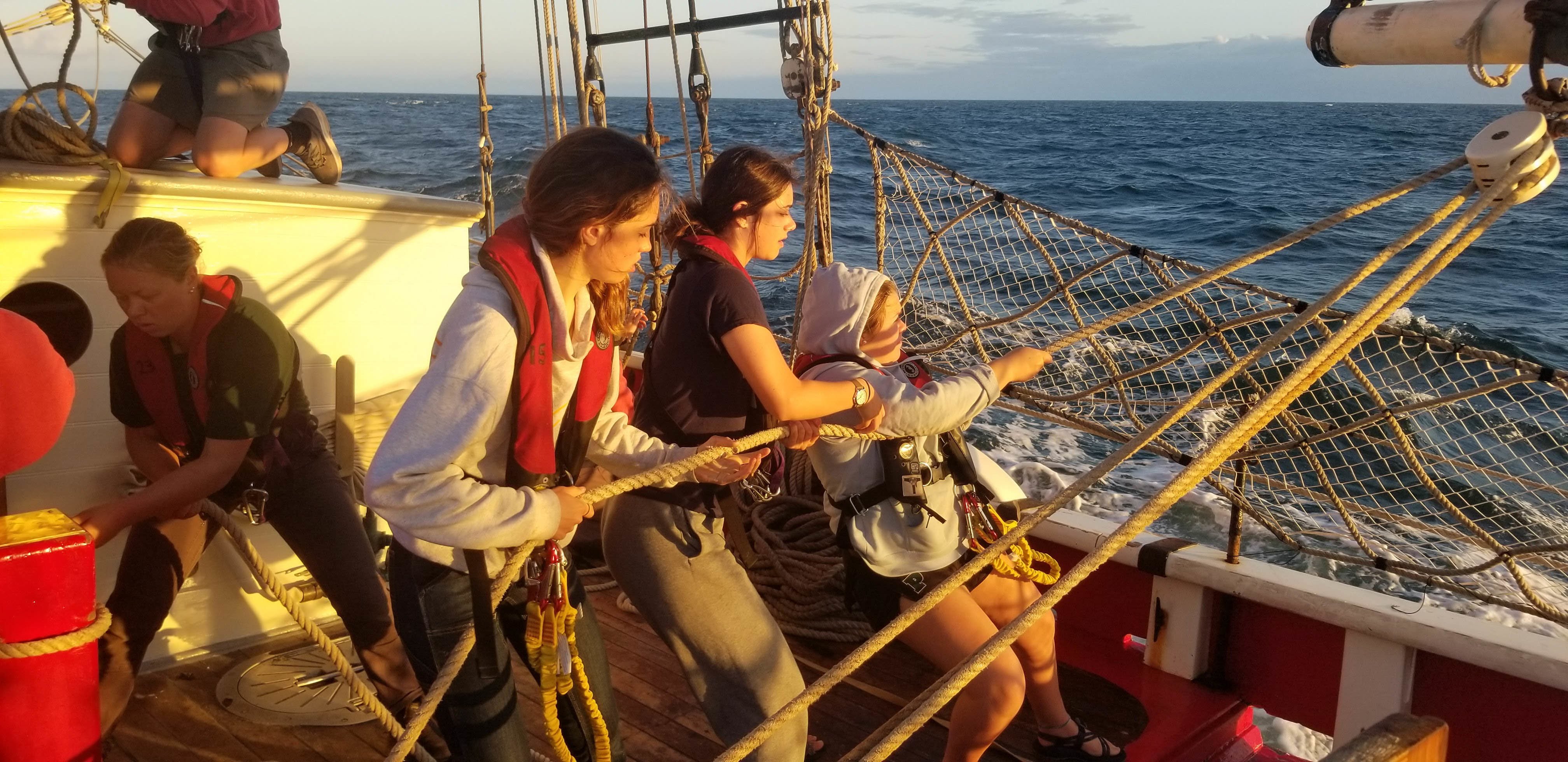 Proctor students crew aboard schooner Roseway during the Fall 2020 Ocean Classroom voyage in partnership with the World Ocean School. Proctor will continue to partner with the World Ocean School for its fall programming.
Proctor's Ocean Classroom program has a long tradition of allowing each voyage to take on a special character such as the Roseway's historic voyage to Cuba in 2016. The 2022 winter program will include a focus on the history of involuntary servitude, inequality, and racism in America while working to deepen the leadership skills and training students will need moving forward as open minded, productive citizens. Proctor continuously evolves how its off-campus programs (the school offers five such term-long programs around the globe) teach leadership, and this new program creates powerful proximity between student experiences and the complex issues of justice, equality, diversity, and inclusion present in communities.
In addition to fourteen Proctor students, winter Ocean Classroom will deliberately include nine additional diverse leadership trainees including some from the Charleston and Mobile communities. The twenty-four students will be joined by nine educators and crew members from Harvey Gamage to deliver the curriculum. The curriculum will include the book Black Jacks, African American Seamen in the Age of Sail, by W. Jeffrey Bolster, a book which was inspired during one of Bolster's voyages on the Gamage where he sailed as Captain.
When the ship arrives in Mobile, the crew hopes to meet with members of the Africatown community, which was founded by descendants of the Slave ship Clotilda, an 86-foot schooner which was the last known slave ship in U.S. history. Even though importing Africans to America for the purpose of slavery had been outlawed for almost 50 years prior, Clotilda made an illegal run to Benin, West Africa in the spring of 1860 and returned that summer with 110 enslaved people.Once its human 'cargo' was off-loaded, the ship was burned and sunk so owners could avoid prosecution, of which the penalty upon conviction would have been death. The long-lost wreck of the Clotilda – now physical proof of that crime -- was recently discovered at the bottom of the Mobile River. The Proctor/Gamage visit will afford students the opportunity to do service projects in the community. Following the Proctor trip, students from the Gulf Coast will sail one-week voyages on Gamage to study leadership, an educational opportunity made possible by the Proctor program. (Learn more about Clotilda in this National Geographic special.)
The schooner Harvey Gamage has been offering high school educational programming for most of its 47 year history and was part of the previous Ocean Classroom Foundation Fleet that served Proctor students for many years. The current crew are experienced sailor-educators, led by Captain Pamela Coughlin and supported by the non-profit Sailing Ships Maine and their Educational Director Captain Jon Radtke of Falmouth, Maine. All members of the crew have at least State of Maine education technician level 3 certification, while academics are also accredited through the Falmouth Maine school system and guided by teachers there and at Proctor.
Proctor Academy Ocean Classroom Director Brooks Bicknell '77 reflects on this evolution of the Ocean Classroom program, "It is very exciting that Proctor is expanding it's winter off campus experiential learning opportunities by offering a program to our students and those from very different backgrounds. This mixes adventure, authentic challenge, hardship, and skill building while being immersed in the study of our watery planet. I am also very excited the program will have a strong historical focus that delves into not only general maritime history, but the exploration of the economic and historical roots of slavery in America." Proctor Head of School Mike Henriques adds, "Any time you can collapse the distance between theoretical and hands-on learning, you create powerful opportunities for growth and character development. The lessons stick. We have been doing this both on and off campus for decades, and this new partnership will allow our students to both better understand the collaboration and skills required for maritime travel and the very real, undeniable history that is woven into the fabric of this country. It thrills me to see this latest evolution in the Proctor model."
President of Sailing Ships Maine Alex Agnew notes, "Schooner Harvey Gamage has educated thousands over its history and we are delighted to be her current custodians. The ship is in excellent condition thanks to loving owners and hard working crews. And this partnership with Proctor would make our co-founder Bert Rogers, and Proctor's Ocean Classroom Dave Pilla, both smile to see the tradition continue and evolve with now two ships operating to support Proctor's programming."
---
About Proctor Academy
Proctor Academy is a coeducational independent boarding and day school of 365 students grade 9-12 located on 2,500 acres in Andover, New Hampshire. With a focus on experiential learning, integrated academic support, and life changing educational experiences, Proctor's students have the opportunity to take part in five term-long off-campus programs, have access to more than 30 competitive athletic teams, 30 art electives and programs, all while living and learning in authentic relationships alongside their peers and teachers. Learn more at www.proctoracademy.org.
About Sailing Ships Maine
Sailing Ships Maine is a 501c3 nonprofit that delivers experiential learning programs at sea and creates life-changing opportunities for teens of all abilities and income levels to discover the ocean environment, expand leadership skills, and consider further maritime training. Sailing Ships Maine believes that the experience of sailing on board a tall ship as part of the crew changes teens' perspectives and helps them develop leadership and teamwork skills. Since their founding in 2015, they have sent more than 500 students to sea in partnership with 16 schools and youth groups. Learn more at https://sailingshipsmaine.org/.