Proctor's boys varsity hockey team is just three games into their thirty game schedule, losing two early season tilts due to COVID-19 protocols with other teams. Two of those three games ended on last second game winners against tough Lakes Region opponents. For this group of young, determined, hard-working athletes, the journey that lies ahead is one filled with unrealized potential. Four games at the Lawrence/Groton Holiday Tournament await the team this weekend, but before they hit the ice, we caught up with Maks Watton '23, Jack Robinson '22, and goaltender Donald McCarthy '22 for this week's Team Spotlight.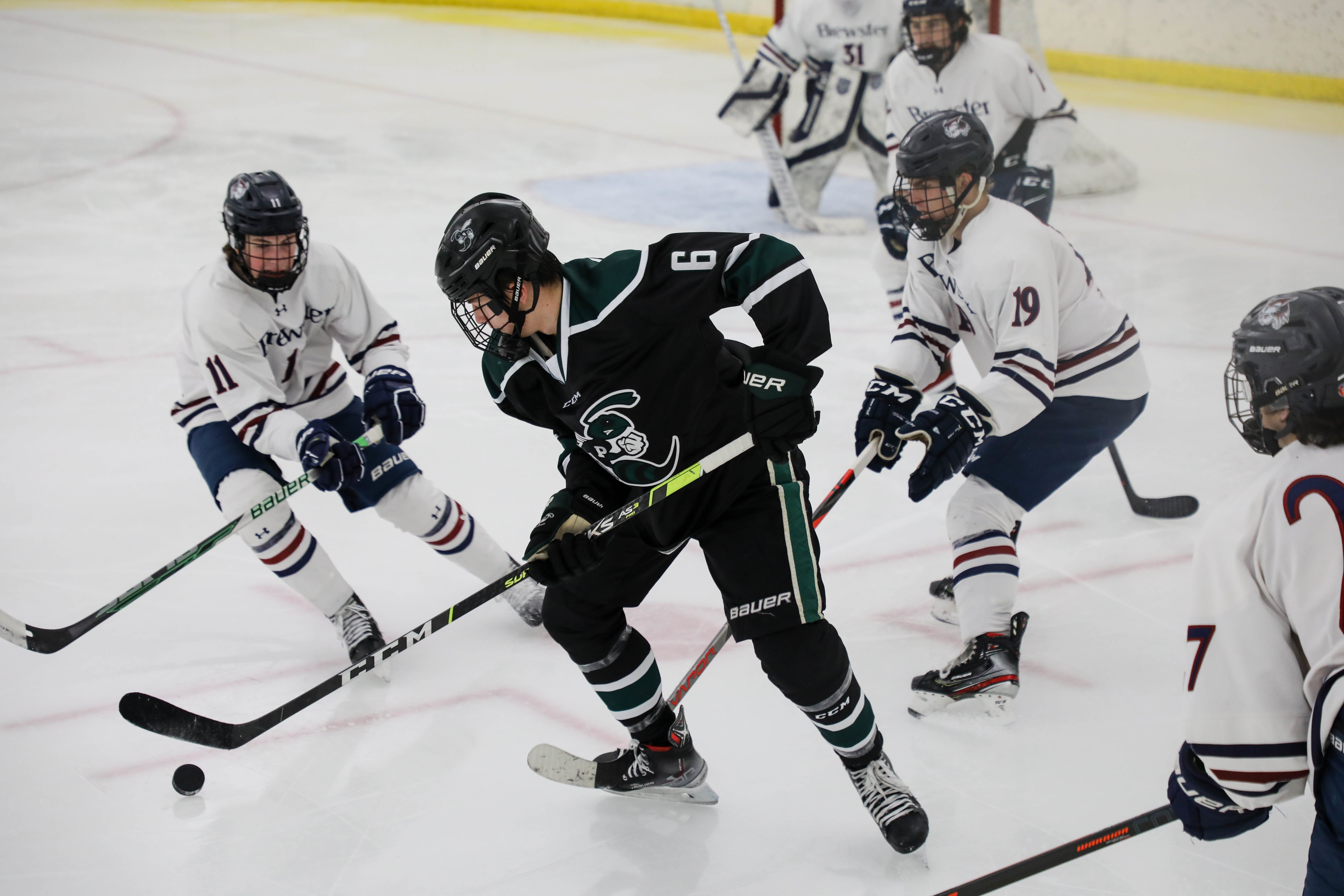 Each year, teams welcome new pieces to the puzzle. It takes time to gel and find your rhythm. How has this group worked early in the season to find that rhythm as a group?
Maks Watton '23: This year BVH added multiple new faces to the team, replacing a core group of seniors from last year. It has been awesome seeing the group come together and gain some more chemistry since November, but what I am really happy to see is a lot of the older guys stepping up and directing the new players to success on and off the ice. This is one of the reasons I believe we have been able to connect as a group and become as close as we are, and it is visible on the ice. Coach Walsh has talked a lot about buying into the systems he teaches, and getting everyone on the same page is crucial for a team's success. As each week passes, we continue to build our trust and confidence in each other while fine-tuning other important aspects of the game. So far I have seen a significant improvement from the start of the season, but this is just the beginning, and I am excited to see where the 21-22 season takes us.
Donald McCarthy '22: We have added multiple pieces to the team, but one that sticks out most is mid-year transfer Carter Anastasia who joined the team after Thanksgiving. The team quickly welcomed Carter with open arms, ensuring that his move to campus was seamless. This type of close knit culture has been our strongest attribute so far this year as we are growing better as a group everyday in practice and proving our hard work in games. As we begin to create an identity as a team, we all feel that we have strength in numbers and can be a hard team to play against solely on our willingness to buy in gel as a group.
Jack Robinson '22: Every year is obviously very different from the year prior. This year was great as the ice was put in around two weeks after we got to school and almost all of us immediately started skating as a team. It was good to see all the new kids on the ice and it was even better as we played some games together in a fall league on Sundays. Another huge part as we began the season was the team bike rides and lifts we've done. This help us get our legs back and helped us be better on the ice and become more of a team of the ice.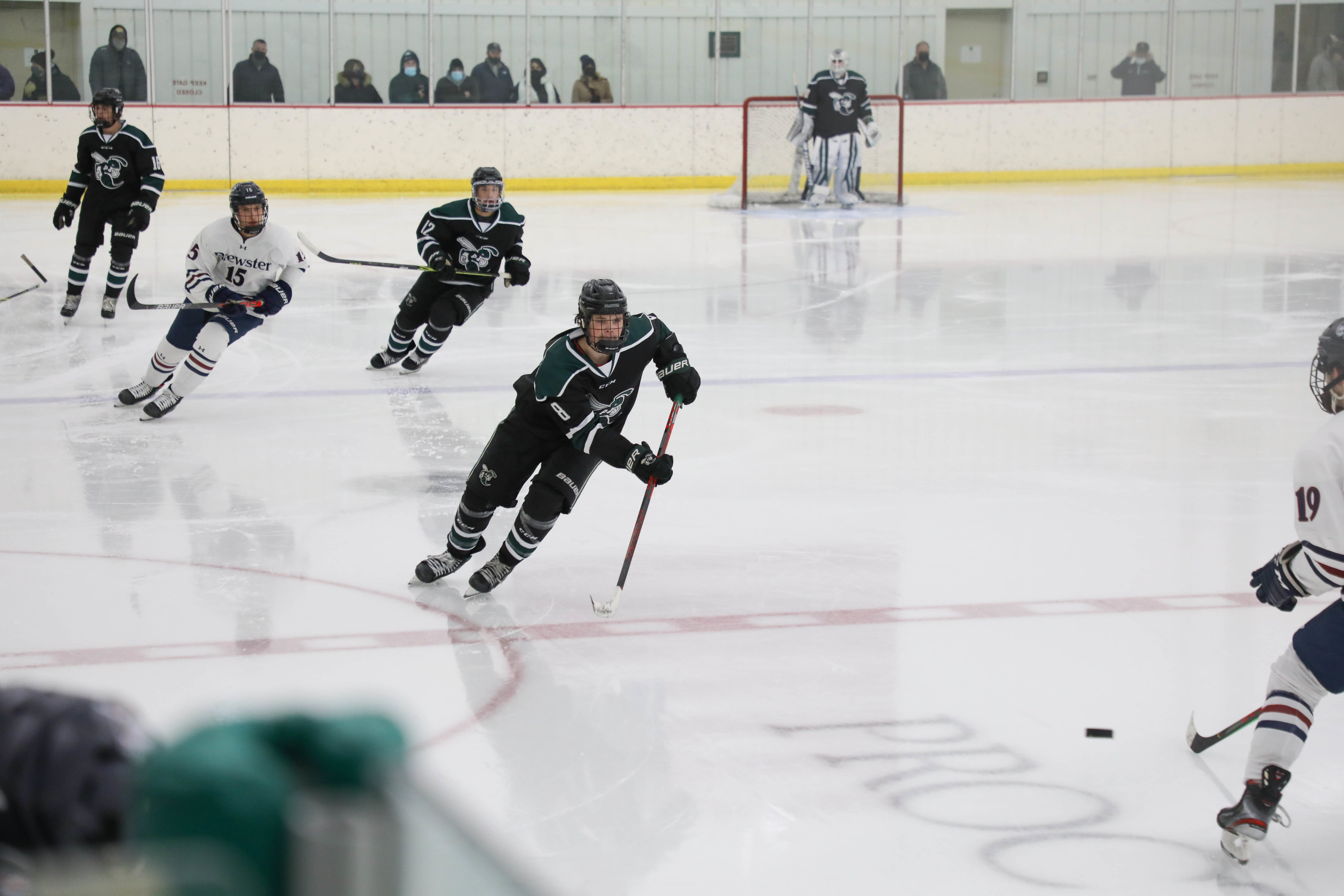 Heading into two holiday tournaments and then the bulk of your Lakes Region schedule, what lessons have you learned about yourself as a team?
Maks: From what I've seen from the team so far, there have been some glimmers of greatness. However, we still have a lot of room for improvement. In our first couple of games, we struggled to execute simple plays and passes resulting in some tough losses. I was really surprised by the character we showed following up from those games. During practice, we gained a different type of intensity and work ethic from the group, realizing success doesn't come from just showing up. Our team has shown dedication, grit, and persistency, which was ultimately highlighted in our 3-2 victory over St.Pauls. In my opinion, this was a big step forward for us. We displayed excellent teamwork and potential and was our best group performance so far. We may not be the biggest team in the Lakes Region, but with our depth and work ethic, we have the potential for success.
Donald: Coming off a preseason tournament and a few Lakes Region games, we have learned a lot about ourselves as a team, including how we respond to certain situations. One goal we are looking to tackle is closing out games in the third period when we have a lead. In our past two home games we have lost leads in the third period, and realize that this isn't a good habit for future success.
Jack: I think the team showed we are a hard team to play against. I think we are a very quick team and I think we will catch teams by surprise. Even though we are young as a whole I believe we have some very very good pieces that will allow us to compete.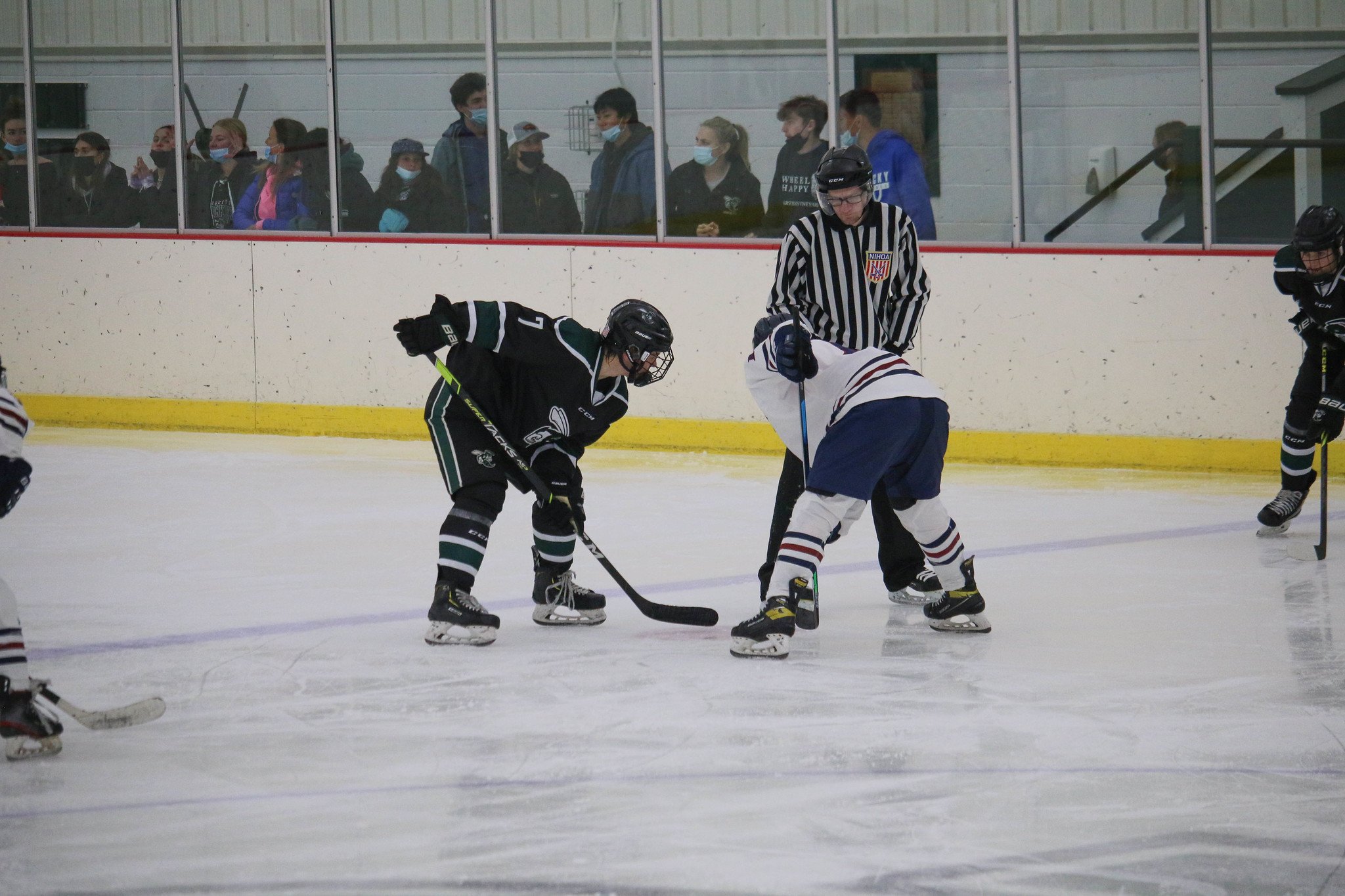 Who do you feel are the teams to beat in the Lakes Region? Why?
Maks: Last year was my first year playing in the Lakes Region, granted it was difficult to play a full season schedule due to the COVID pandemic, I still gained a strong understanding of the competition in our league. Each year teams lose and gain players, but Kimball Union is consistently a top contender of the Lakes Region. Last year we played them twice, the first resulting in a loss, and the second was canceled in the second period due to a bad hit on one of our players. We left the ice with raised tempers and flared emotions, feeling like we didn't finish the job, especially since we had the lead. I am looking forward to the battles to come against Tilton, and our rivals at Holderness, but I still have a special desire to beat Kimball Union and finish what we started last year.
Donald: This year, the Lakes Region is arguably deeper than ever, with each league opponent having the ability to win any game. Historically, Kimball Union and New Hampton have been teams to beat, yet we try to approach every game with the same mentality and focus in order to succeed. With a young team, it is important for us to remain confident and calm when faced with a tough opponent.
Jack: One team every year is always Kimball Union. Playing with some of those guys, they are always very skilled and fast. Another team who's had a good start is our rival Holderness. They seem to be beating some good teams and are getting noticed throughout the whole league.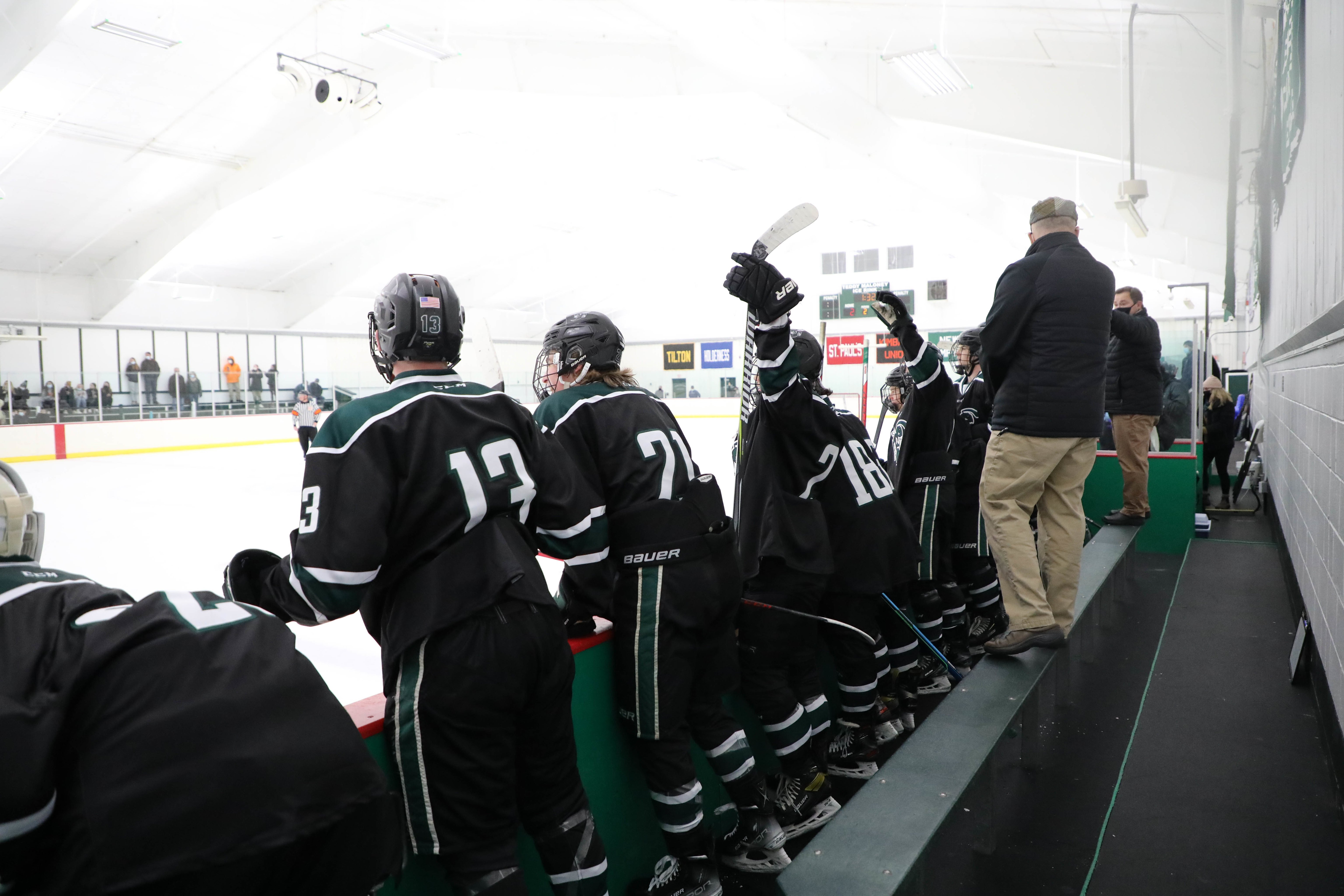 What do you love most about playing for Proctor hockey?
Maks: Proctor embraced me into its community when I first arrived a year ago. Teachers and students all had my back wanting the best for me, helping me find success all around campus, both in and out of class. Proctor hockey is no different, the connection we have with one another is strong and we leave our best efforts out on the ice. Each game we play together, we go into battle knowing you have someone next to you that will stand up for you, take a hit for you, and block a shot for you. And each game we play, that bond gets stronger which reflects on our performance on the ice. I know my teammates will always have my back, and I will have theirs. That special bond is why I love playing here at Proctor, and I couldn't imagine playing anywhere else.
Donald: Personally, my favorite part of playing Proctor hockey is representing the school. At home, we have gathered amazing crowds that have supported us, showing the true sense of community on campus. While away, our team takes representing the school seriously, making sure we respect the game and the way it should be played, along with treating our opponents and their facilities with respect. I believe all my teammates share the same sense of pride when putting on a Proctor jersey, knowing that they are part of something bigger than themselves.
Jack: The thing I love most about Proctor hockey is the locker room and the ability to be able to skate and train everyday. The locker room every year is different but it is always special. The rink is always open and allows us to be our best. I also want to shoutout George and Duncan for all the work they do on the rink and all the help they give each of us everyday.