Drive along NH Route 11 and you will encounter beautiful scenery, farms, open fields, views of Mount Kearsarge and Ragged Mountain, and the varied architecture that speaks to an evolution of a town without strict zoning laws. You might conclude that while quaint, the village of Andover is far from a cultural center. Take a step off of Main Street into the Lovejoy Library, Wilkins Meeting House, or Brown Dining Commons and you will quickly realize your premature conclusion to be false.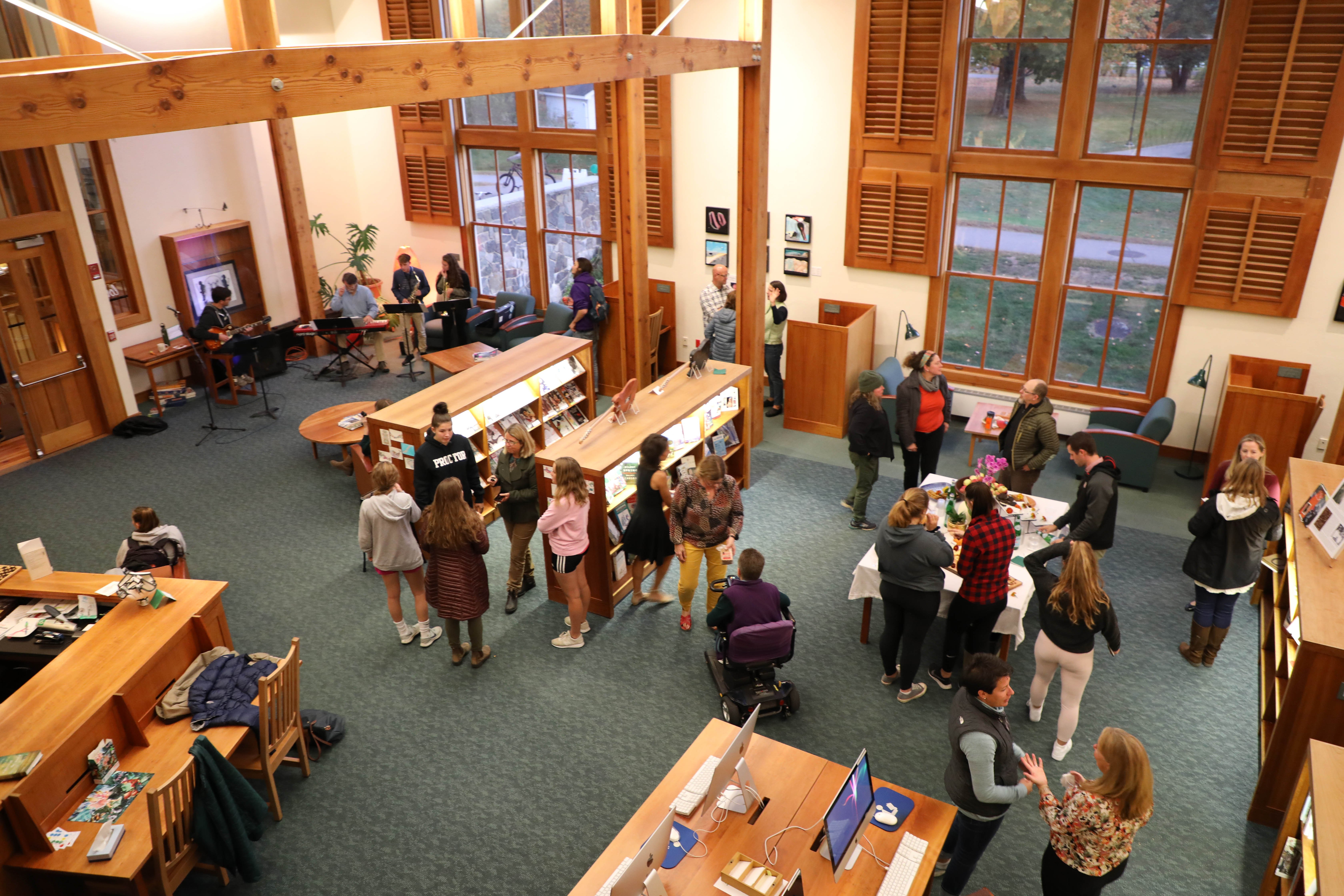 On Friday evening, Proctor hosted a reception to celebrate the work of Liam O'Gallagher in the newest in a series of visiting art exhibits on campus. Live music by alum Thomas Jennings '10, Bill Wightman '73, Anya '20 and Nate '21 along with snacks provided by Bluebird Baker complemented the artwork of O'Gallagher as we celebrated the depth of culture present within our Proctor community.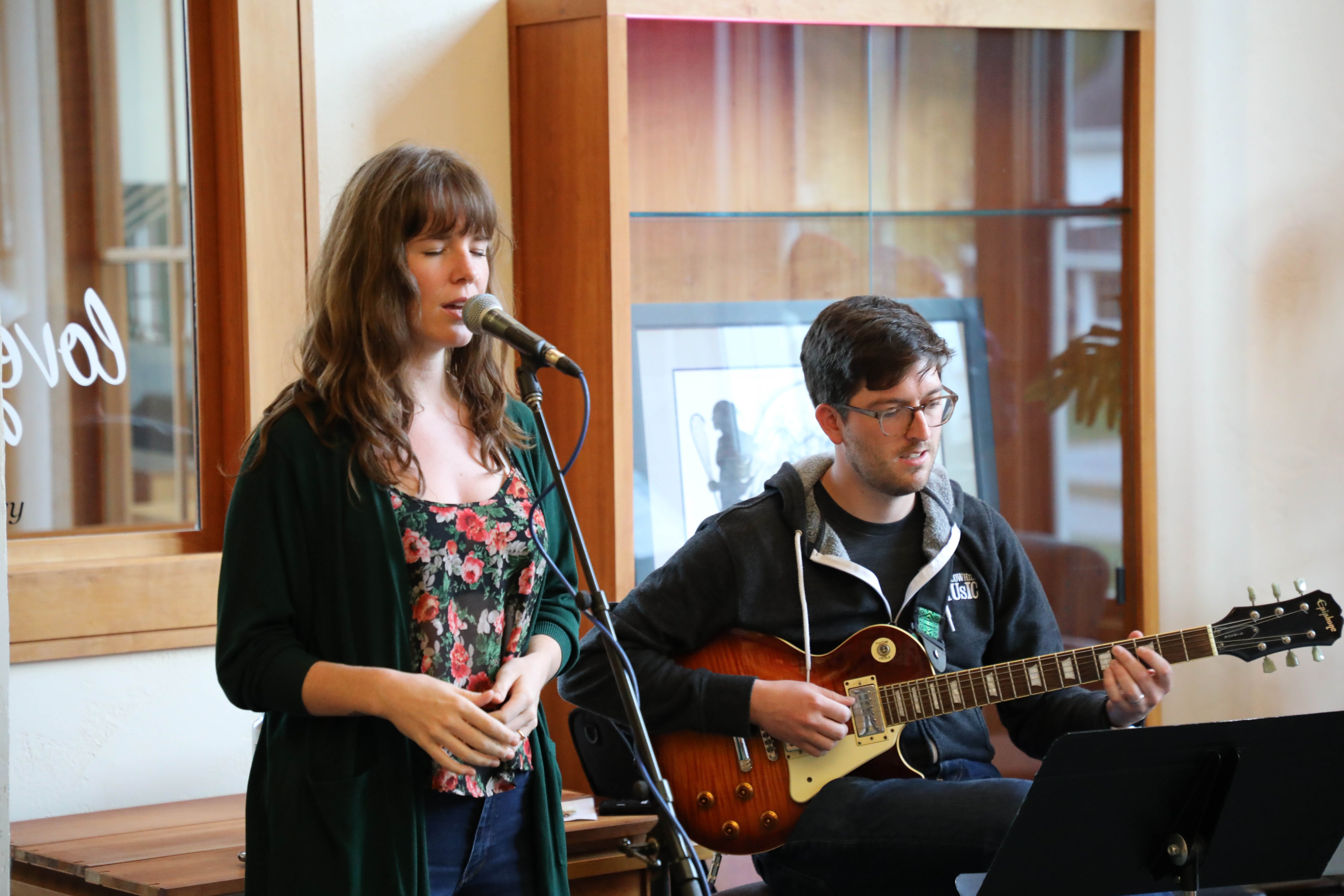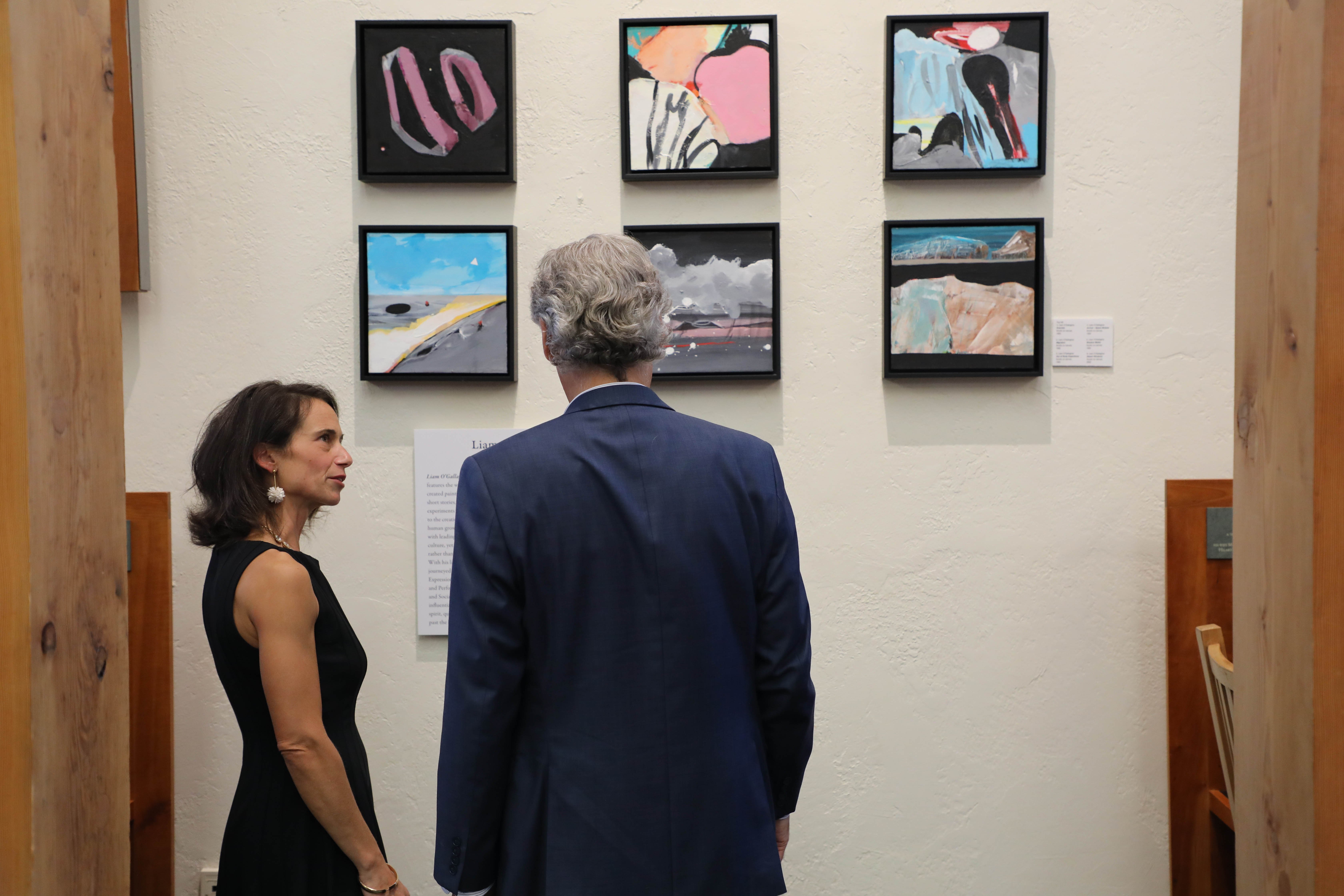 Through the skilled curation of Molly Leith, O'Gallagher's work joins a robust collection of art on campus this year. Learn more about the current exhibits, as well as two very exciting upcoming exhibits later this year, below.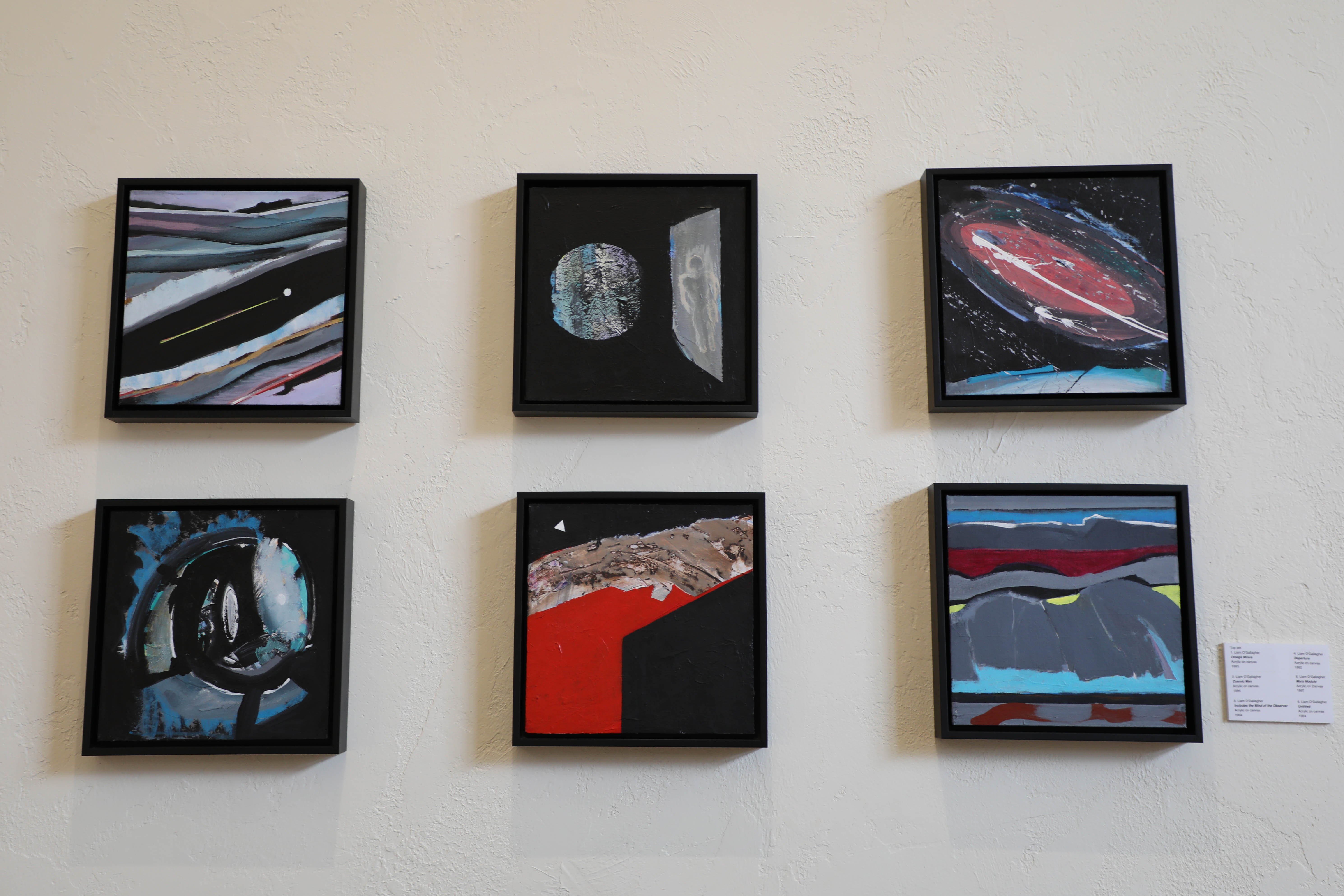 Artist: Liam O'Gallagher
Works: "This was the Future"
Location: Lovejoy Library
Showing Dates: September 2019 - December 2019
Liam O'Gallagher was an avant-garde artist and teacher who pushed past the known boundaries of contemporary expression. His work included paintings, poetry, graphic work, short stories, performance pieces and experiments with sound. He was also integral to the creation of foundations and centers for human growth and progressive thought.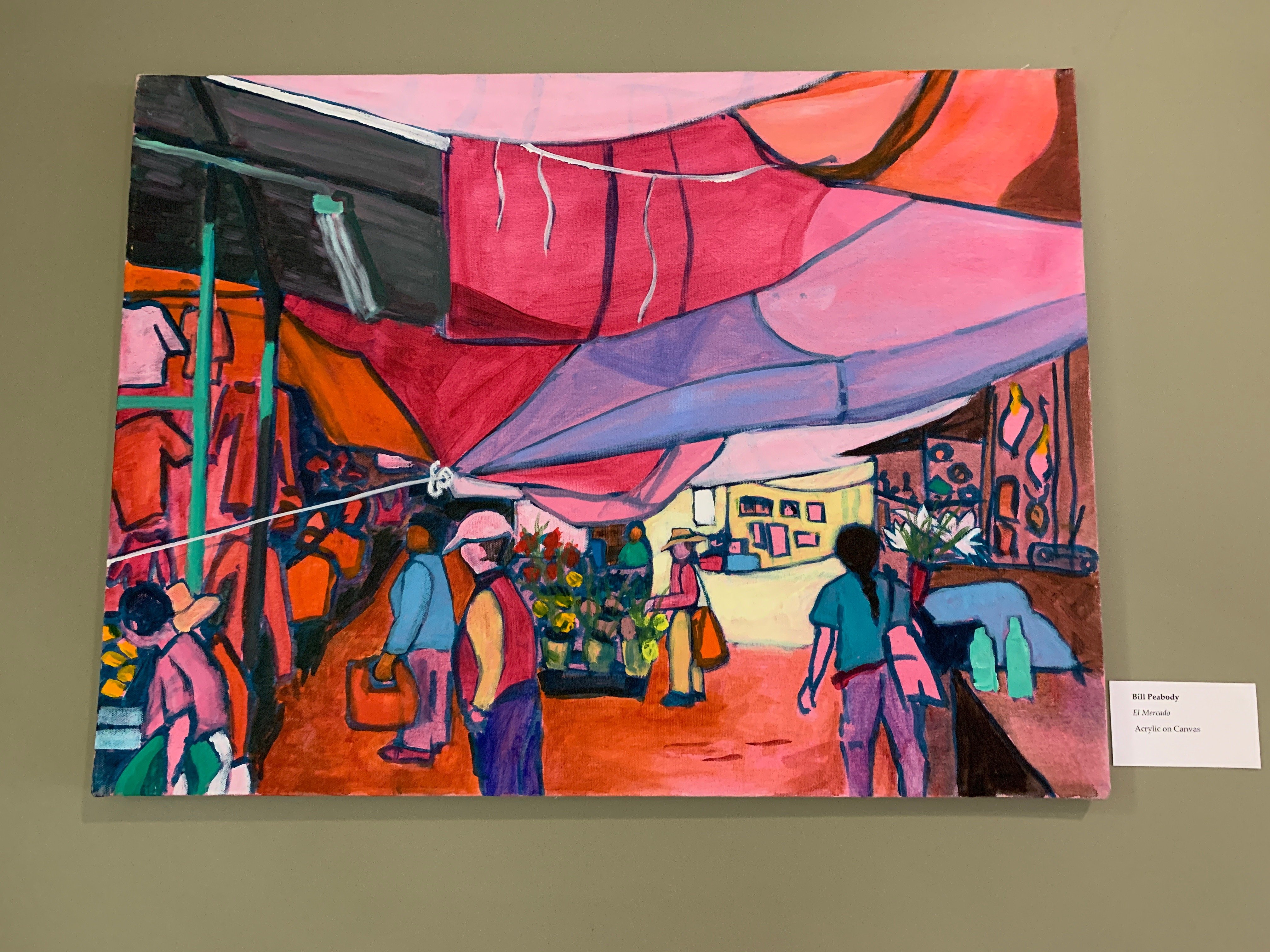 Artist: William Peabody
Works: Acrylics and Encaustic Retrospective
Location: Farrell Field House, Second Floor
Showing Dates: May 2019 - ongoing
The AVA Gallery describes William N. Peabody as "an artist in communication with places. They speak to him, and a rich dialogue is created in his work. His early connection to places began when, as a child, he followed streams, taught himself to catch trout with his hands, and dreamed in the hills of Vermont."
We are incredibly grateful to share Bill Peabody's vibrant energy, captured here in his paintings, and his love for the arts. The scenes within represent Bill and Betsy's time spent in local areas of New Hampshire, Vermont, and one of their favorite places, San Miguel de Allende, Mexico.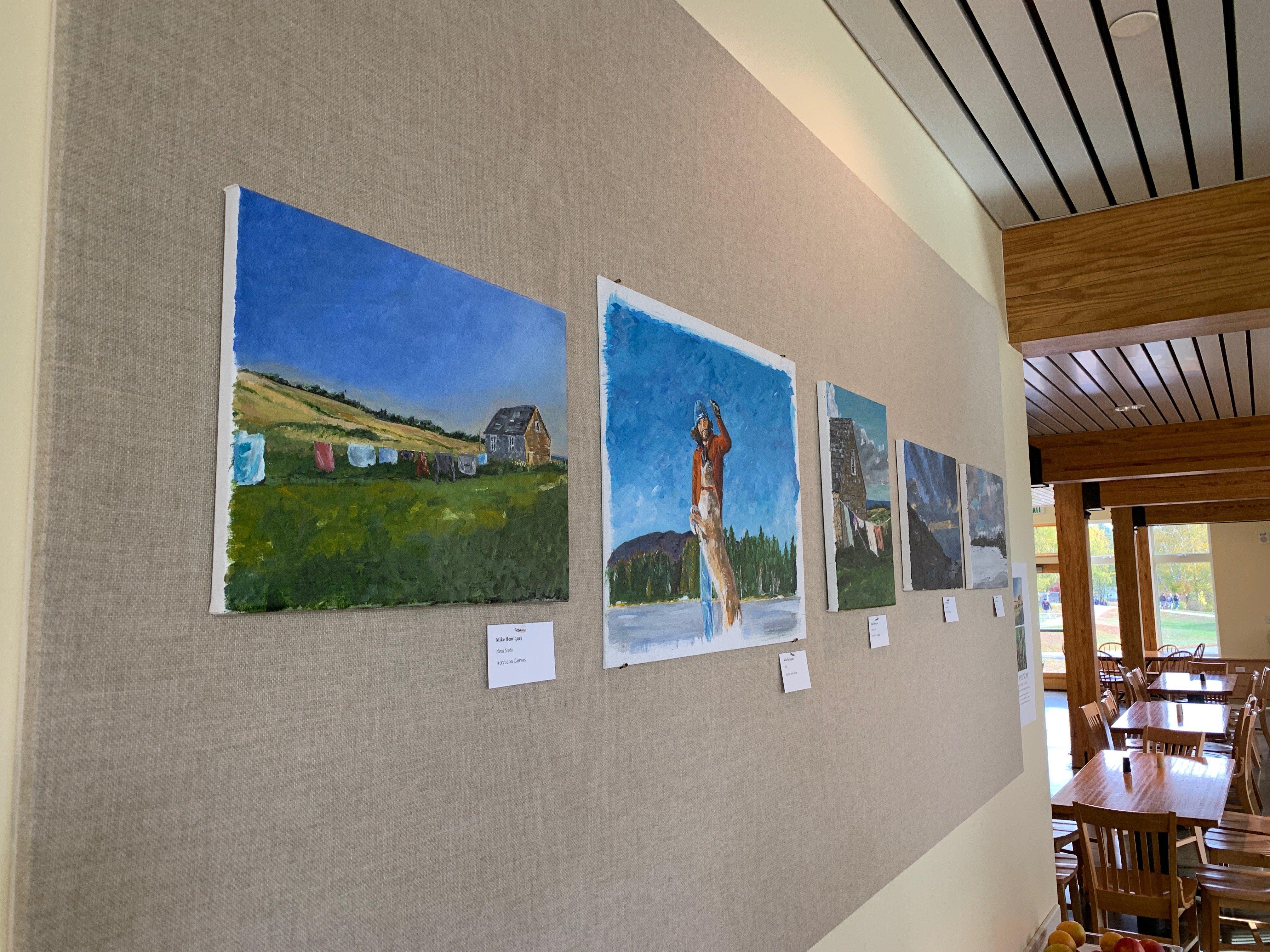 Artists: Proctor Faculty and Staff
Works: "Then and Now"
Location: Brown Dining Commons and Maxwell Savage Rotunda
Showing Dates: September 2019 - December 2019
Thirteen Faculty and Staff members are represented in this collection of oil, acrylic, and watercolor paintings, pastel, fishing flies, and photography. Many of the contributors are exhibiting for the first time. It has been a fun collection, well received by the community. The artists include Ginny Clasby, Lauren Cole-Johnson, David Fleming, Jennifer Fleming, Chris Grotnes, Mike Henriques, Lindsay Jones, Jill Jones Grotnes, Corbett Leith '92, Molly Leith, Amy Makechnie, Mike Walsh, and Bill Wightman '73.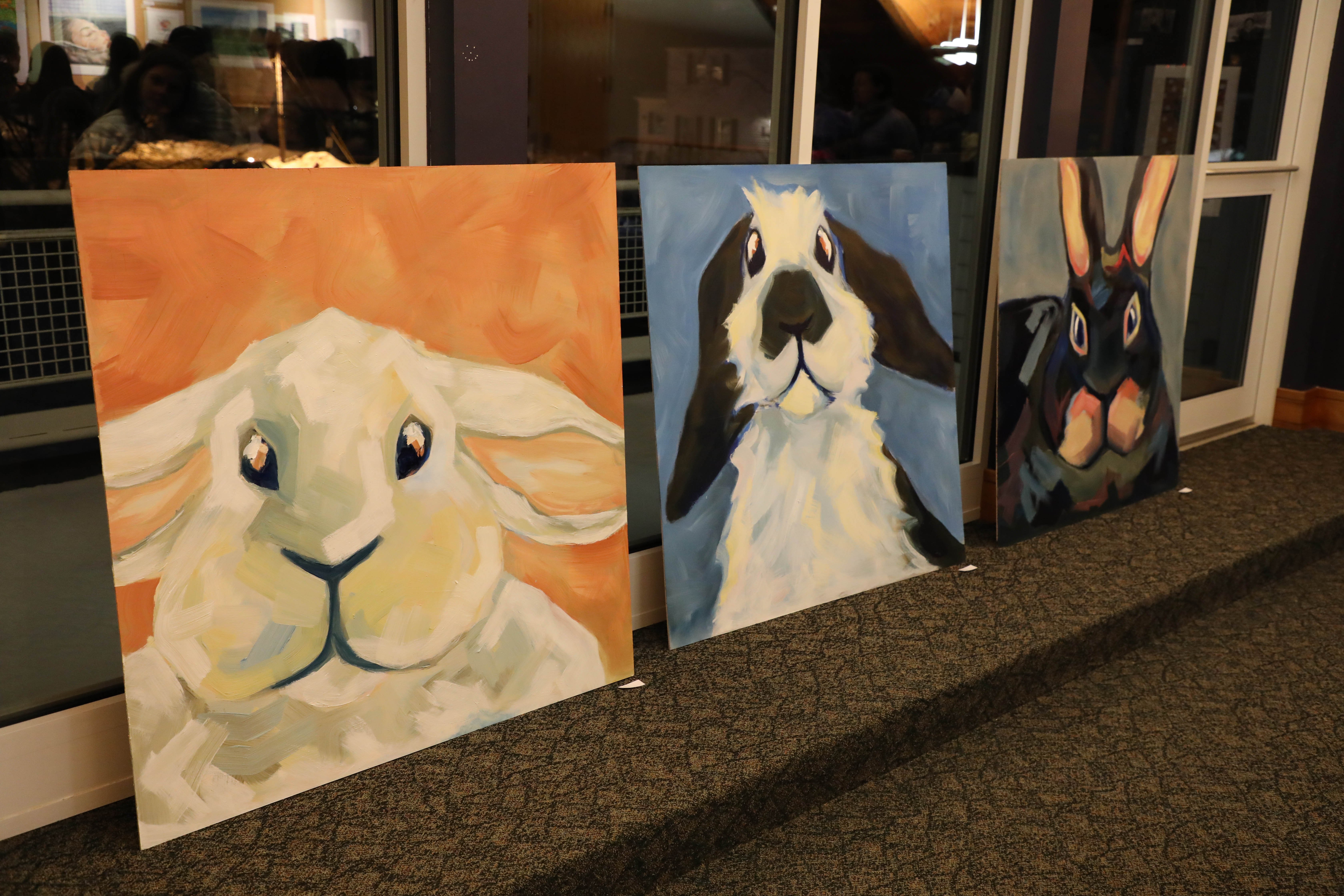 Artists: Ivy Linder '19
Works: Stan, Buggs, and Peter
Location: Farrell Field House, Third Floor
Showing Dates: Permanent Collection
Ivy Linder '19, skillfully created a series of playful, charismatic bunny paintings while in Studio classes here at Proctor in the Spring of 2019. When Proctor saw them on display we asked to purchase two of them, and she agreed to kindly donate the third. Her paintings bring a great deal of life to the common area on the third floor of Field House. Proctor is interested in continue to collect alumni work and continue the legacy of the arts at Proctor.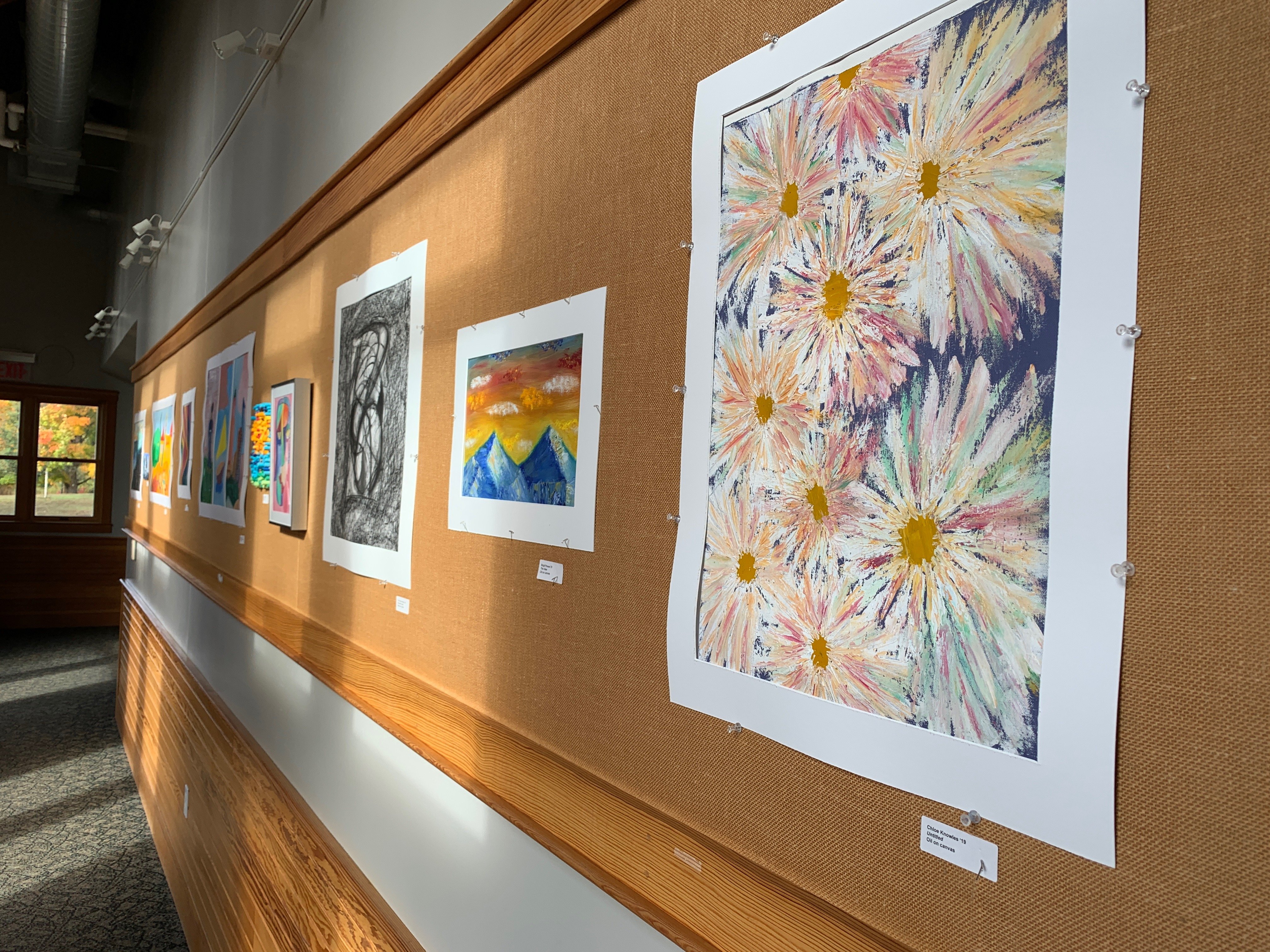 Artists: Proctor Students
Works: Variety
Location: Wilkins Meeting House, Maxwell Savage Hall Rotunda
Showing Dates: Ongoing
These 2D Art Work and Metal Work from the Forge works were created during Art Studio classes taught by Kate Austin '01, Jill Jones Grotnes, and Corbett Leith '92 and hang around campus in different galleries.

---
Future Exhibits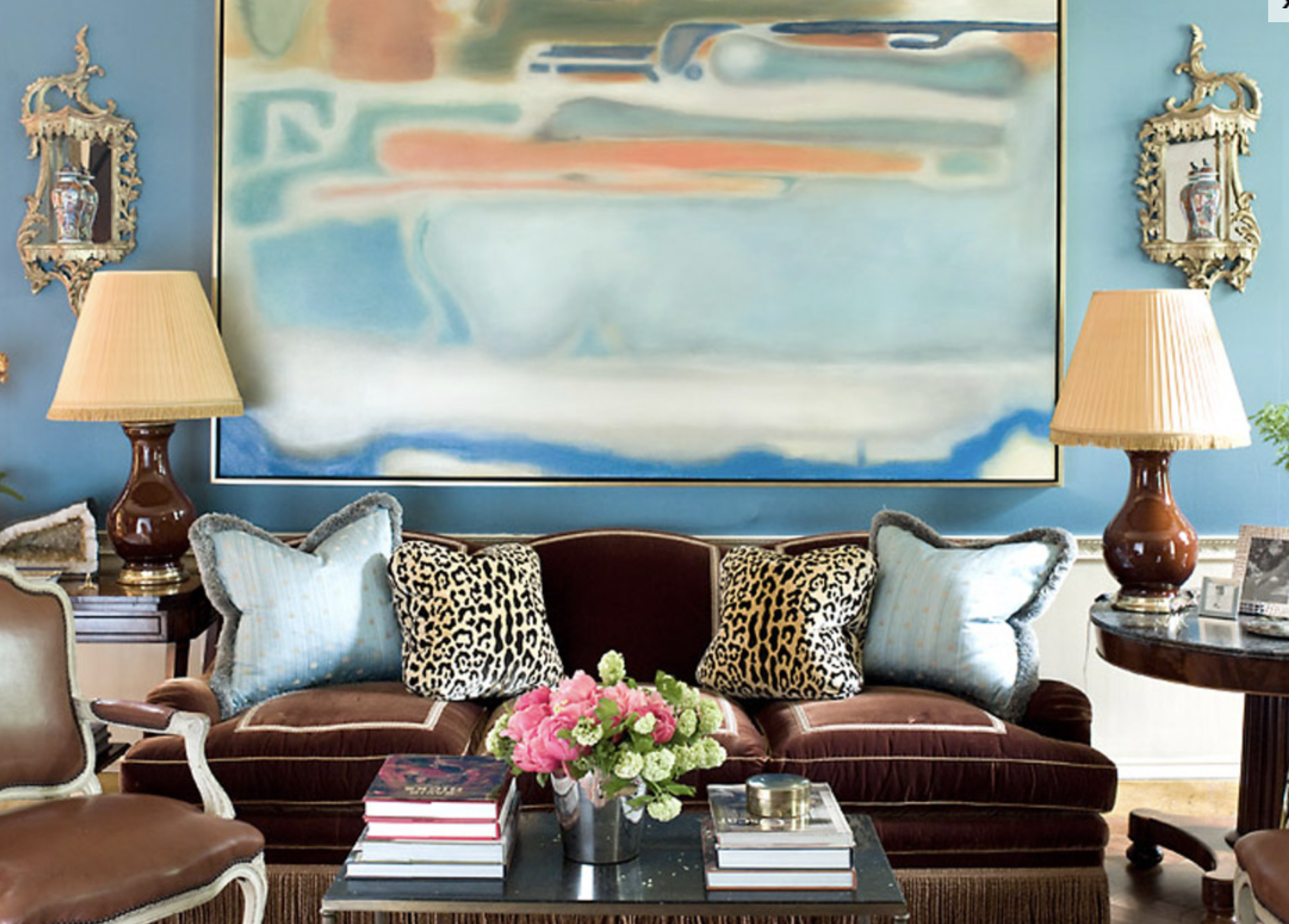 Photo: https://www.christopherspitzmiller.com/lamps/models/large-hann
Works: Designer Lamps
Location: Lovejoy Library
Showing Dates: Spring and Fall 2020
Christopher will be exhibiting his stunning designer lamps in the Lovejoy Library and spend a day in Slocumb Hall demonstrating his expert wheel throwing techniques. His handmade ceramic lamps are often featured in celebrated publications such as Architectural Digest, Veranda, House Beautiful, Elle Décor, Departures, The New York Times and the Wall Street Journal. In 2016 he received an alumni citation for career achievement from his alma mater, St. Lawrence University. He has had the honor of making lamps for the Obama Oval Office, the current and past three White House Administrations, as well as Blair House and countless other distinguished American homes. Learn more about about Christopher's artwork HERE.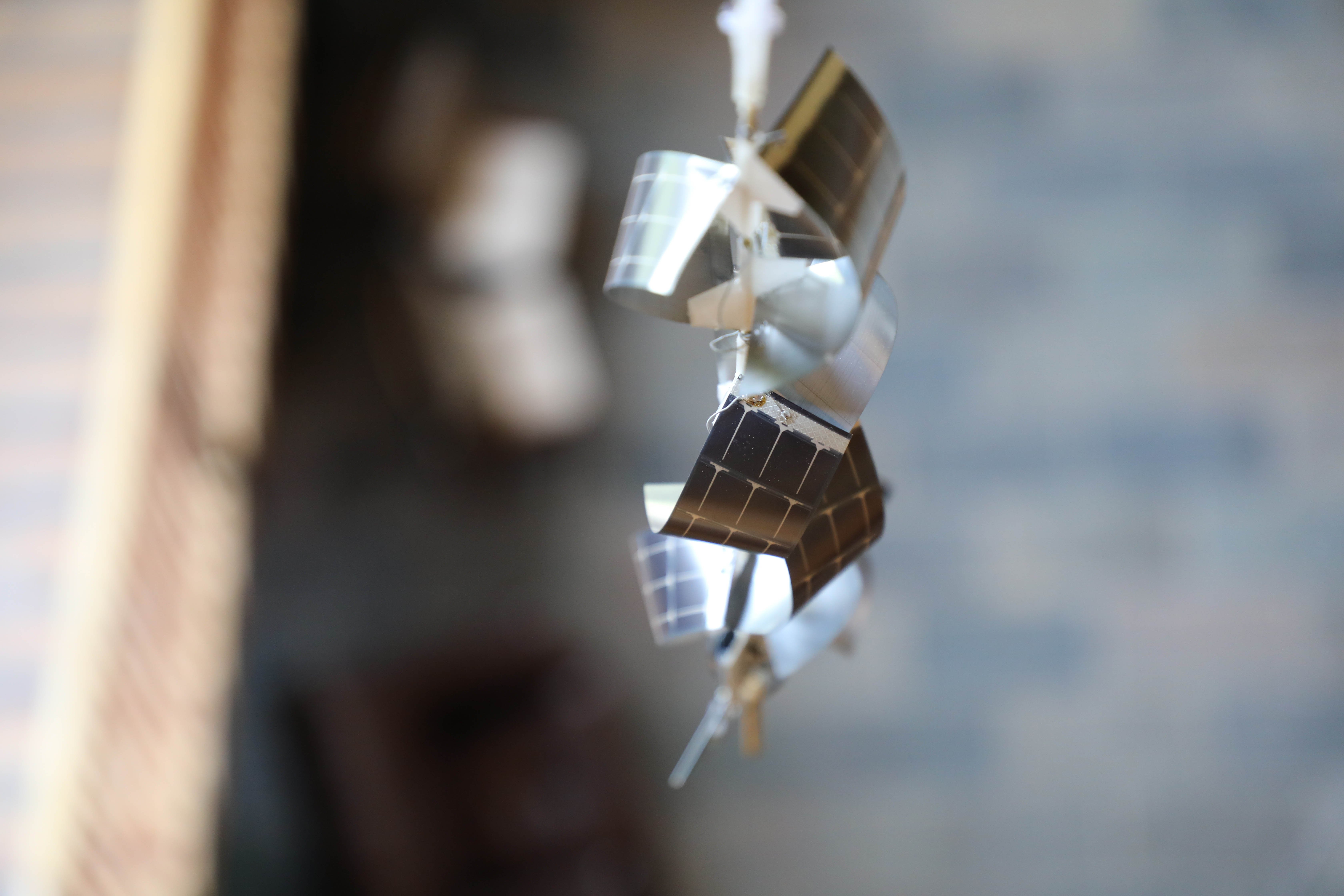 Artist: Spencer Topel
Works: "Time Lines, " a sound art installation
Location: Fowler Learning Center Atrium
Showing Dates: TBD
Spencer Topel is an artist working with sound, installation, and performance. He is a recipient of numerous awards and honors, including a Danish International Visiting Artist Residency in 2013 (DIVA), the Palmer Dixon Prize from the Juilliard School for best composition, BMI and ASCAP Awards, and was an artist-in-residence with the Meitar Ensemble in July 2014 (Tel Aviv). His work has been presented in major galleries and concert halls around the world, including Carnegie Hall, Lincoln Center, the DeCordova Museum, The Barnes Foundation, The Arts Club of Chicago, and others. In addition to his art practice, Topel is an active researcher and designer working with acoustics and sound. Learn more about Topel's work HERE.