As any athlete or coach will tell you, there is no force more powerful in sport than momentum. It is not explainable by physics (people have tried), but when the roar of the crowd grows, a palpable shift in confidence among players, coaches, and spectators takes place. A distinct feeling emerges when you know things are moving in the right direction, and no matter what shot you throw up, you know it is going in. You get chills as you watch it all unfold in front of you. The power of momentum.
Today, we felt a few of those powerful momentum swings in the hockey and basketball games on campus (great wins by girls' varsity hockey and basketball and boys' varsity basketball). We also experienced the same emotions during the official opening of Phase 1 of the Farrell Field House renovation. The shiny new floor, much improved lighting and ventilation, increased square footage, and soon-to-be completed fitness center overlooking the playing surface (Phase 2 will be complete in January) all serve as a tangible representation of the positive momentum Proctor is experiencing right now.
Over the past month, Proctor has received gifts to The Campaign for Proctor totalling more than $2,000,000. The generosity of our donors continues to amaze us, while simultaneously reminding us of the critical work we do for our students as educators.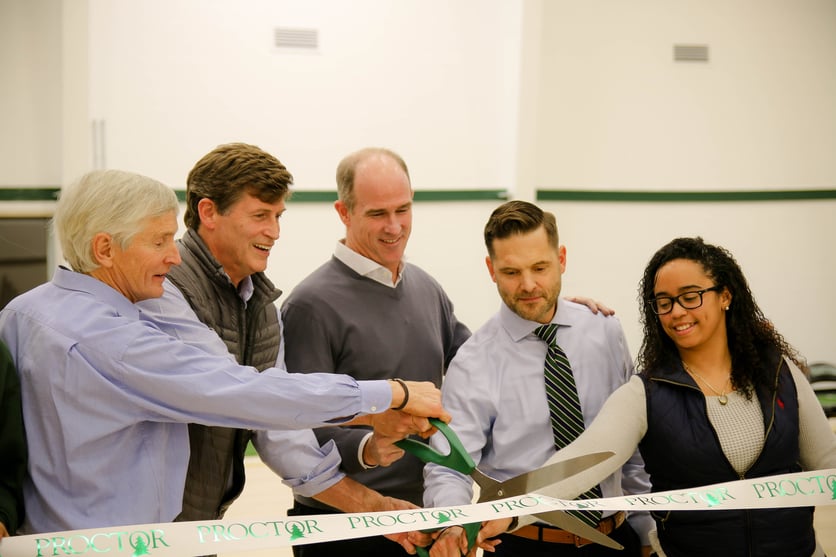 During the ribbon cutting celebration Board Chair Tom Healey P'16, '17, '19, '21 and Head of School Mike Henriques thanked donors for their commitment to revitalizing not only the basketball court, but the entire Farrell Field House, a building that sits at the center of Proctor's on-going community health and wellness programming and rethinking of learning space on campus. Former Proctor basketball standout as a member of the 2008 NEPSAC championship team and current Board of Trustee member, Joanna de Pena '08, joined Athletic Director Gregor Makechnie '90 to share brief thoughts on the impact a physical space can have on a student's journey through Proctor.
It is this intersection of physical spaces and relationships that develop between students, faculty, and staff that provides a foundation for learning. While Proctor's current fundraising initiatives focus on the aging infrastructure of some of our oldest buildings, it's not about the buildings. It's about the magic that transpires within those walls; the minds that are unlocked, the confidence that is gained, the lessons taught, the talents discovered.
We invest in Proctor because of the important work that we do to educate our students. Today, this investment in Proctor comes in the form of the Farrell Field House and the creation of new wellness and academic space on the south end of the building. Tomorrow it will take the form of renovating Maxwell Savage and other academic spaces on campus, while continuing to grow Proctor's endowment in order to increase access to the magic that takes place on this campus. We thank those donors who believe in our mission and have made the renovation of the Farrell Field House a reality.