Words are used to build up and to tear down, to communicate the intricacies of self and to oversimplify the complexities of each other's humanity. When we seek to use the words given to us by society, we fail to capture the whole of who we are in this moment, and who we must become. Today's community celebration of Martin Luther King, Jr. Day, albeit virtual, provided a powerful reminder of the power of words and the intricacies of our interwoven stories.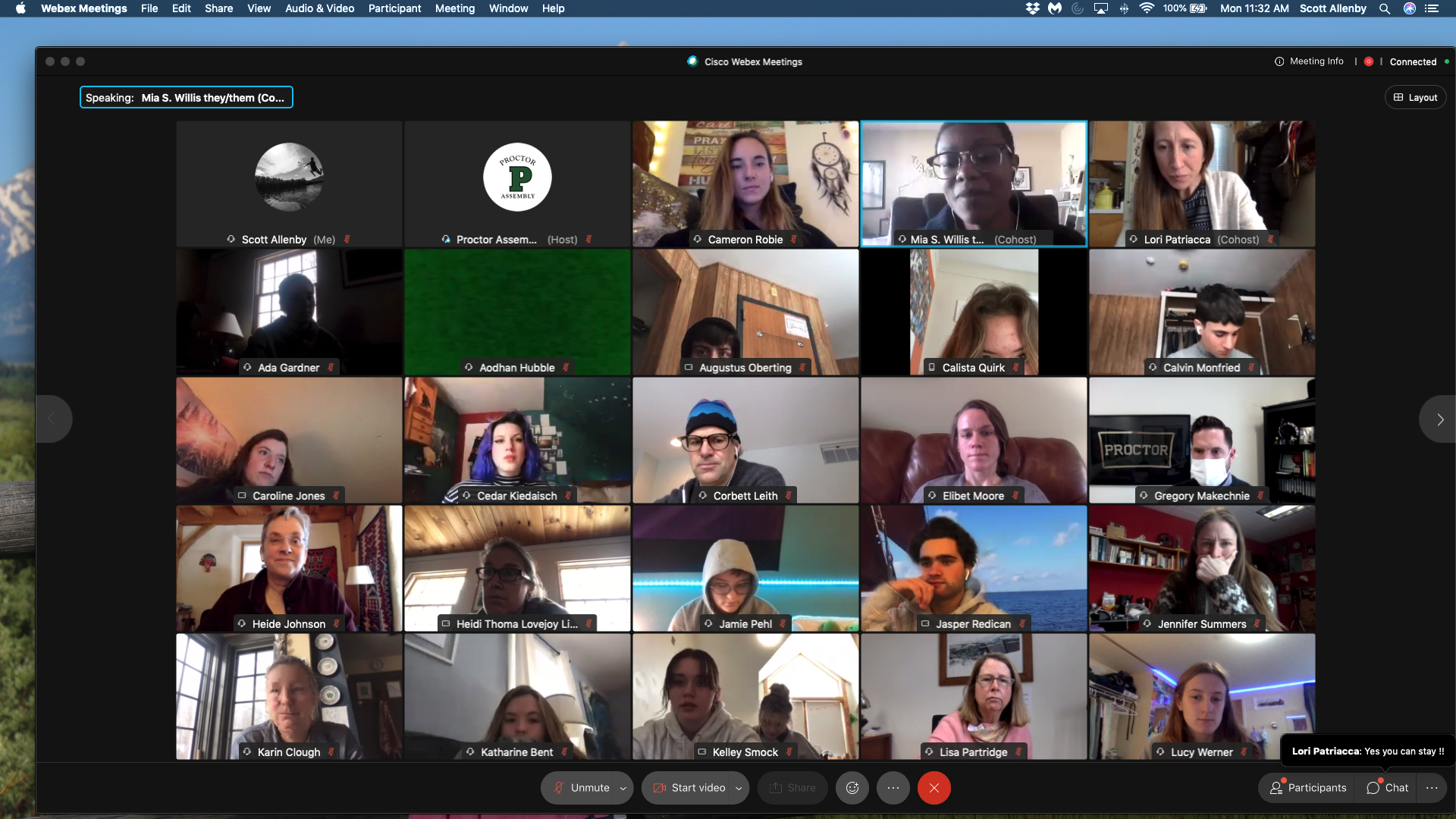 The spoken word preceded the written word as our ancestors shared their stories from one generation to the next. Today, that spoken word is cherished by many, but captured by few with the grace and depth of Mia S. Willis. A poet and spoken word artist, Mia joined us from their home in Atlanta, Georgia for an all-school assembly to celebrate the legacy of Dr. Martin Luther King, Jr. Their presentation wove personal history, ancestry, their passion for archeology, poetry, and the life of Dr. King into an hour long masterpiece that captivated students and faculty alike.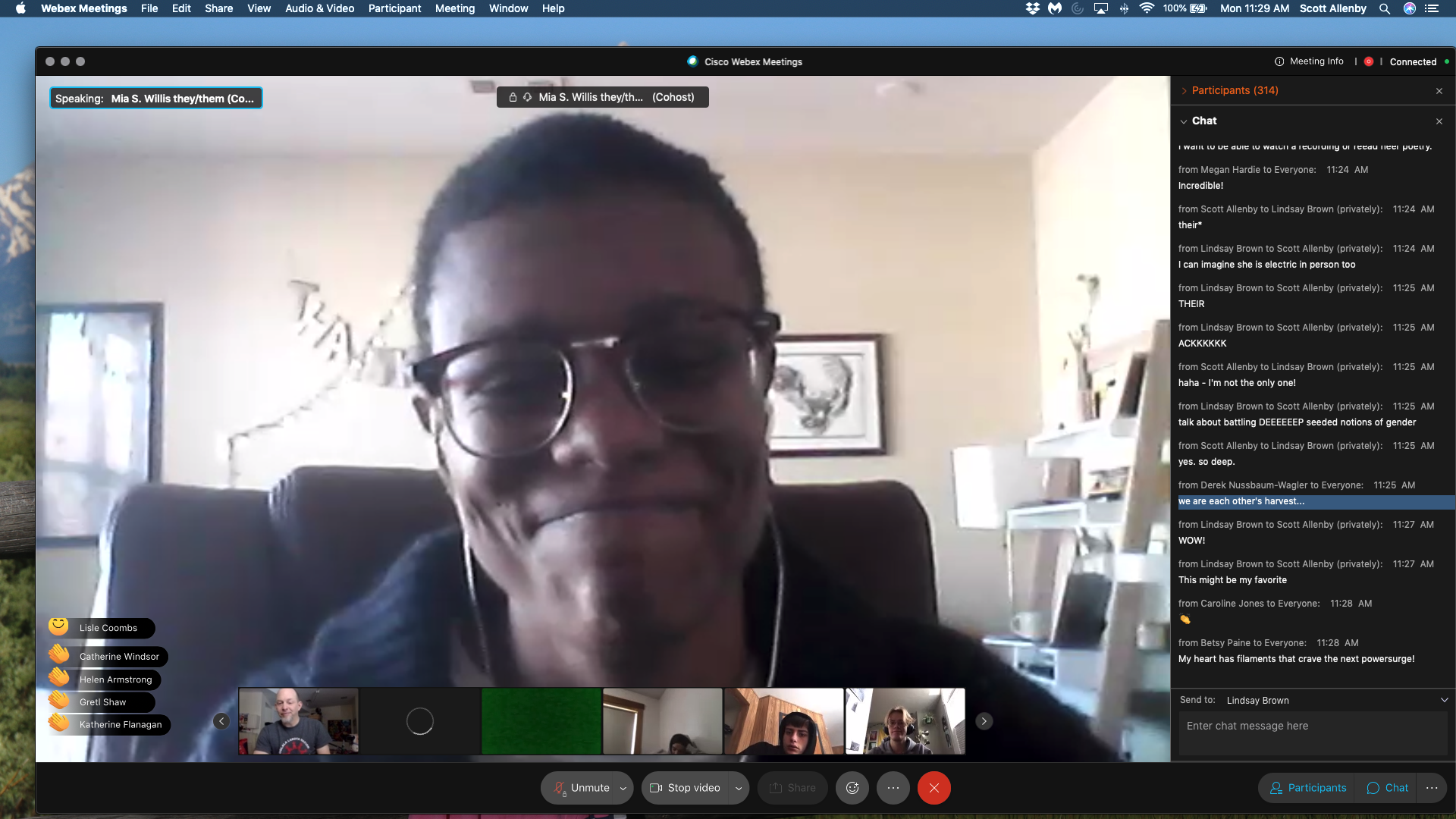 Mia began by telling their own story, their upbringing in Charlotte, North Carolina, their ancestry rooted deeply in the Gullah Geechee people of coastal Georgia, their anxiety and attention deficit disorder that makes it incredibly difficult to connect their queer self to others except through their spoken word poetry and writing. Mia challenged each of us to write ourself down. To take time to capture the uniqueness of us, to find new words to describe ourselves that transcend the vernacular, that challenge the constructs with which we have been taught to define ourselves. It is in this space of writing ourselves down that we find ourselves and strengthen our connection to and understanding of each other.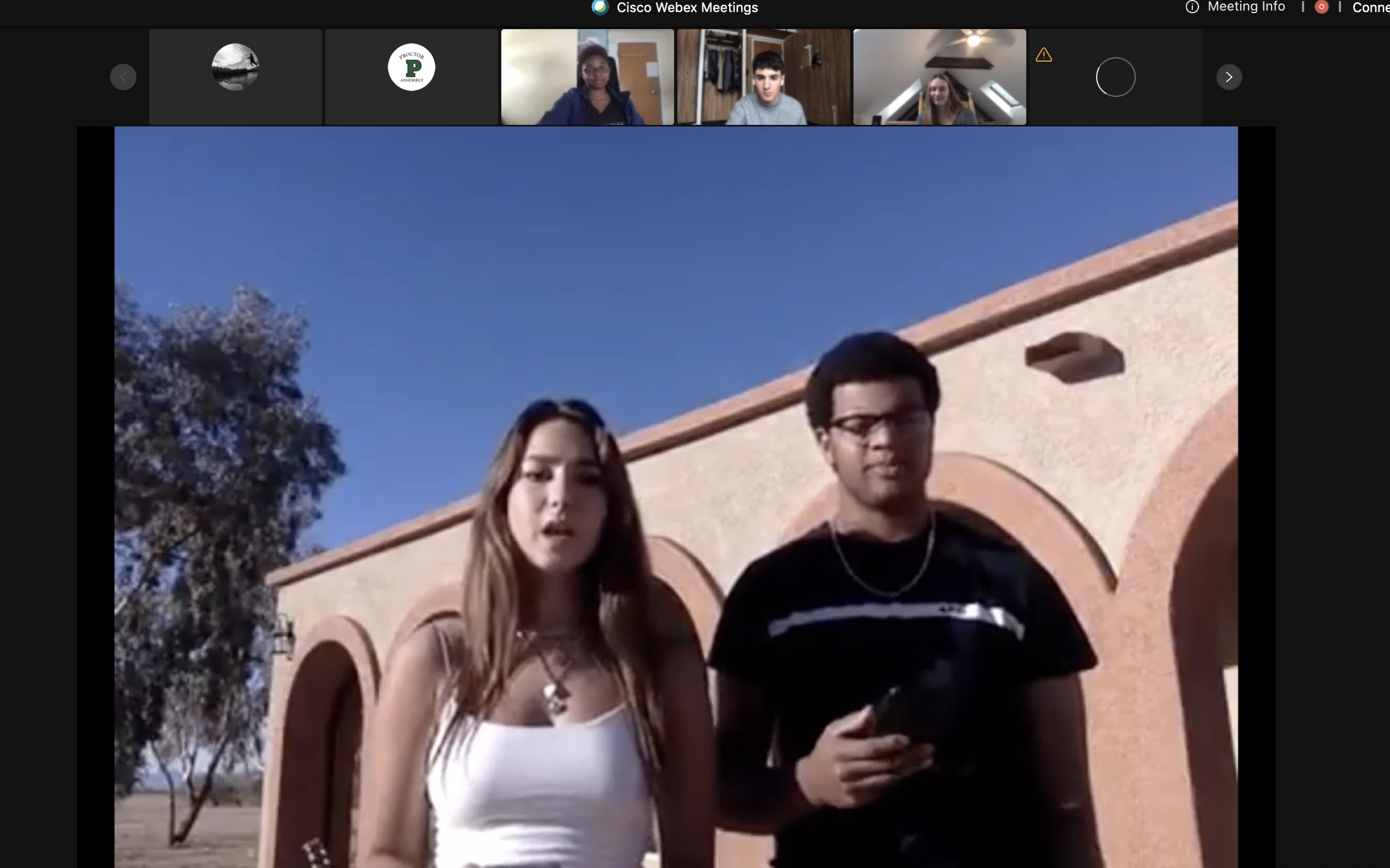 As Mia spoke and shared their poetry, a new appreciation for the power of words washed over us. We are taught from a young age that our words matter, that words can cut through the fiercest of adolescent armor. And yet we continue to be imprecise with our words. We carelessly compromise the humanity of those around us by ignoring the context of how words may impact those with different stories than our own.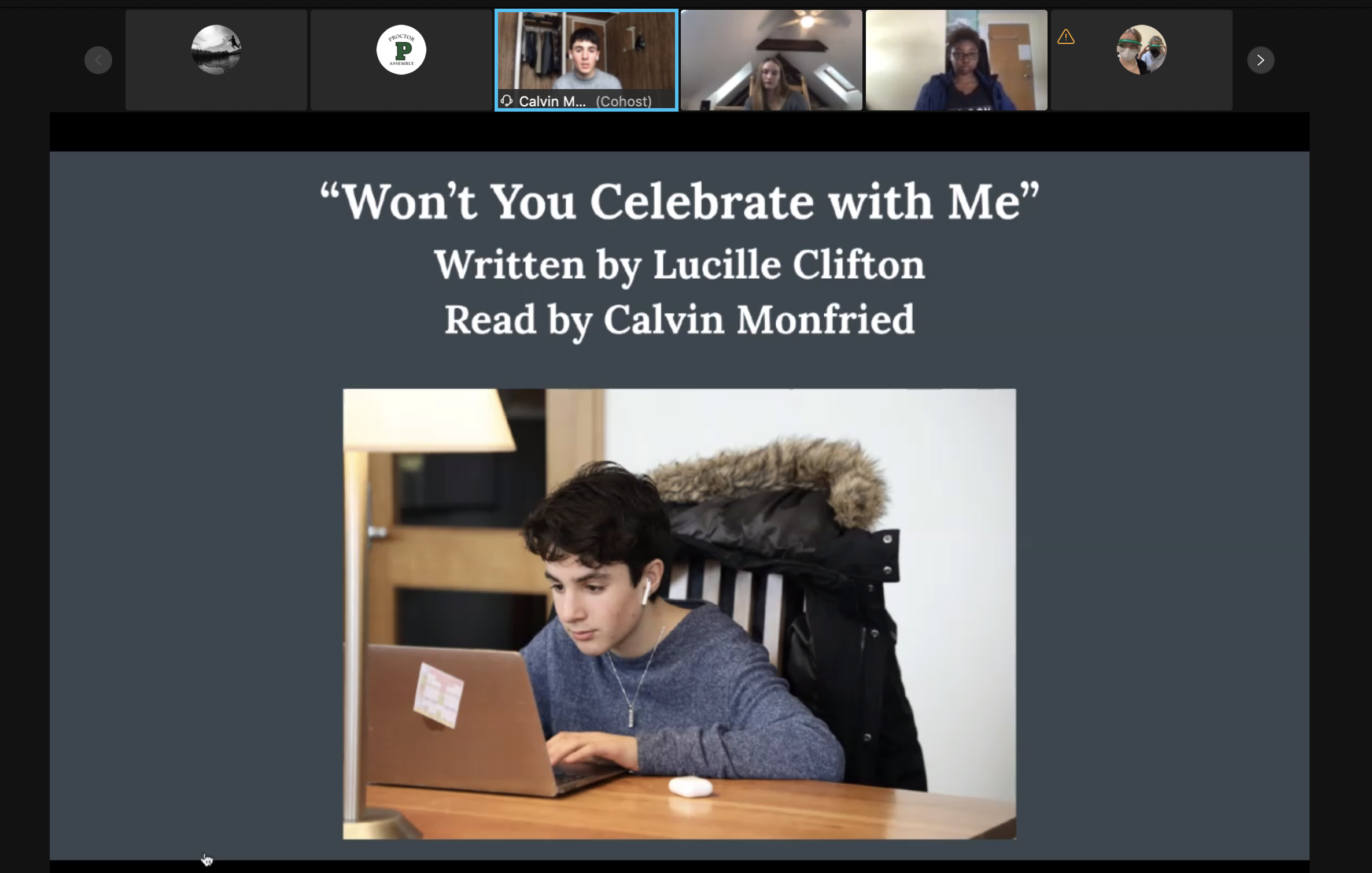 Today, we reflect on Dr. Martin Luther King, Jr.'s legacy, about how he used language as a powerful tool of change. Mia seeks to use words in the same way. They describe an approach to a poetry style called "tattered flags" in which two stories of freedom are interwoven: their heritage and their identity as a queer person.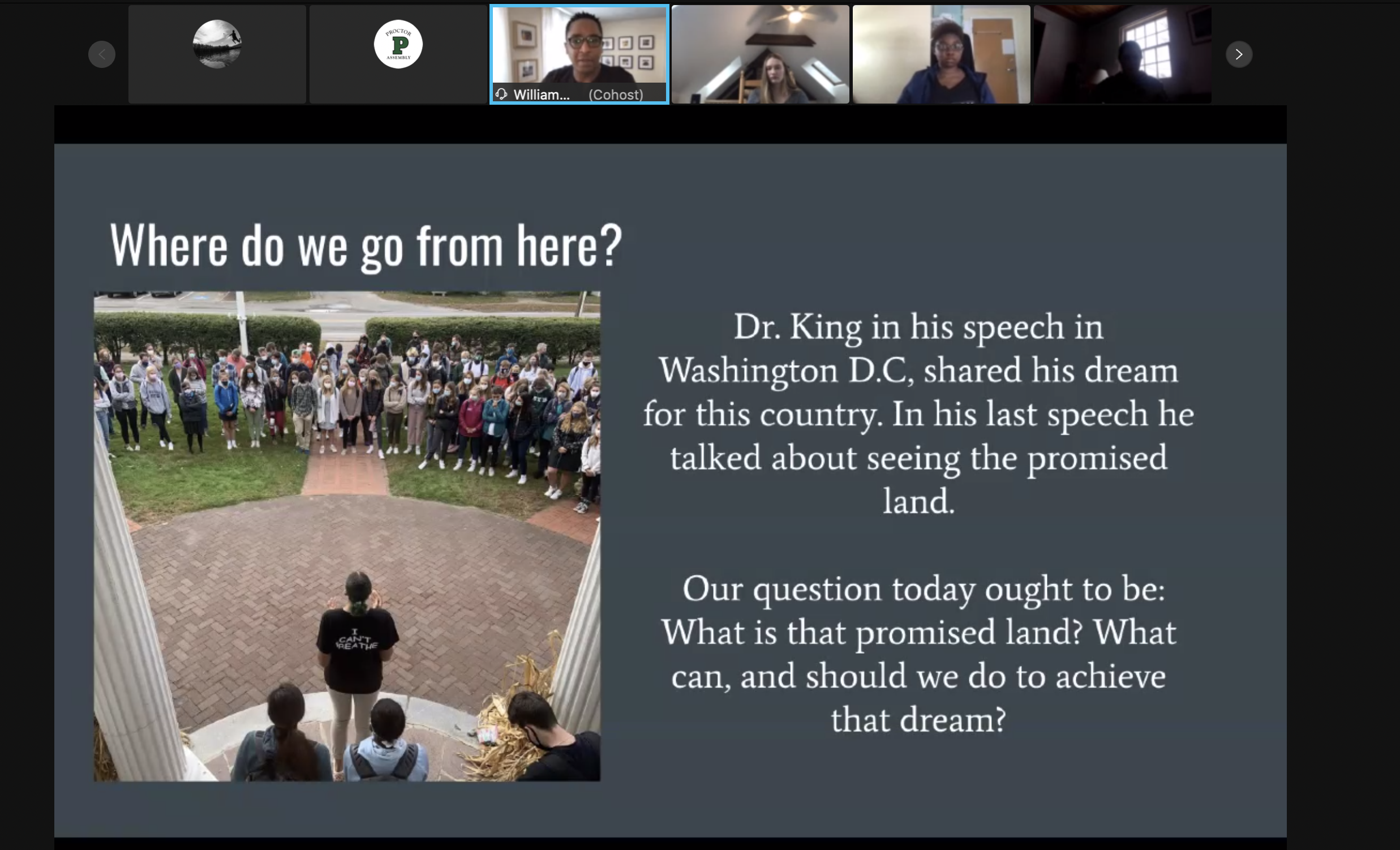 This notion of interwoven stories, of understanding that our stories are not linear must sit at the foundation of our work moving Proctor to be a more equitable, just, diverse, and inclusive community. This work resides in the heart of Mia words, "We are each other's harvest." It is why we watched the powerfully raw film Whose Streets and discussed the origins of the Black Lives Matter movement with advisories this morning. It is why we love hearing our students' voices loud and clear as they were during the student-led portion of today's celebration (thank you Sydney '23, Ashley '21, Calvin '23, Kerri '21, Max '21, and others). It is why we brought Mia and their words and wisdom into our virtual assembly space. It is why we must continue the hard, powerful work of writing ourselves down as a school community, listening to the different voices who make us, us, and staying curious enough and brave enough to write and rewrite as we embark on this nonlinear journey of growth.