Proctor's faculty had the privilege of working alongside Ruben Puentedura, Ph.D for today's professional development day. Puentedura's presentation of his SAMR model of technology integration combined with small group workshops proved incredibly powerful as faculty began to rethink how technology intersects with pedagogy at Proctor.
Puentedura began the day with a discussion of 21st century skills and presented the challenge facing schools around the world: students are expected to be able to do so much more today than they were a few decades ago. Not only that, but students are expected to not just possess certain skills and knowledge, but to understand how to synthesize each skill and knowledge with all the others.
For example, most 21st century models still value historical, deep knowledge of content around a specific discipline. However, this deep knowledge must now come within the context of cross-disciplinary understanding as students no longer only need to simply know biology concepts, but need to be able to synthesize those concepts within the context of environmental issues and law.
For more than forty years, Proctor's educational model has intentionally synthesized application of content across disciplines through off-campus programs and on-campus learning opportunities. However, today helped us take another step forward in understanding how technology works in concert with our educational model to enhance student learning.
The slides from Puentedura's presentation are accessible here (well worth your time to browse), but the impact of his visit will extend far beyond his time on campus today. Like our discussion of Zull's Learning and the Brain in August and our conversations around formative assessment in January, small group work helped faculty develop SAMR ladders for academic units.
As with other professional days this year, faculty began to understand how exciting a shift in our educational paradigm using technology can be. Conversations within groups evolved from how to teach basic economic concepts to how we can best overlay this model on Proctor's existing foundation rooted firmly in hands-on experiential learning both through on-campus and off-campus programs.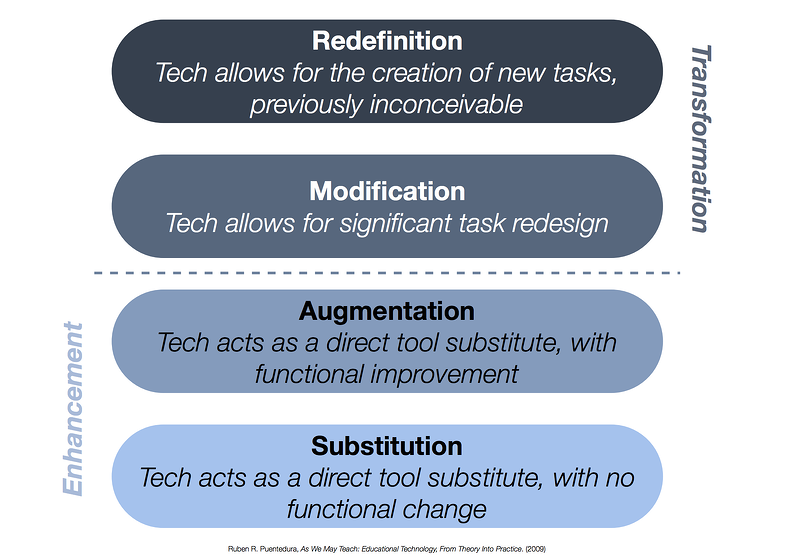 When asked by English teacher Karin Clough what the most extreme applications of the SAMR model in a school could be, Puentedura said without hesitation, "SAMR opens up the realm of possibilities that are not even thought possible when you first start out with your students. It is nearly impossible to set end goals when you do not even know where your students will take you."
Puentedura closed the day by noting, "The key to successful implementation of any educational technology model is not buying this device or that, but in simply keeping the conversation going. That is where the learning happens and where progress is made." The conversation at Proctor is going and we won't let it stop!