On November 11, Anna Zerilli '19 (formerly #11) officially signed her NCAA Division 3 National Letter of Intent to play football at Lake Forest College. Anna will be the first female football player to ever play at Lake Forest, and is believe to be the first female in New England to go on to collegiate football. While Anna's first season at Proctor came to an unexpected end with an ACL tear in training camp before she could take her first kick in a game, her future remains bright and we have much to learn from the tenacity with which she has pursued her dreams and overcome obstacles in her life.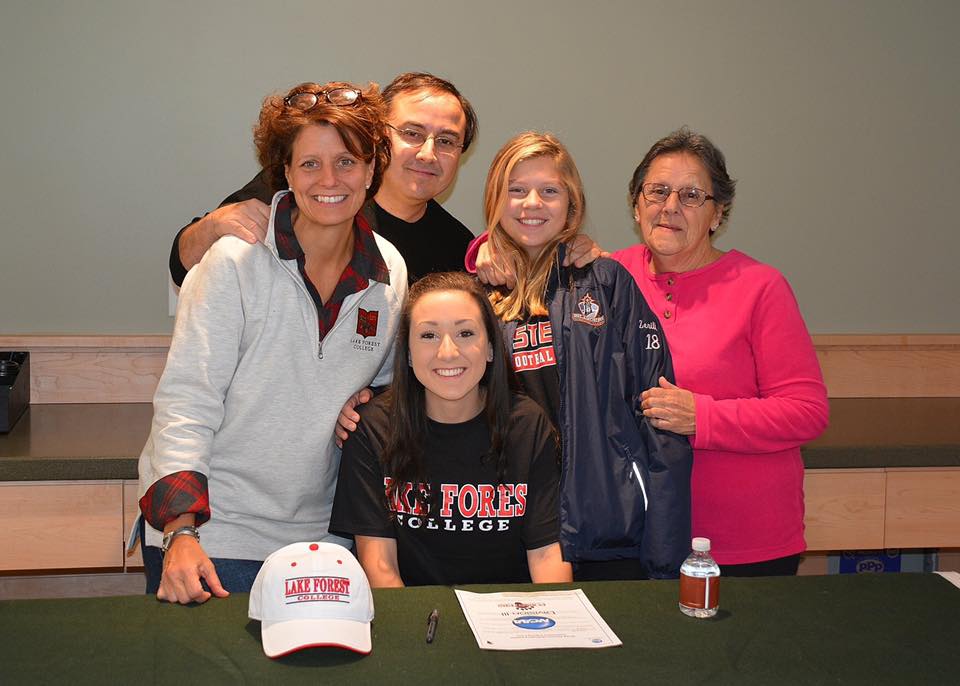 We caught up with Anna after she signed with Lake Forest about her journey as a football player, her devastating knee injury this fall, and her hopes for the future.
Can you share a bit about why you chose Lake Forest (or why they chose you)?
I'm interested in Lake Forest College because of its similarities to Proctor. It's a small school that offers a great education, a tight-knit community, and opportunities to do interesting things beyond the classroom. I am also interested in Lake Forest because they have a very strong football program with strong coaching. I first met Coach Catanzaro this past summer at a football showcase at Bentley University. He worked with me one on one and he also had a great conversation with my parents. A few weeks later, I visited with him and members of his coaching staff on Lake Forest's campus. It's a great football program and a school that fits me very well. I'm interested in the field of sports communication, and Lake Forest has a strong communications major and the school is close to great internship opportunities in Chicago.
You injured your knee this fall before you could play a single down, what has this fall taught you about perseverance, grit, and determination that you did not already know?
Well, this injury taught me not to plan too far ahead or to take anything for granted. I prepared all summer in anticipation of Proctor's football season. I must have visualized myself making one thousand kicks for the team, and I made thousands more on the practice field. I also worked with a private kicking coach and spent countless hours in the gym. I was very sad when I got hurt because I lost the chance to turn my preparation into game performances. Honestly, the injury has been incredibly tough on me, both physically and mentally, but I decided to focus on what I can control and so I've committed myself to rehab and training in anticipation of being able to kick again in the spring. These have been tough lessons to learn, for sure, but I know lots of people deal with far worse things in life, and am thankful for the opportunity to get healthy and get back on the field as soon as possible.
How's your rehab going?
My rehab is going well. Diane at Ragged Mountain Physical Therapy is amazing and really helping me reach my goals. And then our Proctor trainers have been supper encouraging and supportive too. They also find a way to make me smiling, and they keep me iced up and working hard to make sure I am doing all I can to get better as quickly as possible.
Your dad shared words on Sunday (below) about how you always overcome obstacles and overcome the odds against you. Why do you feel this is?
I appreciate my dad's words about me, but I never sought out to beat the odds or break a gender barrier or anything like that. I just really enjoy place kicking and being part of a football team. What I like most about kicking is that I can see tangible improvements in my performance from putting in hard work. I also like that I can score points and help my team compete and win. I also just like the challenge of kicking. Of course, being the first girl on male football teams isn't always a piece of cake, but I've been lucky to have support and encouragement from so many people. Knowing people have my back makes it all a little bit easier. If I've beaten any odds, it's because of the people in my life supporting me and helping me out.
Tell me a little about your football journey?
I definitely did not always play football. I was a soccer player and truly loved the sport. One day I was tossing a football with my dad. I got tired of throwing the ball back to him so I decided to kick it to him instead. He was impressed by my accuracy kicking it back to him so he asked me to kick it as far I could. The ball soared over his head and he asked me if I would have any interest in having a football kicking practice with a kick coach, just for fun. That first practice led to a tryout with a local high school and that led to a four year kicking career in high school.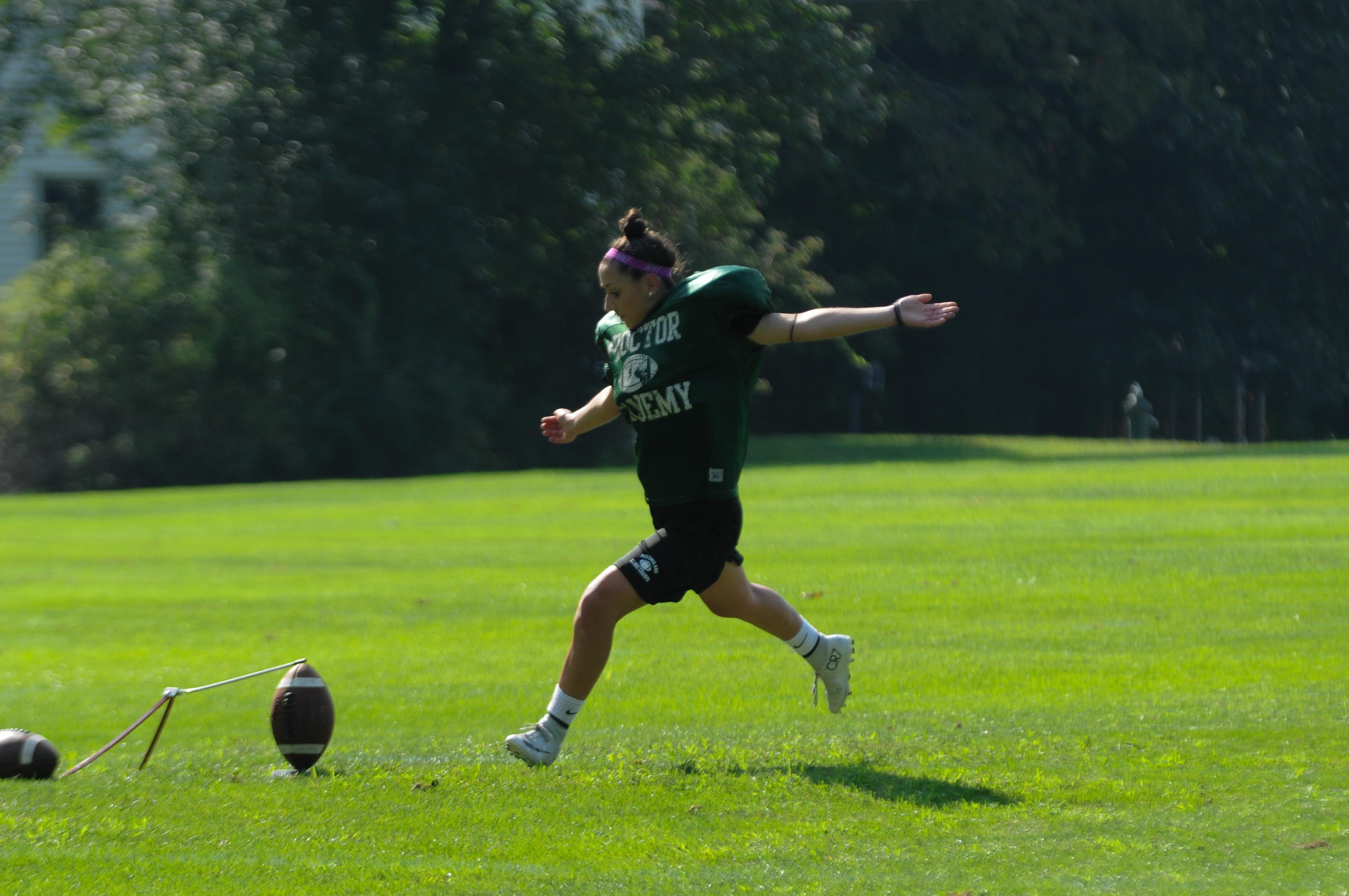 What lessons has it taught you?
Football has taught me many lessons, for sure. The first is to stay open minded about possibilities. The sport allows players to discover things about themselves; this has certainly been true for me. It's also taught me the wisdom of Bill Belichick's saying "Do Your Job." In order for me to kick, the line needs to block, the center needs to make a good snap, and the holder needs to put the ball down properly. I need to trust my teammates and they need to trust me. I've learned to just focus on my technique and trust the system around me. That's why after every kick, I thank all the players that helped to make the kick possible. The same goes for life off the field. We are only as good as those who surround us, so make sure they know how much you appreciate them.
How does it feel to break down barriers like being the first female from New England to play college football?
Honestly, it does feel kind of strange to get attention for being a female but I don't think about myself as bringing down any barriers. That's honestly not how I think about it. When I am on the field, I just want to be a player my teammates trust to do her job. I try to keep it all as simple as possible. I am very happy that I'll get a chance to continue kicking next year. Of course it would be awesome if my path helps other female athletes in some way.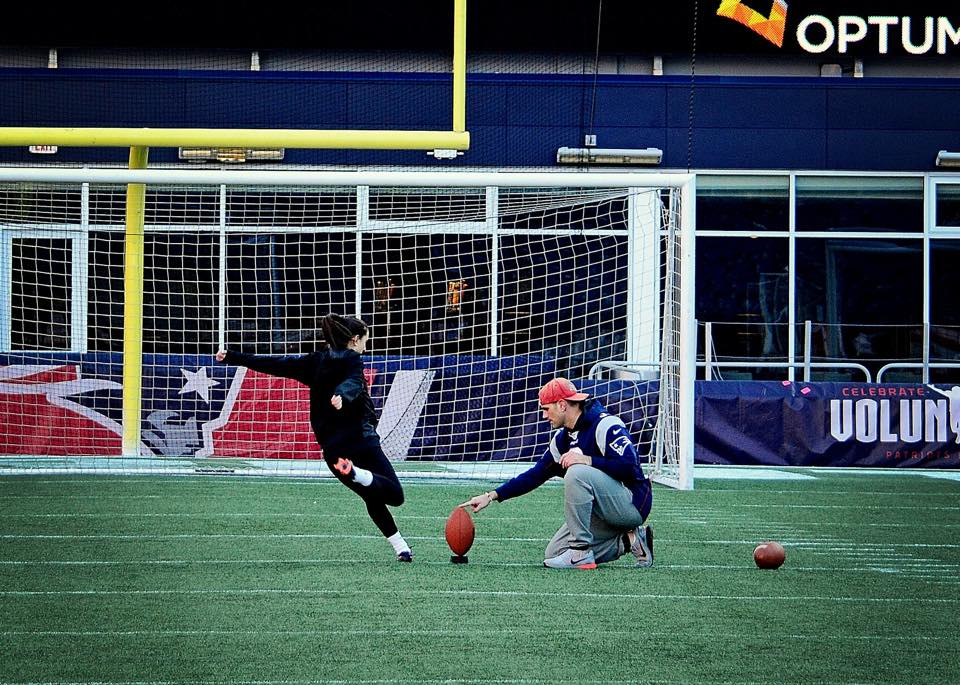 Anna '19 was featured on the NFL Network last winter. Read more HERE!
Anna's father, Sal, shared the following with those in attendance at her signing of her NLI last weekend:
Today's signing is a rare event. But the odds have always been against Anna in the football world.
When Anna started kicking at age 13, the odds of her playing high school football were against her. She did it. The odds of her becoming the first female freshman to ever score points in a varsity game were against her. She did it. The odds of her beating out a team captain her junior year to earn the starting kicking job at Manchester-Essex High School (MA) were against her. She did it. The odds of her rewriting the record book for kickers her junior year were against her. She did it. The odds of her becoming the subject of a feature story by the NFL network and having a chapter written about her in a book about female athletes were against her. She did it. The odds of her getting recruited to play college football were against her. She did it.
Today would have seemed impossible just a few short years ago. Yet here we are. And we are here today at this rare event because of Anna's extraordinary courage. We are here today because of her extraordinary grit and determination. And because of her extraordinary hard work and resiliency. And we're here today because Anna is an awesome place kicker and a badass human being.
The odds will still be against Anna when she gets to the next level of football at Lake Forest next year. The competition will be stiff. She's joining a very successful program. Personally I like her chances of kicking ass at Lake Forest. That's how she does it — she defies the odds.
---
Congratulations to Anna on signing her National Letter of Intent with Lake Forest College! Be sure to follow her journey next season.